Abstract
We sought to examine current practices and changes in practice regarding initial counseling for families of patients with hypoplastic left heart syndrome (HLHS) given the evolution of options and outcomes over time. Counseling (Norwood with Blalock-Taussig-Thomas shunt (NW-BTT), NW with right ventricle to pulmonary artery conduit (NW-RVPA), hybrid palliation, heart transplantation, or non-intervention/hospice (NI)) for patients with HLHS were queried via questionnaire of pediatric care professionals in 2021 and compared to identical questionnaire from 2011. Of 322 respondents in 2021 (39% female), 299 respondents were cardiologists (92.9%), 17cardiothoracic surgeons (5.3%), and 6 were nurse practitioners (1.9%). Respondents were largely from North America (96.9%). In 2021, NW-RVPA procedure was the preferred palliation for standard risk HLHS patient (61%) and was preferred across all US regions (p < 0.001). NI was offered as an option by 71.4% of respondents for standard risk patients and was the predominant strategy for patients with end-organ dysfunction, chromosomal abnormality, and prematurity (52%, 44%, and 45%, respectively). The hybrid procedure was preferred for low birth-weight infants (51%). In comparison to the identical 2011 questionnaire (n = 200), the NW-RVPA was endorsed more in 2021 (61% vs 52%, p = 0.04). For low birth-weight infants, hybrid procedure was more recommended than in 2011 (51% vs 21%, p < 0.001). The NW-RVPA operation is the most recommended strategy throughout the US for infants with HLHS. The hybrid procedure for low birth-weight infants is increasingly recommended. NI continues to be offered even in standard risk patients with HLHS.
This is a preview of subscription content,
to check access.
Access this article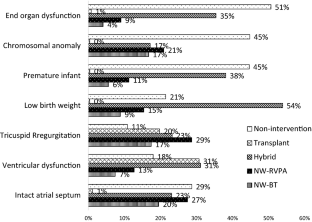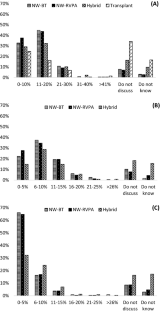 References
Wilder TJ, McCrindle BW, Hickey EJ et al (2017) Is a hybrid strategy a lower-risk alternative to stage 1 Norwood operation? J Thorac Cardiovasc Surg 153:163-172 e6

Karamlou T, Diggs BS, Ungerleider RM, Welke KF (2010) Evolution of treatment options and outcomes for hypoplastic left heart syndrome over an 18-year period. J Thorac Cardiovasc Surg 139:119–126

Sower CT, Romano JC, Yu S, Lowery R, Pasquali SK, Zampi JD (2019) Early and midterm outcomes in high-risk single-ventricle patients: hybrid Vs Norwood palliation. Ann Thorac Surg 108:1849–1855

Ohye RG, Sleeper LA, Mahony L et al (2010) Comparison of shunt types in the Norwood procedure for single-ventricle lesions. N Engl J Med 362:1980–1992

Cua CL, Thiagarajan RR, Gauvreau K et al (2006) Early postoperative outcomes in a series of infants with hypoplastic left heart syndrome undergoing stage I palliation operation with either modified Blalock-Taussig shunt or right ventricle to pulmonary artery conduit. Pediatr Crit Care 7:238–244

Ho AB, Hribernik I, Shillaker D et al (2021) Hybrid Palliation for Hypoplastic Left Heart Syndrome: Association With Contemporary Outcomes. Circulation 144:1189–1191

Yates AR, Hoffman TM, Boettner B, Feltes TF, Cua CL (2011) Initial counseling prior to palliation for hypoplastic left heart syndrome. Congenit Heart Dis 6:347–358

Ohye RG, Schranz D, D'Udekem Y (2016) Current therapy for hypoplastic left heart syndrome and related single ventricle lesions. Circulation 134:1265–1279

Karamlou T, Overman D, Hill KD et al (2015) Stage 1 hybrid palliation for hypoplastic left heart syndrome–assessment of contemporary patterns of use: an analysis of the society of thoracic surgeons congenital heart surgery database. J Thoracic Cardiovasc Surgery 149:195–201, 202 e1

Wernovsky G, Ghanayem N, Ohye RG et al (2007) Hypoplastic left heart syndrome: consensus and controversies in 2007. Cardiol Young 17(Suppl 2):75–86

Kane JM, Canar J, Kalinowski V, Johnson TJ, Hoehn KS (2016) Management options and outcomes for neonatal hypoplastic left heart syndrome in the early twenty-first century. Pediatr Cardiol 37:419–425

Hilton-Kamm D, Chang RK, Sklansky M (2012) Prenatal diagnosis of hypoplastic left heart syndrome: impact of counseling patterns on parental perceptions and decisions regarding termination of pregnancy. Pediatr Cardiol 33:1402–1410

Ahmed H, Anderson JB, Bates KE et al (2020) Development of a validated risk score for interstage death or transplant after stage I palliation for single-ventricle heart disease. J Thorac Cardiovasc Surg 160:1021–1030

Akinturk H, Michel-Behnke I, Valeske K et al (2007) Hybrid transcatheter-surgical palliation: basis for univentricular or biventricular repair: the Giessen experience. Pediatr Cardiol 28:79–87

Cua CL, McConnell PI, Meza JM et al (2018) Hybrid palliation: outcomes after the comprehensive stage 2 procedure. Ann Thorac Surg 105:1455–1460

Galantowicz M, Cheatham JP, Phillips A et al (2008) Hybrid approach for hypoplastic left heart syndrome: intermediate results after the learning curve. Ann Thorac Surgery 85:2063–2070

Ceneri NM, Desai MH, Tongut A et al (2022) Hybrid strategy in neonates with ductal-dependent systemic circulation and multiple risk factors. J Thorac cardiovasc Surgery 164(5):1291–1303

Sarajuuri A, Jokinen E, Mildh L et al (2012) Neurodevelopmental burden at age 5 years in patients with univentricular heart. Pediatrics 130:e1636–e1646

Mahle WT, Wernovsky G (2001) Long-term developmental outcome of children with complex congenital heart disease. Clin Perinatol 28:235–247

Mahle WT, Clancy RR, McGaurn SP, Goin JE, Clark BJ (2001) Impact of prenatal diagnosis on survival and early neurologic morbidity in neonates with the hypoplastic left heart syndrome. Pediatrics 107:1277–1282

Sananes R, Goldberg CS, Newburger JW et al (2021) Six-Year Neurodevelopmental outcomes for children with single-ventricle physiology. Pediatrics 147:e2020014589

Marino BS, Lipkin PH, Newburger JW et al (2012) Neurodevelopmental outcomes in children with congenital heart disease: evaluation and management: a scientific statement from the American Heart Association. Circulation 126:1143–1172

Knirsch W, Liamlahi R, Dave H, Kretschmar O, Latal B (2016) Neurodevelopmental outcome of children with hypoplastic left heart syndrome at one and four years of age comparing hybrid and norwood procedure. Ann Thorac Cardiovasc Surg 22:375–377

Knirsch W, Liamlahi R, Hug MI et al (2012) Mortality and neurodevelopmental outcome at 1 year of age comparing hybrid and Norwood procedures. Eur J Cardio-Thorac Surgery 42:33–39

Kon AA (2008) Healthcare providers must offer palliative treatment to parents of neonates with hypoplastic left heart syndrome. Arch Pediatr Adolesc Med 162:844–848

Wernovsky G (2008) The paradigm shift toward surgical intervention for neonates with hypoplastic left heart syndrome. Arch Pediatr Adolesc Med 162:849–854

Feudtner C (2008) Ethics in the midst of therapeutic evolution. Arch Pediatr Adolesc Med 162:854–857

Paris JJ, Moore MP, Schreiber MD (2012) Physician counseling, informed consent and parental decision making for infants with hypoplastic left-heart syndrome. J Perinatol 32:748–751

Kon AA, Patel A, Leuthner S, Lantos JD (2016) parental refusal of surgery in an infant with tricuspid atresia. Pediatrics 138:e20161730

Ghanayem NS, Allen KR, Tabbutt S et al (2012) Interstage mortality after the Norwood procedure: results of the multicenter single ventricle reconstruction trial. J Thorac Cardiovasc Surg 144:896–906

Cua CL, Thiagarajan RR, Taeed R et al (2005) Improved interstage mortality with the modified Norwood procedure: a meta-analysis. Ann Thorac Surg 80:44–49

Hart SA, Nandi D, Backes CH, Cua CL (2021) Impact of prenatal screening on congenital heart defects in neonates with down syndrome in the US. Pediatr Res 90:1081–1085
Ethics declarations
Conflict of interest
None of the authors have any relevant financial disclosures related to the content of this manuscript.
Additional information
Publisher's Note
Springer Nature remains neutral with regard to jurisdictional claims in published maps and institutional affiliations.
Supplementary Information
Below is the link to the electronic supplementary material.
Rights and permissions
Springer Nature or its licensor (e.g. a society or other partner) holds exclusive rights to this article under a publishing agreement with the author(s) or other rightsholder(s); author self-archiving of the accepted manuscript version of this article is solely governed by the terms of such publishing agreement and applicable law.
About this article
Cite this article
Nandi, D., Culp, S., Yates, A.R. et al. Initial Counseling Prior to Palliation for Hypoplastic Left Heart Syndrome: 2021 vs 2011. Pediatr Cardiol 44, 1118–1124 (2023). https://doi.org/10.1007/s00246-023-03170-5
Received:

Accepted:

Published:

Issue Date:

DOI: https://doi.org/10.1007/s00246-023-03170-5
Keyword