Abstract
Patients with hypoplastic left heart syndrome (HLHS) are now surviving through to Fontan palliation and beyond, however, with increased morbidity and mortality. Prolonged QRSd has become one of the predictors of morbidity and mortality in certain congenital heart diseases. There is limited data characterizing the QRSd in patients with HLHS. We aimed to describe the changes in QRSd at various times during the lifetime and to evaluate whether QRSd correlates with a higher risk of developing a composite endpoint of heart failure, heart transplant, or death. We conducted a retrospective chart review of patients with HLHS who survived Fontan palliation. QRSd was measured on ECGs at various stages pre- and postsurgical palliations and subsequently at 5 year intervals. Patients with a composite endpoint were compared to those without. A total of 89 patients were included in the final analysis. The QRSd increased significantly with time from 68.7 ± 9.0 ms prior to Norwood to 91.0 ± 14.0 ms immediately following Fontan and 104.7 ± 13.6 ms 15 years after Fontan (p < 0.001). The composite endpoint was observed in 28 patients (31.4%). The time trends of QRSd differ so that the patients having the composite endpoint experienced a greater increase in QRSd over time (p = 0.009). Ever having a QRSd of 120 ms or more predicted the composite endpoint with 93% specificity. The area under the curve of the receiver operator curve analysis was 0.596. A Cox regression analysis demonstrated that QRS duration > 120 ms was independently related to a greater frequency of composite endpoint and this was confirmed by a Kaplan–Meier analysis (p = 0.011). This study unveils a novel relationship between QRSd of 120 ms or more with the composite endpoint. Despite the low sensitivity, this finding on a routine surveillance ECG could help identify HLHS Fontan patients at risk for heart failure, heart transplant, or death.
This is a preview of subscription content, log in to check access.
Access options
Buy single article
Instant unlimited access to the full article PDF.
US$ 39.95
Price includes VAT for USA
Subscribe to journal
Immediate online access to all issues from 2019. Subscription will auto renew annually.
US$ 99
This is the net price. Taxes to be calculated in checkout.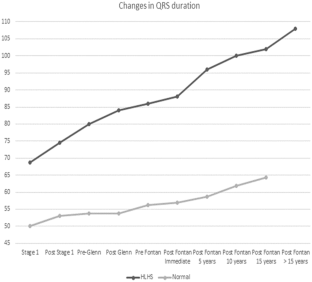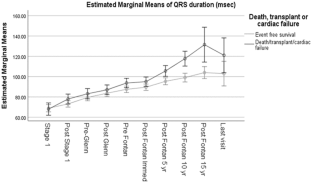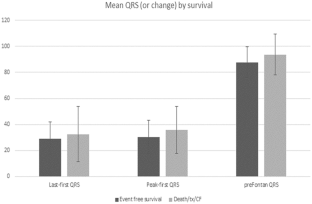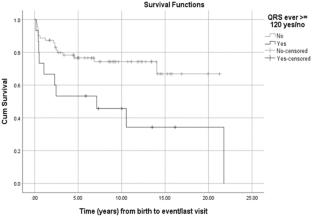 References
1.

Dennis M et al (2018) Clinical outcomes in adolescents and adults after the fontan procedure. J Am Coll Cardiol 71(9):1009–1017

2.

Abd El Rahman MY et al (2000) Relation between right ventricular enlargement, QRS duration, and right ventricular function in patients with tetralogy of Fallot and pulmonary regurgitation after surgical repair. Heart 84(4):416–420

3.

Graham EM et al (2007) QRS duration following the norwood procedure: Blalock-Taussig shunt versus right ventricle to pulmonary artery shunt. Pacing Clin Electrophysiol 30(11):1336–1338

4.

Tsai S et al (2013) QRS duration changes in patients with hypoplastic left heart syndrome undergoing hybrid palliation: prehybrid to post-Fontan. Pacing Clin Electrophysiol 36(4):462–466

5.

Ohuchi H et al (2009) Systemic ventricular morphology-associated increased QRS duration compromises the ventricular mechano-electrical and energetic properties long-term after the Fontan operation. Int J Cardiol 133(3):371–380

6.

Ohuchi H et al (2007) Hemodynamic deterioration during simulated supraventricular tachycardia in patients after the Fontan operation. Int J Cardiol 117(3):381–387

7.

Khan S et al (2015) QRS duration changes in patients with single ventricle physiology: birth to 10 years. Pacing Clin Electrophysiol 38(10):1159–1165

8.

Dao DT et al (2013) QRS prolongation is strongly associated with life-threatening ventricular arrhythmias in children with dilated cardiomyopathy. J Heart Lung Transplant 32(10):1013–1019

9.

Lumens J et al (2018) Relative impact of right ventricular electromechanical dyssynchrony versus pulmonary regurgitation on right ventricular dysfunction and exercise intolerance in patients after repair of tetralogy of fallot. J Am Heart Assoc 8(2):e010903

10.

Zaidi SJ et al (2019) Right ventricular mechanical dyssynchrony in hypoplastic left heart syndrome: correlation with systolic function and QRS duration. Pediatr Cardiol 40(5):934–942

11.

Friedberg MK et al (2007) Right ventricular mechanical dyssynchrony in children with hypoplastic left heart syndrome. J Am Soc Echocardiogr 20(9):1073–1079

12.

King G et al (2019) Atrioventricular valve failure in fontan palliation. J Am Coll Cardiol 73(7):810–822
Ethics declarations
Conflict of interest
All authors declare that they have no conflict of interest.
Ethical Approval
All procedures performed in studies involving human participants were in accordance with the ethical standards of the institutional and/or national research committee and with the 1964 Helsinki declaration and its later amendments or comparable ethical standards.
Research Involving Human and Animal Participants
This article does not contain any studies with human participants performed by any of the authors. Study utilizes data gathered from chart review in retrospective fashion.
Informed Consent
Informed consent was not obtained from all individual participants as this was retrospective.
Additional information
Publisher's Note
Springer Nature remains neutral with regard to jurisdictional claims in published maps and institutional affiliations.
About this article
Cite this article
Karikari, Y., Abdulkarim, M., Li, Y. et al. The Progress and Significance of QRS Duration by Electrocardiography in Hypoplastic Left Heart Syndrome. Pediatr Cardiol (2019) doi:10.1007/s00246-019-02237-6
Received:

Accepted:

Published:
Keywords
QRS duration

Fontan

Single ventricle

Univentricular

Outcomes

ECG