Abstract
Dysphagia and vocal cord dysfunction are frequent complications after congenital heart surgery. Both are risk factors for aspiration, which can lead to pneumonia, progressive lung disease, and respiratory arrest. A protocol was implemented to promote early detection of aspiration in a high-risk cohort of patients. Retrospective data were collected on all patients under 120 days old who underwent the Norwood procedure, aortic arch repair, Blalock–Taussig shunt placement, or cervical cannulation for extracorporeal membrane oxygenation from 10/2012 to 05/2016 at a single institution. Patients underwent an assessment of symptoms, fiberoptic endoscopic evaluation of swallowing (FEES), and modified barium swallow (MBS) study in the postoperative period prior to initiating oral feeds. Patients with and without aspiration were compared. Of the 96 patients included in the study, one-third (33%) of patients had evidence of vocal cord dysfunction by FEES and just over half (51%) had evidence of aspiration by FEES or MBS. Most (73%) of the patients with aspiration were asymptomatic and a majority (53%) of patients with aspiration had normal vocal cord function. Aspiration is common after congenital heart surgery, and an assessment of vocal cord or swallow function in isolation may lead to underdiagnosis. A comprehensive protocol including MBS and FEES is necessary for the early detection of vocal cord dysfunction and aspiration and may prevent adverse outcomes in high-risk postoperative patients.
This is a preview of subscription content, log in to check access.
Access options
Buy single article
Instant access to the full article PDF.
US$ 39.95
Price includes VAT for USA
Subscribe to journal
Immediate online access to all issues from 2019. Subscription will auto renew annually.
US$ 99
This is the net price. Taxes to be calculated in checkout.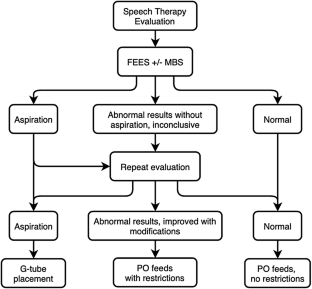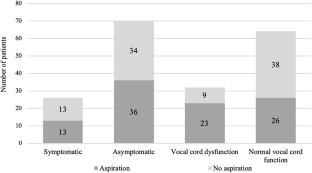 References
1.

Dewan K, Cephus C, Owczarzak V, Ocampo E (2012) Incidence and implication of vocal fold paresis following neonatal cardiac surgery. Laryngoscope 122:2781–2785

2.

Strychowsky JE, Rukholm G, Gupta MK, Reid D (2014) Unilateral vocal fold paralysis after congenital cardiothoracic surgery: a meta-analysis. Pediatrics 133(6):e1708–e1723

3.

Serel Arslan S, Demir N, Karaduman AA (2018) Both pharyngeal and esophageal phases of swallowing are associated with recurrent pneumonia in pediatric patients. Clin Respir J 12(2):767–771

4.

Orenstein SR (2001) An overview of reflux-associated disorders in infants: apnea, laryngospasm, and aspiration. Am J Med 111(Suppl 8A):60S–S63

5.

McGrattan KE, McGhee H, DeToma A et al (2017) Dysphagia in infants with single ventricle anatomy following stage 1 palliation: physiologic correlates and response to treatment. Congenit Heart Dis 12:382–388

6.

Ghanayem NS, Allen KR, Tabbutt S, Atz AM, Clabby ML, Cooper DS, Eghtesady P, Frommelt PC, Gruber PJ, Hill KD, Kaltman JR, Laussen PC, Lewis AB, Lurito KJ, Minich LL, Ohye RG, Schonbeck JV, Schwartz SM, Singh RK, Goldberg CS (2012) Interstage mortality after the Norwood procedure: results of the multicenter single ventricle reconstruction trial. J Thorac Cardiovasc Surg 144(4):896–906

7.

Weir KA, McMahon S, Taylor S, Chang AB (2011) Oropharyngeal aspiration and silent aspiration in children. Chest 140(3):589–597

8.

Velayutham P, Irace AL, Kawai K, Dodrill P, Perez J, Londahl M, Mundy L, Dombrowski ND, Rahbar R (2018) Silent aspiration: who is at risk? Laryngoscope 128(8):1952–1957

9.

Brady S, Donzelli J (2013) The modified barium swallow and the functional endoscopic evaluation of swallowing. Otolaryngol Clin North Am 46(6):1009–1022

10.

Yi SH, Kim SJ, Huh J, Jun TG, Cheon HJ, Kwon JY (2013) Dysphagia in infants after open heart procedures. Am J Phys Med Rehabil 92(6):496–503

11.

Carpes LF, Kozak FK, Leblanc JG, Campbell AI, Human DG, Fandino M, Ludemann JP, Moxham JP, Fiori H (2011) Assessment of vocal fold mobility before and after cardiothoracic surgery in children. Arch Otolaryngol Head Neck Surg 137(6):571–575

12.

Pham V, Connelly D, Wei JL, Sykes KJ, O'Brien J (2014) Vocal cord paralysis and dysphagia after aortic arch reconstruction and norwood procedure. Otolaryngol Head Neck Surg 150(5):827–833

13.

Kohr LM, Dargan M, Hague A, Nelson SP, Duffy E, Backer CL, Mavroudis C (2003) The incidence of dysphagia in pediatric patients after open heart procedures with transesophageal echocardiography. Ann Thorac Surg 76(5):1450–1456

14.

Schumacher RE, Weinfeld IJ, Bartlett RH (1989) Neonatal vocal cord paralysis following extracorporeal membrane oxygenation. Pediatrics 84(5):793–796

15.

Rukholm G, Farrokhyar F, Reid D (2012) Vocal cord paralysis post patent ductus arteriosus ligation surgery: risks and co-morbidities. Int J Pediatr Otorhinolaryngol 76(11):1637–1641

16.

Barker J, Martino R, Reichardt B, Hickey EJ, Ralph-Edwards A (2009) Incidence and impact of dysphagia in patients receiving prolonged endotracheal intubation after cardiac surgery. Can J Surg 52(2):119–124

17.

Sasikumar N, Hermuzi A, Fan C, Lee K, Chaturvedi R, Hickey E, Honjo O, Van Arsdell G, Caldarone C, Agarwal A, Benson L (2017) Outcomes of Blalock-Taussig shunts in current era: a single center experience. Congenit Heart Dis 12(6):808–814

18.

Jackson A, Maybee J, Moran M, Wolter-Warmerdam K, Hickey F (2016) Clinical characteristics of dysphagia in children with down syndrome. Dysphagia 31(5):663–671

19.

Eicher P, McDonald-Mcginn D, Fox C, Driscoll D, Emanuel B, Zackai E (2000) Dysphagia in children with a 22q11.2 deletion: unusual pattern found on modified barium swallow. J Pediatr 137(2):158–164

20.

Zbar RI, Chen AH, Behrendt DM, Bell EF, Smith RJ (1996) Incidence of vocal fold paralysis in infants undergoing ligation of patent ductus arteriosus. Ann Thorac Surg 61(3):814–816

21.

Alfares FA, Hynes CF, Ansari G, Chounoune R, Ramadan M, Shaughnessy C, Reilly BK, Zurakowski D, Jonas RA, Nath DS (2016) Outcomes of recurrent laryngeal nerve injury following congenital heart surgery: a contemporary experience. J Saudi Heart Assoc 28(1):1–6

22.

Sachdeva R, Hussain E, Moss MM, Schmitz ML, Ray RM, Imamura M, Jaquiss RD (2007) Vocal cord dysfunction and feeding difficulties after pediatric cardiovascular surgery. J Pediatr 151(3):312–315

23.

Skinner ML, Halstead LA, Rubinstein CS, Atz AM, Andrews D, Bradley SM (2005) Laryngopharyngeal dysfunction after the Norwood procedure. J Thorac Cardiovasc Surg 130(5):1293–1301

24.

Pourmoghadam KK, DeCampli WM, Ruzmetov M, Kosko J, Kishawi S, O'Brien M, Cowden A, Piggott K, Fakioglu H (2017) Recurrent laryngeal nerve injury and swallowing dysfunction in neonatal aortic arch repair. Ann Thorac Surg 104(5):1611–1618

25.

Hu X, Lee JS, Pianosi PT, Ryu JH (2015) Aspiration-related pulmonary syndromes. Chest 147(3):815–823

26.

Smith ME, King JD, Elsherif A, Muntz HR, Park AH, Kouretas PC (2009) Should all newborns who undergo patent ductus arteriosus ligation be examined for vocal fold mobility? Laryngoscope 119(8):1606–1609

27.

Truong MT, Messner AH, Kerschner JE, Scholes M, Wong-Dominguez J, Milczuk HA, Yoon PJ (2007) Pediatric vocal fold paralysis after cardiac surgery: rate of recovery and sequelae. Otolaryngol Head Neck Surg 137(5):780–784

28.

Sorokin R, Gottlieb JE (2006) Enhancing patient safety during feeding-tube insertion: a review of more than 2000 insertions. JPEN J Parenter Enteral Nutr 30(5):440–445

29.

Irving SY, Lyman B, Northington L, Bartlett JA, Kemper C (2014) Nasogastric tube placement and verification in children: review of the current literature. Crit Care Nurs 34:67–78

30.

Ricciuto A, Baird R, Sant'Anna A (2015) A retrospective review of enteral nutrition support practices at a tertiary pediatric hospital: a comparison of prolonged nasogastric and gastrostomy tube feeding. Clin Nutr 34(4):652–658

31.

Alten JA, Rhodes LA, Tabbutt S, Cooper DS, Graham EM, Ghanayem N, Marino BS, Figueroa MI, Chanani NK, Jacobs JP, Donohue JE, Yu S, Gaies M (2015) Perioperative feeding management of neonates with CHD: analysis of the Pediatric Cardiac Critical Care Consortium (PC4) registry. Cardiol Young 25(8):1593–1601
Ethics declarations
Conflict of interest
All the authors declare that they have no conflict of interest.
Ethical Approval
This article does not contain any studies with human participants or animals performed by any of the authors.
Additional information
Publisher's Note
Springer Nature remains neutral with regard to jurisdictional claims in published maps and institutional affiliations.
About this article
Cite this article
Raulston, J.E.B., Smood, B., Moellinger, A. et al. Aspiration After Congenital Heart Surgery. Pediatr Cardiol 40, 1296–1303 (2019). https://doi.org/10.1007/s00246-019-02153-9
Received:

Accepted:

Published:

Issue Date:
Keywords
Aspiration

Vocal cord dysfunction

Congenital heart disease

Postoperative

Pediatric cardiac critical care