Abstract
Extracorporeal membrane oxygenation complications involving vascular injury or intracardiac thrombosis in neonates are rare. We present a series of unique complications and describe their variable treatments.
This is a preview of subscription content, log in to check access.
Access options
Buy single article
Instant access to the full article PDF.
US$ 39.95
Price includes VAT for USA
Subscribe to journal
Immediate online access to all issues from 2019. Subscription will auto renew annually.
US$ 99
This is the net price. Taxes to be calculated in checkout.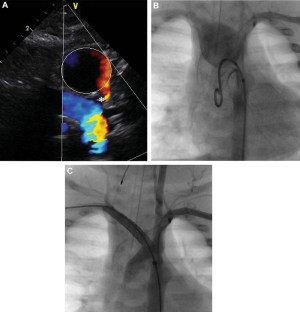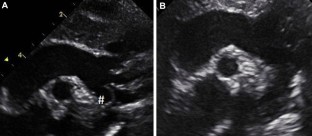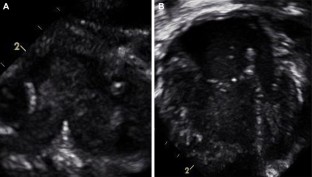 References
1.

Mugford M, Elbourne D, Field D (2008) Extracorporeal membrane oxygenation for severe respiratory failure in newborn infants. Cochrane Database Syst Rev 16(3):CD001340

2.

Reiterer F, Resch E, Haim M et al (2018) Neonatal extracorporeal membrane oxygenation due to respiratory failure: a single center experience over 28 years. Front Pediatr 6:263

3.

Rollins MD, Hubbard A, Zabrocki L et al (2012) Extracorporeal membrane oxygenation cannulation trends for pediatric respiratory failure and central nervous system injury. J Pediatr Surg 47(1):68–75

4.

Dalton HJ, Reeder R, Garcia-Filion P et al (2017) Factors associated with bleeding and thrombosis in children receiving extracorporeal membrane oxygenation. Am J Respir Crit Care Med 196(6):762–771

5.

Mok YH, Lee JH, Cheifetz IM (2016) Neonatal extracorporeal membrane oxygenation: update on management strategies and long-term outcomes. Adv Neonatal Care 16(1):26–36

6.

Takawira FF, Sinyangwe G, Mooloo R (2010) Endovascular covered stent treatment for descending aorta pseudoaneurysm following coarctation of the aorta repair in an infant. Heart Lung Circ 19(12):745–748

7.

Ryerson LM, Sanchez-Glanville C, Huberdeau C, Aklabi MA (2017) Carotid artery dissection following neck cannulation for extracorporeal life support. World J Pediatr Congenit Heart Surg 8(3):414–416

8.

Paul JJ, Desai H, Baumgart S, Wolfson P, Russo P, Tighe DA (1997) Aortic dissection in a neonate associated with arterial cannulation for extracorporeal life support. ASAIO J 43(1):92–94

9.

Arensman RM, Short BL, Stephens D (2017) Extracorporeal membrane oxygenation. In: Assisted ventilation of the neonate, 6th edn. Elsevier, Philadelphia, pp 434–445

10.

Kuenzler KA, Arthur LG, Burchard AE, Lawless ST, Wolfson PJ, Murphy SG (2002) Intraoperative ultrasound reduces ECMO catheter malposition requiring surgical correction. J Pediatr Surg 37(5):691–694

11.

Kamdar A, Rintoul N, Raffini L (2018) Anticoagulation in neonatal ECMO. Semin Perinatol 42(2):122–128

12.

Kuo WT, Gould MK, Louie JD, Rosenberg JK, Sze DY, Hofmann LV (2009) Catheter-directed therapy for the treatment of massive pulmonary embolism: systematic review and meta-analysis of modern techniques. J Vasc Interv Radiol 20(11):1431–1440
Ethics declarations
Conflict of interest
None of the authors have any conflicts of interest to report.
Ethical Approval
All procedures performed in studies involving human participants were in accordance with the ethical standards of the institutional and/or national research committee and with the 1964 Helsinki Declaration and its later amendments or comparable ethical standards.
Informed Consent
Informed consent was obtained from all individual participants included in this study.
Additional information
Publisher's Note
Springer Nature remains neutral with regard to jurisdictional claims in published maps and institutional affiliations.
Electronic supplementary material
Below is the link to the electronic supplementary material.
Supplementary material 3 TTE demonstrated an intimal flap arising from the inferior edge of the aortic arch resulting in intermittent obstruction to flow in the aortic arch. (AVI 4480 KB)
About this article
Cite this article
VanLoozen, D., Burch, Z., Shivaram, P. et al. Variable Treatment Approaches for Extracorporeal Membrane Oxygenation Complications in Neonates: A Case Series. Pediatr Cardiol 40, 664–667 (2019). https://doi.org/10.1007/s00246-019-02070-x
Received:

Accepted:

Published:

Issue Date:
Keywords
ECMO

Neonatal

Transcatheter intervention

Cardiac surgery