Abstract
While rheumatic heart disease (RHD) is a treatable disease nearly eradicated in the United States, it remains the most common form of acquired heart disease in the developing world. This study used echocardiographic screening to determine the prevalence of RHD in children in American Samoa. Screening took place at a subset of local schools. Private schools were recruited and public schools underwent cluster randomization based on population density. We collected survey information and performed a limited physical examination and echocardiogram using the World Heart Federation protocol for consented school children aged 5–18 years old. Of 2200 students from two private high schools and two public primary schools, 1058 subjects consented and were screened. Overall, 133 (12.9%) children were identified as having either definite (3.5%) or borderline (9.4%) RHD. Of the patients with definitive RHD, 28 subjects had abnormal mitral valves with pathologic regurgitation, three mitral stenosis, three abnormal aortic valves with pathologic regurgitation, and seven borderline mitral and aortic valve disease. Of the subjects with borderline disease, 77 had pathologic mitral regurgitation, 12 pathologic aortic regurgitation, and 7 at least two features of mitral valve disease without pathologic regurgitation or stenosis. Rheumatic heart disease remains a major cause of morbidity and mortality worldwide. The prevalence of RHD in American Samoa (12.9%) is to date the highest reported in the world literature. Echocardiographic screening of school children is feasible, while reliance on murmur and Jones criteria is not helpful in identifying children with RHD.
This is a preview of subscription content, log in to check access.
Access options
Buy single article
Instant access to the full article PDF.
US$ 39.95
Tax calculation will be finalised during checkout.
Subscribe to journal
Immediate online access to all issues from 2019. Subscription will auto renew annually.
US$ 99
Tax calculation will be finalised during checkout.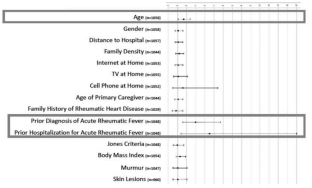 References
1.

Carapetis JR, Currie BJ, Mathews JD (2000) Cumulative incidence of rheumatic fever in an endemic region: a guide to the susceptibility of the population? Epidemiol Infect 124:239–244

2.

Marijon E, Ou P, Celermajer DS, Ferreira B, Mocumbi AO, Jani D et al (2007) Prevalence of rheumatic heart disease detected by echocardiographic screening. N Engl J Med 357:470–476

3.

Bhaya M, Panwar S, Beniwal R, Panwar RB (2009) High prevalence of rheumatic heart disease detected by echocardiography in school children. Echocardiography 27:448–453

4.

Saxena A, Ramakrishnan S, Roy A, Seth S, Krishnan A, Misra P et al (2011) Prevalence and outcome of subclinical rheumatic heart disease in India: the RHEUMATIC (Rheumatic Heart Echo Utilization and Monitoring Actuarial Trends in Indian Children) study. Heart 97:2018–2022

5.

Sadiq M, Islam K, Abid R, Latif F, Rehman AU, Waheed A et al (2009) Prevalence of rheumatic heart disease in school children in urban Lahore. Heart 95:353–357

6.

Bahadur KC, Sharma D, Shrestha MP, Gurung S, Rajbhandari S, Malla R et al (2003) Prevalence of rheumatic and congenital heart disease in school children of Kathmandu valley in Nepal. Indian Heart J 5(6):615–618

7.

Jose VJ, Gomathi M (2003) Declining prevalence of rheumatic heart disease in rural school children in India: 2001–2002. Indian Heart J 55(2):158–160

8.

Ahmed J, Mostafa Zaman M, Monzur Hassan MM (2005) Prevalence of rheumatic fever and rheumatic heart disease in rural Bangladesh. Trop Doct 35(3):160–161

9.

Periwal KL, Gupta BK, Panwar RB, Khatri PC, Raja S, Gupta R (2006) Prevalence of rheumatic heart disease in school children in Bikaner: an echocardiographic study. J Assoc Physicians India 54:279–282

10.

Bland EF, Jones TD (1951) Rheumatic fever and rheumatic heart disease: a twenty year report on 1000 patients followed since childhood. Circulation 4:836–843

11.

Seckeler MD, Hoke TR (2011) The worldwide epidemiology of acute rheumatic fever and rheumatic heart disease. Clin Epidemiol 3:67–87

12.

Erdem G, Dodd A, Tuua A, Sinclair S, Iatala TF, Marrone JR et al (2007) Acute rheumatic fever in American Samoa. Pediatr Infect Dis J 26(12):1158–1159

13.

Remenyi B, Wilson N, Steer A, Ferreira B, Kado J, Kumar K et al (2012) World Heart Federation criteria for echocardiographic diagnosis of rheumatic heart disease—an evidence-based guideline. Nat Rev Cardiol 9(5):297–309

14.

Gewitz MH, Baltimore RS, Tani LY, Sable CA, Shulman ST, Carapetis J et al (2015) Revision of the Jones criteria for the diagnosis of acute rheumatic fever in the era of Doppler echocardiography—a scientific statement from the American Heart Association. Circulation 131:1806–1818

15.

Harris PA, Taylor R, Thielke R, Payne J, Gonzalez N, Conde JG (2009) Research electronic data capture (redcap)—a metadata-driven methodology and workflow process for providing translational research informatics support. J Biomed Inform 42:377–381

16.

Narula J, Chandrasekhar Y, Rahimtoola S (1999) Diagnosis of active rheumatic carditis: the echoes of change. Circulation 100:1576–1581

17.

Carapetis JR, Steer AC, Mulholland EK, Weber M (2005) The global burden of group A streptococcal diseases. Lancet Infect Dis 5(11):685–694

18.

Aurakzai HA, Hameed S, Shahbaz A, Gohar S, Qureshi M, Khan H et al (2009) Echocardiographic profile of rheumatic heart disease at a tertiary cardiac centre. J Ayub Med Coll Abbottabad 21(3):122–126

19.

Roberts KV, Brown AD, Maguire GP, Atkinson DN, Carapetis JR (2013) Utility of auscultatory screening for detecting rheumatic heart disease in high-risk children in Australia's Northern Territory. Med J Aust 199(3):196–199

20.

Godown J, Lu JC, Beaton A, Sable C, Mirembe G, Sanya R et al (2015) Handheld echocardiography versus auscultation for detection of rheumatic heart disease. Pediatrics 135:e939–e944

21.

Lu JC, Sable C, Ensing GJ, Webb C, Scheel J, Aliku T et al (2015) Simplified rheumatic heart disease screening criteria for handheld echocardiography. J Am Soc Echocardiogr 28(4):463–469

22.

Beaton A, Lu JC, Aliku T, Dean P, Gaur L, Weinberg J et al (2015) The utility of handheld echocardiography for early rheumatic heart disease diagnosis: a field study. Eur Heart J Cardiovasc Imaging 16(5):475–482

23.

Webb RH, Gentles TL, Stirling JW, Lee M, O'Donnel C, Wilson NJ (2015) Valvular regurgitation using portable echocardiography in a healthy student population: implications for rheumatic heart disease screening. J Am Soc Echocardiogr 28(8):981–988

24.

Viali S, Saena P, Futi V (2011) Rheumatic fever programme in Samoa. N Z Med J 124(1329):26–35

25.

Tuition and Fees (2016) Kanana Fou theological seminary 2014. http://www.kftseminary.org/Tuition.html. Accessed Sep 2016

26.

FMHS 411 (2016) Marist high school. http://fmhs411.weebly.com/. Accessed Sep 2016

27.

2010 Census Summary (2014) Census.gov. U.S. department of commerce. Accessed 24 March 2014
Acknowledgements
Special thanks to Carrie Dishner, Heather Perry, Timothy Taber, Dawn Fleming, and Kim Lowman for their support in performing the echocardiographic studies, Reid Burch for data entry, and Dr. Beth Parker, Amber Rogers, Dr. Jim Marrone, Rachel Sunstrom, Lynn Johnson, Ashley Armsby, and Brandy Turnbull for their assistance during the clinical follow-up.
Ethics declarations
Conflict of interest
No authors have conflicts of interest to disclose.
Ethical Approval
All procedures performed in studies involving human participants were in accordance with the ethical standards of the institutional and/or national research committee and with the 1964 Helsinki declaration and its later amendments or comparable ethical standards.
Human and Animal Rights
This article does not contain any studies with animals performed by any of the authors.
Informed Consent
Informed consent was obtained from all individual participants included in the study.
About this article
Cite this article
Huang, J.H., Favazza, M., Legg, A. et al. Echocardiographic Screening of Rheumatic Heart Disease in American Samoa. Pediatr Cardiol 39, 38–44 (2018). https://doi.org/10.1007/s00246-017-1724-4
Received:

Accepted:

Published:

Issue Date:
Keywords
Rheumatic heart disease

Pediatric cardiology

Echocardiography

Global health

Streptococcus