Abstract
Recurrent aortic arch obstruction (RAAO) remains a major cause of morbidity following surgical neonatal repair of coarctation of the aorta (CoA). Elucidating predictors of RAAO can identify high-risk patients and guide postoperative management. The Coarctation index (CoA-I), defined as the ratio of the diameter of the narrowest aortic arch segment to the diameter of the descending aorta, has been used to help diagnose RAAO in neonates following the Norwood Procedure. We sought to assess the predictive value of the CoA-I on RAAO after CoA repair in infants with biventricular circulation. Clinical, surgical, and echocardiographic data of infants with biventricular circulation following neonatal CoA repair between 2010 and 2014 were evaluated. RAAO was defined using a composite quantitative outcome variable: a blood pressure gradient >20, a peak aortic arch velocity >3.5 m/s by echocardiogram, or a catheter-measured peak-to-peak gradient >20 within 2 years of surgery. Univariate and multivariate logistic regression analyses were used. Of the 68 subjects included in the analysis, 15 (22%) met criteria for RAAO. In the multivariate model, only CoA-I (OR 35.89, 95% CI 6.08–211.7, p < 0.0001) and use of patch material (OR 9.26, 95% CI 1.57–54.66, p = 0.014) were associated with increased risk of RAAO. The odds of developing RAAO was higher in patients with a CoA-I less than 0.7 (OR 33.8, 95% CI 5.7–199.5, p < 0.001). Postoperative CoA-I may be used to predict RAAO in patients with biventricular circulation after repair of CoA. Patients with a CoA-I less than 0.7 or patch aortoplasty warrant close follow-up.
Access options
Buy single article
Instant access to the full article PDF.
US$ 39.95
Tax calculation will be finalised during checkout.
Subscribe to journal
Immediate online access to all issues from 2019. Subscription will auto renew annually.
US$ 79
Tax calculation will be finalised during checkout.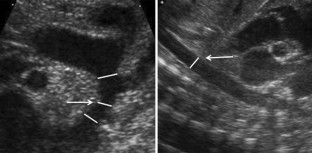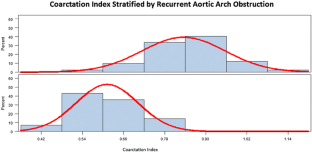 References
1.

Hoffman JIE, Kaplan S (2002) The incidence of congenital heart disease. J Am Coll Cardiol 39(12):1890–1900

2.

Kansy A, Tobota Z, Maruszewski P, Maruszewski B (2010) Analysis of 14,843 neonatal congenital heart surgical procedures in the European association for cardiothoracic surgery congenital database. Ann Thorac Surg 89(4):1255–1259

3.

Dodge-Khatami A, Backer CL, Mavroudis C (2000) Risk factors for recoarctation and results of reoperation: a 40-year review. J Card Surg 15(6):369–377

4.

Wood AE, Javadpour H, Duff D, Oslizlok O, Walsh K (2004) Is extended arch aortoplasty the operation of choice for infant aortic coarctation? results of 15 years' experience in 181 patients. Ann Thorac Surg 77(4):1353–1357

5.

Wright GE, Nowak CA, Goldberg CS, Ohye RG, Bove EL, Rocchini AP (2005) Extended resection and end-to-end anastomosis for aortic coarctation in infants: results of a tailored surgical approach. Ann Thorac Surg 80(4):1453–1459

6.

Younoszai AK, Reddy VM, Hanley FL, Brook MM (2002) Intermediate term follow-up of the end-to-side aortic anastomosis for coarctation of the aorta. Ann Thorac Surg 74(5):1631–1634

7.

Burch PT, Cowley CG, Holubkov R et al (2009) Coarctation repair in neonates and young infants: is small size or low weight still a risk factor? J Thorac Cardiovasc Surg 138(3):547–552

8.

Fiore AC, Fischer LK, Schwartz T et al (2005) Comparison of angioplasty and surgery for neonatal aortic coarctation. Ann Thorac Surg 80(5):1659–1664

9.

Kumar TK, Zurakowski D, Sharma R, Saini S, Jonas RA (2011) Prediction of recurrent coarctation by early postoperative blood pressure gradient. J Thorac Cardiovasc Surg 142(5):1130–1136

10.

Mery CM, Guzman-Pruneda FA, Trost JGJ et al (2015) Contemporary results of aortic coarctation repair through left thoracotomy. Ann Thorac Surg 100(3):1039–1046

11.

Walhout RJ, Lekkerkerker JC, Oron GH, Hitchcock FJ, Meijboom EJ, Bennink GB (2003) Comparison of polytetrafluoroethylene patch aortoplasty and end-to-end anastomosis for coarctation of the aorta. J Thorac Cardiovasc Surg 126(2):521–528

12.

Kaushal S, Backer CL, Patel JN et al (2009) Coarctation of the aorta: miderm outcomes of resection with extended end-to-end anastomosis. Ann Thorac Surg 88(6):1932–1938

13.

McElhinney DB, Yang S, Hogarty AN et al (2001) Recurrent arch obstruction after repair of isolated coarctation of the aorta in neonates and young infants: is low weight a risk factor? J Thorac Cardiovasc Surg 122(5):883–890

14.

Sakurai T, Stickley J, Stumper O et al (2012) Repair of isolated aortic coarctation over two decades: impact of surgical approach and associated arch hypoplasia. Interact CardioVasc Thorac Surg 15:865–870

15.

Truong DT, Tani LY, Minich LL, Burch PT, Bardsley TR, Menon SC (2014) Factors associated with recoarctation after surgical repair of coarctation of the aorta by way of thoracotomy in young infants. Pediatr Cardiol 35(1):164–170

16.

Demircin M, Arsan S, Pasaoglu I et al (1995) Coarctation of the aorta in infants and neonates: results and assessment of prognostic variables. J Cardiovasc Surg 36(5):459–464 (Torino)

17.

Karamlou T, Bernasconi A, Jaeggi E et al (2009) Factors associated with arch reintervention and growth of the aortic arch after coarctation repair in neonates weighing less than 2.5 kg. J Thorac Cardiovasc Surg 137(5):1163–1167

18.

Wellen SL, Glatz AC, Gillespie MJ, Ravishankar C, Cohen MS (2014) Usefulness of transthoracic echocardiography to accurately diagnose recoarctation of the aorta after the Norwood procedure. Am J Cardiol 114(1):117–121

19.

Lai WW, Geva T, Shirali GS et al (2006) Guidelines and standard for performance of a pediatric echocardiogram: a report from the task force of the pediatric council of the American society of echocardiography. J Am Soc Echocardiogr 19(12):1413–1430

20.

Colan SD (2009) Normal echocardiographic values for cardiovascular structures. In: Lai WW, Cohen MS, Geva T, Mertens L (eds) Echocardiography in pediatric and congenital heart disease. Wiley, West Sussex, pp 765–785

21.

Dannevig I, Dale HC, Liestol K, Lindemann R (2005) Blood pressure in the neonate: three non-invasive oscillometric pressure monitors compared with invasively measured blood pressure. Acta Paediatr 94(2):191–196

22.

O'Shea J, Dempsey EM (2009) A comparison of blood pressure measurements in newborns. Am J Perinatol 26(2):113–116

23.

Backer CL, Paape K, Zales VR, Weigel TJ, Mavroudis C (1995) Coarctation of the aorta. repair with polytetrafluoroethylene patch aortoplasty. Circulation 92(9):132–136

24.

Zehr KJ, Gillinov AM, Redmond JM et al (1995) Repair of coarctation of the aorta in neonates and infants: a thirty-year experience. Ann Thorac Surg 59(1):33–41

25.

Wisotzkey BL, Hornik CP, Green AS, Barker PCA (2015) Comparison of invasive and non-invasive pressure gradients in aortic arch obstruction. Cardiol Young 25:1348–1357

26.

Giardini A, Tacy TA (2009) Pressure recovery explains Doppler overestimation of invasive pressure gradient across segmental vascular stenosis. Echocardiography 27(1):21–31
Funding
Dr. Peyvandi is supported by the NIH (P01 NS082330).
Ethics declarations
Conflict of interest
All authors declare no conflicts of interest.
Ethical Approval
This article does not contain any studies with animals performed by any of the authors. All procedures performed in studies involving human participants were in accordance with the ethical standards of the institutional and/or national research committee and with the 1964 Helsinki declaration and its later amendments or comparable ethical standard.
Informed consent
Informed consent was not required in this study due to the de-identified and retrospective nature of the data. The UCSF institutional review board provided approval for this study (IRB #15-16792).
About this article
Cite this article
Adamson, G., Karamlou, T., Moore, P. et al. Coarctation Index Predicts Recurrent Aortic Arch Obstruction Following Surgical Repair of Coarctation of the Aorta in Infants. Pediatr Cardiol 38, 1241–1246 (2017). https://doi.org/10.1007/s00246-017-1651-4
Received:

Accepted:

Published:

Issue Date:
Keywords
Coarctation

Recoarctation

Predictors

Echocardiography