Abstract
Smartphone applications that record a single-lead ECG are increasingly available. We sought to determine the utility of a smartphone application (AliveCor) to record supraventricular tachycardia (SVT) and to distinguish atrioventricular reentrant tachycardia (AVRT) from atrioventricular nodal reentrant tachycardia (AVNRT) in pediatric patients. A prior study demonstrated that interpretation of standard event and Holter monitors accurately identifies the tachycardia mechanism in only 45 % of recordings. We performed an IRB-approved prospective study in pediatric patients undergoing an ablation for SVT. Tracings were obtained by placing the smartphone in three different positions on the chest (PI—horizontal, PII—rotated 60° clockwise, and PIII—rotated 120° clockwise). Two blinded pediatric electrophysiologists jointly analyzed a pair of sinus and tachycardia tracings in each position. Tracings with visible retrograde P waves were classified as AVRT. The three positions were compared by Chi-square test. Thirty-seven patients (age 13.7 ± 2.8 years) were enrolled in the study. Twenty-four had AVRT, and 13 had AVNRT. One hundred and eight pairs of tracings were obtained. The correct diagnosis was made in 27/37 (73 %) with position PI, 28/37 (76 %) with PII, and 20/34 (59 %) with PIII (p = 0.04 for PII vs. PIII and p = NS for other comparisons). A single-lead ECG obtained with a smartphone monitor can successfully record SVT in pediatric patients and can predict the SVT mechanism at least as well as previously published reports of Holter monitors, along with the added convenience of not requiring patients to carry a dedicated monitor.
This is a preview of subscription content, log in to check access.
Access options
Buy single article
Instant access to the full article PDF.
US$ 39.95
Price includes VAT for USA
Subscribe to journal
Immediate online access to all issues from 2019. Subscription will auto renew annually.
US$ 99
This is the net price. Taxes to be calculated in checkout.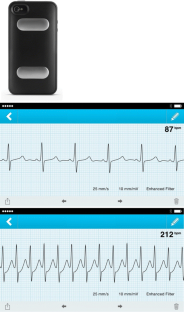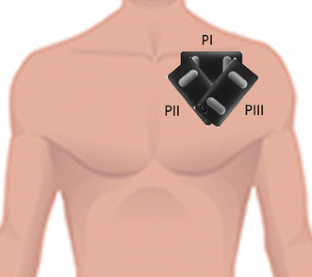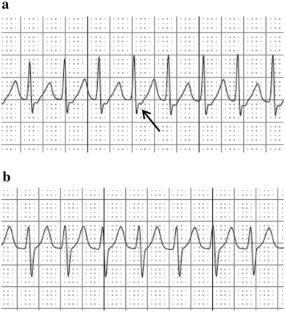 References
1.

Fogoros RN (2012) Electrophysiologic testing, 5th edn. Wiley, Chichester

2.

Franko OI, Tirrell TF (2012) Smartphone app use among medical providers in ACGME training programs. J Med Syst 36(5):3135–3139

3.

Goldstein MA, Hesslein P, Dunnigan A (1990) Efficacy of transtelephonic electrocardiographic monitoring in pediatric patients. Am J Dis Child 144(2):178–182

4.

Ho C-L, Fu Y-C, Lin M-C, Chan S-C, Hwang B, Jan S-L (2013) Smartphone applications (Apps) for heart rate measurement in children: comparison with electrocardiography monitor. Pediatr Cardiol 35(4):726–731

5.

Jaeggi ET, Gilljam T, Bauersfeld U, Chiu C, Gow R (2003) Electrocardiographic differentiation of typical atrioventricular node reentrant tachycardia from atrioventricular reciprocating tachycardia mediated by concealed accessory pathway in children. Am J Cardiol 91(9):1084–1089

6.

Kalbfleisch SJ, El-Atassi R, Calkins H, Langberg JJ, Morady F (1993) Differentiation of paroxysmal narrow QRS complex tachycardias using the 12-lead electrocardiogram. J Am Coll Cardiol 21(1):85–89

7.

Karpawich PP, Cavitt DL, Sugalski JS (1993) Ambulatory arrhythmia screening in symptomatic children and young adults: comparative effectiveness of Holter and telephone event recordings. Pediatr Cardiol 14(3):147–150

8.

Kennedy HL (2013) The evolution of ambulatory ECG monitoring. Prog Cardiovasc Dis 56(2):127–132

9.

Ko JK, Deal BJ, Strasburger JF, Benson DW (1992) Supraventricular tachycardia mechanisms and their age distribution in pediatric patients. Am J Cardiol 69(12):1028–1032

10.

Kugler JD, Danford DA, Deal BJ et al (1994) Radiofrequency catheter ablation for tachyarrhythmias in children and adolescents. The pediatric electrophysiology society. N Engl J Med 330(21):1481–1487

11.

Lau JK, Lowres N, Neubeck L et al (2013) iPhone ECG application for community screening to detect silent atrial fibrillation: a novel technology to prevent stroke. Int J Cardiol 165(1):193–194

12.

Liberman L, Pass RH, Starc TJ (2008) Optimal surface electrocardiogram lead for identification of the mechanism of supraventricular tachycardia in children. Pediatr Emerg Care 24(1):28–30

13.

Oulasvirta A, Rattenbury T, Ma L, Raita E (2011) Habits make smartphone use more pervasive. Pers Ubiquitous Comput 16(1):105–114

14.

Radesky JS, Kistin CJ, Zuckerman B et al (2014) Patterns of mobile device use by caregivers and children during meals in fast food restaurants. Pediatrics 133(4):e843–e849

15.

Rijnbeek PR, Witsenburg M, Schrama E, Hess J, Kors J (2001) New normal limits for the paediatric electrocardiogram. Eur Heart J 22(8):702–711

16.

Saarel EV, Stefanelli CB, Fischbach PS, Serwer GA, Rosenthal A, Dick M (2004) Transtelephonic electrocardiographic monitors for evaluation of children and adolescents with suspected arrhythmias. Pediatrics 113(2):248–251

17.

Saxon L (2013) Ubiquitous wireless ECG recording: a powerful tool physicians should embrace. J Cardiovasc Electrophysiol 24(4):480–483

18.

Tanel RE, Walsh EP, Triedman JK, Epstein MR, Bergau DM, Saul JP (1997) Five-year experience with radiofrequency catheter ablation: implications for management of arrhythmias in pediatric and young adult patients. J Pediatr 131(6):878–887

19.

Wackel P, Beerman L, West L, Arora G (2014) Tachycardia detection using smartphone applications in pediatric patients. J Pediatr 164(5):1133–1135

20.

Weindling SN, Saul JP, Walsh EP (1996) Efficacy and risks of medical therapy for supraventricular tachycardia in neonates and infants. Am Heart J 131(1):66–72

21.

Wong C-K (2013) iPhone ECG monitoring–the gateway to the new paradigm of STEMI therapy. Int J Cardiol 168(3):2897–2898
Acknowledgments
AliveCor provided use of the monitor (value $200) to the authors for research purposes.
Conflict of interest
The authors have no potential conflicts of interest.
About this article
Cite this article
Ferdman, D.J., Liberman, L. & Silver, E.S. A Smartphone Application to Diagnose the Mechanism of Pediatric Supraventricular Tachycardia. Pediatr Cardiol 36, 1452–1457 (2015). https://doi.org/10.1007/s00246-015-1185-6
Received:

Accepted:

Published:

Issue Date:
Keywords
Smartphone

Pediatric supraventricular tachycardia

Atrioventricular nodal reentrant tachycardia

Atrioventricular reentrant tachycardia