Abstract
The objective of this study was to examine a large institutional experience of patients with trisomy 13 and trisomy 18 in the setting of comorbid congenital heart disease and present the outcomes of surgical versus expectant management. It is a retrospective single-institution cohort study. Institutional review board approved this study. Thirteen consecutive trisomy 18 patients and three consecutive trisomy 13 patients (sixteen patients in total) with comorbid congenital heart disease who were evaluated by our institution's Division of Cardiovascular Surgery between January 2008 and December 2013 were included in the study. The primary outcome measures evaluated were operative mortality (for patients who received surgical management), overall mortality (for patients who received expectant management), and total length of survival during follow-up. Of the thirteen trisomy 18 patients, seven underwent surgical management and six received expectant management. With surgical management, operative mortality was 29 %, and 80 % of patients were alive after a median follow-up of 116 days. With expectant management, 50 % of patients died before hospital discharge. Of the three patients with trisomy 13, one patient underwent surgical management and two received expectant management. The patient who received surgical management with complete repair was alive at last follow-up over 2 years after surgery; both patients managed expectantly died before hospital discharge. Trisomy 13 and trisomy 18 patients with comorbid congenital heart disease can undergo successful cardiac surgical intervention. In this population, we advocate that nearly all patients with cardiovascular indications for operative congenital heart disease intervention should be offered complete surgical repair over palliative approaches for moderately complex congenital cardiac anomalies.
This is a preview of subscription content, log in to check access.
Access options
Buy single article
Instant access to the full article PDF.
US$ 39.95
Price includes VAT for USA
Subscribe to journal
Immediate online access to all issues from 2019. Subscription will auto renew annually.
US$ 99
This is the net price. Taxes to be calculated in checkout.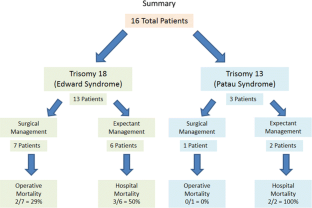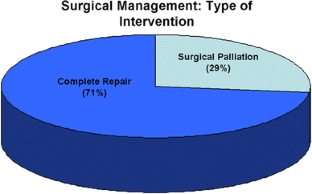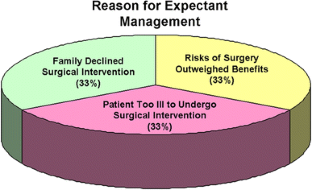 References
1.

Boss RD, Holmes KW, Althaus J, Rushton CH, McNee H, McNee T (2013) Trisomy 18 and complex congenital heart disease: seeking the threshold benefit. Pediatrics 132(1):161–165 Epub 2013/06/05

2.

Cereda A, Carey JC (2012) The trisomy 18 syndrome. Orphanet J Rare Dis 7:81 Epub 2012/10/24

3.

Graham EM, Bradley SM, Shirali GS, Hills CB, Atz AM (2004) Pediatric cardiac care C. Effectiveness of cardiac surgery in trisomies 13 and 18 (from the Pediatric Cardiac Care Consortium). Am J Cardiol 93(6):801–803 Epub 2004/03/17

4.

Hoffman J (2013) The global burden of congenital heart disease. Cardiovasc J Afr 24(4):141–145 Epub 2013/11/13

5.

Kaneko Y, Kobayashi J, Yamamoto Y, Yoda H, Kanetaka Y, Nakajima Y et al (2008) Intensive cardiac management in patients with trisomy 13 or trisomy 18. Am J Med Genet Part A. 146A(11):1372–1380 Epub 2008/04/17

6.

Kaneko Y, Kobayashi J, Achiwa I, Yoda H, Tsuchiya K, Nakajima Y et al (2009) Cardiac surgery in patients with trisomy 18. Pediatr Cardiol 30(6):729–734 Epub 2009/04/03

7.

Kobayashi J, Kaneko Y, Yamamoto Y, Yoda H, Tsuchiya K (2010) Radical surgery for a ventricular septal defect associated with trisomy 18. Gen Thorac Cardiovasc Surg 58(5):223–227 Epub 2010/05/08

8.

Loane M, Morris JK, Addor MC, Arriola L, Budd J, Doray B et al (2013) Twenty-year trends in the prevalence of Down syndrome and other trisomies in Europe: impact of maternal age and prenatal screening. Eur J Hum Genet EJHG 21(1):27–33 Epub 2012/06/21

9.

Maeda J, Yamagishi H, Furutani Y, Kamisago M, Waragai T, Oana S et al (2011) The impact of cardiac surgery in patients with trisomy 18 and trisomy 13 in Japan. Am J Med Genet Part A 155A(11):2641–2646 Epub 2011/10/13

10.

Muneuchi J, Yamamoto J, Takahashi Y, Watanabe M, Yuge T, Ohno T et al (2011) Outcomes of cardiac surgery in trisomy 18 patients. Cardiol Young 21(2):209–215 Epub 2011/01/06

11.

Nelson KE, Hexem KR, Feudtner C (2012) Inpatient hospital care of children with trisomy 13 and trisomy 18 in the United States. Pediatrics 129(5):869–876 Epub 2012/04/12

12.

O'Brien SM, Clarke DR, Jacob JP et al (2009) An empirically based tool for analyzing mortality associated with congenital heart surgery. J Thorac Cardiovasc Surg 138:1139–1153

13.

Petry P, Polli JB, Mattos VF, Rosa RC, Zen PR, Graziadio C et al (2013) Clinical features and prognosis of a sample of patients with trisomy 13 (Patau syndrome) from Brazil. Am J Med Genet Part A 161A(6):1278–1283 Epub 2013/04/25

14.

The society of thoracic surgeons quality improvement measures, congenital heart surgery measures—operative mortality. [8/29/2014]. http://www.sts.org/quality-research-patient-safety/quality/quality-performance-measures
Conflict of interest
The authors did not receive any financial support for the study and declare that they have no conflict of interest.
About this article
Cite this article
Costello, J.P., Weiderhold, A., Louis, C. et al. A Contemporary, Single-Institutional Experience of Surgical Versus Expectant Management of Congenital Heart Disease in Trisomy 13 and 18 Patients. Pediatr Cardiol 36, 987–992 (2015). https://doi.org/10.1007/s00246-015-1109-5
Received:

Accepted:

Published:

Issue Date:
Keywords
Trisomy 13

Patau syndrome

Trisomy 18

Edwards syndrome

Congenital heart disease