Abstract
An online survey for parents of children with congenital heart disease (CHD) was developed to study the perceptions and experiences of parents when receiving the diagnosis. The survey was distributed to online support groups. A total of 841 responses from parents of children with CHD in the United States were received over a 4-week period in 2010. The authors hypothesized that the counseling and demeanor of the pediatric cardiologist (PC) may be important factors in determining whether parents of children with CHD seek second opinions, and that the terminology used in counseling may be variably interpreted. Of the 841 respondents, 349 (41 %) received the diagnosis prenatally. A minority of the respondents received: support group information (14 %), Internet resources (21 %), success rates at other hospitals (16 %), or maximum ages of survivors (29 %). Among 26 % of the parents who reported seeking a second opinion from another PC, the majority (71 %) chose the second PC for long-term follow-up care. Those receiving a prenatal diagnosis were more likely to seek a second opinion than those receiving the diagnosis postnatally (32 vs 22 %; p < 0.01). Parents' perception of the PC's compassion and empathy was inversely related to the likelihood of seeking a second opinion. Parents were more likely to seek a second opinion when they were not optimistic about their child's life expectancy, felt pressured by the PC to terminate the pregnancy, were told that their child's death was "somewhat" or "very" likely, or were told the child's CHD was "rare" (all p < 0.01). Two thirds (66 %) of the respondents were told that their child's condition was "rare." The majority of these (77 %) reported that the term was used by the PC. "Rare" was interpreted as "occurring in less than a million births" by 25 %, and as "few or no other people alive with this defect" by 27 %. Parental interpretation of "rare" was unrelated to their levels of education. As reported by the respondents, 13 % felt pressured to terminate the pregnancy by the PC. Those with hypoplastic left heart syndrome were more likely to report feeling pressure to terminate the pregnancy by the PC (21 vs 9 %; p < 0.001) or the perinatologist (23 vs 14 %; p = 0.026). The approach to counseling and the demeanor of the PC have important implications for parents' perceptions of their child's chance of survival. The information given at diagnosis, the manner in which it is presented, and the parents' understanding and interpretation of that information are critical factors in shaping parents' perceptions and management decisions.
Access options
Buy single article
Instant access to the full article PDF.
US$ 39.95
Tax calculation will be finalised during checkout.
Subscribe to journal
Immediate online access to all issues from 2019. Subscription will auto renew annually.
US$ 79
Tax calculation will be finalised during checkout.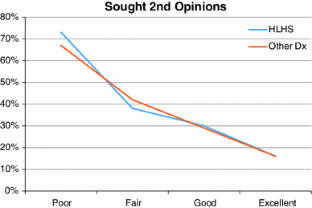 References
1.

Alkazelah F, Thomas M, Grebenyuki L, Glaude L, Savage D, Johannesens J, Caetano M, Windrim R (2004) What women want: women's preferences of caregiver behavior when prenatal sonography findings are abnormal. Ultrasound Obstet Gynecol 23:56–62. doi:10.1002/uog.906

2.

Arya B, Glickstein S, Levasseur SM, Williams IA (2012) Parents of children with congenital heart disease prefer more information than cardiologists provide. Congenit Heart Dis 8(1):78–85. doi:10.1111/j.1747-0803.2012.00706.x

3.

Atz AM, Travison TG, Williams IA, Pearson GD, Laussen PC, Mahle WT, Cook AL, Kirsh JA, Sklansky M, Khaikin S, Goldberg C, Frommelt M, Krawczeski C, Puchalski MD, Jacobs JP, Baffa JM, Rychik J, Ohye RG, Pediatric Heart Network Investigators (2010) Prenatal diagnosis and risk factors for preoperative death in neonates with single right ventricle and systemic outflow obstruction: screening data from the Pediatric Heart Network Single Ventricle Reconstruction Trial. J Thorac Cardiovasc Surg 140:1245–1250

4.

Chang RK, Klitzner TS (2002) Can regionalization decrease the number of deaths for children who undergo cardiac surgery? A theoretical analysis. Pediatrics 109:173–181

5.

Checchia PA, McCollegan J, Daher N, Kolovos N, Levy F, Markovitz B (2005) The effect of surgical case volume on outcome after the Norwood procedure. J Thorac Cardiovasc Surg 129:754–759

6.

Chenni N, Lacroze V, Pouet C, Fraisse A, Kreitmann B, Gamerre M, Boubli L, D'Ercole C (2012) Fetal heart disease and interruption of pregnancy: factors influencing the parental decision-making process. Prenat Diagn 32:168–172. doi:10.1002/pd.2923

7.

Feinstein JA, Benson DW, Dubin AM, Cohen MS, Maxey DM, Mahle WT, Pahl E, Villafañe J, Bhatt AB, Peng LF, Johnson BA, Marsden AL, Daniels CJ, Rudd NA, Caldarone CA, Mussatto KA, Morales DL, Ivy DD, Gaynor JW, Tweddell JS, Deal BJ, Furck AK, Rosenthal GL, Ohye RG, Ghanayem NS, Cheatham JP, Tworetzky W, Martin GR (2012) Hypoplastic left heart syndrome: current considerations and expectations. J Am Coll Cardiol 59(1 Suppl):S1–S42

8.

Hilton-Kamm D, Chang RK, Sklansky M (2012) Prenatal diagnosis of hypoplastic left heart syndrome: impact of counseling patterns on parental perceptions and decisions regarding termination of pregnancy. Pediatr Cardiol 33:1402–1410. doi:10.1007/s00246-012-0366-9

9.

Hirsch JC, Gurney JG, Donohue JE, Gebremariam A, Bove EL, Ohye RG (2008) Hospital mortality for Norwood and arterial switch operations as a function of institutional volume. Pediatr Cardiol 29:713–717

10.

Ikemba CM, Kozinetz CA, Feltes TF, Fraser CD, McKenzie ED, Shah N, Mott A (2002) Internet use in families with children requiring cardiac surgery for congenital heart disease. Pediatrics 109:419–422. doi:10.1542/peds.109.3.419

11.

Jone PN, Schowengerdt KO Jr (2009) Prenatal diagnosis of congenital heart disease. Pediatr Clin North Am 56:709–715. doi:10.1016/j.pcl.2009.04.002

12.

Kon AA, Ackerson L, Lo B (2004) How pediatricians counsel parents when no "best-choice" management exists. Arch Pediatr Adolesc Med 158:436–441

13.

Lalor JG, Devane D, Begley CM (2007) Unexpected diagnosis of fetal abnormality: women's encounters with caregivers. Birth 34:80–88

14.

Levy DJ, Pretorius DH, Rothman A, Gonzales M, Rao C, Nunes ME, Bendelstein J, Mehalek K, Thomas A, Nehlsen C, Ehr J, Burchette RJ, Sklansky MS (2013) Improved prenatal detection of congenital heart disease in an integrated health care system. Pediatr Cardiol 34(3):670–679

15.

Mahle WT, Clancy RR, McGaurn SP, Goin JE, Clark BJ (2001) Impact of prenatal diagnosis on survival and early neurologic morbidity in neonates with the hypoplastic left heart syndrome. Pediatrics 107:1277–1282

16.

Marino BS, Tomlinson RS, Drotar D, Claybon ES, Aguirre A, Ittenbach R, Welkom JS, Helfaer MA, Wernovsky G, Shea JA (2009) Quality-of-life concerns differ among patients, parents, and medical providers in children and adolescents with congenital and acquired heart disease. Pediatrics 123:708–715

17.

McHugh KE, Hillman DG, Gurka MJ, Gutgesell HP (2010) Three-stage palliation of hypoplastic left heart syndrome in the University Health System Consortium. Congenit Heart Dis 5:8–15

18.

Miquel-Verges F, Woods SL, Aucott SW, Boss RD, Sulpar LJ, Donohue PK (2009) Prenatal consultation with a neonatologist for congenital anomalies: parental perceptions. Pediatrics 124:e573–e579. doi:10.1542/peds.2008-2865

19.

Prsa M, Holly CD, Carnevale F, Justino H, Rohlicek C (2010) Attitudes and practices of cardiologists and surgeons who manage HLHS. Pediatrics 125:625–630

20.

Rakow T (2001) Differences in belief about likely outcomes account for differences in doctors' treatment preferences: but what accounts for the differences in belief? Qual Health Care 10(Suppl I):i44–i49

21.

Rempel GR, Cender LM, Lynam MJ, Sandor GG, Farquharson D (2004) Parents' perspectives on decision making after antenatal diagnosis of congenital heart disease. J Obstet Gynecol Neonatal Nurs 33:64–70

22.

Roger V, Go AS, Lloyd-Jones DM, Adams RJ, Berry JD (2011) Heart disease and stroke statistics—2011 update: a report from the American Heart Association. Circulation 123:e18–e209. doi:10.1161/CIR.0b013e3182009701

23.

Rychik J, Donaghue DD, Levy S, Fajardo C, Combs J, Zhang X, Szwast A, Diamond GS (2013) Maternal psychological stress after prenatal diagnosis of congenital heart disease. J Pediatr 162:302.e1–307.e1. doi:10.1016/j.jpeds.2012.07.023

24.

Sklansky M, Tang A, Levy D, Grossfeld P, Kashani I, Shaughnessy R, Rothman A (2002) Maternal psychological impact of fetal echocardiography. J Am Soc Echocardiogr 15:159–166

25.

Sklansky M, Miller D, Devore G, Kung G, Pretorius D, Wong P, Chang RK (2005) Prenatal screening for congenital heart disease using real-time three-dimensional echocardiography and a novel "sweep volume" acquisition technique. Ultrasound Obstet Gynecol 25:435–443. doi:10.1002/uog.1858

26.

Tallman K, Janisse T, Frankel RM, Sung SH, Krupat E, Hsu JT (2007) Communication practices of physicians with high patient satisfaction ratings. Perm J 11:19–29

27.

Tworetzky W, McElhinney DB, Reddy VM, Brook MM, Hanley FL, Silverman NH (2001) Improved surgical outcome after fetal diagnosis of hypoplastic left heart syndrome. Circulation 103:1269–1273

28.

Westaby S, Archer N, Manning N, Adwani S, Grebenik C, Ormerod O, Pillai R, Wilson N (2007) Comparison of hospital episode statistics and central cardiac audit database in public reporting of congenital heart surgery mortality. BMJ 335:759
Acknowledgments
The authors thank Susan Sabanos for help with the survey design; Karin Yospe, cofounder of California Heart Connection, for distribution of the survey; and the many online support groups that distributed the survey to their members and provide much-needed support to families.
Appendices
Appendix 1: Selected Questions From the CHD Survey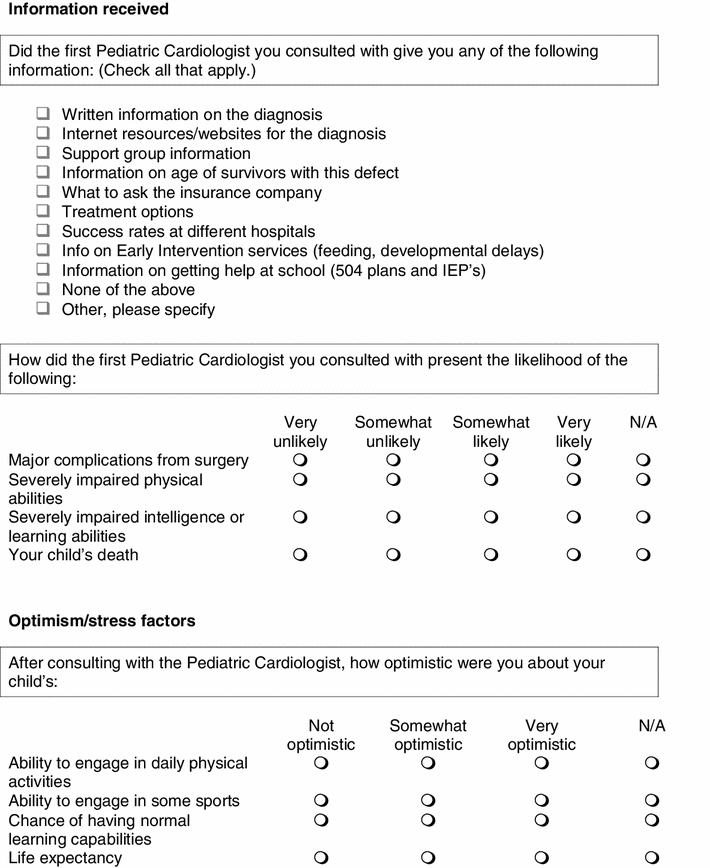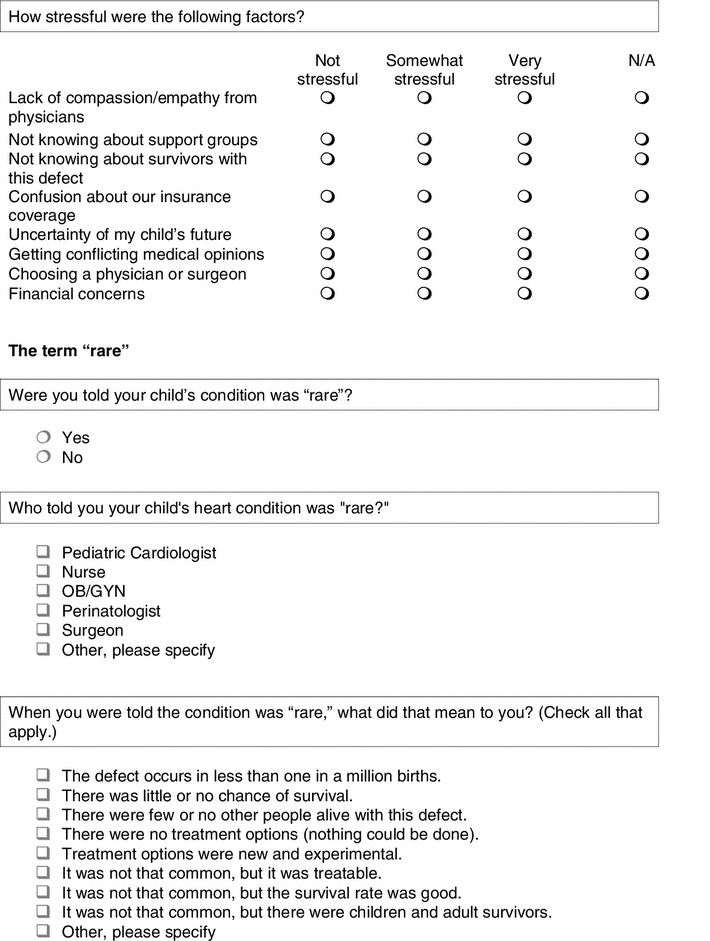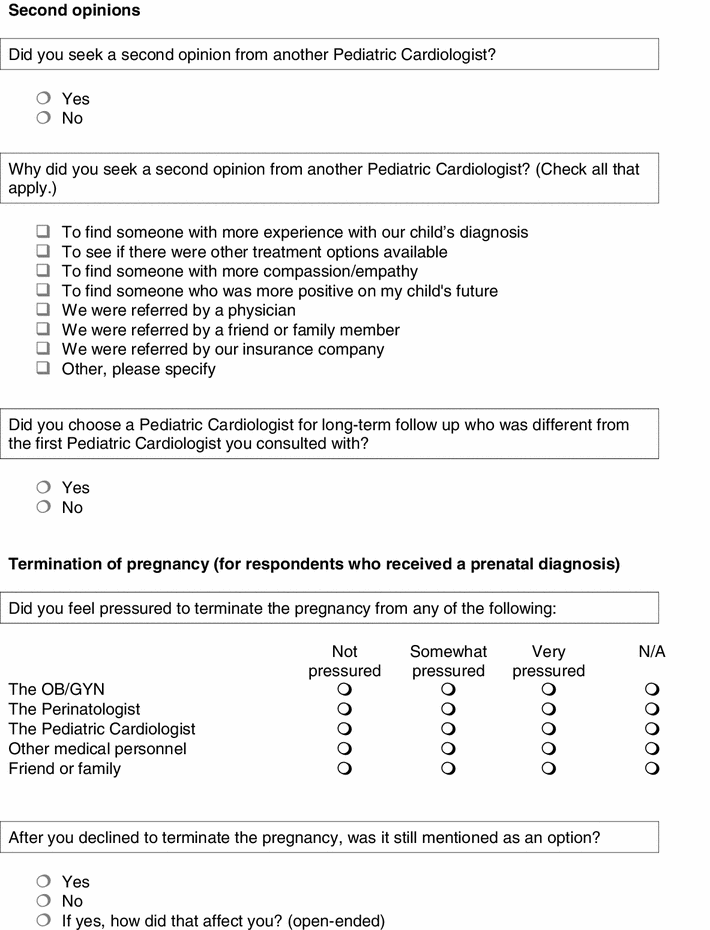 Appendix 2: Selected Responses to "What Else Would Have Been Helpful When You Received the Diagnosis?"
Responses are categorized by theme. Of the 841 respondents, 408 (49 %) responded to the question.
Information on Diagnosis
We weren't given much information, so we felt like we were in the dark. Often, parents don't even know what questions they should ask.

Survival rates and long-term prognosis are two big pieces of information that I feel I did not receive but had to find out on my own. I would have preferred to have more information about that.

Making sure I really understood what the condition was.

Getting a doctor to explain the anatomy of my son's heart was difficult. Once I was able to garner a better understanding via the Internet, I found that the doctors spent more time going over things with me, but it was rough in the beginning.

Clear understanding of the overall prognosis!

Current information about the diagnosis. Most everything I found on the Internet was outdated by 5–10 years (e.g., statistics and survival rates, treatment options).

More information on the defect. Shone's is so uncommon that there isn't a lot of information out there, and most research is from the late 1990s.

To be given the same information given to families with "more severe" or more complex CHDs. I felt we were left in the dark because my son's CHDs wasn't considered severe.

Initial diagnosis was unclear, and little information was given on what to expect. It wasn't until things progressed to serious 4 years later that it was explained clearly.
Delivery of Information (Written/Simple Terms)
As a mother, I was very overwhelmed by the diagnosis. Upon leaving the cardiologists office, I could not even tell anyone the name of what my daughter had. I wish I would have received more paper material to take and share with family members and to help me in my research of her CHD.

Information written and given in "laymen" terms

Heart diagram

Having a written explanation and pictures explaining our daughter's CHDs would have been very helpful. I would liked to have been shown a detailed model of the heart exhibiting her CHDs. I am a very visual person, and I had great difficulty understanding her defects. The shock and stress of the situation only compounded the problem.

Diagrams of anatomy!

When receiving the diagnosis prenatally, it is overwhelming, and only so much information can be taken in at that time. More printed material would have been helpful.

Being told where to go to find information on CHDs (online, medical libraries).

I would have liked more literature on paper instead of having to look things up on the Internet. The Internet is a scary place.

It would have been helpful to have a diagram of the heart and everything explained in SIMPLE terms.
Statistics at Different Hospitals
It would also have been helpful to receive stats on the best hospitals and surgeons in the country for my son's particular heart defect. Parents should know they have options. It shouldn't be a given that you automatically go to the closest hospital/surgeon just because of proximity. Parents need to be given information, choices, and some control over their child's care.

Please stop using the term "incompatible with life" when in fact surgical options exist (even transplantation for that matter). Please, obstetricians, familiarize yourself with pediatric heart surgeons in your vicinity so that when your patient's baby has a complex heart defect, you can say, "Yes, this is a serious diagnosis, but you know right over at such and such hospital, they are helping babies, children, and even adults with these defects. Why don't you contact doctor such and such?"

Knowing where the best centers were located and Web sites. When I was at (hospital name removed), they never mentioned the amazing outcomes of (hospital name removed). Providers should give out the information that would best help the patient.

Success and failure rates by that surgeon for that particular surgery. Whether other more qualified surgeons can perform the surgery, and if they cannot, a recommendation to another hospital or surgeon.

Statistical information on hospitals and surgeons. More information on the possibility of further surgeries down the line.

Information on other hospitals that may be better equipped to deal with the problem.
Compassion/Empathy
The first surgeon/cardiologist could have spoken to us with compassion and understanding instead of telling us to take her home to die. But not to worry-you can always have more (children).

More empathy and more time with the doctors.

It would have been helpful if the doctors had shown a little more compassion toward us as scared parents instead of being so "matter of fact."

The new doctor telling your 6-year-old that he will never be able to be a police officer or fireman, or go in the army, or even play football was very upsetting, and to be told so callously by a new doctor you don't not know was very TRAUMATIC for my son. He cried all the way home. How about a little compassion here? To destroy a child's dreams that early is absolutely uncalled for!!!!

I happened to be alone and still doped up on morphine from the C-section when the doctor came in, dropped the bomb, and left. The opposite of that would have been very helpful.

I can't emphasize enough the importance of bedside manner (as listed, compassion and empathy) from both nurses and doctors!

He should have taken more time to SIT DOWN and explain everything to us in easier terms because that was the very first time we ever had heard of tetralogy of Fallot. The least the doctor could have done was to treat us a bit more as human beings and to empathize a bit more with our situation. It seemed he was in a rush, dropped the bomb on us, and had to run out.

I would have liked more time to absorb the information before I left the examining room. I had to make a very long walk out of the facility to my car with tears rolling down my face. I understand the business of a doctor's office, but some compassion in those first few minutes would have been nice.
More Optimism
More optimism from the doctors and medical staff. I would rather have them say, "This is going to be hard, but we're going to stand with you and fight for your child in every way we can."

More focus on the positive outcomes. I was told that my child had only a 10 % chance of survival to 6 months of age and that life expectancy for someone with single-ventricle anatomy was no more than a couple of years.

It would have been nice for even ONE practitioner to shed light on the possibility that she could live a normal life with her anatomy. I was led to believe she would be "slow" both mentally and physically. At the age of 3 years, she is incredibly smart and certainly not lacking energy.

A better overall picture of kids with this condition. There is a wide variety and all kids handle the defect differently. It is hard to make comparisons, but that would be a little reassuring.
Support Groups
Immediate support for myself as a pregnant woman with a very sick child. I felt so alone and so unaware of CHD.

An introduction to a family willing to support us whose child had surgery at the same hospital. Fortunately, we were able to find this on our own, but it would have been nice if we had been sent home after receiving the diagnosis with something positive such as an introduction to a family with a child who had a similar defect and was thriving! What a difference that would have made! I have offered to do this now for our obstetrician, perinatologist, and PC if they encounter a needy family at the time of diagnosis.

Meeting an older "survivor" or their parents to walk us through it and show us we too would persevere.

Having another mom who had gone through this would have been great. I felt as if I was the only person in the world going through this with my child. I had never even heard of CHDs.

Knowing that a lot of children have CHD's. We had not heard of this defect before.

Contact phone numbers for support groups enabling us to call directly to parents of others with CHD.

Being able to talk to someone who had gone through it all already and to ask questions such as: What was day-to-day life like? How was their child doing? Would they make different choices if they had to redo it all?

Support, support, support! I was sent out of the room carrying a piece of paper with a drawing of my son's diagnosis and had nowhere to turn.

Being given the names phone numbers of other families that had a similar experience. Also, allowing support group visitors into the hospital to speak to new moms going through this and receiving goody bags from them.

Contact with other parents of children who had a similar diagnosis would have been appreciated. After my daughter's repair, I was asked to become a contact in a piloted program at the children's hospital to give support to other families in similar situations.

We found it reassuring to speak on the phone with a parent whose child was a year older than our baby and had been through several of the surgeries our child was facing. Talking to our PC about QOL experienced by kids with our child's defect was helpful, too.

Books or a list of books that can provide the perspective of other parents of CHD children.

Connection with other people who had something in common with me. It was very, very isolating.

More support group information. We were given nothing.

Meeting another parent and family confronting the same diagnosis and learning about their experience. We were able to do this on several different occasions, and it was very helpful!

The most important thing to me would have been knowing that we weren't alone. Having a support group would have been great. We didn't even have the Internet until our daughter was about 9 years old. I felt so alone all those years.

Definitely, it would have been great to meet other families going through this process. I am thankful I can provide that service for new families. I really wish I had known of a support group when my daughter was born. It is always comforting to know you are not alone.

Information on counseling services to deal with the shock. Support groups I think are the most important because you really are entering a brand new world, and you have no idea what to expect.

Maybe the day of the diagnosis or the next day receiving information on a support person or a support group. At the time, I had no idea that heart defects could happen to babies.
Complications/Quality of Life
I was taught to prepare for her death. No one prepared me for what she would be like if she survived.

To hear that the QOL was going to be just about normal. I was never told that. We were told she could not run, and we have since been told sports are an option as long as she knows her limits.

Knowing about survivors and QOL, about books for parents that address this diagnosis, about how to prepare before, during, and after surgery, and also about top hospitals/surgeons for this diagnosis.

They didn't really tell us what to do, such as holding him, letting him cry. We didn't know whether he was going to go to sleep and never wake up, I slept for 6 months with my hand next to his chest, afraid he would stop breathing.

Better idea of the long-term impact this would have on her life. I spent 2 years under the impression that this would be correctable and simply "go away" and that she wouldn't have heart issues anymore. It took more than a year before it was really explained how this would affect her for her entire life.

We were briefly told that CHD babies have feeding issues. I didn't realize how bad. I wish our cardiologist/pediatrician had suggested feeding therapy earlier!

More information on early intervention services!!
Positive Examples
They provided us with a social worker who walked us through all the things that the surgeon, nurse practitioners, nurses, and doctors couldn't. We had a wonderful experience with a miracle outcome.

We were blessed with wonderful doctors who explained everything well and were very hopeful!

The nurse stayed behind to give answers and help us come up with questions. The nurse also gave us a card and told us to call her if we had more questions.

One thing that really helped was that not only did we know our daughter's overall diagnosis, but her cardiologist wrote it all down for us and drew us diagrams.

My doctor sat with me for more than an hour when we found out, so to be honest, I had everything I needed!

The doctors and nurses are a great outlet. They are very understanding and are full of great information.

We were blessed to have a PC who not only could explain his condition well but draw us pictures to explain.
About this article
Cite this article
Hilton-Kamm, D., Sklansky, M. & Chang, RK. How Not to Tell Parents About Their Child's New Diagnosis of Congenital Heart Disease: An Internet Survey of 841 Parents. Pediatr Cardiol 35, 239–252 (2014). https://doi.org/10.1007/s00246-013-0765-6
Received:

Accepted:

Published:

Issue Date:
Keywords
Congenital heart disease

Counseling

Hypoplastic left heart syndrome

Internet survey

Parent perceptions

Psychosocial needs

Support groups