Abstract
An online survey for parents of children with congenital heart disease (CHD) was developed to study parents' experiences at the time of diagnosis. The survey was distributed to online support groups. A total of 841 responses from parents of children with CHD were received during a 4-week period. The current study examined those respondents (211 [25 %]) who reported their child's diagnosis as hypoplastic left heart syndrome (HLHS). Among these, 138 (65 %) reported receiving the diagnosis prenatally. 32 % of those receiving a prenatal diagnosis reported that after they declined to terminate the pregnancy, termination was mentioned again by their physicians. Parents who had termination mentioned again after their initial decline reported significantly lower optimism regarding their child's life expectancy than those who did not have it mentioned again (66 vs. 94 %, p < 0.001); were more likely to interpret the term "rare" to mean "little or no chance of survival" (34 vs. 13 %, p = 0.01); and were more likely to change pediatric cardiologists (PCs) (43 vs. 12 %, p < 0.001). Similarly, 22 % of respondents receiving a prenatal diagnosis reported feeling pressure to terminate the pregnancy by the PC. Those who felt pressure to terminate reported lower optimism about their child's life expectancy than respondents who did not feel pressure (48 vs. 88 %, p < 0.001) and were more likely to choose a new PC (48 vs. 17 %, p < 0.001). In our cohort of parents, when termination of pregnancy was mentioned after the parents declined it, or if the parents felt pressure to terminate, the parents perceived a lower chance of survival, felt less optimistic about their child's life expectancy, and were more likely to choose another PC for long-term follow-up care. Our study could not determine whether repeated discussions of the possibility for termination of pregnancy independently impacts parental optimism regarding prognosis or whether those who counsel with repeated discussions of termination tend to have more guarded notions of the prognosis of children with HLHS. Further study is warranted to identify the implications of counseling patterns on parental perceptions and decisions regarding termination of pregnancy.
Access options
Buy single article
Instant access to the full article PDF.
US$ 39.95
Tax calculation will be finalised during checkout.
Subscribe to journal
Immediate online access to all issues from 2019. Subscription will auto renew annually.
US$ 79
Tax calculation will be finalised during checkout.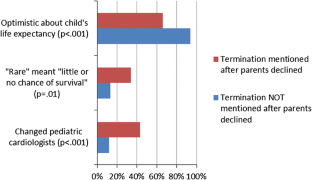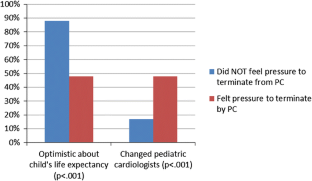 References
1.

Allan LD, Huggon IC (2004) Counselling following a diagnosis of congenital heart disease. Prenat Diagn 24(13):1136–1142

2.

Allen RH, Benson CB, Haug LW (2005) Pregnancy outcome of fetuses with a diagnosis of hypoplastic left ventricle on prenatal sonography. J Ultrasound Med 24(9):1199–1203

3.

Atz AM, Travison TG, Williams IA, Pearson GD, Laussen PC, Mahle WT et al (2010) Prenatal diagnosis and risk factors for preoperative death in neonates with single right ventricle and systemic outflow obstruction: screening data from the Pediatric Heart Network Single Ventricle Reconstruction Trial. J Thorac Cardiovasc Surg 140(6):1245–1250

4.

Bailey LL (2004) Transplantation is the best treatment for hypoplastic left heart syndrome. Cardiol Young 14(Suppl 1):109–111

5.

Bove EL (1998) Current status of staged reconstruction for hypoplastic left heart syndrome. Pediatr Cardiol 19:308–315

6.

Chang RK, Klitzner TS (2002) Can regionalization decrease the number of deaths for children who undergo cardiac surgery? A theoretical analysis. Pediatrics 109(2):173–181

7.

Checchia PA, McCollegan J, Daher N, Kolovos N, Levy F, Markovitz B (2005) The effect of surgical case volume on outcome after the Norwood procedure. J Thorac Cardiovasc Surg 129:754–759

8.

Chenni N, Lacroze V, Pouet C, Fraisse A, Kreitmann B, Gamerre M et al (2012) Fetal heart disease and interruption of pregnancy: factors influencing the parental decision-making process. Prenat Diagn 32(2):168–172

9.

Chrisant MR, Naftel DC, Drummond-Webb J, Chinnock R, Canter CE, Boucek MM et al (2005) Fate of infants with hypoplastic left heart syndrome listed for cardiac transplantation: a multicenter study. J Heart Lung Transplant 24(5):576–582

10.

Feinstein JA, Benson DW, Dubin AM, Cohen MS, Maxey DM, Mahle WT et al (2012) Hypoplastic left heart syndrome: current considerations and expectations. J Am Coll Cardiol 59(Suppl 1):S1–S42

11.

Gaynor JW, Bridges ND, Cohen MI, Mahle WT, Decampli WM, Steven JM et al (2002) Predictors of outcome after the Fontan operation: is hypoplastic left heart syndrome still a risk factor? J Thorac Cardiovasc Surg 123(2):237–245

12.

Hirsch JC, Gurney JG, Donohue JE, Gebremariam A, Bove EL, Ohye RG (2008) Hospital mortality for Norwood and arterial switch operations as a function of institutional volume. Pediatr Cardiol 29(4):713–717

13.

Kon AA, Ackerson L, Lo B (2003) Choices physicians would make if they were the parents of a child with hypoplastic left heart syndrome. Am J Cardiol 91:1506–1509 A9

14.

Kon AA, Ackerson L, Lo B (2004) How pediatricians counsel parents when no "best-choice" management exists. Arch Pediatr Adolesc Med 158:436–441

15.

Mahle WT, Spray TL, Wernovsky G, Gaynor JW, Clark BJ (2000) Survival after reconstructive surgery for hypoplastic left heart syndrome: a 15-year experience from a single institution. Circulation 102(19 Suppl 3):III136–III141

16.

Mahle WT, Clancy RR, McGaurn SP, Goin JE, Clark BJ (2001) Impact of prenatal diagnosis on survival and early neurologic morbidity in neonates with the hypoplastic left heart syndrome. Pediatrics 107(6):1277–1282

17.

Marino BS, Tomlinson RS, Drotar D, Claybon ES, Aguirre A, Ittenbach R et al (2009) Quality-of-life concerns differ among patients, parents, and medical providers in children and adolescents with congenital and acquired heart disease. Pediatrics 123(4):708–715

18.

McHugh KE, Hillman DG, Gurka MJ, Gutgesell HP (2010) Three-stage palliation of hypoplastic left heart syndrome in the University Health System Consortium. Congenit Heart Dis 5(1):8–15

19.

Menahem S, Grimwade J (2005) Pre-natal counselling—Helping couples make decisions following the diagnosis of severe heart disease. Early Hum Dev 81(7):601–607

20.

Mitchell ME, Ittenbach RF, Gaynor JW, Wernovsky G, Nicolson S, Spray TL (2006) Intermediate outcomes after the Fontan procedure in the current era. J Thorac Cardiovasc Surg 131(1):172–180

21.

Prsa M, Holly CD, Carnevale F, Justino H, Rohlicek C (2010) Attitudes and practices of cardiologists and surgeons who manage HLHS. Pediatrics 125(3):e625–e630

22.

Rempel GR, Cender LM, Lynam MJ, Sandor GG, Farquharson D (2004) Parents' perspectives on decision making after antenatal diagnosis of congenital heart disease. J Obstet Gynecol Neonatal Nurs 33(1):64–70

23.

Renella P, Chang RK, Ferry DA, Bart RD, Sklansky MS (2007) Hypoplastic left heart syndrome: attitudes among pediatric residents and nurses towards fetal and neonatal management. Prenat Diagn 27(11):1045–1055

24.

Rychik J, Szwast A, Natarajan S, Quartermain M, Donaghue DD, Combs J et al (2010) Perinatal and early surgical outcome for the fetus with hypoplastic left heart syndrome: a 5-year single institutional experience. Ultrasound Obstet Gynecol 36(4):465–470

25.

Sklansky M, Shaughnessy R, Lucas V, Kashani I, Rothman A (2000) A comparison of fetal echocardiography in university and health maintenance organization settings. Pediatr Cardiol 21(3):234–239

26.

Sklansky M, Tang A, Levy D, Grossfeld P, Kashani I, Shaughnessy R et al (2002) Maternal psychological impact of fetal echocardiography. J Am Soc Echocardiogr 15:159–166

27.

Tweddell JS, Hoffman GM, Mussatto KA, Fedderly RT, Berger S, Jaquiss RD et al (2002) Improved survival of patients undergoing palliation of hypoplastic left heart syndrome: lessons learned from 115 consecutive patients. Circulation 106:I82–I89

28.

Tworetzky W, McElhinney DB, Reddy VM, Brook MM, Hanley FL, Silverman NH (2001) Improved surgical outcome after fetal diagnosis of hypoplastic left heart syndrome. Circulation 103(9):1269–1273

29.

Yates AR, Hoffman TM, Boettner B, Feltes TF, Cua CL (2011) Initial counseling prior to palliation for hypoplastic left heart syndrome. Congenit Heart Dis 6(4):347–358
Acknowledgments
The authors thank Susan Sabanos, market researcher, for help in the survey design; Karin Yospe, cofounder of California Heart Connection, for distribution of the survey; and the many online support groups who distributed the survey to their members and provide much-needed support to families.
Conflict of interest
None.
Appendices
Appendix
Quotes from 138 respondents whose baby received a prenatal diagnosis of HLHS
"What could physicians do better when discussing termination?"—Selected quotes by theme
Theme 1: Ask Parents About Their Beliefs Regarding Termination
If a parent says termination is not an option based on personal and religious convictions, that's that. It should not be mentioned again.

Take into account our family's faith and beliefs, i.e., don't believe in termination because of my Catholic faith and personal beliefs about life; don't continue to pressure me or tell me that having this child is not worth the stress and physical demands.

Ask first what the patient's view is on termination. If the patient is completely against it, then there is no need to bring it up or pressure. In addition to lay out the odds, do not only give negative feedback of diagnosis. There are many survivors of my child's diagnosis of HLHS, yet when we first heard about it from perinatologists it was the worst thing that can happen to a baby, and everything was said in a very negative light. That was extremely difficult for us as parents.

Before throwing it out there as an option, equal in every way to all of the other options, they should try and gain some insight into the parents' feelings about it. What are options to some are not options to others, so to keep bringing it up over and over gets seriously irritating.

I feel like physicians approach termination medically and don't realize that for some reasons (religious?) in some families, it just is NOT an option.

I don't feel it should be discussed. If a woman is the kind who considers abortion to be an option, she'll ask about it on her own. For those of us who don't consider abortion to be an option, it is absolutely abhorrent that a physician to whom we're trusting our child's care to would suggest that we kill that child.
Theme 2: Show Compassion and Empathy
Be more sensitive about it. That was my child, and he was real to me. Termination is not something I would take lightly

Be human. Treat the parents with compassion, not as a PPO or HMO number. Have those in the medical community be aware of the sensitivity of pregnancy. We had problems with fertility. To be successful with pregnancy after many attempts with assistance was wonderful. To realize what lay in store for our baby was terrifying.

I would suggest to try to be more compassionate. It is already a difficult situation, and to add that pressure just makes it that much harder. I felt so pressured, and it really made me feel scared. I am still glad I chose to carry to term. Best decision I made.

Be a little more compassionate to the feelings of the parents to be! 2. Don't push them to do something they don't want to do. 3. Before giving them handouts, make sure they are UPDATED! Giving someone with an HLHS diagnosis papers from the 1980's is quite the shocker!
Theme 3: Provide more Information (e.g., Survival Rates, Support Groups)
Give appropriate hope. We were given little hope from the cardiologist that diagnosed us. When we spoke with others and learned of the children living with HLHS, we felt there was no reason to terminate. However, just talking to the doctor you'd think there was no chance of that.

Bring it up as a last resort, not the first option like we were given. It made us feel like there was no hope for our child.

Offer other parents to talk to who have been through the same diagnosis.

Discuss treatment options and success rates and put you in touch with a (support) group of parents so that you can ask questions of someone who is living through it.

Present as one of the options but not the first or recommended option.

Only mention it as an option after being entirely sure. Because the peri[natologist] thought it was HLHS, she mentioned we should obtain the echocardiogram first and then decide on options, such as termination. Everything discussed around HLHS was negative and made us feel like we had no choice other than termination. Only after I Googled on my cell phone while waiting did I determine that people actually can survive HLHS. Once I said termination was no longer an option, then we were told more about the options for treatment.

It should be presented as an option and then left to the parent(s). Parent(s) could be given information to help them research this option on their own just as they would investigate treatment options.

The person who pushed it knew the least about the condition and gave inaccurate info, so medical personnel need to know the real facts and present both sides of the issue.

Mention it if you feel that is an option, but make sure the parent knows ALL options. This was the only option the perinatologist gave us.

Offer counseling [on the] long-term effects of ending a pregnancy.

Tell parents they have some time to make a decision. Suggest calling on all resources. Offer to connect parents to others who have made decisions both ways (if the parents want) to gain some perspective. Understand that a CHD diagnosis feels like a disaster and destroys a dream; give us time to reel. Show us love, and stand in our pain with us. Don't run away from us like we are poison.

Present it clinically as an option, but make sure the parent knows that it isn't the ONLY option.

Send you to a pediatric cardiologist who knows more about heart defects.

I think we needed much more specific information about survival rates and hospital treatment. The perinatologist put a lot of pressure on immediate amnio[centesis] to look for other genetic problems. Think that having more counseling offered for coming to decision would be helpful. We knew that we wouldn't end pregnancy because we would try anything possible to save him. However, there was pressure for immediate decision and not much hope given.

This first option that was presented to us was abortion. I found this to be disgusting. We were not told until 40 minutes into the discussion about how our child would have "no quality of life" that there were surgical treatment options with decent success rates. Physicians who feel that they need to present abortion or "compassionate care" as an option need to do so need to do so after they have told concerned parents that there are treatment options and that there are plenty of people [who are] alive and thriving with CHDs.

Discussing the child's chances of survival.

They could talk about the long-term effects of termination emotionally.

The primary doctor who first diagnosed the condition did not give termination as an option;. he told us we had no other choice. We found out that night through Internet searches that there were other options and then the next day, [when] doing a follow-up level 2 ultrasound, were we fully informed of our options and told there was absolutely no need to terminate unless that is what we wanted to do.

Having better information to share, even if it means sending parents to another medical facility, would be better than discussing termination.
Theme 4: Repeated Mention of Termination
When we say NO we mean NO.

Not push so hard and give such horrible success rates of survival.

It should NOT be brought up unless the parent asks about it.

Stop asking the first time you say NO.

List it as an option, and then don't bring it up again. In addition, do not offer an opinion.

Once the parents say absolutely not, quit pushing. If that is what they would do, great! However, it wasn't for us. I am pro-choice, but I knew this was something we could overcome as a family. My job was to fight for my son and make sure he had every possible chance to thrive.

After the parents say no, don't discuss it with them again. With technology the way it is, maybe that shouldn't even be given as an option.

Mention it one time ONLY.

Mention it once, [and then] leave it alone.
Theme 5: Positive Examples
Everyone we dealt with was very sensitive with bringing it up. Once we made it known it wasn't an option, they pretty much dropped the subject and moved on.

My physician was extremely caring and did not really discuss termination because he knew we would not consider it!

Our perinatologist asked us what our views were on termination, and I felt that was appropriate. She was very accepting that we did not want to terminate the pregnancy, and then connected us with another family who had a child living with HLHS.

My doctor was very good; he just told us that [it] was an option.
"After you declined to terminate the pregnancy, was it still mentioned as an option? If yes, how did that affect you?"—Selected quotes
It was a horrible experience with the perinatologist's office. All encouraged an immediate abortion even without my husband present. the head perinatologist came into the room, reviewed the ultrasound. and said "Yep; there is nothing we can do with this child." The second perinatologist was quick to offer termination and asked if someone could pick up my 2-year-old son who was with me.

It made me angry.

It made me question the perinatalogist's level of understanding the options available.

Angry; I said, "No, so stop telling me which states do partial birth abortions."

Pissed me off. I wanted to throw my shoe at the perinatologist.

It was upsetting to me that it was offered as an option. Regardless of the diagnosis, my daughter was still my child.

The first cardiologist that we saw told us we were selfish if we allowed our son to live with HLHS because he wouldn't be accepted by society. I cried and refused to listen and told the doctor I would not kill my child.

Yes, ALL THE TIME! It was annoying because they kept reminding at every appointment that my baby was not going to live.

It made me furious. He was my son, and I loved him.

It upset me greatly but only made me more protective of my baby.

Horrible; [I] felt like there was no hope.

I remember thinking it must be pretty bad if a "high-risk" doctor was recommending termination.

I felt like people were telling me that my child was not going to survive and that I shouldn't try to do anything to help him.

It made me feel a little hopeless.

I felt like the doctor felt that my child's life wasn't worth saving and that I was making a huge mistake carrying a baby who was not 100 % healthy.

We looked elsewhere for medical support.

I was emotionally scared to try to find treatment because of the negative comments. I felt that I was being very selfish for my benefit to try and save her.

It made my appointments very difficult.
About this article
Cite this article
Hilton-Kamm, D., Chang, RK. & Sklansky, M. Prenatal Diagnosis of Hypoplastic Left Heart Syndrome: Impact of Counseling Patterns on Parental Perceptions and Decisions Regarding Termination of Pregnancy. Pediatr Cardiol 33, 1402–1410 (2012). https://doi.org/10.1007/s00246-012-0366-9
Received:

Accepted:

Published:

Issue Date:
Keywords
Hypoplastic left heart syndrome

Termination

Congenital heart disease

Survey

Parent

Perception