Abstract
A 16-year-old female patient with Wolff-Parkinson-White syndrome and supraventricular tachycardia underwent radiofrequency (RF) catheter ablation of an accessory pathway in the left lateral area. During RF ablation she developed reversible ST segment elevation secondary to coronary artery spasm. Coronary angiography demonstrated the ablation catheter in close proximity to the circumflex coronary artery, with no evidence of coronary artery injury. Subsequently, conduction by way of the accessory pathway was successfully eliminated with cryoablation with no further coronary spasm or injury.
Access options
Buy single article
Instant access to the full article PDF.
USD 39.95
Price includes VAT (USA)
Tax calculation will be finalised during checkout.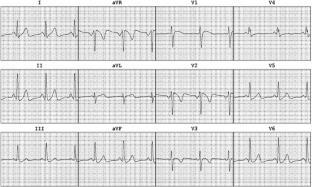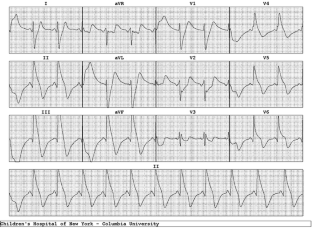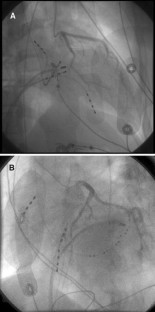 References
1.

Aoyama H, Nakagawa H, Pitha JV, Khammar GS, Chandrasekaran K, Matsudaira K et al (2005) Comparison of cryothermia and radiofrequency current in safety and efficacy of catheter ablation within the canine coronary sinus close to the left circumflex coronary artery. J Cardiovasc Electrophysiol 16:1218–1226

2.

Bertram H, Bokenkamp R, Peuster M, Hausdorf G, Paul T (2001) Coronary artery stenosis after radiofrequency catheter ablation of accessory atrioventricular pathways in children with Ebstein's malformation. Circulation 103:538–543

3.

Bokenkamp R, Wibbelt G, Sturm M, Windhagen-Mahnert B, Bertram H, Hausdorf G et al (2000) Effects of intracardiac radiofrequency current application on coronary artery vessels in young pigs. J Cardiovasc Electrophysiol 11:565–571

4.

Gonzalez Y, Gonzalez MB, Schneider HE, Kriebel TA, Bertram H, Paul T (2006) Late coronary stenosis after radiofrequency catheter ablation in pediatric patients. Heart Rhythm 3(Suppl 1):S43–S44

5.

Khanal S, Ribeiro PA, Platt M, Kuhn MA (1999) Right coronary artery occlusion as a complication of accessory pathway ablation in a 12-year-old treated with stenting. Catheter Cardiovasc Interv 46:59–61

6.

Kosinski DJ, Burket MW, Durzinsky D (1993) Occlusion of the left main coronary artery during radiofrequency ablation for the Wolff-Parkinson-White syndrome. Eur J Card Pacing Electrophysiol 3:63–66

7.

Paul T, Bokenkamp R, Mahnert B, Trappe HJ (1997) Coronary artery involvement early and late after radiofrequency current application in young pigs. Am Heart J 133:436–440

8.

Paul T, Kakavand B, Blaufox AD, Saul JP (2003) Complete occlusion of the left circumflex coronary artery after radiofrequency catheter ablation in an infant. J Cardiovasc Electrophysiol 14:1004–1006

9.

Schneider HE, Kriebel T, Gravenhorst VD, Paul T (2009) Incidence of coronary artery injury immediately after catheter ablation for supraventricular tachycardias in infants and children. Heart Rhythm 6:461–467

10.

Solomon AJ, Tracy CM, Swartz JF, Reagan KM, Karasik PE, Fletcher RD (1993) Effect on coronary artery anatomy of radiofrequency catheter ablation of atrial insertion sites of accessory pathways. J Am Coll Cardiol 21:1440–1444

11.

Strobel GG, Trehan S, Compton S, Judd VE, Day RW, Etheridge SP (2001) Successful pediatric stenting of a nonthrombotic coronary occlusion as a complication of radiofrequency catheter ablation. Pacing Clin Electrophysiol 24:1026–1028

12.

Van Hare GF, Javitz H, Carmelli D, Saul JP, Tanel RE, Fischbach PS et al (2004) Prospective assessment after pediatric cardiac ablation: demographics, medical profiles, and initial outcomes. J Cardiovasc Electrophysiol 15:759–770
About this article
Cite this article
Spar, D.S., Silver, E.S., Hordof, A.J. et al. Coronary Artery Spasm During Radiofrequency Ablation of a Left Lateral Accessory Pathway. Pediatr Cardiol 31, 724–727 (2010). https://doi.org/10.1007/s00246-010-9670-4
Received:

Accepted:

Published:

Issue Date:
Keywords
Ablation

Coronary artery

Wolff-Parkinson-White syndrome