Abstract
Competing definitions and classifications of coronary artery abnormalities (CAAs) after Kawasaki disease (KD) have been arbitrarily defined based on clinical experience. We sought to propose a classification system for CAAs based only on coronary artery z-scores. All echocardiograms performed between 1990 and 2007 on patients with a previous history of KD were reviewed. Coronary artery luminal dimensions were converted to body-surface-area-adjusted z-scores and compared to current classification systems. A total of 1356 patients with a previous history of KD underwent 4379 echocardiograms. There was important overlap in the distributions of coronary artery z-scores between the different CAA classes as defined by the American Heart Association (AHA). The AHA classification underestimated the severity of CAAs in 19–32% of small CAAs and 35–78% of medium CAAs. We determined the optimal definition of CAA to be small if the z-score is ≥2.5 to <5.0, large if the z-score is ≥5.0 to <10.0, and giant if the z-score is ≥10.0. This classification seems to appropriately apply to the circumflex branch despite a lack of normal values for this branch. The current AHA classification might not accurately classify CAAs in KD patients. Accurate classification is important for defining management and prognosis consistently across patient age and size.
Access options
Buy single article
Instant access to the full article PDF.
USD 39.95
Price excludes VAT (USA)
Tax calculation will be finalised during checkout.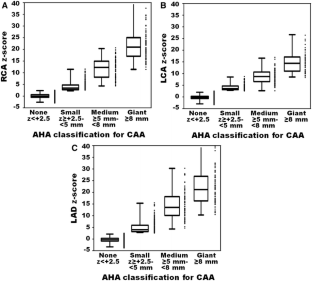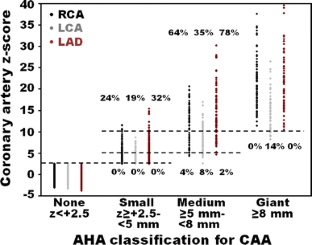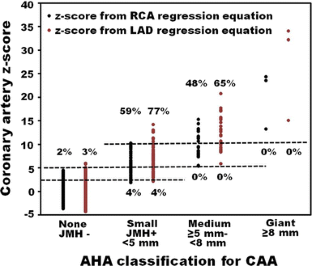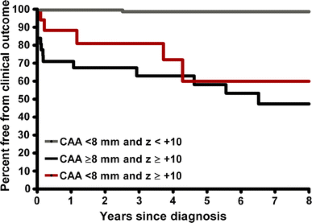 References
Akagi T, Rose V, Benson LN, Newman A, Freedom RM (1992) Outcome of coronary artery aneurysms after Kawasaki disease. J Pediatr 121:689–694

Crystal MA, Manlhiot C, Yeung RS, Smallhorn JF, McCrindle BW (2008) Coronary artery dilation after Kawasaki disease for children within the normal range. Int J Cardiol 136:27–32

de Zorzi A, Colan SD, Gauvreau K, Baker AL, Sundel RP, Newburger JW (1998) Coronary artery dimensions may be misclassified as normal in Kawasaki disease. J Pediatr 133:254–258

Feldman CL, Stone PH (2000) Intravascular hemodynamic factors responsible for progression of coronary atherosclerosis and development of vulnerable plaque. Curr Opin Cardiol 15:430–440

Hamaoka K, Onouchi Z (1996) Effects of coronary artery aneurysms on intracoronary flow velocity dynamics in Kawasaki disease. Am J Cardiol 77:873–875

Hamaoka K, Onouchi Z, Kamiya Y, Sakata K (1998) Evaluation of coronary flow velocity dynamics and flow reserve in patients with Kawasaki disease by means of a Doppler guide wire. J Am Coll Cardiol 31:833–840

JMHC Report: Research Committee on Kawasaki Disease (1984) Report of Subcommittee on Standardization of Diagnostic Criteria and Reporting of Coronary Artery Lesions in Kawasaki Disease. Ministry of Health and Welfare, Tokyo

Kuramochi Y, Ohkubo T, Takechi N, Fukumi D, Uchikoba Y, Ogawa S (2000) Hemodynamic factors of thrombus formation in coronary aneurysms associated with Kawasaki disease. Pediatr Int 42:470–475

Levy DM, Silverman ED, Massicotte MP, McCrindle BW, Yeung RS (2005) Long-term outcomes in patients with giant aneurysms secondary to Kawasaki disease. J Rheumatol 32:928–934

McCrindle BW (2004) Cardiovascular complications: coronary artery structure and function. Prog Pediatr Cardiol 19:147–152

McCrindle BW, Li JS, Minich LL, Colan SD, Atz AM, Takahashi M, Vetter VL, Gersony WM, Mitchell PD, Newburger JW (2007) Coronary artery involvement in children with Kawasaki disease: risk factors from analysis of serial normalized measurements. Circulation 116:174–179

Newburger JW, Takahashi M, Gerber MA, Gewitz MH, Tani LY, Burns JC, Shulman ST, Bolger AF, Ferrieri P, Baltimore RS, Wilson WR, Baddour LM, Levison ME, Pallasch TJ, Falace DA, Taubert KA (2004) Diagnosis, treatment, and long-term management of Kawasaki disease: a statement for health professionals from the Committee on Rheumatic Fever, Endocarditis and Kawasaki Disease, Council on Cardiovascular Disease in the Young, American Heart Association. Circulation 110:2747–2771

Noto N, Okada T, Karasawa K, Ayusawa M, Sumitomo N, Harada K, Mugishima H (2008) Age-related acceleration of endothelial dysfunction and subclinical atherosclerosis in subjects with coronary artery lesions after Kawasaki disease. Pediatr Cardiol 30:262–268

Ohkubo T, Fukazawa R, Ikegami E, Ogawa S d (2007) Reduced shear stress and disturbed flow may lead to coronary aneurysm and thrombus formations. Pediatr Int 49:1–7

Sugahara Y, Ishii M, Muta H, Iemura M, Matsuishi T, Kato H (2008) Warfarin therapy for giant aneurysm prevents myocardial infarction in Kawasaki disease. Pediatr Cardiol 29:398–401

Suzuki A, Kamiya T, Arakaki Y, Kinoshita Y, Kimura K (1994) Fate of coronary arterial aneurysms in Kawasaki disease. Am J Cardiol 74:822–824

Suzuki A, Miyagawa-Tomita S, Nakazawa M, Yutani C (2000) Remodeling of coronary artery lesions due to Kawasaki disease: comparison of arteriographic and immunohistochemical findings. Jpn Heart J 41:245–256

Tatara K, Kusakawa S (1987) Long-term prognosis of giant coronary aneurysm in Kawasaki disease: an angiographic study. J Pediatr 111:705–710

Tsuda E, Kamiya T, Kimura K, Ono Y, Echigo S (2002) Coronary artery dilatation exceeding 4.0 mm during acute Kawasaki disease predicts a high probability of subsequent late intima-medial thickening. Pediatr Cardiol 23:9–14

Wong D, Harder J, Jadavji T (2005) Kawasaki disease, myocardial infarction and coronary artery revascularization. Can J Cardiol 21:601–604
Acknowledgment
This work was supported in part by the CIBC World Markets Children's Miracle Foundation (BWM).
About this article
Cite this article
Manlhiot, C., Millar, K., Golding, F. et al. Improved Classification of Coronary Artery Abnormalities Based Only on Coronary Artery z-Scores After Kawasaki Disease. Pediatr Cardiol 31, 242–249 (2010). https://doi.org/10.1007/s00246-009-9599-7
Received:

Accepted:

Published:

Issue Date:

DOI: https://doi.org/10.1007/s00246-009-9599-7
Keywords