Abstract
Multidetector-row computed tomography (MDCT) of the heart is a new diagnostic approach for the quantitative evaluation of the coronary artery in adults. However, in children, the quantitative analysis of each cardiac chamber has not been established. We attempt to clarify the feasibility and validation of ECG-gated MDCT as a quantitative diagnostic tool to assess the right and left ventricular volume in children. The study consisted of 16 patients who had definite right and left ventricle. After obtaining multislice images by MDCT, we measured the end diastolic volume of both the right and the left ventricle by direct calculation of the region of interest and calculation from the projected image of three-dimensional reconstruction by traditional formulas. The correlation between the two calculations for both ventricles is excellent (r = 0.99 for LV and 0.94 for RV, respectively). The correlations for ventricular volume between calculation of catheterization and calculation of MDCT is also good (r = 0.99 for LV 0.99 for RV, respectively). Volume measurement by ECG-gated MDCT of the right and left ventricles is well correlated with that by catheterization in children and can reduce the necessity for cardiac catheterization.
Access options
Buy single article
Instant access to the full article PDF.
USD 39.95
Price excludes VAT (USA)
Tax calculation will be finalised during checkout.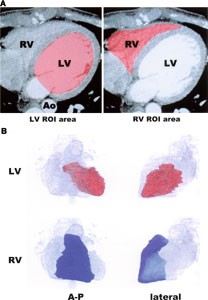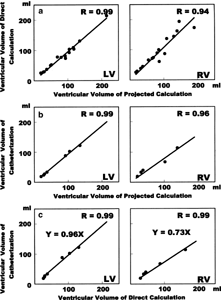 References
Achencach S, Ulzheimer S, Baum U (2000) Noninvasive coronary angiography by retrospectively ECG-gated multislice spiral CT. Circulation 102:2823–2828

Graham TP Jr, Faulkner S, Bender H Jr (1977) Hypoplasia of the left ventricle: rare cause of postoperative mortality in tetralogy of Fallot. Am J Cardiol 40:454–457

Graham TP Jr, Jarmakani JM, Atwood GF (1973) Right ventricular volume determinations in children: normal values and observations with volume or pressure overload. Circulation 47:144–153

Hosoi S, Mochizuki T, Miyagawa M (2003) Assessment of left ventricular volumes using multi-detector row computed tomography (MDCT): phantom and human study. Radiat Med 21:62–67

Huhta JC, Maloney JD, Ritter DG (1983) Complete atrioventricular block in patients with atrioventricular discordance. Circulation 67:1374–1377

Kuhl HP, Schreckenberg M, Rulands D (2004) High-resolution transthoracic real-time three-dimensional echocardiography. J Am Coll Cardiol 43:2083–2090

Leval M, Bull C, Hopkins R (1985) Decision making in the definitive repair of the heart with a small right ventricle. Circulation 72:II-52–II-60

Nakazawa M, Marks RA, Isabel-Jones J (1976) Right and left ventricular volume characteristics in children with pulmonary stenosis and intact ventricular septum. Circulation 53:844–890

Shiraishi I, Kato Y, Todoroki H (2000) Differential color imaging technique of helical CT angiography in the diagnosis of total anomalous pulmonary venous drainage. Circulation 101:2017–2018

Shiraishi I, Yamamoto Y, Ozawa S (2003) Application of helical computed tomographic angiography with differential color imaging three-dimensional reconstruction in the diagnosis of complicated congenital heart disease. J Thorac Cardiovasc Surg 125:36–39

Sorensen TS, Korperich H, Greil GF (2004) Operator-independent isotropic three-dimensional magnetic resonance imaging for morphology in congenital heart disease. Circulation 110:163–169
About this article
Cite this article
Matsui, H., Yasukochi, S., Haseyama, K. et al. Quantification of Right and Left Ventricular Volumes in Children with Congenital Heart Disease by Multidetector-Row Computed Tomography. Pediatr Cardiol 28, 267–271 (2007). https://doi.org/10.1007/s00246-006-1282-7
Published:

Issue Date:

DOI: https://doi.org/10.1007/s00246-006-1282-7
Keywords
Multidetector-row computed tomography

Ventricular Volume

Quantification