Abstract
The occurrence and distribution of 11 organochlorine pesticides (OCPs) and their degradation products as well as of 17 polychlorinated biphenyl congeners (PCBs) were investigated for the first time in sediments of three (Lake Prošće, Lake Kozjak, Lake Kaluđerovac) out of 16 cascading karst lakes within the protected area of the Plitvice Lakes National Park in central Croatia. The 15-cm-long sediment cores were divided for analysis into three 5-cm-long segments. The abundance and levels of sediment-associated OCPs and PCBs were evaluated with respect to sampling location and sediment depth, presumed age of deposition, and organic carbon content. The burden of sediments with OCPs and PCBs decreased downstream with the highest mass fractions measured in the uppermost Lake Prošće (total OCPs 2.72–5.86 μg kg−1 d.m., total PCBs 0.37–1.78 µg kg−1 d.m.) and the lowest in Lake Kaluđerovac (total OCPs 0.30–0.58 μg kg−1 d.m., total PCBs 0.07–0.12 µg kg−1 d.m.). The predominant organochlorine pollutants were DDT-type compounds (total DDX, w = 0.30–5.72 µg kg−1 d.m.) with p,p′-DDE and p,p′-DDD accounting for up to 100% and 50%, respectively, of the total DDX. The findings indicated an old input of p,p′-DDT that largely converted to its degradation products. The OCP and PCB mass fractions in the Plitvice lake sediments were at trace levels characteristic for preserved pristine natural environments with no or limited anthropogenic impact wherein long-range atmospheric transport is considered as their main source.
Access options
Buy single article
Instant access to the full article PDF.
USD 39.95
Price excludes VAT (USA)
Tax calculation will be finalised during checkout.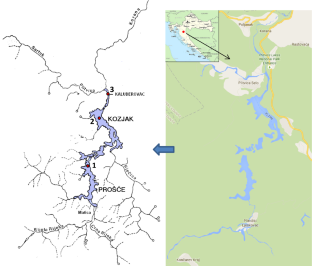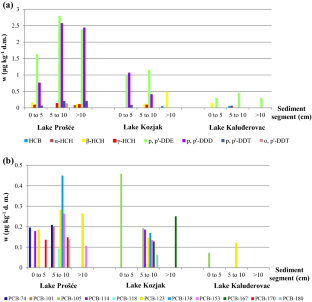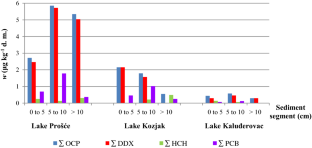 References
Barešić J, Horvatinčić N, Roller-Lutz Z (2011a) Spatial and seasonal variations in the stable C isotope composition of dissolved inorganic carbon and in physico-chemical water parameters in the Plitvice Lakes system. Isot Environ Health Stud 47:316–329

Barešić J, Horvatinčić N, Vreča P, Sironić A (2011b) Distribution of authigenic and allogenic fractions in recent lake sediment: isotopic and chemical compositions. Acta Carsologica 40(2):293–305

Bettinetti R, Galassi S, Guilizzoni P, Quadroni S (2011) Sediment analysis to support the recent glacial origin of DDT pollution in Lake Iseo (Northern Italy). Chemosphere 85:163–169

Biondić B, Biondić R, Meaški H (2010) The conceptual hydrogeological model of the Plitvice Lakes. Geol Croat 63:195–206

Borghini F, Grimalt JO, Sanchez-Hernandez JC, Barra R, Torres García CJ, Focardi S (2005) Organochlorine compounds in soils and sediments of the mountain Andean Lakes. Environ Pollut 136:253–266

Burniston D, Klawunn P, Backus S, Hill B, Dove A, Waltho J, Richardson V, Struger J, Bradley L, McGoldrick D, Marvin C (2012) Spatial distributions and temporal trends in pollutants in the Great Lakes 1968–2008. Water Qual Res J Can 46:269–289

Carvalho FP (2017) Pesticides, environment, and food safety. Food Energy Secur 6:48–60

Dautović J, Fiket Ž, Barešić J, Ahel M, Mikac N (2014) Sources, distribution and behavior of major and trace elements in a complex karst lake system. Aquat Geochem 20:19–38

Erkmen B, Yerli SV, Erk'akan F, Kolankaya D (2013) Persistent organochlorine pesticide residues in water and sediment samples from Lake Manyas, Turkey. J Environ Biol 34:171–176

EU (2013) Directive 2013/39/EU of the European Parliament and of the Council of 12 August 2013 amending Directives 2000/60/EC and 2008/105/EC as regards priority substances in the field of water policy. Official J Eur Union L 226/1, 24.08.2013, pp. 1-17

Franců E, Schwarzbauer J, Lána R, Nývlt D, Nehyba S (2010) Historical changes in levels of organic pollutants in sediment cores from Brno reservoir, Czech Republic. Water Air Soil Pollut 209:81–91

Fuoco R, Colombini MP, Samcova E (1993) Individual determination of ortho and non-ortho substituted polychlorobiphenyls (PCBs) in sediments by high performance liquid chromatographic pre-separation and gas chromatography/ECD detection. Chromatographia 36(1):65–70

Grimalt JO, van Drooge BL, Ribes A, Vilanova RM, Fernandez P, Appleby P (2004) Persistent organochlorine compounds in soils and sediments of European high altitude mountain lakes. Chemosphere 54:1549–1561

Guzzella L (1997) PCBs and organochlorine pesticides in Lake Orta (Northern Italy) sediments. Water Air Soil Pollut 99:245–254

Guzzella L, Poma G, De Paolis A, Roscioli C, Viviano G (2011) Organic persistent toxic substances in soils, waters and sediments along an altitudinal gradient at Mt. Sagarmatha, Himalayas, Nepal. Environ Pollut 159:2552–2564

Herceg Romanić S, Kljaković Gašpić Z, Bituh T, Žužul S, Dvoršćak M, Fingler S, Jurasović J, Klinčić D, Marović G, Orct T, Rinkovec J, Stipičević S (2016) The impact of multiple anthropogenic contaminants on the terrestrial environment of the Plitvice Lakes National Park, Croatia. Environ Monit Assess 188:27

Horvatinčić N, Briansó JL, Obelić B, Barešić J, Krajcar Bronić I (2006) Study of pollution of the Plitvice Lakes by water and sediment analyses. Water Air Soil Pollut Focus 6:475–485

Horvatinčić N, Barešić J, Babinka S, Obelić B, Krajcar Bronić I, Vreča P, Suckow A (2008) Towards a deeper understanding of how carbonate isotopes (14C, 13C, 18O) reflect environmental changes: a study with recent 210Pb-dated sediments of the Plitvice Lakes, Croatia. Radiocarbon 50(2):233–253

Horvatinčić N, Sironić A, Barešić J, Todorović N, Nikolov J, Hansman J, Krmar M (2015) Application of radioactive isotopes 14C, 137Cs and 210Pb in investigation of lake sediments. In: Proceedings of the 10th symposium of the Croatian radiation protection association, Zagreb, pp 292–298

Jayaraj R, Megha P, Sreedev P (2016) Organochlorine pesticides, their toxic effects on living organisms and their fate in the environment. Interdiscip Toxicol 9:90–100

Jiao L, Gene J, Zheng GJ, Minh TB, Richardson B, Chen L, Zhang Y, Yeung LW, Lam JCW, Yang X, Lam PKS, Wong MH (2009) Persistent toxic substances in remote lake and coastal sediments from Svalbard, Norwegian Arctic: levels, sources and fluxes. Environ Pollut 157:1342–1351

Kljaković-Gašpić Z, Herceg Romanić S, Bituh T, Kašuba V, Brčić Karačonji I, Brajenović N, Franulović I, Jurasović J, Klinčić D, Kopjar N, Marović G, Milić M, Orct T, Sekovanić A, Želježić D (2018) Assessment of multiple anthropogenic contaminants and their potential genotoxicity in the aquatic environment of Plitvice Lakes National Park, Croatia. Environ Monit Assess 190:694

Li C-c, Huo S-l, Xi B-d, Yu Z-q, Zeng X-y, Zhang J-t, Wu F-c, Liu H-l (2015) Historical deposition behaviors of organochlorine pesticides (OCPs) in the sediments of a shallow eutrophic lake in Eastern China: roles of the sources and sedimentological conditions. Ecol Indic 53:1–10

Li C, Huo S, Yu Z, Xi B, Yeager KM, He Z, Ma C, Zhang J, Wu F (2017) National investigation of semi-volatile organic compounds (PAHs, OCPs, and PCBs) in lake sediments of China: occurrence, spatial variation and risk assessment. Sci Total Environ 579:325–336

Mast MA, Foreman WT, Skaates SV (2007) Current-use pesticides and organochlorine compounds in precipitation and lake sediment from two high-elevation national parks in the Western United States. Arch Environ Contam Toxicol 52:294–305

Mikac I, Fiket Ž, Terzić S, Barešić J, Mikac N, Ahel M (2011) Chemical indicators of anthropogenic impacts in sediments of the pristine karst lakes. Chemosphere 84:1140–1149

Picer M, Picer N (2003) Hazards posed by petroleum oil and some chlorinated hydrocarbons to aquatic ecosystem in Croatian karst during 1991–1995 war in Croatia. Period Biol 105:345–354

PLNP (2007) National Park Plitvice Lakes Management Plan. Šikić Z (ed), Ministry of Culture of the Republic of Croatia, Zagreb. Available at: https://np-plitvicka-jezera.hr/en/about-the-park/documents/

Pozo K, Urrutia R, Barra R, Mariottini M, Treutler H-C, Araneda A, Focardi S (2007) Records of polychlorinated biphenyls (PCBs) in sediments of four remote Chilean Andean Lakes. Chemosphere 66:1911–1921

Rawn DFK, Lockhart WL, Wilkinson P, Savoie DA, Rosenberg GB, Muir DCG (2001) Historical contamination of Yukon Lake sediments by PCBs and organochlorine pesticides: influence of local sources and watershed characteristics. Sci Total Environ 280:17–37

Rippey B, Rose N, Yang H, Harrad S, Robson M, Travers S (2008) An assessment of toxicity in profundal lake sediments due to deposition of heavy metals and persistent organic pollutants from the atmosphere. Environ Int 34:345–356

Sapota G, Wojtasik B, Burska D, Nowiński K (2009) Persistent organic pollutants (POPs) and polycyclic aromatic hydrocarbons (PAHs) in surface sediments from selected fjords, tidal plains and lakes of the North Spitsbergen. Pol Polar Res 30:59–76

Sironić A, Barešić J, Horvatinčić N, Brozinčević A, Vurnek M, Kapelj S (2017) Changes in the geochemical parameters of karst lakes over the past three decades - The case of Plitvice Lakes, Croatia. Appl Geochem 78:12–22

Smith SL, MacDonald DD, Keenleyside KA, Ingersoll CG, Field LJ (1996) A preliminary evaluation of sediment quality assessment values for freshwater ecosystems. J Great Lakes Res 22:624–638

Thevenon F, de Alencastro LF, Loizeau J-L, Adatte T, Grandjean D, Wildi W, Poté J (2013) A high-resolution historical sediment record of nutrients, trace elements and organochlorines (DDT and PCB) deposition in a drinking water reservoir (Lake Brêt, Switzerland) points at local and regional pollutant sources. Chemosphere 90:2444–2452

UNEP (2008) The Stockholm convention on POPs. Available at: http://chm.pops.int/TheConvention/ThePOPs/AllPOPs/tabid/2509/Default.aspx

van Drooge BL, Grimalt JO, Stuchlík E (2013) Spatial distribution of polychlorinated biphenyls in High Tatras lake sediments. Environ Sci Pollut Res 20:6594–6600

Vecchiato M, Zambon S, Argiriadis E, Barbante C, Gambaro A, Piazza R (2015) Polychlorinated biphenyls (PCBs) and polybrominated diphenyl ethers (PBDEs) in Antarctic ice-free areas: influence of local sources on lakes and soils. Microchem J 120:26–33

Vukosav P, Mlakar M, Cukrov N, Kwokal Ž, Pižeta I, Pavlus N, Špoljarić I, Vurnek M, Brozinčević A, Omanović D (2014) Heavy metal contents in water, sediment and fish in a karst aquatic ecosystem of the Plitvice Lakes National Park (Croatia). Environ Sci Pollut Res 21:3826–3839

Wania F, Mackay D (1996) Tracking the distribution of persistent organic pollutants. Environ Sci Technol 30:390A–396A

Yuan H, Liu E, Zhang E, Luo W, Chen L, Wang C, Lin Q (2017) Historical records and sources of polycyclic aromatic hydrocarbons (PAHs) and organochlorine pesticides (OCPs) in sediment from a representative plateau lake, China. Chemosphere 173:78–88

Zennegg M, Kohler M, Hartmann PC, Sturm M, Gujer E, Schmid P, Gerecke AC, Heeb NV, Kohler H-PE, Giger W (2007) The historical record of PCB and PCDD/F deposition at Greifensee, a lake of the Swiss plateau, between 1848 and 1999. Chemosphere 67:1754–1761
Acknowledgements
This study was financially supported by the Public Institution "Plitvice Lakes" within the project "Monitoring of organic and inorganic pollutants in the environment of the Plitvice Lakes National Park" (Contract No. 01-100-243/10, Zagreb, and contract no. 14983/10, Plitvice Lakes). The authors thank Mrs. Biserka Tkalčević and Mrs. Mirjana Kralj for their skillful technical assistance and Mr. Hrvoje Grgić for his help with the organization of lake sediment core sampling by scuba divers.
Electronic supplementary material
Below is the link to the electronic supplementary material.
About this article
Cite this article
Dvoršćak, M., Fingler, S., Mendaš, G. et al. Distribution of Organochlorine Pesticide and Polychlorinated Biphenyl Residues in Lake Sediment Cores from the Plitvice Lakes National Park (Croatia). Arch Environ Contam Toxicol 77, 537–548 (2019). https://doi.org/10.1007/s00244-019-00668-z
Received:

Accepted:

Published:

Issue Date:

DOI: https://doi.org/10.1007/s00244-019-00668-z