Abstract
Studies have claimed that road dust and roadside soil are potential banks of pollutants generally in urban areas. Thus, quantifying the concentrations of metals in an urban area is a prerequisite for assessing pollution and their health effects. Hence, this study reports the concentration of the metals, such as Cd, Co, Cr, Ni, Cu, Pb, Zn, and Fe, in the road dust and the roadside soil of Suva City. A total number of 45 road dust and 36 roadside soil samples were collected at 18 different locations around Suva City with potential traffic influence and analysed. The respective metals concentration in the road dust and roadside soil samples of Suva City were Cd (3.7 and 3.1 mg/kg), Co (35.0 and 33.2 mg/kg), Cr (40.0 and 34.0 mg/kg), Ni (54.3 and 32.4 mg/kg), Cu (172.3 and 265.7 mg/kg), Pb (71.0 and 59.3 mg/kg), Zn (685.0 and 507.0 mg/kg), and Fe (41,010.4 and 39,525.5 mg/kg) and showed the decreasing order as Fe > Zn > Cu > Pb > Ni > Cr > Co > Cd and Fe > Zn > Cu > Pb > Cr > Co > Ni > Cd for road dust and roadside soil, respectively. Furthermore, the mean values of the metals surpassed their background levels, except for Fe, whereas the mean values of Cd, Ni, Cu, and Zn have exceeded their permissible limits in road dust. Similarly, Cd, Cu, and Zn have exceeded their permissible limit in roadside soil except for Ni. The geo-accumulation index (Igeo) assessment of Suva City road dust thus indicated nonpolluted to moderate pollution by Ni and Cu and moderate pollution by Zn. The Igeo assessment of the roadside soil showed moderately polluted by Cu and Zn but no pollution from the remaining studied metals. Overall, the study indicated that the sampling locations at an industrial site of Suva City is highly predominated with almost all of the studied metals and is a concern to the general public who live and work within the vicinity of Walu Bay industrial area.
Access options
Buy single article
Instant access to the full article PDF.
US$ 39.95
Tax calculation will be finalised during checkout.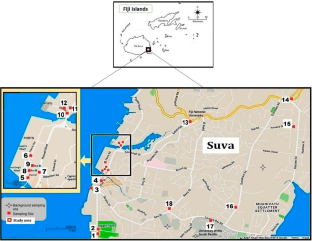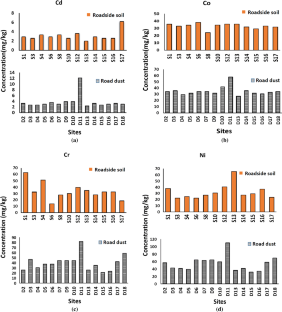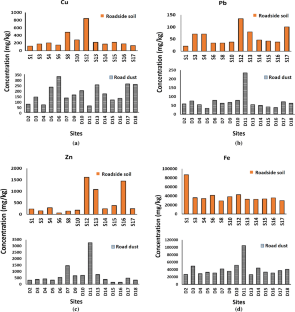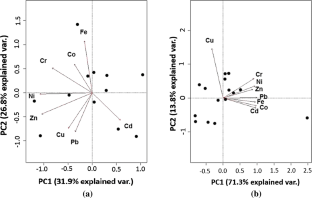 References
Acosta JA, Cano AF, Arocena JM, Debela F, Martínez-Martínez S (2009) Distribution of metals in soil particle size fractions and its implication to risk assessment of playgrounds in Murcia City (Spain). Geoderma 149:101–109

Addo MA, Darko EO, Gordon C, Nyarko BJB, Gbadago JK (2012) Heavy metal concentrations in road deposited dust at Ketu-South district, Ghana. Int J Sci Technol 2:28–39

Ahmed F, Ishiga H (2006) Trace metal concentrations in street dusts of Dhaka city, Bangladesh. Atmos Environ 40:3835–3844

Al-Khashman OA (2004a) Heavy metal distribution in dust, street dust and soils from the work place in Karak Industrial Estate, Jordan. Atmos Environ 38:6803–6812

Al-Khashman OA (2004b) The investigation of metal concentrations in street dust samples in Aqaba city, Jordan. Environ Geochem Health 29:197–207

Al-Khashman OA (2007) Determination of metal accumulation in deposited street dusts in Amman, Jordan. Environ Geochem Health 29:1–10

Apeagyei E, Bank MS, Spengler JD (2011) Distribution of heavy metals in road dust along an urban-rural gradient in Massachusetts. Atmos Environ 45:2310–2323

Azeez JO, Mesele SA, Sarumi BO, Ogundele JA, Uponi AO, Hassan AO (2013) Soil metal pollution as a function of traffic density and distance from road in emerging cities: a case study of Abeokuta, Southwestern Nigeria. Arch Agron Soil Sci 60:275–279

Benhaddya ML, Boukhelkhal A, Halis Y, Hadjel M (2016) Human health risks associated with metals from urban soil and road dust in an oilfield area of Southeastern Algeria. Arch Environ Contam Toxicol 70:556–571

Carrero JA, Arrizabalaga I, Bustamante J, Goienaga N, Arana G, Madariag JM (2013) Diagnosing the traffic impact on roadside soils through a multi-analytical data analysis of the concentration profiles of traffic-related elements. Sci Total Environ 458–460:427–434

Celik A, Kartal AA, Akdogan A, Kaska Y (2005) Determining the heavy metal pollution in Denizli (Turkey) by using Robinio pseudo-acacia L. Environ Int 31:105–112

Chandra S, Gangaiya P, Togamana C, Prasad S (2015) First screening study of metal content in soil from a mixed waste receptacle. S Pac J Nat Appl Sci 33:7–12

Chang SH, Wang KS, Chang HF, Ni WW, Wu BJ, Wong RH, Lee HS (2009) Comparison of the source identification of metals in road dust and soil. Soil Sediment Contam 18:669–683

Chatterjee A, Banerjee RN (1999) Determination of lead and other metals in a residential area of greater Calcutta. Sci Total Environ 227:175–185

Chen H, Lu X, Chang Y, Xue W (2014) Heavy metal contamination in dust from kindergartens and elementary schools in Xi'an, China. Environ Earth Sci 71:2701–2709

Christoforidis A, Stamatis N (2009) Heavy metal contamination in street dust and roadside soil along the major national road in Kavala's region, Greece. Geoderma 151:257–263

Dao L, Morrison L, Zhang C (2010) Spatial variation of urban soil geochemistry in a roadside sports ground in Galway, Ireland. Sci Total Environ 408:1076–1084

De-Miguel ED, Llamas JF, Chacon E, Berg T, Larssen S, Royset O, Vadset M (1997) Origin and patterns of distribution of trace elements in street dust in street dust: unleaded petrol and urban lead. Atmos Environ 31:2733–2740

Duong TTT, Lee B (2011) Determining contamination level of heavy metals in road dust from busy traffic areas with different characteristics. J Environ Manag 92:554–562

Duruibe JO, Ogwuegbu MOC, Egwurugwu JN (2007) Heavy metal pollution and human biotoxic effects. Int J Phys Sci 2:112–118

El-Hasan T, Batarseh M, Al-Omari H, Ziadat A, El-Alali A, Al-Naser F, Berdanier BW, Jiries A (2006) The distribution of heavy metals in urban street dusts of Karak City, Jordan. Soil Sediment Contam Int J 15:357–365

Eqani SAMAS, Tanveer ZI, Qiaoqiao C, Cincinelli A, Saqib Z, Mulla SI, Ali N, Katsoyiannis IA, Shafqat MN, Shen H (2018) Occurrence of selected elements (Ti, Sr, Ba, V, Ga, Sn, Tl, and Sb) in deposited dust and human hair samples: implications for human health in Pakistan. Environ Sci Pollut Res 25:12234–12245

Faiz Y, Tufail M, Javed MT, Chaudry MM, Siddique N (2009) Road dust pollution of Cd, Cu, Ni, Pb and Zn along Islamabad expressway, Pakistan. Microchem J 92:186–192

Ferreira-Baptista L, De-Miguel ED (2005) Geochemistry and risk assessment of street dust in Luanda, Angola: a tropical urban environment. Atmos Environ 39:4501–4512

Franco-Uría A, López-Mateob C, Rocaa E, Fernández-Marcosb ML (2009) Source identification of heavy metals in pastureland by multivariate analysis in NW Spain. J Hazard Mater 165:1008–1015

Gangaiya P, Tabudrava J, South R, Sotheeswaran S (2001) Heavy metal contamination of Lami coastal environment, Fiji. S Pac J Nat Sci 19:24–29

Johansson C, Norman M, Burman L (2009) Road traffic emission factors for heavy metals. Atmos Environ 43:4681–4688

Kadi MW (2009) Soil pollution hazardous to environment: a case study on the chemical composition and correlation to automobile traffic of the roadside soil of Jeddah city, Saudi Arabia. J Hazard Mater 168:1280–1283

Kendall MG (1938) A new measure of rank correlation. Biometrika 30:81–93. http://www.jstor.org/stable/2332226. Accessed 21 April 2016

Khairy MA, Barakat AO, Mostafa AR, Wade TL (2011) Multi-element determination by flame atomic absorption of road dust samples in Delta region, Egypt. Microchem J 97:234–242

Lee P, Yu Y, Yun S, Mayer B (2005) Metal contamination and solid phase partitioning of metals in urban roadside sediments. Chemosphere 60:672–689

Lee CS, Li X, Shi W, Cheung SC, Thornton I (2006) Metal contamination in urban, suburban and country park soils of Hong Kong: a study based on GIS and multivariate statistics. Sci Total Environ 356:45–61

Li X, Poon C, Liu PS (2001) Heavy metal contamination of urban soils and street dusts in Hong Kong. Appl Geochem 16:1361–1368

Li C, Li FY, Zhang Y, Liu TW, Hou W (2008) Spatial distribution characteristics of heavy metals in street dust in Shenyang city. Ecol Environ 17:560–564

Li H, Qian X, Hu W, Wang Y, Gao H (2013) Chemical speciation and human health risk of trace metals in urban street dusts from a metropolitan city, Nanjing, SE China. Sci Total Environ 456–457:212–221

Li Y, Yu Y, Yang Z, Shen Z, Wang X, Cai Y (2016) A comparison of metal distribution in surface dust and soil among super city, town, and rural area. Environ Sci Pollut Res 23:7849–7860

Loganathan P, Vigneswaran S, Kandasamy J (2013) Road-deposited sediment pollutants: a critical review of their characteristics, source apportionment, and management. Crit Rev Environ Sci Technol 43:1315–1348

Maata M, Singh S (2008) Heavy metal pollution in Suva Habour Sediments. Environ Chem Lett 6:113–118

Malkoc S, Yacici B, Koparal AS (2010) Assessment of the levels of heavy metal pollution in roadside soil of Eskishier, Turkey. Environ Toxicol Chem 29:2720–2725

Manta DS, Angelone M, Belanca A, Neri R, Sprovieri M (2002) Heavy metals in urban soils: a case study from the city of Palermo (Sicily), Italy. Sci Total Environ 300:229–243

Meza-Figueroa D, O-Villanueva MD, La- Parra MLD (2007) Heavy metal distribution in dust from elementary schools in Hermosillo, Sonora, Mexico. Atmos Environ 41:276–288

Morrison RJ, Narayan SP, Gangaiya P (2001) Trace element studies in Laucala Bay, Suva, Fiji. Mar Pollut Bull 42:397–404

Muller G (1969) Index of geo-accumulation in sediments of the Rhine River. Geol J 2:108–118

Naidu SD, Morrison RJ (1994) Contamination of the Suva Harbour, Fiji. Mar Pollut Bull 29:126–130

Petersen W, Bertino L, Callies U, Zorita E (2001) Process identification by principal component analysis of river water-quality data. Ecol Model 138:193–213

Qiao X, Schmidt AH, Tang Y, Xu Y, Zhang C (2014) Demonstrating urban pollution using toxic metals of road dust and roadside soil in Chengdu, South Western China. Stoch Environ Res Risk Assess 28:911–919

Shi G, Chen Z, Xu S, Zhang J, Wang L, Bi C, Teng J (2008) Potentially toxic metal contamination of urban soils and roadside dust in Shanghai, China. Environ Pollut 156:251–260

Singh AK (2011) Elemental chemistry and geochemical partitioning of heavy metals in road dust from Dhanbad and Bokaro regions, India. Environ Earth Sci 62:1447–1459

Singh UK, Kumar B (2017) Pathways of heavy metals contamination and associated human health risk in Ajay River basin, India. Chemosphere 174:183–199

Spearman C (1904) The proof and measurement of association between two things. Am J Psychol 15:72–101. http://www.jstor.org/stable/1412159. Accessed 18 March 2016

Thorpe A, Harrison RM (2008) Sources and properties of non-exhaust particular matter from road traffic: a review. Sci Total Environ 400:270–282

Tokalıoglu S, Kartal S (2006) Multivariate analysis of the data and speciation of heavy metals in street dust samples from the organized industrial district in Kayseri (Turkey). Atmos Environ 40:2797–2805

Tuzen M (2003) Determination of heavy metals in soil, mushroom and plant samples by atomic absorption spectrometry. Microchem J 74:289–297

Wei B, Yang L (2010) A review of heavy metal contaminations in urban soils, urban road dusts and agricultural soils from China. Microchem J 94:99–107

Wei B, Jiang F, Li X, Mu S (2010) Heavy metal induced ecological risk in the city of Urumqi, NW China. Environ Monit Assess 160:33–45

WHO (1996) Permissible limits of heavy metals in soil and plants. World Health Organization, Geneva

Yongming H, Peixuan D, Junj C, Posmentier ES (2006) Multivariate analysis of heavy metal contamination in urban dust of Xi'an, Central China. Sci Total Environ 355:176–186

Yuangen Y, Campbell CD, Clark L, Cameron CM, Paterson E (2006) Microbial indicators of heavy metal contamination in urban and rural soils. Chemosphere 63:1942–1952

Zhang J, Deng H, Wang D, Chen Z, Xu S (2013) Toxic heavy metal contamination and risk assessment of street dust in small towns of Shanghai suburban area, China. Environ Sci Pollut Res 20:323–332
Acknowledgements
The authors are extremely grateful to the Solomon Islands Government for awarding the scholarship to Mr. Wilson Maeaba for his Master of Science (M.Sc.) study. The financial support by the Faculty of Science Technology and Environment (FSTE), The University of the South Pacific (USP) for his thesis project research Grant via Vote Code No. 6C396-1311-a/c-00, and the Research Office, USP for Write up Scholarship also is acknowledged.
About this article
Cite this article
Maeaba, W., Prasad, S. & Chandra, S. First Assessment of Metals Contamination in Road Dust and Roadside Soil of Suva City, Fiji. Arch Environ Contam Toxicol 77, 249–262 (2019). https://doi.org/10.1007/s00244-019-00635-8
Received:

Accepted:

Published:

Issue Date: