Abstract
Situated at high positions on marine food webs, seabirds accumulate high concentrations of persistent organic pollutants (POPs), such as polychlorinated biphenyls (PCBs), dichlorodiphenyltrichloroethane and its metabolites (DDTs), and hexachlorocyclohexanes (HCHs). Our previous studies proposed the usefulness of seabirds preen gland oil as a nondestructive biomonitoring tool. The present study applied this approach to 154 adult birds of 24 species collected from 11 locations during 2005–2016 to demonstrate the utility of preen gland oil as a tool for global monitoring POPs, i.e., PCBs, DDTs, and HCHs. Concentrations of the POPs were higher in the Northern Hemisphere than in the Southern Hemisphere. In particular, ∑20PCBs and∑DDTs were highly concentrated in European shags (Phalacrocorax aristotelis) and Japanese cormorants (Phalacrocorax capillatus), explainable by a diet of benthic fishes. Higher concentrations of γ-HCH were detected in species from the polar regions, possibly reflecting the recent exposure and global distillation of ∑HCHs. We examined the relationship between age and POP concentrations in preen gland oil from 20 male European shags, aged 3–16 years old. Concentrations and compositions of POPs were not related to age. We also examined sex differences in the POP concentrations from 24 streaked shearwaters (Calonectris leucomelas) and did not detect a sex bias. These results underline the importance of the geographic concentration patterns and the dietary behavior as determinants species-specific POPs concentrations in preen gland oil.
This is a preview of subscription content, log in to check access.
Access options
Buy single article
Instant access to the full article PDF.
US$ 39.95
Price includes VAT for USA
Subscribe to journal
Immediate online access to all issues from 2019. Subscription will auto renew annually.
US$ 199
This is the net price. Taxes to be calculated in checkout.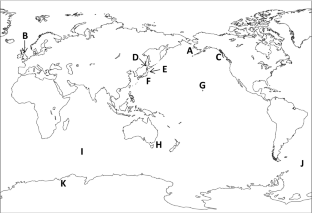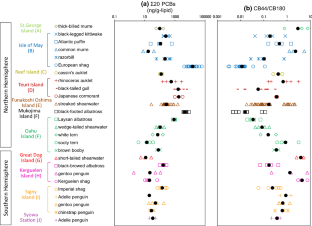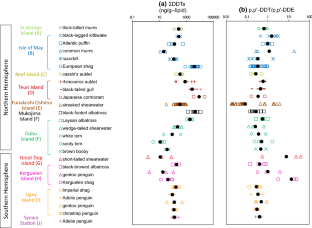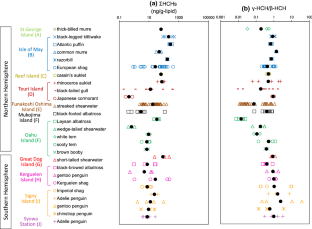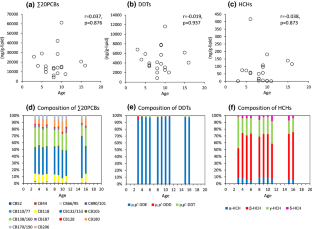 References
Aguilar A (1984) Relationship of DDE/∑DDT in marine mammals to the chronology of DDT input into the ecosystem. Can J Fish Aquat Sci 41:840–844

Borlakoglu JT, Wilkins JPG, Walker CH, Dils RR (1990a) Polychlorinated biphenyls (PCBs) in fish-eating sea birds. 1. Molecular features of PCB isomers and congeners in adipose-tissue of male and female razorbills (Alca tarda) of British and Irish coastal waters. Comp Biochem Physiol C Pharmacol Toxicol Endocrinol 97:151–160

Borlakoglu JT, Wilkins JPG, Walker CH, Dils RR (1990b) Polychlorinated biphenyls (PCBs) in fish-eating sea birds. 2. Molecular features of PCB isomers and congeners in adipose-tissue of male and female puffins (Fratercula arctica), guillemots (Uria aalga), shags (Phalacrocorax aristotelis) and cormorants (Phalacrocorax carbo) of British and Irish coastal waters. Comp Biochem Physiol C Pharmacol Toxicol Endocrinol 97:161–171

Bost CA, Koubbi P, Genevois F, Ruchon L, Ridoux V (1994) Gentoo penguin Pygoscelis papua diet as an indicator of planktonic availability in the Kerguelen Islands. Polar Biol 14:147–153

Braune BM, Outridge PM, Fisk AT et al (2005) Persistent organic pollutants and mercury in marine biota of the Canadian Arctic: an overview of spatial and temporal trends. Sci Total Environ 351:4–56

Breivik K, Sweetman A, Pacyna JM, Jones KC (2007) Towards a global historical emission inventory for selected PCB congeners—a mass balance approach: 3. An update. Sci Total Environ 377:296–307

Brooke M (2004) Albatrosses and petrels across the world. Oxford University Press, Oxford

Bustnes JO, Bakken V, Skaare JU, Erikstad KE (2003) Age and accumulation of persistent organochlorines: a study of arctic–breeding glaucous gulls (Larus hyperboreus). Environ Toxicol Chem 22:2173–2179

Cherel Y, Weimerskirch H, Trouvé C (2000) Food and feeding ecology of the neritic-slope forager black-browed albatross and its relationships with commercial fisheries in Kerguelen waters. Mar Ecol Progr Ser 207:183–199

Corsolini S (2009) Industrial contaminants in Antarctic biota. J Chromatogr A 1216:598–612

Deguchi T, Watanuki Y, Niizuma Y, Nakata A (2004) Interannual variations of the occurrence of epipelagic fish in the diets of the seabirds breeding on Teuri Island, northern Hokkaido, Japan. Progr Oceanogr 61:267–275

Elfvendahl S, Mihale M, Kishimba MA, Kylin H (2004) Pesticide pollution remains severe after cleanup of a stockpile of obsolete pesticides at Vikuge, Tanzania. AMBIO J Hum Environ 33:503–508

Elliott E, Elliott KH (2013) Tracking marine pollution. Science 340:556–558

Goerke H, Weber K, Bornemann H, Ramdohr S, Plötz J (2004) Increasing levels and biomagnification of persistent organic pollutants (POPs) in Antarctic biota. Mar Poll Bull 48:295–302

Guruge KS, Tanaka H, Tanabe S (2001) Concentration and toxic potential of polychlorinated biphenyl congeners in migratory oceanic birds from the North Pacific and the Southern Ocean. Mar Environ Res 52:271–288

Hammer S, Nager RG, Alonso S, McGill RAR, Furness RW, Dam M (2016) Legacy pollutants are declining in Great Skuas (Stercorarius skua) but remain higher in Faroe Islands than in Scotland. Bull Environ Contam Toxicol 97:184–190

Hawker DW, Connell DW (1988) Octanol-water partition coefficients of polychlorinated biphenyl congeners. Environ Sci Technol 22:382–387

Henriksen EO, Gabrielsen GW, Skaare JU (1996) Levels and congener pattern of polychlorinated biphenyls in kittiwakes (Rissa tridactyla), in relation to mobilization of body-lipids associated with reproduction. Environ Poll 92:27–37

Hinke JT, Polito MJ, Goebel ME et al (2015) Spatial and isotopic niche partitioning during winter in chinstrap and Adélie penguins from the South Shetland Islands. Ecosphere 6:1–32

Hobson KA, Fisk A, Karnovsky N, Holst M, Gagnon J-M, Fortier M (2002) A stable isotope (δ13C, δ15 N) model for the North Water food web: implications for evaluating trophodynamics and the flow of energy and contaminants. Deep Sea Res II Topical Stud Oceanogr 49:5131–5150

Ito A, Yamashita R, Takada H et al (2013) Contaminants in tracked seabirds showing regional patterns of marine pollution. Environ Sci Technol 47:7862–7867

Jarman WM, Hobson KA, Sydeman WJ, Bacon CE, McLaren EB (1996) Influence of trophic position and feeding location on contaminant levels in the Gulf of the Farallones food web revealed by stable isotope analysis. Environ Sci Technol 30:654–660

Jaspers VLB, Covaci A, Van den Steen E, Eens M (2007) Is external contamination with organic pollutants important for concentrations measured in bird feathers? Environ Int 33:766–772

Kazama K, Tomita N, Ito M, Niizuma Y, Takagi M, Watanuki Y (2008) Responses in breeding behaviour of the black-tailed gull (Larus crassirostris) to different marine environments. In: Origin and evolution of natural diversity: proceedings of the international symposium, the origin and evolution of natural diversity, October 1–5, 2007, Sapporo, Japan, 21st Century COE for Neo-Science of Natural History, Hokkaido University, pp 215–220

Kennish M (1996) Practical handbook of estuarine and marine pollution. In: Kennish M, Lutz P (eds) Marine science series. CRC Press, Boca Raton

Lemmetyinen R, Rantamäki P, Karli A (1982) Levels of DDT and PCB's in different stages of life cycle of the Arctic tern Sterna paradisaea and the herring gull Larus argentatus. Chemosphere 11:1059–1068

Li YF (1999) Global technical hexachlorocyclohexane usage and its contamination consequences in the environment: from 1948 to 1997. Sci Total Environ 232:121–158

Li YF, McMillan A, Scholtz MT (1996) Global HCH usage with 1 × 1 longitude/latitude resolution. Environ Sci Technol 30:3525–3533

Mallory ML, Braune BM, Forbes MRL (2006) Contaminant concentrations in breeding and non-breeding northern fulmars (Fulmarus glacialis L.) from the Canadian high arctic. Chemosphere 64:1541–1544

Mizukawa K, Takada H, Takeuchi I et al (2009) Bioconcentration and biomagnification of polybrominated diphenyl ethers (PBDEs) through lower-trophic-level coastal marine food web. Mar Poll Bull 58:1217–1224

Monirith I, Ueno D, Takahashi S et al (2003) Asia-Pacific mussel watch: monitoring contamination of persistent organochlorine compounds in coastal waters of Asian countries. Mar Poll Bull 46:281–300

Ogata Y, Takada H, Mizukawa K et al (2009) International Pellet Watch: global monitoring of persistent organic pollutants (POPs) in coastal waters. 1. Initial phase data on PCBs, DDTs, and HCHs. Mar Poll Bull 58:1437–1446

PNUMA (2002) Evaluación regional sobre substancias tóxicas persistentes: informe regional de sudamérica oriental y occidental. Programa de Las Naciones Unidas para el Medio Ambiente, UNEP, Switzerland

Polito MJ, Lynch HJ, Naveen R, Emslie SD (2011) Stable isotopes reveal regional heterogeneity in the pre-breeding distribution and diets of sympatrically breeding Pygoscelis spp. penguins. Mar Ecol Prog Ser 421:265–277

Roscales JL, Muñoz-Arnanz J, González-Solís J, Jiménez BEGONA (2010) Geographical PCB and DDT patterns in shearwaters (Calonectris sp.) breeding across the NE Atlantic and the Mediterranean archipelagos. Environ Sci Technol 44:2328–2334

Rudolph I, Chiang G, Galbán-Malagón C et al (2016) Persistent organic pollutants and porphyrins biomarkers in penguin faeces from Kopaitic Island and Antarctic Peninsula. Sci Total Environ 573:1390–1396

Takada H, Yamashita R (2016) Chapter 7.2: pollution status of persistent organic pollutants. United Nations Environment Programme

Taniguchi S, Montone RC, Bícego MC et al (2009) Chlorinated pesticides, polychlorinated biphenyls and polycyclic aromatic hydrocarbons in the fat tissue of seabirds from King George Island, Antarctica. Mar Poll Bull 58:129–133

Ueno D, Takahashi S, Tanaka H et al (2003) Global pollution monitoring of PCBs and organochlorine pesticides using skipjack tuna as a bioindicator. Arch Environ Contam Toxicol 45:378–389

van den Brink NW (1997) Directed transport of volatile organochlorine pollutants to polar regions: the effect on the contamination pattern of Antarctic seabirds. Sci Total Environ 198:43–50

van den Brink NW, van Franeker JA, de Ruiter-Dijkman EM (1998) Fluctuating concentrations of organochlorine pollutants during a breeding season in two Antarctic seabirds: Adélie penguin and southern fulmar. Environ Toxicol Chem 17:702–709

Walker CH (2008) Organic pollutants: an ecotoxicological perspective. CRC Press, Boca Raton

Wanless S, Harris M (1993) Use of mutually exclusive foraging areas by adjacent colonies of blue-eyed shags (Phalacrocorax atriceps) at South Georgia. Colon Waterbird 16:176–182

Watanuki Y, Ishikawa K, Takahashi A, Kato A (2004) Foraging behavior of a generalist marine top predator, Japanese cormorants (Phalacrocorax filamentosus), in years of demersal versus epipelagic prey. Mar Biol 145:427–434

Watanuki Y, Daunt F, Takahashi A et al (2008) Microhabitat use and prey capture of a bottom-feeding top predator, the European shag, shown by camera loggers. Mar Ecol Prog Ser 356:283–293

Weber K, Goerke H (2003) Persistent organic pollutants (POPs) in Antarctic fish: levels, patterns, changes. Chemosphere 53:667–678

Weimerskirch H, Cherel Y (1998) Feeding ecology of short-tailed shearwaters: breeding in Tasmania and foraging in the Antarctic? Mar Ecol Prog Ser 167:261–274

Yamashita R, Takada H, Murakami M et al (2007) Evaluation of noninvasive approach for monitoring PCB pollution of seabirds using preen gland oil. Environ Sci Technol 41:4901–4906

Yeo BG, Takada H, Taylor H et al (2015) POPs monitoring in Australia and New Zealand using plastic resin pellets, and International Pellet Watch as a tool for education and raising public awareness on plastic debris and POPs. Mar Poll Bull 101:137–145

Yoda K, Tomita N, Mizutani Y et al (2012) Spatio-temporal responses of black-tailed gulls to natural and anthropogenic food resources. Mar Ecol Prog Ser 466:249–259
Acknowledgements
Permits to undertake research were given to Catherine Meathrel for birds at Great Dog Island, Alexander Kitaysky for birds at St George Island, Francis Daunt for birds on the Isle of May, Yutaka Watanuki for birds at Teuri Island, David Hyrenbach and Lindsay Young for birds at O'ahu Island, Phil Trathan for birds at Signy Island, Charles-André Bost for birds at Kerguelen Island, Katsufumi Sato for birds at Funakoshi Oshima Island, and Anthony Gaston for birds at Reef Island. The authors thank Anthony Gaston (Reef Island), Shinichi Watanabe, Hiromichi Mitamura and Takuji Noda (Signy Island and Syowa station), Hideji Tanaka (Kerguelen Island), Atsuo Ito (Great Dog Island), Tomoko Harada (Mukojima Island), Kozue Shiomi, Yusuke Goto, Yoshinari Yonehara, and Miho Sakao (Funakoshi Oshima Island) for sampling in the field. We thanks Scotish Natural Heritage for access to the Isle of May. This study was financially supported by a Grant-in-Aid (Project Nos. 16H01768, 20241001, 26550005).
Electronic supplementary material
Below is the link to the electronic supplementary material.
About this article
Cite this article
Yamashita, R., Takada, H., Nakazawa, A. et al. Global Monitoring of Persistent Organic Pollutants (POPs) Using Seabird Preen Gland Oil. Arch Environ Contam Toxicol 75, 545–556 (2018). https://doi.org/10.1007/s00244-018-0557-3
Received:

Accepted:

Published:

Issue Date: