Abstract
A total of 97 paired soil, outdoor dust, and indoor dust samples were collected in the national scale of China in summer, and the perchlorate levels were compared with those in soil and outdoor dust samples collected in winter in our previous study. The median perchlorate concentrations in the outdoor dust, indoor dust, and soil samples were 8.10, 11.4, and 0.05 mg/kg, respectively, which were significantly lower than those in the winter samples due to the natural factors and human activities. No significant differences in perchlorate concentrations were found between Northern and Southern China in the dust samples, whereas the difference was obtained in the soil samples. In the terms of possible source, the perchlorate levels in the outdoor dust exhibited strong correlation with SO42− (r2 = 0.458**) and NO3− (r2 = 0.389**), indicating part of perchlorate in outdoor environment was likely from atmospheric oxidative process in summer. The perchlorate, SO42−, and Cl− levels in the indoor dust were significantly related to those in the outdoor dust, suggesting that outdoor contaminants might be an important source for indoor environment. Furthermore, the human exposure to perchlorate was under relatively safe state in China except for special sites or periods with high perchlorate levels. Dust made an unexpected contribution of 41.3% to the total daily perchlorate intake for children, whereas 2.46% for adults in China based on biomonitoring, which deserves more attention.
Access options
Buy single article
Instant access to the full article PDF.
USD 39.95
Price includes VAT (USA)
Tax calculation will be finalised during checkout.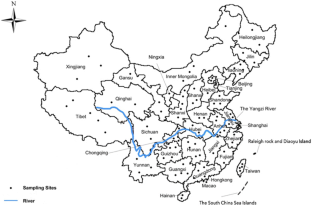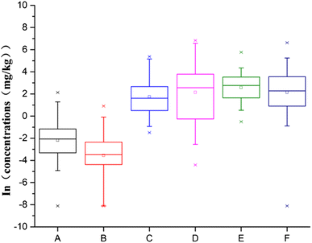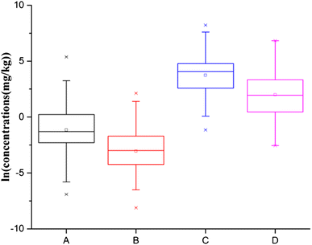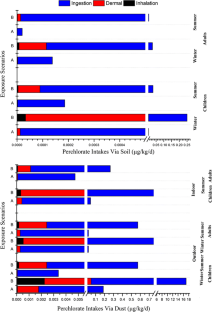 References
Andraski BJ, Jackson WA, Welborn TL et al (2014) Soil, plant, and terrain effects on natural perchlorate distribution in a desert landscape. J Environ Qual 43:980–994. https://doi.org/10.2134/jeq2013.11.0453

Blount BC et al (2009) Perinatal exposure to perchlorate, thiocyanate, and nitrate in New Jersey mothers and newborns. Environ Sci Technol 43:7543–7549

Blount BC, Alwis KU, Jain RB et al (2010) Perchlorate, nitrate, and iodide intake through tap water. Environ Sci Tech 44:9564–9570

Catling DC, Claire MW, Zahnle KJ et al (2010) Atmospheric origins of perchlorate on Mars and in the Atacama. J Geophys Res Atmos 115:0–11

Chithra VS, Shiva Nagendra SM (2013) Chemical and morphological characteristics of indoor and outdoor particulate matter in an urban environment. Atmos Environ 77:579–587. https://doi.org/10.1016/j.atmosenv.2013.05.044

Christoforidis A, Stamatis N (2009) Heavy metal contamination in street dust and roadside soil along the major national road in Kavala's region. Greece Geoderma 151:257–263

Dasgupta Martinelango WAJ (2005) The origin of naturally occurring perchlorate: the role of atmospheric processes. Environ Sci Technol 39:1569–1575

Diapouli E, Chaloulakou A, Mihalopoulos N, Spyrellis N (2008) Indoor and outdoor PM mass and number concentrations at schools in the Athens area. Environ Monit Assess 136:13

Domingo JL (2012) Health risks of dietary exposure to perfluorinated compounds. Environ Int 40:187–195. https://doi.org/10.1016/j.envint.2011.08.001

EPA US (2005) Perchlorate and perchlorate salts

Gan Z, Sun H, Wang R, Deng Y (2014) Occurrence and exposure evaluation of perchlorate in outdoor dust and soil in mainland China. Sci Total Environ 99:470–471

Gan Z et al (2015) Occurrence and exposure evaluation of perchlorate in indoor dust and diverse food from Chengdu, China. Sci Total Environ 536:288–294. https://doi.org/10.1016/j.scitotenv.2015.07.057

Geens T, Roosens L, Neels H, Covaci A (2009) Assessment of human exposure to Bisphenol-A, Triclosan and Tetrabromobisphenol-A through indoor dust intake in Belgium. Chemosphere 76:755–760

Hatzinger PB, Schaefer CE, Cox EE (2009) Active bioremediation. Springer, New York

Her N, Jeong H, Kim J, Yoon Y (2011) Occurrence of perchlorate in drinking water and seawater in South Korea. Arch Environ Contam Toxicol 61:166–172. https://doi.org/10.1007/s00244-010-9616-0

Huber DR, Blount BC, Mage DT et al (2011) Estimating perchlorate exposure from food and tap water based on US biomonitoring and occurrence data. J Expos Sci Environ Epidemiol 21:395–407. https://doi.org/10.1038/jes.2010.31

Jackson WA, Böhlke JK, Gu B et al (2010) Isotopic composition and origin of indigenous natural perchlorate and co-occurring nitrate in the southwestern United States. Environ Sci Technol 44:4869–4876

John K, Karnae S, Crist K et al (2007) Analysis of trace elements and ions in ambient fine particulate matter at three elementary schools in Ohio. J Air Waste Manag Assoc 57:394–406

Joly A et al (2010) Characterisation of particulate exposure during fireworks displays. Atmos Environ 44:4325–4329

Kannan K, Praamsma ML, Oldi JF et al (2009) Occurrence of perchlorate in drinking water, groundwater, surface water and human saliva from India. Chemosphere 76:22–26. https://doi.org/10.1016/j.chemosphere.2009.02.054

Kirk AB (2006) Environmental perchlorate: why it matters. Anal Chim Acta 567:4–12

Kosaka K, Asami M, Matsuoka Y et al (2007) Occurrence of perchlorate in drinking water sources of metropolitan area in Japan. Water Res 41:3474–3482. https://doi.org/10.1016/j.watres.2007.05.011

Kumarathilaka P, Oze C, Indraratne SP, Vithanage M (2016) Perchlorate as an emerging contaminant in soil, water and food. Chemosphere 150:667–677. https://doi.org/10.1016/j.chemosphere.2016.01.109

Li Y et al (2015) Particle size distribution and perchlorate levels in settled dust from urban roads, parks, and roofs in Chengdu, China. Environ Sci Proc Impacts 18:72–77

Lybrand RA et al (2016) Nitrate, perchlorate, and iodate co-occur in coastal and inland deserts on Earth. Chem Geol 442:174–186. https://doi.org/10.1016/j.chemgeo.2016.05.023

Motzer WE (2001) Perchlorate: problems, detection, and solutions. Environ Forens 2:301–311

Murray CW, Egan SK, Kim H et al (2008) US Food and Drug Administration's Total Diet Study: dietary intake of perchlorate and iodine. J Expo Sci Environ Epidemiol 18:571–580. https://doi.org/10.1038/sj.jes.7500648

Pearce EN et al (2010) Perchlorate and thiocyanate exposure and thyroid function in first-trimester pregnant women. Clin Endocrin 95:3207

Qu B, Hu W, Deng L et al (2016) Simultaneous determination of dithionate and sulfate in leaching solution from SO2 leaching pyrolusite by ion chromatography. Energ Fuel 30:8561–8566

Rajagopalan S, Anderson T, Cox S et al (2009) Perchlorate in wet deposition across North America. Environ Sci Technol 43:616–622. https://doi.org/10.1021/es801737u

Rudel RA, Camann DE, Spengler JD et al (2003) Phthalates, alkylphenols, pesticides, polybrominated diphenyl ethers, and other endocrine-disrupting compounds in indoor air and dust. Environ Sci Technol 37:4543

Saliba NA, Atallah M, Al-Kadamany G (2009) Levels and indoor–outdoor relationships of PM and soluble inorganic ions in Beirut, Lebanon. Atmos Res 92:131–137

Shi Y, Zhang N, Gao J et al (2011) Effect of fireworks display on perchlorate in air aerosols during the Spring Festival. Atmos Environ 45:1323–1327

Suh HH, Spengler JD, Koutrakis P (1992) Personal exposures to acid aerosols and ammonia. Environscitechnol 26:2507–2517

Urbansky ET (1998) Perchlorate chemistry: implications for analysis and remediation. Bioremediation J 2:81–95

Urbansky ET, Brown SK (2003) Perchlorate retention and mobility in soils. J Environ Monit 5:455–462

Urbansky ET, Brown SK, Magnuson ML, Kelty CA (2001) Perchlorate levels in samples of sodium nitrate fertilizer derived from Chilean caliche. Environ Pollut 112:299

Vella AJ, Chircop C, Micallef T, Pace C (2015) Perchlorate in dust fall and indoor dust in Malta: an effect of fireworks. Sci Total Environ 521–522:46–51. https://doi.org/10.1016/j.scitotenv.2015.03.071

Voogt W, Jackson WA (2010) Perchlorate, nitrate, and iodine uptake and distribution in lettuce (Lactuca sativa L.) and potential impact on background levels in humans. J Agric Food Chem 58:12192–12198. https://doi.org/10.1021/jf101227d

Wan Y et al (2015) Occurrence of perchlorate in indoor dust from the United States and eleven other countries: implications for human exposure. Environ Int 75:166–171. https://doi.org/10.1016/j.envint.2014.11.005

Wang Y, Zhuang G, Xu C, An Z (2007) The air pollution caused by the burning of fireworks during the lantern festival in Beijing. Atmos Environ 41:417–431

Wilkin RT, Fine DD, Burnett NG (2007) Perchlorate behavior in a municipal lake following fireworks displays. Environ Sci Technol 41:3966–3971

Wolff J (1998) Perchlorate and the thyroid gland. Pharm Rev 50:89

Yang L et al (2012) Airborne fine particulate pollution in Jinan, China: concentrations, chemical compositions and influence on visibility impairment. Atmos Environ 55:506–514. https://doi.org/10.1016/j.atmosenv.2012.02.029

Yao L et al (2015) Levels, indoor-outdoor relationships and exposure risks of airborne particle-associated perchlorate and chlorate in two urban areas in Eastern Asia. Chemosphere 135:31–37. https://doi.org/10.1016/j.chemosphere.2015.03.026

Ye L, You H, Yao J et al (2013) Seasonal variation and factors influencing perchlorate in water, snow, soil and corns in Northeastern China. Chemosphere 90:2493–2498. https://doi.org/10.1016/j.chemosphere.2012.10.058

Zhang T et al (2015) Perchlorate in indoor dust and human urine in China: contribution of indoor dust to total daily intake. Environ Sci Technol 49:2443–2450. https://doi.org/10.1021/es504444e
Acknowledgements
This research was supported by Natural Science Foundation of China (No. 71532007).
Ethics declarations
Conflict of interest
The authors declared that they have no conflict of interest.
Electronic supplementary material
Below is the link to the electronic supplementary material.
About this article
Cite this article
Li, Y., Liao, R., Gan, Z. et al. Seasonal Variation and Exposure Risks of Perchlorate in Soil, Indoor Dust, and Outdoor Dust in China. Arch Environ Contam Toxicol 75, 367–376 (2018). https://doi.org/10.1007/s00244-018-0526-x
Received:

Accepted:

Published:

Issue Date: