Abstract
Unconventional oil and natural gas (UOG) operations couple horizontal drilling with hydraulic fracturing to access previously inaccessible fossil fuel deposits. Hydraulic fracturing, a common form of stimulation, involves the high-pressure injection of water, chemicals, and sand to fracture the target layer and release trapped natural gas and/or oil. Spills and/or discharges of wastewater have been shown to impact surface, ground, and drinking water. The goals of this study were to characterize the endocrine activities and measure select organic contaminants in groundwater from conventional oil and gas (COG) and UOG production regions of Wyoming. Groundwater samples were collected from each region, solid-phase extracted, and assessed for endocrine activities (estrogen, androgen, progesterone, glucocorticoid, and thyroid receptor agonism and antagonism), using reporter gene assays in human endometrial cells. Water samples from UOG and conventional oil areas exhibited greater ER antagonist activities than water samples from conventional gas areas. Samples from UOG areas tended to exhibit progesterone receptor antagonism more often, suggesting there may be a UOG-related impact on these endocrine activities. We also report UOG-specific contaminants in Pavillion groundwater extracts, and these same chemicals at high concentrations in a local UOG wastewater sample. A unique suite of contaminants was observed in groundwater from a permitted drinking water well at a COG well pad and not at any UOG sites; high levels of endocrine activities (most notably, maximal estrogenic activity) were noted there, suggesting putative impacts on endocrine bioactivities by COG. As such, we report two levels of evidence for groundwater contamination by both UOG and COG operations in Wyoming.
This is a preview of subscription content, log in to check access.
Access options
Buy single article
Instant access to the full article PDF.
US$ 39.95
Price includes VAT for USA
Subscribe to journal
Immediate online access to all issues from 2019. Subscription will auto renew annually.
US$ 199
This is the net price. Taxes to be calculated in checkout.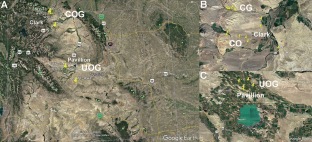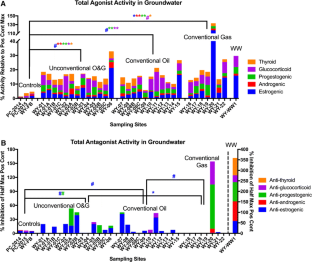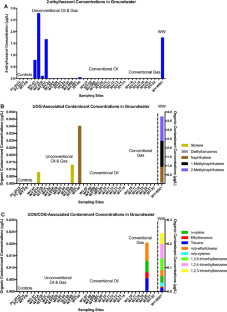 References
Akob DM, Cozzarelli IM, Dunlap DS, Rowan EL, Lorah MM (2015) Organic and inorganic composition and microbiology of produced waters from Pennsylvania shale gas wells. Appl Geochem 60:116–125

Blewett TA, Delompre PL, He Y, Folkerts EJ, Flynn SL, Aless DS, Goss GG (2017) Sublethal and reproductive effects of acute and chronic exposure to flowback and produced water from hydraulic fracturing on the water flea Daphnia magna. Environ Sci Technol. https://doi.org/10.1021/acs.est.6b05179

Caron-Beaudoin E, Valter N, Chevrier J, Ayotte P, Frohlich K, Verner MA (2018) Gestational exposure to volatile organic compounds (VOCs) in Northeastern British Columbia, Canada: a pilot study. Environ Int 110:131–138

Casey JA, Savitz DA, Rasmussen SG, Ogburn EL, Pollak J, Mercer DG, Schwartz BS (2016) Unconventional natural gas development and birth outcomes in Pennsylvania, USA. Epidemiology 27(2):163–172

Clark C, Veil J (2009) Produced water volumes and management practices in the United States. http://www.ipd.anl.gov/anlpubs/2009/07/64622.pdf. Accessed 7 Dec 2017

Cozzarelli IM, Skalak KJ, Kent DB, Engle MA, Benthem A, Mumford AC, Haase K, Farag A, Harper D, Nagel SC et al (2017) Environmental signatures and effects of an oil and gas wastewater spill in the Williston Basin, North Dakota. Sci Total Environ 579:1781–1793

Crowe E, Patton S, Thomas D, Thorpe B (2016) When the wind blows—tracking toxic chemicals in gas fields and impacted communities. http://www.comingcleaninc.org/assets/media/documents/When%20the%20Wind%20Blows.pdf. Accessed 7 Dec 2017

Deutch J, Holditch S, Krupp F, McGinty K, Tierney S, Yergin D, Zoback M (2011) The secretary of the energy board shale gas production subcommittee ninety-day report. http://www.shalegas.energy.gov/resources/081111_90_day_report.pdf. Accessed 7 Dec 2017

Diamanti-Kandarakis E, Bourguignon JP, Giudice LC, Hauser R, Prins GS, Soto AM, Zoeller RT, Gore AC (2009) Endocrine-disrupting chemicals: an Endocrine Society scientific statement. Endocr Rev 30(4):293–342 (Consensus Development Conference)

DiGiulio DC, Jackson RB (2016) Impact to underground sources of drinking water and domestic wells from production well stimulation and completion practices in the Pavillion, Wyoming, field. Environ Sci Technol 50(8):4524–4536

DiGiulio DC, Wilkin RT, Miller C, Oberley G (2011) Investigation of ground water contamination near Pavillion, Wyoming. Environmental Protection Agency. https://www.epa.gov/sites/production/files/documents/EPA_ReportOnPavillion_Dec-8-2011.pdf. Accessed 7 Dec 2017

Drollette BD, Hoelzer K, Warner NR, Darrah TH, Karatum O, O'Connor MP, Nelson RK, Fernandez LA, Reddy CM, Vengosh A et al (2015) Elevated levels of diesel range organic compounds in groundwater near Marcellus gas operations are derived from surface activities. Proc Natl Acad Sci 112(43):13184–13189

Engle M, Cozzarelli IM, Smith BD (2014) USGS Investigations of water produced during hydrocarbon reservoir development. https://pubs.usgs.gov/fs/2014/3104/pdf/fs2014-3104.pdf. Accessed 7 Dec 2017

Environmental Protection Agency (EPA) (2015) Assessment of the potential impacts of hydraulic fracturing for oil and gas on drinking water resources. External Review Draft. US Environmental Protection Agency, Washington. https://www.epa.gov/sites/production/files/2015-06/documents/hf_es_erd_jun2015.pdf. Accessed 7 Dec 2017

Folkerts EJ, Blewett TA, He Y, Goss GG (2017a) Alterations to juvenile Zebrafish (Danio rerio) swim performance after acute embryonic exposure to sub-lethal exposures of hydraulic fracturing flowback and produced water. Aquat Toxicol 193:50–59

Folkerts EJ, Blewett TA, He Y, Goss GG (2017b) Cardio-respirometry disruption in zebrafish (Danio rerio) embryos exposed to hydraulic fracturing flowback and produced water. Environ Pollut. https://doi.org/10.1016/j.envpol.2017.09.011

Harkness JS, Dwyer GS, Warner NR, Parker KM, Mitch WA, Vengosh A (2015) Iodide, bromide, and ammonium in hydraulic fracturing and oil and gas wastewaters: environmental implications. Environ Sci Technol 49(3):1955–1963

He Y, Flynn SL, Folkerts EJ, Zhang Y, Ruan D, Alessi DS, Martin JW, Goss GG (2017a) Chemical and toxicological characterizations of hydraulic fracturing flowback and produced water. Water Res 114:78–87

He Y, Folkerts EJ, Zhang Y, Martin JW, Alessi DS, Goss GG (2017b) Effects on biotransformation, oxidative stress, and endocrine disruption in rainbow trout (Oncorhynchus mykiss) exposed to hydraulic fracturing flowback and produced water. Environ Sci Technol 51(2):940–947

Kassotis CD, Tillitt DE, Davis JW, Hormann AM, Nagel SC (2014) Estrogen and androgen receptor activities of hydraulic fracturing chemicals and surface and ground water in a drilling-dense region. Endocrinology 155(3):897–907

Kassotis CD, Klemp KC, Vu DC, Lin CH, Meng CX, Besch-Williford CL, Pinatti L, Zoeller RT, Drobnis EZ, Balise VD et al (2015) Endocrine-disrupting activity of hydraulic fracturing chemicals and adverse health outcomes after prenatal exposure in male mice. Endocrinology 156(12):4458–4473

Kassotis CD, Bromfield JJ, Klemp KC, Meng CX, Wolfe A, Zoeller RT, Balise VD, Isiguzo CJ, Tillitt DE, Nagel SC (2016a) Adverse reproductive and developmental health outcomes following prenatal exposure to a hydraulic fracturing chemical mixture in female C57Bl/6 mice. Endocrinology 157(9):3469–3481

Kassotis CD, Iwanowicz LR, Akob DM, Cozzarelli IM, Mumford AC, Orem WH, Nagel SC (2016b) Endocrine disrupting activities of surface water associated with a West Virginia oil and gas industry wastewater disposal site. Sci Total Environ 557–558:901–910

Kassotis CD, Tillitt DE, Lin CH, McElroy JA, Nagel SC (2016c) Endocrine-disrupting chemicals and oil and natural gas operations: potential environmental contamination and recommendations to assess complex environmental mixtures. Environ Health Perspect 124(3):256–264

Lin CH, Lerch RN, Garrett HE, George MF (2007) An improved GC–MS/MS method for determination of atrazine and its chlorinated metabolites uptake by forage plants-laboratory and field experiments. Commun Soil Sci Plant Anal 38:1753–1773

Lin CH, Lerch RN, Garrett HE, George MF (2008) Bioremediation of atrazine-contaminated soil by forage grasses: transformation, uptake, and detoxification. J Environ Qual 37:196–206

Maloney KO, Baruch-Mordo S, Patterson LA, Nicot JP, Entrekin SA, Fargione JE, Kiesecker JM, Konschnik KE, Ryan JN, Trainor AM et al (2017) Unconventional oil and gas spills: materials, volumes, and risks to surface waters in four states of the U.S. Sci Total Environ 581–582:369–377

McKenzie LM, Guo R, Witter RZ, Savitz DA, Newman LS, Adgate JL (2014) Birth outcomes and maternal residential proximity to natural gas development in rural Colorado. Environ Health Perspect 122(4):412–417

Patterson LA, Konschnik KE, Wiseman H, Fargione J, Maloney KO, Kiesecker J, Nicot JP, Baruch-Mordo S, Entrekin S, Trainor A et al (2017) Unconventional oil and gas spills: risks, mitigation priorities, and state reporting requirements. Environ Sci Technol. https://doi.org/10.1021/acs.est.6b05749

Rowan EL, Engle MA, Kraemer TF, Schroeder KT, Hammack RW, Doughten MW (2015) Geochemical and isotopic evolution of water produced from Middle Devonian Marcellus shale gas wells, Appalachian basin, Pennsylvania. Am Assoc Pet Geol Bull 99(2):181–206

Rozell DJ, Reaven SJ (2012) Water pollution risk associated with natural gas extraction from the Marcellus Shale. Risk Anal 32(8):1382–1393

Skalak KJ, Engle MA, Rowan EL, Jolly GD, Conko KM, Benthem AJ, Kraemer TF (2014) Surface disposal of produced waters in Western and Southwestern Pennsylvania: potential for accumulation of alkali-earth elements in sediments. Int J Coal Geol 126:162–170

Stacy SL, Brink LL, Larkin JC, Sadovsky Y, Goldstein BD, Pitt BR, Talbott EO (2015) Perinatal outcomes and unconventional natural gas operations in southwest Pennsylvania. PLoS ONE 10(6):e0126425

Subra W (2010) Community Health Survey Results: Pavillion, Wyoming. Earthworks' Oil & Gas Accountability Project. https://earthworks.org/cms/assets/uploads/archive/files/publications/PavillionFINALhealthSurvey-201008.pdf. Accessed 22 Mar 2018

The Endocrine Disruption Exchange (TEDX) (2017) TEDX List of Potential Endocrine Disruptors. https://endocrinedisruption.org/interactive-tools/tedx-list-of-potential-endocrine-disruptors/search-the-tedx-list. Accessed 7 Dec 2017

Thomas KV, Balaam J, Hurst MR, Thain JE (2004) Identification of in vitro estrogen and androgen receptor agonists in North Sea offshore produced water discharges. Environ Toxicol Chem 23(5):1156–1163

Thomas KV, Langford K, Petersen K, Smith AJ, Tollefsen KE (2009) Effect-directed identification of naphthenic acids as important in vitro xeno-estrogens and anti-androgens in North Sea offshore produced water discharges. Environ Sci Technol 43(21):8066–8071

Tollefsen KE, Harman C, Smith A, Thomas KV (2007) Estrogen receptor (ER) agonists and androgen receptor (AR) antagonists in effluents from Norwegian North Sea oil production platforms. Mar Pollut Bull 54(3):277–283

Vandenberg LN, Colborn T, Hayes TB, Heindel JJ, Jacobs DR Jr, Lee DH, Shioda T, Soto AM, Vom Saal FS, Welshons WV et al (2012) Hormones and endocrine-disrupting chemicals: low-dose effects and nonmonotonic dose responses. Endocr Rev 33(3):378–455

Waxman HA, Markey EJ, DeGette D (2011) Chemicals used in hydraulic fracturing. https://conservationco.org/admin/wp-content/uploads/2013/02/Final-Rebuttal-Exhibits.pdf-Adobe-Acrobat-Pro.pdf. Accessed 7 Dec 2017

Webb E, Bushkin-Bedient S, Cheng A, Kassotis CD, Balise V, Nagel SC (2014) Developmental and reproductive effects of chemicals associated with unconventional oil and natural gas operations. Rev Environ Health 29(4):307–318

Welshons WV, Thayer KA, Judy BM, Taylor JA, Curran EM, vom Saal FS (2003) Large effects from small exposures. I. Mechanisms for endocrine-disrupting chemicals with estrogenic activity. Environ Health Perspect 111(8):994–1006

Wiseman HJ (2008) Untested waters: the rise of hydraulic fracturing in oil and gas production and the need to revisit regulation. Fordham Environ Law Rev 20:115–169

Zoeller RT, Brown TR, Doan LL, Gore AC, Skakkebaek NE, Soto AM, Woodruff TJ, Vom Saal FS (2012) Endocrine-disrupting chemicals and public health protection: a statement of principles from The Endocrine Society. Endocrinology 153(9):4097–4110
Acknowledgements
The authors greatly thank Deborah Thomas for conducting many of the water sample collection reported herein and for many helpful discussions regarding the region. The authors express wholehearted thanks to the many Wyoming residents who welcomed our team onto their property to allow us to sample water for the analyses reported herein. Additionally, many thanks to Katelyn Cinnamon, Brittany Parmenter, Kara Klemp, Leighton McCabe, Annie Maas, Sierra Baxter, and Jiahao Hu for helping to process water samples upon receipt in our laboratory. Many thanks to Donald P. McDonnell for the generous gift of the following plasmids: pSG5-AR, 2XC3ARETKLuc, 3XERETKLuc, CMV-β-Gal, pcDNA3 PRB, 2XPRE-TK-Luc, pRST7-GR, and MMTV-luc, to Dennis Lubahn for CMV-AR1, to Dennis Lubahn, Elizabeth Wilson, and Michael Carey for PSA-Enh E4TATA-luc, and to Thomas Zoeller, Martin Privalsky, and Michael Goodson for pSG5-hTRβ1 and pGL4-TK-2X taDR4.
Funding
Project supported by funds provided by Coming Clean, Inc. (Brattleboro, Vermont), as well as STAR Fellowship Assistance Agreement No. FP-91747101 awarded by the US EPA (CDK). The views and conclusions in this article represent the views of the authors but not necessarily the views of the EPA. Any use of trade, firm, or product names is for descriptive purposes only and does not imply endorsement by the U.S. Government.
Ethics declarations
Conflict of interest
The authors declare that they have no conflict of interest.
Electronic supplementary material
Below is the link to the electronic supplementary material.
About this article
Cite this article
Kassotis, C.D., Vu, D.C., Vo, P.H. et al. Endocrine-Disrupting Activities and Organic Contaminants Associated with Oil and Gas Operations in Wyoming Groundwater. Arch Environ Contam Toxicol 75, 247–258 (2018). https://doi.org/10.1007/s00244-018-0521-2
Received:

Accepted:

Published:

Issue Date: