Abstract
The growing concern regarding the negative effects of solar radiation on the skin has led to a drastic increase in the use of sunscreens containing in its composition up to 10% of aromatic chemicals, such as ethylhexyl dimethyl p-aminobenzoic acid (OD-PABA) and octocrylene (OC). The objective of this study was to evaluate the toxicity and to assess the environmental risk posed by these two ultraviolet filters, widely used in cosmetics and as plastic additives, in the marine environment. Several ecotoxicological bioassays were performed with three model organisms belonging to different trophic levels: the microalgae Isochrysis galbana, the mussel Mytilus galloprovincialis, and the sea urchin Paracentrotus lividus. The results show remarkable toxicity to marine species for both OD-PABA (EC10 values range 26,5–127 µg L−1) and OC (EC10 range 103–511 µg L−1). The cell division in the microalgae I. galbana was the most sensitive endpoint tested. To determine the environmental risk of these substances, the risk coefficient (RQ) was calculated. Due to the higher concentrations reported, OC showed remarkable risk (RQ = 0.27), whereas for OD-PABA the risk was low (RQ = 0.007).
This is a preview of subscription content, log in to check access.
Access options
Buy single article
Instant access to the full article PDF.
US$ 39.95
Tax calculation will be finalised during checkout.
Subscribe to journal
Immediate online access to all issues from 2019. Subscription will auto renew annually.
US$ 199
Tax calculation will be finalised during checkout.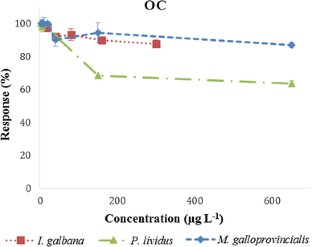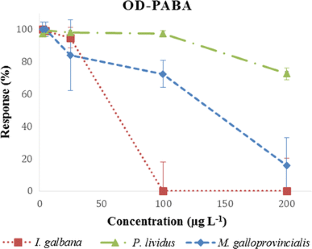 References
ASMT (2004) Standard practice for conducting static acute toxicity tests with larvae of four species of bivalve molluscs. American Society for Testing and Materials (ASMT) E 724-98, Philadelphia, pp 334–351

Bachelot M, Li Z, Munaron D, Le Gall P, Casellas C, Fenet H, Gomez E (2012) Organic UV filter concentrations in marine mussels from French coastal regions. Sci Total Environ 420:273–279

Balmer M, Buser H, Müller M, Poiger T (2005) Occurrence of some organic UV filters in wastewater, in surface waters, and in fish from Swiss lakes. Environ Sci Technol 39:953–962

Blair B, Crago J, Hedman C, Klaper R (2013) Pharmaceuticals and personal care products found in the Great Lakes above concentrations of environmental concern. Chemosphere 93:2116–2123

Bratkovics S, Sapozhnikova Y (2011) Determination of seven commonly used organic UV filters in fresh and saline waters by liquid chromatography–tandem mass spectrometry. Anal Methods 3:2943–2950

Brausch J, Rand G (2011) A review of personal care products in the aquatic environment. Environmental concentrations and toxicity. Chemosphere 82:1519–1532

Brooke D, Burns, J, Crookes M (2008) UV filters in cosmetics: prioritisation for environmental assessment. Environment Agency

Buser H, Balmer M, Schmid P, Kohler M (2006) Occurrence of UV filters 4 methylbenzylidene camphor and octocrylene in fish from various Swiss rivers with inputs from wastewater treatment plants. Environ Sci Technol 40:1427–1431

Diaz-Cruz M, Barceló D (2009) Chemical analysis and ecotoxicological effects of organic UV-absorbing compounds in aquatic ecosystems. Trends Anal Chem 28:708–717

Donavaro R, Bongiorni L, Corinaldesi C, Giovannelli D, Damiani E, Astolfi P, Greci L, Pusceddu A (2008) Sunscreens cause coral bleaching by promoting viral infections. Environ Health Perspect 116(4):441–447

European Commission (1976) Council Directive 76/768/CEE of 27 July 1976 on the approximation of the laws of the Member States relating to cosmetic products, and its successive amendments and adaptations

Fent K, Zenker A, Rapp M (2010) Widespread occurrence of estrogenic UV filters in aquatic ecosystems in Switzerland. Environ Pollut 158:1817–1824

Gago-Ferrero P, Diaz-Cruz M, Barceló D (2012) An overview of UV-absorbing compounds (organic UV filters) in aquatic biota. Anal Bioanal Chem 404:2597–2610

Heneweer M, Musse M, Van der Berg J, Sanderson T (2005) Additive estrogenic effects of mixtures of frequently used UV filters on pS2-gene transcription in MCF-7 cells. Toxicol Appl Pharmacol 208:170–177

His E, Seamn MNL, Beiras R (1997) A simplification of the bivalve embryogenesis and larval development of bioassay method for water quality assessment. Water Res 30(2):351–355

ISSO 10253 (2006) Water quality—Marine algal growth inhibition test with Skeletonema costatum and Phaeodactylum tricornutum

Kunz P, Fent K (2006) Estrogenic activity of UV filter mixtures. Toxicol Appl Pharmacol 217:86–99

Kunz P, Galicia H, Fent K (2006) Comparison of in vitro and in vivo estrogenic activity of UV filters in fish. Toxicol Sci 90(2):349–361

Lambropoulou D, Giokas D, Sakkas V, Albanis T, Karayannis M (2002) Gas chromatographic determination of 2-hydroxy-4-methoxybenzophenone and octyldimethyl-p-aminobenzoic acid sunscreen agents in swimming pool and bathing waters by solid-phase microextraction. J Chromatogr 967(2):243–253

Langford H, Thomas K (2008) Inputs of chemicals from recreational activities into the Norwegian coastal zone. J Environ Monit 10:894–898

Paredes E, Pérez S, Rodil R, Quintana JB, Beiras R (2014) Ecotoxicological evaluation of four UV filters using marine organisms from different trophic levels Isochrysis galbana, Mytilus galloprovincialis, Paracentrotus lividus and Siriella armata. Chemosphere 104:44–50

Rodil R, Moeder M, Altenburger R, Schmitt-Jansen M (2009) Photostability and phytotoxicity of selected sunscreen agents and their degradation mixtures in water. Anal Bioanal Chem 395:1513–1524

Saco-Álvarez L, Durán I, Lorenzo J, Beiras R (2010) Methodological basis for the standardization of a marine Sea-urchin Embrio Test (SET) for the ecological assessment of coastal water quality. Ecotoxicol Environ Saf 73:491–499

Sánchez Rodríguez A, Rodrigo Sanz M, Betancort Rodríguez JR (2015) Occurrence of eight UV filters in beaches of Gran Canaria (Canary Islands). An approach to environmental risk assessment. Chemosphere 131:85–90

Schmitt C, Oetken M, Dittberner O, Martin Wagner M, Oehlmann J (2008) Endocrine modulation and toxic effects of two commonly used UV screens on the aquatic invertebrates Potamopyrgus antipodarum and Lumbriculus variegatus. Environ Pollut 152:322–329

Tsui M, Leung H, Wai T, Yamashita N, Taniyasu S, Liu W, Lam P, Murphy M (2014) Occurrence, distribution and ecological risk assessment of multiple classes of UV filters in surface waters from different countries. Water Res 67:55–65
Acknowledgements
The authors acknowledge financial support from the Spanish Ministry of Economy and Competitiveness (Projects Nos. CTM2013-48194-C3, CTM2014-56628-C3-2-R and PCIN-2015-187-C03-03), the Galician Council of Culture, Education and Universities (GRC2013-020) and FEDER/ERDF. The authors thank Tania Tato, Pilar Feijoo, and the staff of ECIMAT for their helpful technical support.
About this article
Cite this article
Giraldo, A., Montes, R., Rodil, R. et al. Ecotoxicological Evaluation of the UV Filters Ethylhexyl Dimethyl p-Aminobenzoic Acid and Octocrylene Using Marine Organisms Isochrysis galbana, Mytilus galloprovincialis and Paracentrotus lividus . Arch Environ Contam Toxicol 72, 606–611 (2017). https://doi.org/10.1007/s00244-017-0399-4
Received:

Accepted:

Published:

Issue Date:
Keywords
Microalgae

Risk Quotient

Sensitive Endpoint

Isochrysis Galbana

Bathing Area