Abstract
Recent studies showed that endocrine active compounds (EDs) capable to induce fish gonadal histopathologies, plasma vitellogenin and thyroid disruption, are transported by the River Lambro to the River Po, potentially affecting the fish community of the main Italian river. To assess whether fish relative abundance, composition and health were impaired by the River Lambro, a 3-year survey was undertaken in the main river. Results showed that the tributary supports in the River Po a denser fish community (+43 %), with a higher total biomass (+35 %). The survey also showed niche- and sensitivity-dependent effects, so that three benthopelagic species (bleak, topmouth gudgeon, and bitterling) were, for example, more abundant downstream from the tributary (up to 3.4×), but their sizes were significantly smaller. The present fish community was then compared with that described 30 years before in the same area of the Po River. This comparison highlighted that some fish species have disappeared and many have severely declined. To better evaluate this contrast, a sediment core of the Lambro tributary was analysed for the time trends of natural estrogens (E1, E2, E3), bisphenol A and alkylphenols. The results showed that during the last 50 years the River Lambro has been exposed to high estrogenic activities (16.1 ± 9.3 ng E2 equivalents/g), which inevitably affected also the River Po. In addition, at the time of the previous survey, six species of the main river had skewed sex ratios toward all-female populations, providing evidence that EDs and particularly (xeno)estrogens were already affecting the long-term viability of fish populations. Estrogens thus can be ascribed among the causal factors of fish qualitative and quantitative decline of the River Po, although long-term effects have been likely mitigated by nonconfinement of fish populations and nutrient enrichment.
Access options
Buy single article
Instant access to the full article PDF.
US$ 39.95
Tax calculation will be finalised during checkout.
Subscribe to journal
Immediate online access to all issues from 2019. Subscription will auto renew annually.
US$ 119
Tax calculation will be finalised during checkout.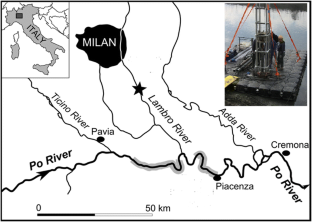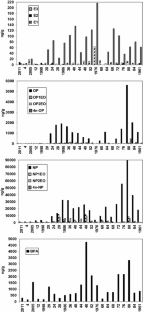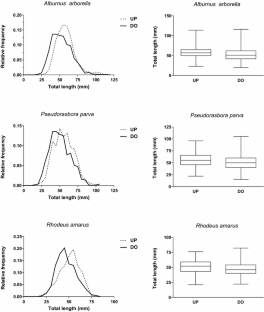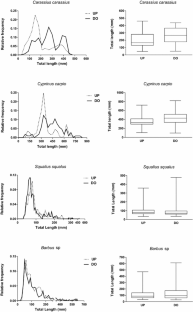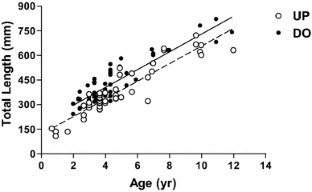 References
Adams SM, Ham KD, Greeley MS, LeHew RF, Hinton DE, Saylor CF (1996) Downstream gradients in bioindicator responses: point source contaminant effects on fish health. Can J Fish Aquat Sci 53:2177–2187

Aday DD, Kush CM, Wahl DH, Phillip DP (2002) The influence of stunted body size on the reproductive ecology of bluegill Lepomis macrochirus. Ecol Fresh Fish 11:190–195

Alvarez DA, Shappell NW, Billey LO, Bermudez BO, Wilson VS, Kolpin DW, Perkins SD, Evans N, Foreman WT, Gray JL, Shipitalo MJ, Meyer MT (2013) Bioassay of estrogenicity and chemical analyses of estrogens in streams across the United States associated with livestock operations. Wat Res 47:3347–3363

An W, Hu JY, Giesy JP, Yang M (2009) Extinction risk of exploited wild roach (Rutilus rutilus) populations due to chemical feminization. Environ Sci Technol 43:7895–7901

Appleby PG (2001) Chronostratigraphic techniques in recent sediments. In: Last WM, Smol JP (eds) Tracking environmental change using lake sediments, vol 1., Basin analysis, coring, and chronological techniquesKluwer Academic, Dordrecht, pp 171–203

Arcadipane M, Dal Meglio A, Fazione A (2005) Presenza e distribuzione delle specie ittiche indigene ed esotiche nel territorio lombardo. Biol Ambient 19:205–208

Ashfield LA, Pottinger TG, Sumpter JP (1998) Exposure of female juvenile rainbow trout to alkylphenolic compounds results in modifications to growth and ovosomatic index. Environ Toxicol Chem 4:679–686

Bahamonde PA, Fuzzen ML, Bennett CJ, Tetreault GR, McMaster ME, Servos M, Martyniuk CJ, Munkittrick KR (2015) Whole organism responses and intersex severity in rainbow darter (Etheostoma caeruleum) following exposures to municipal wastewater in The Grand River basin, ON, Canada. Part A. Aquat Toxicol 159:290–301

Barbiero G, Giuliano G (1997) Analisi dei fattori di generazione dell'inquinamento nel bacino del Lambro. In: Nodo Lambro-Po: trasporto di inquinanti ed effetti biologici. Quaderni Istituto di Ricerca Acque 102, Rome, pp 20–47

Belelli E, Ziglio G, Del Corno G, Sansebastiano G (1977) La qualità delle acque nel tratto medio-inferiore del Po. In: Garibaldi L, Marchetti R (eds) Indagine sulla qualità delle acque del Fiume Po. Quaderni Istituto di Ricerca Acque 32, Rome, pp 205–295

Bianco PG (2014) An update on the status of native and exotic freshwater fishes of Italy. J Appl Ichthyol 30:62–77. doi:10.1111/jai.12291

Bianco PG, Ketmaier V (2001) Anthropogenic changes in the freshwater fish fauna of Italy, with reference to the central region and Barbus graellsii, a newly established alien species of Iberian origin. J Fish Biol 59(Suppl.A):190–208

Blanchfield PJ, Kidd KA, Docker MF, Palace VP, Park BJ, Postma LD (2015) Recovery of a wild fish population from whole-lake additions of a synthetic estrogen. Environ Sci Technol 49:3136–3144

Blazer VS, Iwanowicz LR, Henderson H, Mazik PM, Jenkins JA, Alvarez DA, Young JA (2012) Reproductive endocrine disruption in smallmouth bass (Micropterus dolomieu) in the Potomac River basin: spatial and temporal comparisons of biological effects. Environ Monit Assess 184:4309–4334

Bonomo L (2010) La situazione del Lambro. www.ingegneriambientali.it/go.php?&lng=ita&function=file&rid=0000031

Britton JR, Davies GD, Brazier M (2008) Contrasting life history traits of invasive topmouth gudgeon (Pseudorasbora parva) in adjacent ponds in England. J Appl Ichthyol 24:694–698

Brown LR (2000) Fish communities and their associations with environmental variables, lower San Joaquin River drainage, California. Environ Biol Fish 57:251–269

Buchinger S, Heininger P, Schlusener M, Reifferscheid G, Claus E (2013) Estrogenic effects along the River Saale. Environ Toxicol Chem 32:526–534

Casal CMV (2006) Global documentation of fish introductions: the growing crisis and recommendations for action. Biol Invasion 8:3–11

Casatta N, Mascolo G, Roscioli C, Viganò L (2015) Tracing endocrine disrupting chemicals in a coastal lagoon (Sacca di Goro, Italy): sediment contamination and bioaccumulation in Manila clams. Sci Total Environ 511:214–222

Cicioni G, Marchetti R, Spaziani FM (1977) Fonti potenziali di inquinamento. In: Garibaldi L, Marchetti R (eds) Indagine sulla qualità delle acque del Fiume Po. Quaderni Istituto di Ricerca Acque 32, Rome, pp 69–98

Culp JM, Lowell RB, Cash KJ (2000) Integrating mesocosm experiments with field and laboratory studies to generate weight-of-evidence risk assessments for large rivers. Environ Toxicol Chem 19:1167–1173

Davì ML, Gnudi F (1999) Phenolic compounds in surface water. Wat Res 33:3213–3219. doi:10.1016/S0043-1354(99),00027-5

Dávidová M, Ondračková M, Jurajda P, Gelnar M (2008) Parasite assemblages of European bitterling (Rhodeus amarus), composition and effects of habitat type and host body size. Parasitol Res 102:1001–1011

deBruyn AMH, Marcogliese DJ, Rasmussen JB (2003) The role of sewage in a large river food web. Can J Fish Aquat Sci 60:1332–1344

Douxfils J, Mandicki R, Frederic S, Arnaud B, Leroy D, Thomé J et al (2007) Do sewage treatment plant discharges substantially impair fish reproduction in polluted rivers? Sci Total Environ 372:497–514

Duong CN, Ra JS, Schlenk D, Kim SD, Choi HK, Kim SD (2010) Sorption of estrogens onto different fractions of sediment and its effect on vitellogenin expression in male Japanese medaka. Arch Environ Contam Toxicol 59:147–156

EC (2002) 4-Nonylphenol (branched) and Nonylphenol. CAS Nos: 84852-15-3 and 25154-52-3. EINECS Nos: 284-325-5 and 246-672-0. Summary Risk Assessment Report

EU (2010) European Union Risk Assessment Report CAS: 80-05-7 EINECS No: 201-245-8, 4,4′-isopropylidenediphenol (Bisphenol-A), Part 1 Environment, EUR 24588 EN - 2010

Ferguson PL, Bopp RF, Chillrud SN, Aller RC, Brownawell BJ (2003) Biogeochemistry of nonylphenol ethoxylates in urban estuarine sediments. Environ Sci Technol 37:3499–3506. doi:10.1021/es026335t

Fuzzen MLM, Bennett CJ, Tetreault GR, McMaster ME, Servos MR (2015) Severe intersex is predictive of poor fertilization success in populations of rainbow darter (Etheostoma caeruleum). Aquat Toxicol 160:106–116

Gagnon MM, Bussieres D, Dodson JJ, Hodson PV (1995) White sucker (Catostomus commersoni) growth and sexual maturation in pulp mill-contaminated and reference rivers. Environ Toxicol Chem 14:317–327

Galloway BJ, Munkittrick KR, Curry RA, Wood CS, Dunn S (2004) Identifying a suitable fish species for monitoring multiple effluents in the Upper Saint John River, Canada. In: Borton DL, Hall TJ, Fisher RP, Thomas JF (eds) Pulp and paper mill effluent: environmental fate and effects. DEStech Publications, Lancaster, PA, pp 169–181

Gandolfi G (1993) Condizioni attuali della fauna ittica nel bacino del fiume Po e proposta di intervento. Acqua Aria 7:714–717

Gandolfi G, Moli F (1977) Distribuzione della fauna ittica nel Po. In: Garibaldi L, Marchetti R (eds) Indagine sulla qualità delle acque del Fiume Po. Quaderni Istituto di Ricerca Acque 32, Rome, pp 723–745

Gandolfi G, Zerunian S, Torricelli P, Marconato A (1991) I pesci delle acque interne Italiane. Ministero dell'Ambiente - Unione Zoologica Italiana (ed) Istituto Poligrafico e Zecca dello Stato, Rome

García-Berthou E (2001) Size- and depth-dependent variation in habitat and diet of the common carp (Cyprinus carpio). Aquat Sci 63:466–476

Gherardi F (2006) Bioinvasions in fresh waters and the Nero dilemma. Polish J Ecol Special Issue 54(4):549–561

Gomes RL, Scrimshaw MD, Cartmell E, Lester JN (2011) The fate of steroid estrogens: partitioning during wastewater treatment and onto river sediments. Environ Monit Ass 175:431–441

González MM, Martín J, Santos JL, Aparicio I, Alonso E (2010) Occurrence and risk assessment of nonylphenol and nonylphenol ethoxylates in sewage sludge from different conventional treatment processes. Sci Total Environ 408(3):563–570

Gordon DA, Toth GP, Graham DW, Lazorchak JM, Reddy TV, Knapp CW, Jr deNoyelles F, Campbell S, Lattier DL (2006) Effects of eutrophication on vitellogenin gene expression in male fathead minnows (Pimephales promelas) exposed to 17α-ethynylestradiol in field mesocosms. Environ Poll 142:559–566

Grenouillet G, Hugueny B, Carrel GA, Olivier JM, Pont D (2001) Large-scale synchrony and inter-annual variability in roach recruitment in the Rhône River: the relative role of climatic factors and density-dependent processes. Fresh Biol 46:11–26

Grimaldi E, Puzzi C, Trasforini S, Gentili G, Monicelli F, Romanò A et al (1999) Ricerca sulla fauna ittica del Fiume Ticino. Consorzio Parco del Ticino – Castalia

Grund S, Higley E, Schonenberger R, Suter MJF, Giesy JP, Braunbeck T, Hecker M, Hollert H (2011) The endocrine disrupting potential of sediments from the Upper Danube River (Germany) as revealed by in vitro bioassays and chemical analysis. Environ Sci Poll Res 18:446–460

Harris CA, Hamilton PB, Runnalls TJ, Vinciotti V, Henshaw A, Hodgson D, Coe TS, Jobling S, Tyler CR, Sumpter JP (2011) The consequences of feminization in breeding groups of wild fish. Environ Health Perspect 119:306–311

Hashimoto S, Horiuchi A, Yoshimoto T, Nakao M, Omura H, Kato Y, Tanaka H, Kannan K, Giesy JP (2005) Horizontal and vertical distribution of estrogenic activities in sediments and waters from Tokyo Bay, Japan. Arch Environ Contam Toxicol 48:209–216

Hoffman A (2005) Dynamics of fine particulate organic matter (FPOM) and macroinvertebrates in natural and artificial leaf packs. Hydrobiologia 549:167–178

Huang YQ, Wong CKC, Zheng JS, Bouwman H, Barra R, Wahlström B, Neretin L, Wong MH (2012) Bisphenol A (BPA) in China: a review of sources, environmental levels, and potential human health impacts. Environ Int 42:91–99

ISTAT (Italian National Institute of Statistics) (2016) http://www.istat.it/it/; http://www3.istat.it/dati/dataset/; http://seriestoriche.istat.it/index.php. Accessed August 2016

Jahnke A, Gandrass J, Ruckb W (2004) Simultaneous determination of alkylphenol ethoxylates and their biotransformation products by liquid chromatography/electrospray ionisation tandem mass spectrometry. J Chromatogr A 1035:115–122

Jin X, Wang Y, Jin W, Rao K, Giesy JP, Hollert H, Richardson KL, Wang Z (2014) Ecological risk of nonylphenol in China surface waters based on reproductive fitness. Environ Sci Technol 48:1256–1262. doi:10.1021/es403781z

Jobling S, Williams R, Johnson A, Taylor A, Gross-Sorokin M, Nolan M, Tyler CR, van Aerle R, Santos E, Brighty G (2006) Predicted exposures to steroid estrogens in UK rivers correlate with widespread sexual disruption in wild fish populations. Environ Health Perspect 114:32–39

Johnson AC, Sumpter JP (2014) Putting pharmaceuticals into the wider context of challenges to fish populations in rivers. Phil Trans R Soc B 369:20130581

Jones PD (2006) Water quality and fisheries in the Mersey estuary, England: a historical perspective. Mar Pollut Bull 53:144–154. doi:10.1016/j.marpolbul.2005.11.025

Karci A (2014) Degradation of chlorophenols and alkylphenol ethoxylates, two representative textile chemicals, in water by advanced oxidation processes: The state of the art on transformation products and toxicity. Chemosphere 99:1–18

Khanal SK, Xie B, Thompson ML, Sung S, Ong S, Leeuwen JHV (2006) Fate, transport, and biodegradation of natural estrogens in the environment and engineered systems. Environ Sci Technol 40:6537–6546

Kidd KA, Paterson MJ, Rennie MD, Podemski CL, Findlay DL, Blanchfield PJ, Liber K (2014) Direct and indirect responses of a freshwater food web to a potent synthetic oestrogen. Phil Trans R Soc B 369:20130578

Koschorreck J, Heiss C, Wellmitz J, Fliedner A, Rüdel H (2015) The use of monitoring data in EU chemicals management—experiences and considerations from the German environmental specimen bank. Environ Sci Pollut Res 22:1597–1611

Koutrakis ET, Kokkinakis AK, Tsikliras AC, Eleftheriadis EA (2003) Characteristics of the European bitterling Rhodeus amarus (Cyprinidae) in the Rihios River, Greece. J Fresh Ecol 18:615–624

Labadie P, Cundy AB, Stone K, Andrews M, Valbonesi S, Hill EM (2007) Evidence for the migration of steroidal estrogens through river bed sediments. Environ Sci Technol 41:4299–4304. doi:10.1021/es063062j

Lange A, Paull GC, Coe TS, Katsu Y, Uruhsitani H, Iguchi T, Tyler CR (2009) Sexual reprogramming and estrogenic sensitization in wild fish exposed to ethynilestradiol. Environ Sci Technol 43:1219–1225

Lange A, Paull GC, Hamilton PB, Iguchi T, Tyler CR (2011) Implications of persistent exposure to treated wastewater effluent for breeding in wild roach (Rutilus rutilus) populations. Environ Sci Technol 45:1673–1679

Lara-Martín PA, Petrovic M, Gómez-Parra A, Barceló D, González-Mazo E (2006) Presence of surfactants and their degradation intermediates in sediment cores and grabs from the Cadiz Bay area. Environ Poll 144:483–491

Liu Z, Uiblein F (1996) Prey detectability mediates selectivity in a zooplanktivorous cyprinid (Alburnus alburnus L.). Sitzungsberichte und Anzeiger Abteilung I 203:3–13

Liu Z, Lu G, Yin H, Dang Z, Rittmann B (2015) Removal of natural estrogens and their conjugates in municipal wastewater treatment plants: a critical review. Environ Sci Technol 49:5288–5300

Loizeau J-L, Arbouille D, Santiago S, Vernet J-P (1994) Evaluation of a wide range grain size laser diffraction analyser for use with sediments. Sedimentology 41:353–361

Lowell RB, Culp JM, Dubé MG (2000) A weight-of-evidence approach for northern river risk assessment: integrating the effects of multiple stressors. Environ Toxicol Chem 19:1182–1190

Lowell RB, Ring B, Pastershank G, Walker S, Trudel L, Hedley K (2005) National assessment of pulp and paper environmental effects monitoring data: findings from cycles 1 through 3. National Water Research Institute, Burlington, Ontario. NWRI Scientific Assessment Report Series, No. 5

Mandich A, Benfenati E, Cronin MTD, Goksøyr A, Grøsvik BE, Kloas W et al (2005) Environmental agent susceptibility assessment using existing and novel biomarkers as rapid and non-invasive testing methods. Ann N Y Acad Sci 1040:381–386

Mashtare ML, Lee LS, Nies LF, Turco RF (2013) Transformation of 17α-estradiol, 17β-estradiol, and estrone in sediments under nitrate- and sulfate-reducing conditions. Environ Sci Technol 47:7178–7185. doi:10.1021/es4008382

Miyagawa S, Lange A, Hirakawa I, Tohyama S, Ogino Y, Mizutani T, Kagami Y, Kusano T, Ihara M, Tanaka H, Tatarazako N, Ohta Y, Katsu Y, Tyler CR, Iguchi T (2014) Differing species responsiveness of estrogenic contaminants in fish is conferred by the ligand binding domain of the estrogen receptor. Environ Sci Technol 48:5254–5263

Natsumeda T (2007) Variation in age at first reproduction of male Japanese fluvial sculpin induced by the timing of parental reproduction. J Fish Biol 70:1378–1391

Noaksson E, Tjarnlund U, Bosveld ATC, Balk L (2001) Evidence for endocrine disruption in perch (Perca fluviatilis) and roach (Rutilus rutilus) in a remote Swedish lake in the vicinity of a public refuse dump. Toxicol Appl Pharmacol 174:160–176

Peck M, Gibson RW, Kortenkamp A, Hill EM (2004) Sediments are major sinks of steroidal estrogens in two United Kingdom rivers. Environ Toxicol Chem 23:945–952

PlasticsEurope (2013) Bisphenol A and its Socio-Economic Contribution per Country. Fact-sheet. Socio economic contribution of polycarbonate in Italy. http://www.bisphenol-a-europe.org

Porter CM, Janz DM (2003) Treated municipal sewage discharge affects multiple levels of biological organization in fish. Ecotox Environ Saf 54:199–206

Riva M, Puzzi CM, Trasforini S (2004) Aspetti di ecologia della pseudorasbora (Pseudorasbora parva) e rapporti trofici con l'alborella. Biol Ambient 18:131–137

Rivas-Rivera N, Eguren G, Carrasco-Letelier L, Munkittrick KR (2014) Screening of endocrine disruption activity in sediments from the Uruguay River. Ecotoxicology 23:1137–1142

Rosecchi E, Thomas F, Crivelli AJ (2001) Can life-history traits predict the fate of introduced species? A case study on two cyprinid fish in southern France. Fresh Biol 46:845–853

Rubin BS (2011) Bisphenol A: an endocrine disruptor with widespread exposure and multiple effects. J Steroid Biochem Molec Biol 127:27–34

Schmutz S, Kaufmann M, Vogel B, Jungwirth M, Muhar S (2000) A multi-level concept for fish-based, river-type-specific assessment of ecological integrity. Hydrobiologia 422(423):279–289

Sellin MK, Snow DD, Kolok AS (2010) Reductions in hepatic vitellogenin and estrogen receptor alpha expression by sediments from an agriculturally impacted waterway. Aquat Toxicol 96:103–108

Shan J, Jiang B, Yu B, Li C, Sun Y, Guo H, Wu J, Klumpp E, Schäffer A, Ji R (2011) Isomer-specific degradation of branched and linear 4-nonylphenol isomers in an oxic soil. Environ Sci Technol 45:8283–8289. doi:10.1021/es200224c

Soares A, Guieysse B, Jefferson B, Cartmell E, Lester JN (2008) Nonylphenol in the environment: a critical review on occurrence, fate, toxicity and treatment in wastewaters. Environ Int 34:1033–1049

Soimasuo R, Altoonen T, Nikimaa M, Pellinen J, Ristola T, Oikari A (1995) Physiological toxicity of low chlorine bleached pulp and paper mill effluent on whitefish (Coregonus lavaretus L s.l.). Ecotox Environ Saf 31:228–237

Stachel B, Ehrhorn U, Heemken O, Lepom P, Reincke H, Sawal G, Theobald N (2003) Xenoestrogens in the River Elbe and its tributaries. Environ Poll 124:497–507

Stefani F, Ricchiuti M, Gozzoli A, Tartari C (2016) L'impact de la ville de Milan sur la qualité des eaux superficielles. In: Lestel L, Carré C (eds) Comment les métropoles ont sacrifié leurs rivières: Berlin, Bruxelles, Milan et Paris (1850–2010), à paraître. (in press)

Tanna RN, Tetreault GR, Bennett CJ, Smith BM, Bragg LM, Oakes KD, McMaster ME, Servos MR (2013) Occurrence and degree of intersex (testis-ova) in darters (Etheostoma spp.) across an urban gradient in the Grand River, Ontario, Canada. Environ Toxicol Chem 32:1981–1991

Tarkan AS, Gaygusuz O, Acipinar H, Gürsoy C, Özulug M (2006) Length-weight relationship of fishes from the Marmara region (NW-Turkey). J Appl Ichthyol 22:271–273

Thompson S, Tilton F, Schlenk D, Benson WH (2000) Comparative vitellogenic response in three teleost species: extrapolation to in situ field studies. Mare Environ Res 51:185–189

Vajda AM, Barber LB, Gray JL, Lopez EM, Woodling JD, Norris DO (2008) Reproductive disruption in fish downstream from an estrogenic wastewater effluent. Environ Sci Technol 42:3407–3414

van Boxtel AL, Kamstra JH, Cenijn PH, Pieterse B, Wagner MJ, Antink M et al (2008) Microarray analysis reveals a mechanism of phenolic polybrominated diphenylether toxicity in zebrafish. Environ Toxicol Chem 42:1773–1779

Vega-Morales T, Sosa-Ferrera Z, Santana-Rodríguez JJ (2013) Evaluation of the presence of endocrine-disrupting compounds in dissolved and solid wastewater treatment plant samples of Gran Canaria Island (Spain). BioMed Res Int. doi:10.1155/2013/790570

Viganò L, Barbiero G, Buffagni A, Mingazzini M, Pegnotta R (1999) Assessment of the alterations of the aquatic environment downstream from a polluted tributary of the River Po (Italy). J Aquat Ecosys Health Manag 2:55–69

Viganò L, Arillo A, Aurigi S, Corsi I, Focardi S (2000) Concentrations of PCBs, DDTs, and TCDD equivalents in cyprinids of the middle Po River, Italy. Arch Environ Contam Toxicol 38:209–216

Viganò L, Arillo A, Bottero S, Massari A, Mandich A (2001) First observation of intersex cyprinids in the Po River (Italy). Sci Total Environ 269:189–194

Viganò L, Arillo A, Buffagni A, Camuso M, Ciannarella R, Crosa G et al (2003) Quality assessment of bed sediments of the River Po (Italy). Wat Res 37:501–518

Viganò L, Mandich A, Benfenati E, Bertolotti R, Bottero S, Porazzi E et al (2006) Investigating the estrogenic risk along the river Po and its intermediate section. Arch Environ Contam Toxicol 51:641–651

Viganò L, Farkas A, Guzzella L, Roscioli C, Erratico C (2007) The accumulation levels of PAHs, PCBs and DDTs are related in an inverse way to the size of a benthic amphipod (Echinogammarus stammeri Karaman) in the River Po. Sci Total Environ 373:131–145

Viganò L, Roscioli C, Erratico C, Gazzella L (2008) Polybrominated diphenyl ethers (PBDEs) and polychlorinated biphenyls (PCBs) in 0+ juvenile cyprinids and sediments of the River Po. Arch Environ Contam Toxicol 55:282–294

Viganò L, Roscioli C, Erratico C, Guzzella L, Farkas A (2009) Polybrominated diphenyl ethers (PBDEs) in gammarids, caddisflies, and bed sediments of the lowland River Po. Bull Environ Contam Toxicol 82:200–205

Viganò L, Benfenati E, Bottero S, Cevasco A, Monteverde M, Mandich A (2010) Endocrine modulation, inhibition of ovarian development and hepatic alterations in rainbow trout exposed to polluted river water. Environ Pollut 158:3675–3683

Viganò L, Roscioli C, Guzzella L (2011) Decabromodiphenyl ether (BDE-209) enters the food web of the River Po and is metabolically debrominated in resident cyprinid fishes. Sci Total Environ 409:4966–4972

Viganò L, Mascolo G, Roscioli C (2015a) Emerging and priority contaminants with endocrine active potentials in sediments and fish from the River Po (Italy). Environ Sci Poll Res 22:14050–14066. doi:10.1007/s11356-015-4388-8

Viganò L, De Flora S, Gobbi M, Guiso G, Izzotti A, Mandich A, Mascolo G, Roscioli C (2015b) Exposing native cyprinids (Barbus plebejus) juveniles to river sediments leads to gonadal alterations, genotoxic effects and thyroidal disruption. Aquat Toxicol 169:223–239

Vitali R (1977) Popolazione ittica. In: Indagine idrobiologica per la valutazione degli effetti degli scarichi termici di centrali termoelettriche sull'ecosistema del medio Po. III rapporto annuale, ENEL-DCO, Laboratorio Centrale di Piacenza, Piacenza

Vitali R, Braghieri L (1984) Population dynamics of Barbus barbus plebejus (Valenciennes) and Leuciscus cephalus cabeda (Risso) in the middle River Po (Italy). Hydrobiologia 109:105–124

Wang H, Gao Z, Beres B, Ottobre J, Wallat G, Tiu L et al (2008) Effects of estradiol-17β on survival, growth performance, sex reversal and gonadal structure of bluegill sunfish Lepomis macrochirus. Aquaculture 285:216–223

Wenzel A, Böhmer W, Müller J, Rüdel H, Schröter-Kermani C (2004) Retrospective monitoring of alkylphenols and alkylphenol monoethoxylates in aquatic biota from 1985 to 2001: results from the German Environmental Specimen Bank. Environ Sci Technol 38:1654–1661

West DW, Ling N, Nicks BJ, Tremblay LA, Kim ND, van den Heuvel MR (2006) Cumulative impacts assessment along a large river, using brown bullhead catfish (Ameiurus nebulosus) populations. Environ Toxicol Chem 25:1868–1880

Wolfram-Wais A, Wolfram G, Auer B, Mikschi E, Hain A (1999) Feeding habits of two introduced fish species (Lepomis gibbosus, Pseudorasbora parva) in Neusiedler See (Austria), with special reference to chironomid larvae (Diptera: Chironomidae). Hydrobiologia 408(409):123–129

Woodling JD, Lopez EM, Maldonado TA, Norris DO, Vajda AM (2006) Intersex and other reproductive disruption of fish in wastewater effluent dominated Colorado streams. Comp Biochem Physiol Part C 144:10–15

Writer JH, Ryan JN, Keefe SH, Barber LB (2012) Fate of 4-nonylphenol and17β-estradiol in the Redwood River of Minnesota. Environ Sci Technol 46:860–868

Wu F, Fang Y, Li Y, Cui X, Zhang R, Guo G, Giesy JP (2014) Predicted no-effect concentration and risk assessment for 17β-estradiol in waters of China. Rev Environ Contam Toxicol 228:31–56. doi:10.1007/978-3-319-01619-1_2

Xie S, Cui Y, Li Z (2001) Dietary-morphological relationships of fishes in the Liangzi Lake, China. J Fish Biol 58:1714–1729

Ying GG, Kookana RS (2003) Degradation of five selected endocrine-disrupting chemicals in seawater and marine sediment. Environ Sci Technol 37:1256–1260

Ying GG, Williams B, Kookana R (2002) Environmental fate of alkylphenols and alkylphenol ethoxylates: a review. Environ Int 28:215–226

Ying GG, Kookana RS, Dillon P (2003) Sorption and degradation of selected five endocrine disrupting chemicals in aquifer material. Wat Res 37:3785–3791

Ying F, Ding C, Ge R, Wang X, Li F, Zhang Y, Zeng Q, Yu B, Ji R, Han X (2012) Comparative evaluation of nonylphenol isomers on steroidogenesis of rat Leydig Cells. Toxicol Vitro 26:1114–1121

Yost EE, Meyer MT, Dietze JE, Meissner BM, Worley-Davis L, Williams CM, Lee B, Kullman SW (2013) Comprehensive assessment of hormones, phytoestrogens, and estrogenic activity in an anaerobic swine waste lagoon. Environ Sci Technol 47:13781–13790

Zerunian S (2004) Pesci delle acque interne d'Italia. Quaderni di Conservazione della Natura n. 20. Ministero dell'Ambiente – Ist. Nazionale Fauna Selvatica

Zha J, Sun L, Zhou Y, Spear PA, Ma M, Wang Z (2008) Assessment of 17α-ethinylestradiol effects and underlying mechanisms in a continuous, multigeneration exposure of the Chinese rare minnow (Gobiocypris rarus). Toxicol Appl Pharmacol 226:298–308

Zhao J, Ying G, Chen F, Liu Y, Wang L, Yang B, Liu S, Tao R (2011) Estrogenic activity profiles and risks in surface waters and sediments of the Pearl River system in South China assessed by chemical analysis and in vitro bioassay. J Environ Monit 13:813–821
Acknowledgments
This study was financially supported by the European Union within the EASYRING Project (Contract No. QLK4-2002-02286) and by the Regione Lombardia within the Sedimenti Lambro Project. The authors wish to thank D. Mastroianni (IRSA, Rome) and V. Locaputo (IRSA, Bari) for part of sediment core characterization.
Electronic supplementary material
Below is the link to the electronic supplementary material.
About this article
Cite this article
Viganò, L., Loizeau, JL., Mandich, A. et al. Medium- and Long-Term Effects of Estrogenic Contaminants on the Middle River Po Fish Community as Reconstructed from a Sediment Core. Arch Environ Contam Toxicol 71, 454–472 (2016). https://doi.org/10.1007/s00244-016-0315-3
Received:

Accepted:

Published:

Issue Date:
Keywords
Sediment Core

Fish Community

Common Carp

Crucian Carp

Pressurise Liquid Extraction