Abstract
Metal oxide nanoparticles (NPs), such as TiO2 and CuO, are widely applied in an increasing number of products and applications, and therefore their release to the aquatic ecosystems is unavoidable. However, little is known about joint toxicity of different NPs on tissues of aquatic organisms, such as fish. This study was conducted to assess the uptake and depuration of Cu following exposure to CuO NPs in the presence of TiO2 NPs in the liver, intestine, muscle, and gill of common carp, Cyprinus carpio. Carps with a mean total length of 23 ± 1.5 cm and mean weight of 13 ± 1.3 g were divided into 6 groups of 15 each (1 control group) and exposed to TiO2 NPs, CuO NPs, and a mixture of TiO2 and CuO NPs for periods of 20 days for uptake and 10 days for depuration. The determination of total Cu concentration was carried out by an ICP–OES. The order of Cu uptake in different tissues of the carps was liver > gill > muscle > intestine in both levels of CuO NPs alone; results showed that the total Cu concentrations in the presence of TiO2 nanoparticles were increased and were in the sequence of liver > gill > intestine > muscle. In depuration period, Cu concentrations were decreased in all treatments in the sequence of gill > intestine > muscle > liver. Uptake of Cu in different tissues of common carp increased with increasing concentration and time and was tissues- and time-dependent. In conclusion, this study suggested that the uptake of Cu in the tissues of common carp increased in the joint presence of TiO2 NPs.
Access options
Buy single article
Instant access to the full article PDF.
USD 39.95
Price excludes VAT (USA)
Tax calculation will be finalised during checkout.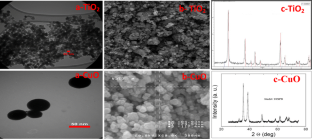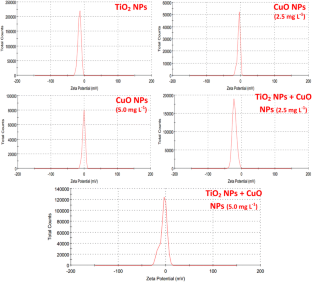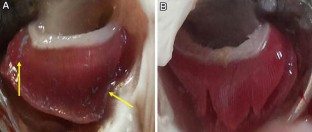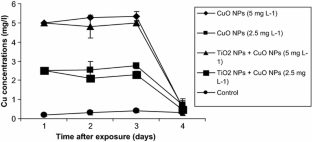 References
Aitken RJ, Chaudhry MQ, Boxall ABA, Hull M (2006) Manufacture and use of nanomaterials: current status in the UK and global trends. Occup Med 56:300–306 Oxford

Al-Bairuty GA, Boyle D, Henry TB, Handy RD (2016) Sublethal effects of copper sulphate compared to copper nanoparticles in rainbow trout (Oncorhynchus mykiss) at low pH: physiology and metal accumulation. Aquat Toxicol 174:188–198

Aruoja V, Dubourguier HC, Kasemets K, Kahru A (2009) Toxicity of nanoparticles of CuO, ZnO and TiO2 to microalgae Pseudokirchneriella subcapitata. Sci Total Environ 407:1461–1468

Ates M, Demir V, Arslanc Z, Kaya H, Yılmaz S, Camas M (2016) Chronic exposure of tilapia (Oreochromis niloticus) to iron oxide nanoparticles: effects of particle morphology on accumulation, elimination, hematology and immune responses. Aquat Toxicol 177:22–32

Aydın R, Köprücü K (2005) Acute toxicity of diazinon on the common carp (Cyprinus carpio L) embryos and larvae. Pestic Biochem Physiol 82:220–225

Baek YW, An YJ (2011) Microbial toxicity of metal oxide nanoparticles (CuO, NiO, ZnO, and Sb2O3) to Escherichia coli, Bacillus subtilis and Streptococcus aureus. Sci Total Environ 409:1603–1608

Barakat MA (2005) Adsorption behavior of copper and cyanide ions at TiO2-solution interface. J Colloid Interface Sci 291:e345–e352

Baramaki R, Ebrahimpour M, Mansouri B, Rezaei MR, Babaei H (2012) Contamination of metals in tissues of Ctenopharyngodon idella and Perca fluviatilis, from Anzali Wetland, Iran. Bull Environ Contamin Toxicol 89:831–835

Carter LJ, Ashauer R, Ryan JJ, Boxall ABA (2014) Minimised bioconcentration tests: a useful tool for assessing chemical uptake into terrestrial and aquatic invertebrates. Environ Sci Technol 48:13497–13503

Chang Y-N, Zhang M, Xia L, Zhang J, Xing G (2012) The toxic effects and mechanisms of CuO and ZnO nanoparticles. Materials 5:2850–2871

Chen N, Hao JS, Wang Y, Su CY, Wu BF (2007) Single and binary-combined acute toxicity of heavy metal ion Hg2+, Cu2+, Cd2+, Ag+, Zn2+ and Pb2+ to Hydra. J Biol 24(3): 32–35

Chen D, Zhang D, Yu JC, Chan KM (2011) Effects of Cu2O nanoparticle and CuCl2 on zebrafish larvae and a liver cell-line. Aquat Toxicol 105:344–354

Consoer DM, Hoffman AD, Fitzsimmons PN, Kosian PA, Nichols JW (2014) Toxicokinetics of perfluorooctanoate (PFOA) in rainbow trout (Oncorhynchus mykiss). Aquat Toxicol 156:65–73

Ebrahimnia-Bajestan E, Niazmand H, Duangthongsuk W, Wongwises S (2011) Numerical investigation of effective parameters in convective heat transfer of nanofluids flowing under a laminar flow regime. Int J Heat Mass Trans 54:4376–4388

Fan W, Cui M, Liu H, Wang C, Shi Z et al (2011) NanoTiO2 enhances the toxicity of copper in natural water to Daphnia magna. Environ Pollut 159:729–734

Farkas A, Salanki J, Specziar A (2003) Age- and size-specific patterns of heavy metals in the organs of freshwater fish Abramis brama L. populating a low contaminated site. Water Res 37:959–964

Gaetke LM, Chow CK (2003) Copper toxicity, oxidative stress, and antioxidant nutrients. Toxicology 189:147–163

Ghosh S, Mashayekhi H, Pan B, Bhowmik P, Xing B (2008) Colloidal behavior of aluminum oxide nanoparticles as affected by pH and natural organic matter. Langmuir 24:12385–12391

Griffitt RJ, Weil R, Hyndman KA, Denslow ND, Powers K, Taylor D, Barber AS (2007) Exposure to copper nanoparticles causes gill injury and acute lethality in zebrafish (Danio rerio). Environ Sci Technol 41:8178–8186

Griffitt RJ, Luo J, Gao J, Bonzongo JC, Barber DS (2008) Effects of particle composition and species on toxicity of metallic nanomaterials in aquatic organisms. Environ Toxicol Chem 27:1972–1978

Grosell MH, Hogstrand C, Wood CM (1997) Cu uptake and turnover in both acclimated and non-acclimated rainbow trout (Oncorhynchus mykiss). Aquat Toxicol 38:257–276

Grosell M, Hansen HJM, Rosenkilde P, Hansen HJ (1998) Cu uptake, metabolism and elimination in fed and starved European eels (Anguilla anguilla) during adaptation to water-borne Cu exposure. Comp Biochem Physiol C 120:295–305

Gul A, Benli ACK, Ayhan A, Memmi BK, Selvi M, Sepici-Dincel A et al (2012) Sublethal propoxur toxicity to juvenile common carp (Cyprinus carpio L., 1758): biochemical, hematological, histopathology, and Genotoxicity effects. Environ Toxicol Chem 31:2085–2095

Gündogdu A, Harmantepe FB, Karsli Z, Dogan G (2011) Elimination of copper in tissues and organs of rainbow trout (Oncorhynchus mykiss, Walbaum, 1792) following dietary exposure. Ital J Anim Sci 10:1–10

Handy RD, Eddy FB, Baines H (2002) Sodium-dependent copper uptake across epithelia: a review of rationale with experimental evidence from gill and intestine. Biochim Biophys Acta Biomembr 1566:104–115

Handy RD, Kammer FVD, Lead JR, Hassellov M, Owen R, Crane M (2008) The ecotoxicology and chemistry of manufactured nanoparticles. Ecotoxicology 17:287–314

Hedayati A, Vajargah MF, Mohamadi Yalsuyi A, Abarghoei S, Hajiahmadyan M (2014) Acute toxicity test of pesticide abamectin on common carp (Cyprinus carpio). J Coast Life Med 2:841–844

Heinlaan M, Ivask A, Blinova I, Dubourguier HC, Kahru A (2008) Toxicity of nanosized and bulk ZnO, CuO and TiO2 to bacteria Vibrio fischeri and crustaceans Daphnia magna and Thamnocephalus platyurus. Chemosphere 71:1308–1316

Hoshyari E, Pourkhabbaz A, Mansouri B (2012) Contaminations of metal in tissues of Siberian gull (Larus heuglini): gender, age, and tissue differences. Bull Environ Contamin Toxicol 89:102–106

Hu W, Culloty S, Darmody G, Lynch S, Davenport J, Ramirez-Garcia S et al (2014) Toxicity of copper oxide nanoparticles in the blue mussel, Mytilus edulis: a redox proteomic investigation. Chemosphere 108:289–299

Ip CM, Li XD, Zhang G, Wong CSC, Zhang WL (2005) Heavy metal and Pb isotopic compositions of aquatic organisms in the Pearl River Estuary, South China. Environ Pollut 138:494–504

Jang MH, Kim WK, Lee SK, Henry TB, Park JW (2014) Uptake, tissue distribution, and depuration of total silver in common carp (Cyprinus carpio) after aqueous exposure to silver nanoparticles. Environ Sci Tech 14:11568–11574

Kalay M, Canli M (2000) Elimination of essential (Cu, Zn) and non-essential (Cd, Pb) metals from tissues of a freshwater fish Tilapia zillii. Turk J Zool 24:429–436

Kamunde CN, Wood CM (2004) Environmental chemistry, physiology homeostasis, toxicology, and environmental regulation of copper, an essential element in freshwater fish. Aust J Ecotoxicol 10:1–20

Kamunde CN, Grosell M, Lott JNA, Wood CM (2001) Copper metabolism and gut morphology in rainbow trout (Oncorhynchus mykiss) during chronic sublethal dietary copper exposure. Can J Fish Aquat Sci 58:293–305

Kargin F, Cogun HY (1999) Metal interactions during accumulation and elimination of zinc and cadmium in tissues of the fish water fish, Tilapia nilonitica. Bull Environ Contam Toxicol 63:511–519

Kim MS, Chung JG (2001) A study on the adsorption characteristics of orthophosphates on rutile-type titanium dioxide in aqueous solutions. J Colloid Interface Sci 233:e31–e37

Kim SG, Eom KH, Kim SS, Jin HG, Kang JC (2006) Kinetics of Cd accumulation and elimination in tissues of juvenile rockfish (Sebastes schlegeli) exposed to dietary Cd. Mar Environ Res 62:327–340

Kim SG, Jang SW, Lee YJ, Kim SS (2011) Cu accumulation and elimination in the tissues of the olive flounder Paralichthys olivaceus. Fish Aquat Sci 14:210–217

Lee B, Duong CN, Cho J, Lee J, Kim K, Seo Y et al (2012) Toxicity of citrate-capped silver nanoparticles in common carp (Cyprinus carpio). J Biotechnol 2012:1–14

Li Y, Liang J, Tao Z, Chen J (2007) CuO particles and plates: synthesis and gas-sensor application. Mater Res Bull 43:2380–2385

Li X, Zhou S, Fan W (2016) Effect of Nano-Al2O3 on the toxicity and oxidative stress of copper towards Scenedesmus obliquus. Int J Environ Res Public Health 13:575–580

Liu K, Lin X, Zhao J (2013) Toxic effects of the interaction of titanium dioxide nanoparticles with chemicals or physical factors. Int J Nanomed 8:2509–2520

Liu L, Fan W, Lu H, Xiao W (2015) Effects of the interaction between TiO2 with different percentages of exposed 001 facets and Cu2+ on biotoxicity in Daphnia magna. Sci Rep. doi:10.1038/srep11121

Linhua H, Zhenyu W, Baoshan X (2009) Effect of sub-acute exposure to TiO2 nanoparticles on oxidative stress and histopathological changes in juvenile carp (Cyprinus carpio). J Environ Sci 21:1459–1466

Majnoni F, Mansouri B, Rezaei MR, Hamidian AH (2013) Contaminations of metals in tissues of Common crap, Cyprinus carpio and Silver crap, Hypophthalmichthys molitrix from Zarivar wetland, western Iran. Arch Polish Fish 21:11–18

Maleki A, Azadi N, Mansouri B, Majnoni F, Rezaei Z, Gharibi F (2015) Health risk assessment of trace elements in two fish species from the Sanandaj Gheshlagh Reservoir, Iran. Toxicol Environ Health Sci 7:43–49

Mansouri B, Ebrahimpour M, Babaei H (2012) Bioaccumulation and elimination of nickel in the organs of black fish (Capoeta fusca). Toxicol Ind Health 28:361–368

Mansouri B, Baramaki R, Pourkhabbaz A, Zareh M, Hamidian AH (2013a) Bioaccumulation and depuration of copper in the kidney and liver of freshwater fish Capoeta fusca. Iran J Toxicol 7:808–814

Mansouri B, Ebrahimpour M, Pourkhabbaz A, Babaei H, Hamidian AH (2013b) Bioaccumulation and elimination rate of cobalt in Capoeta fusca under controlled conditions. Chem Spec Bioavail 25:52–56

Martin R, Wilson LF, Peter GB, Gary RH, Jill S, Richard JS, Vicki S (2007) Nanoparticle interactions with zinc and iron: implications for toxicology and inflammation. Toxicol Appl Pharm 225:80–89

Nowrouzi M, Mansouri B, Hamidian AH, Ebrahimi T, Kardoni F (2012a) Comparison of the levels of metals in feathers of three bird species from southern Iran. Bull Environ Contam Toxicol 89:1082–1086

Nowrouzi M, Mansouri B, Hamidian AH, Zarei I, Mansouri A (2012b) Metal contents in tissues of two fish species from Qeshm Island, Iran. Bull Environ Contam Toxicol 89:1004–1008

Organisation for Economic Co-operation and Development (OECD) (1993) OECD guidelines for testing of chemicals. OECD, Organization for Economic, Paris

Organisation for Economic Co-operation and Development (OECD) (1996) OECD guidelines for testing of chemicals. Proposal for updating guideline 305. Bioconcentration: Flow-through fish test. OECD, Paris

Palaniappan PLRM, Karthikeyan S (2009) Bioaccumulation and depuration of chromium in the selected organs and whole body tissues of freshwater fish Cirrhinus mrigala individually and in binary solutions with nickel. J Environ Sci 21:229–236

Pedlar RM, Klaverkamp JF (2002) Accumulation and distribution of dietary arsenic in lake whitefish (Coregonus clupeaformis). Aquat Toxicol 57:153–166

Pourkhabbaz A, Mohseni Z (2013) The study of bioaccumulation and elimination of copper in blackfish (Capoeta fusca) organs from the east Qanats of Iran. Vet J 4:29–37 In Persian

Sau TK, Rogach AL, Jackel F, Klar TA, Feldmann J (2010) Properties and applications of colloidal nonspherical noble metal nanoparticles. Adv Mater 22:1805–1825

Shahmoradi B, Maleki A, Byrappa K (2011) Photocatalytic degradation of Amaranth and Brilliant Blue FCF dyes using in situ modified tungsten doped TiO2 hybrid nanoparticles. Catal Sci Technol 1:1216–1223

Shaw BJ, Al-Bairuty G, Handy RD (2012) Effects of waterborne copper nanoparticles and copper sulphate on rainbow trout, (Oncorhynchus mykiss): physiology and accumulation. Aquat Toxicol 116–117:90–101

Squadrone S, Prearo M, Brizio P, Gavinelli S, Pellegrino M, Scanzia T, Guarise S, Bendetto A, Abete MC (2013) Heavy metals distribution in muscle, liver, kidney and gills of European catfih (Silurus glanis) from Italian Rivers. Chemosphere 90:358–365

Stone AT, Torrents A, Smolen J, Vasudevan D, Hadley J (1993) Adsorption of organic compounds possessing ligand donor groups at the oxide/water interface. Environ Sci Tech 27:e895–e909

Sun H, Zhang X, Niu Q, Chen Y, Crittenden JC (2007) Enhanced accumulation of arsenate in carp in the presence of titanium dioxide nanoparticles. Water Air Soil Pollut 178:245–254

Villarreal FD, Das GK, Abid A, Kennedy IM, Kultz D (2014) Sublethal effects of CuO nanoparticles on Mozambique Tilapia (Oreochromis mossambicus) are modulated by environmental salinity. PLoS One 9:88723–88737

Wang T, Long X, Liu Z, Cheng Y, Yan S (2015) Effect of copper nanoparticles and copper sulphate on oxidation stress, cell apoptosis and immune responses in the intestines of juvenile Epinephelus coioides. Fish Shellfish Immunol 44:674–682

Wiesner MR, Lowry GV, Alvarez P, Dionysiou D, Biswas P (2006) Assessing the risks of manufactured nanomaterials. Environ Sci Technol 40:4336–4345

Yang JK, Davis AP (1999) Competitive adsorption of Cu (II)-EDTA and Cd(II)-EDTA onto TiO2. J Colloid Interface Sci 216:e77–e85

Yu R, Fang X, Somasundaran P, Chandran K (2015) Short-term effects of TiO2, CeO2, and Zno nanoparticles on metabolic activities and gene expression of Nitrosomonas europaea. Chemosphere 128:207–215

Zhang WX, Masciangioli T (2003) Environmental technologies at the nanoscales. Environ Sci Technol 37:102–108

Zhang X, Sun H, Zhang Z, Niu Q, Chen Y, Crittenden JC (2007) Enhanced bioaccumulation of cadmium in carp in the presence of titanium dioxide nanoparticles. Chemosphere 67:160–166

Zhang W, Miao Y, Lin K, Chen L, Dong Q, Huang C (2013) Toxic effects of copper ion in zebrafish in the joint presence of CdTe QDs. Environ Pollut 176:158–164

Zhang Y, Zhu L, Zhou Y, Chen J (2015) Accumulation and elimination of iron oxide nanomaterials in zebrafish (Danio rerio) upon chronic aqueous exposure. J Environ Sci 30:223–230

Zhao J, Wang Z, Liu X, Xie X, Zhang K, Xing B (2011) Distribution of CuO nanoparticles in juvenile carp (Cyprinus carpio) and their potential toxicity. J Hazard Mater 197:304–310

Zou X, Shi J, Zhang, H (2014) Coexistence of silver and titanium dioxide nanoparticles: enhancing or reducing environmental risks? Aquat Toxicol 154:168–175
Acknowledgments
The data provided in this study was taken from first author Ph.D. Dissertation project. This work was supported by the Kurdistan University of Medical Sciences under Grant number 14/33858. The contribution of the Environmental Health Research Center of Kurdistan University of Medical Sciences is also sincerely appreciated.
About this article
Cite this article
Mansouri, B., Maleki, A., Johari, S.A. et al. Copper Bioaccumulation and Depuration in Common Carp (Cyprinus carpio) Following Co-exposure to TiO2 and CuO Nanoparticles. Arch Environ Contam Toxicol 71, 541–552 (2016). https://doi.org/10.1007/s00244-016-0313-5
Received:

Accepted:

Published:

Issue Date:

DOI: https://doi.org/10.1007/s00244-016-0313-5
Keywords