Abstract
Due to their formulation and/or processing, plastics contain additives and impurities that may leach out under conditions of use and accumulate in the environment. To evaluate their role as vectors of chemical contaminants in marine environment, plastic debris (n = 19) collected from coastal beaches along with new plastics (n = 25; same or same brand) bought from local markets were screened by gas chromatography–mass spectrometry in full scan mode. Detected peaks were identified using NIST library in different polymers (polypropylene (PP) > polyethylene (PE) > PP + PE > polyethyl terephthalate > poly(acylene:styrene) with different use (food, fishery, and general use). A database on the presence of 231 different chemicals were grouped into hydrocarbons, ultra-violet (UV)-stabilizers, antioxidants, plasticizers, lubricants, intermediates, compounds for dyes and inks, flame retardants, etc. The UV326, UV327, UV328, UV320, UvinualMC80, irganox 1076, DEHP, antioxidant no 33, di-n-octylisophthalate, diisooctyl phthalate, hexanoic acid 2-ethyl-hexadecyl ester, and hydrocarbons were most frequently detected. Finding of toxic phthalates and UV stabilizers in those products having moisture contact (like bottles with short use) raised concern to humans and indicated their irregular use. The comparison between new and debris plastics clearly indicated the leaching and absorption of chemicals and supports our assumption of plastic as media for transferring these additives in marine environment.
Access options
Buy single article
Instant access to the full article PDF.
US$ 39.95
Tax calculation will be finalised during checkout.
Subscribe to journal
Immediate online access to all issues from 2019. Subscription will auto renew annually.
US$ 119
Tax calculation will be finalised during checkout.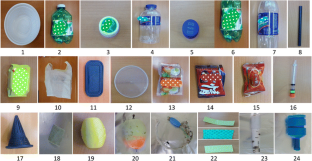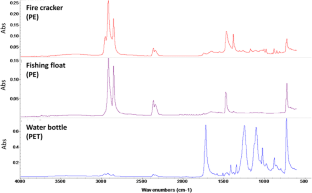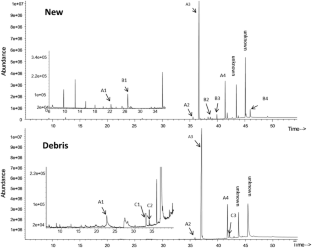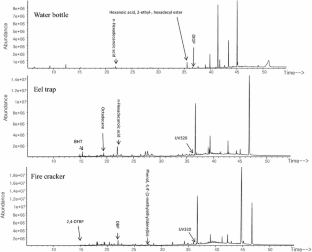 References
Alaee M, Barcelo D, Birnbaum L, Boer JD, Covaci A, Dirtu AC, Dominguez AA, Eljarrat E, Feo ML, Guerra P, Hearn L, Herzke D, Kierkegaard A, Law RJ, Lepom P, Mueller JF, Ricklund N, Roosens L, Sellstrom U, Sjodin A, Toms L-ML, Voorspoels S, Wikoff DS, de Wit CA (2011) Brominated flame retardants. Springer, New York

Bach C, Dauchy X, Chagnon M-C, Etienne S (2012) Chemical migration in drinking water stored in polyethylene terephthalate (PET) bottles: a source of controversy. Water Res 46(3):571–583

Balmer ME, Buser HR, Müller MD, Poiger T (2005) Occurrence of some organic UV filters in wastewater, in surface waters, and in fish from Swiss lakes. Environ Sci Technol 39:953–962

Bergé A (2012) Identification of sources of alkylphenols and phthalates in urban area. Comparison of domestic discharges to pure industrial wastewater (thesis). Créteil: University Paris-Est, p 290

Bergé A, Cladière M, Gasperi J, Coursimault A, Tassin B, Moilleron R (2013) Meta-analysis of environmental contamination by phthalates. Environ Sci Pollut Res 20(11):8057–8076

Bergé A, Gasperi J, Rocher V, Gras L, Coursimault A, Moilleron R (2014) Phthalates and alkylphenols in industrial and domestic effluents: case of Paris conurbation (France). Sci Total Environ 488–489:26–35

Besnoin JM, Choi KY (1989) Identification and characterization of reaction byproducts in the polymerization of polyethylene terephthalate. J Macromol Sci 29(1):55–58

Biles JE, McNeal TP, Begley TH, Hollifield HC (1997) Determination of bisphenol-A in reusable polycarbonate food-contact plastics and migration to food-simulating liquids. J Agric Food Chem 45(9):3541–3544

Boonnorat J, Chiemchaisri C, Chiemchaisri W, Yamamoto K (2014) Removals of phenolic compounds and phthalic acid esters in landfill leachate by microbial sludge of two-stage membrane bioreactor. J Hazard Mater 277(30):93–101

Brocca D, Arvin E, Mosbak H (2002) Identification of organic compounds migrating from polyethylene pipelines into drinking water. Water Res 36:3675–3680

Calvey E, Begley T, Roach J (1995) SFC-FTIR spectroscopy and SFC-MS of nonvolatile extracts of microwave susceptor packaging. J Chromatogr Sci 33(2):61–65

Campanelli JR, Kamal MR, Cooper DG (1993) A kinetic study of the hydrolytic degradation of polyethylene terephthalate at high temperature. J Appl Polym Sci 48(3):443–451

Chang L, Bi PG, Liu YN et al (2013) Simultaneous analysis of trace polymer additives in plastic beverage packaging by solvent sublation followed by high-performance liquid chromatography. J Agric Food Chem 61:7165–7171

Council Directive 67/548/EEC of 27 June 1967 on the approximation of laws, regulations and administrative provisions relating to the classification, packaging and labelling of dangerous substances. Official Journal P 196, 16/08/1967 P. 0001–0098

Díaz-Cruz MS, Gago-Ferrero P, Llorca M, Barceló D (2012) Analysis of UV filters in tap water and other clean waters in Spain. Anal Bioanal Chem 402:2325–2333

Duty SM, Silva MJ, Barr DB, Brock JW, Ryan L, Chen Z, Herrick RF, Christiani DC, Hauser R (2003) Phthalate exposure and human semen parameters. Epidemiology 14:269–277

Ema M, Miyawaki E (2001) Adverse effects on development of the reproductive system in male offspring of rats given monobutyl phthalate, a metabolite of dibutyl phthalate, during late pregnancy. Reprod Toxicol 15:189–194

Ema M, Fukunishi K, Hirose A, Hirata-Koizumi M, Matsumoto M, Kamata E (2008) Repeated-dose and reproductive toxicity of the ultraviolet absorber 2-(30,50-di-tert-butyl-20-hydroxyphenyl)-5-chlorobenzotriazole in rats. Drug Chem Toxicol 31:399–412

Fent KPY, Kunz PYE, Gómez E (2008) UV filters in the aquatic environment induce hormonal effects and affect fertility and reproduction in fish. Chimia 62:368–375

Fent K, Zenker A, Rapp M (2010) Widespread occurrence of estrogenic UV-filters in aquatic ecosystems in Switzerland. Environ Pollut 158:1817–1824

Fisher JS, Macpherson S, Marchetti N, Sharpe RM (2003) Human 'testicular dysgenesis syndrome': a possible model using in utero exposure of the rat to dibutyl phthalate. Human Reprod 18:1383–1394

Foster PM (2006) Disruption of reproductive development in male rat offspring following in utero exposure to phthalate esters. Int J Androl 29:140–147

Gago-Ferrero P, Diaz-Cruz MS, Barcelo D (2013) Multi-residue method for trace level determination of UV filters in fish based on pressurized liquid extraction and liquid chromatography quadrupole-linear ion trap-mass spectrometry. J Chromatogr A 1286:93–101

Golka K, Kopps S, Myslak ZW (2004) Carcinogenicity of azo colorants: influence of solubility and bioavailability: a review. Toxicol Lett 151(1):203–210

Gorman M (1993) Environmental hazards—marine pollution. ABCCLIO Inc, Santa Barbara

Gray JLE, Ostby J, Furr J, Price M, Veeramachaneni DN, Parks L (2000) Perinatal exposure to the phthalates DEHP, BBP, and DINP, but not DEP, DMP, or DOTP, alters sexual differentiation of the male rat. Toxicol Sci 58:350–365

Grice HC (1988) Safety evaluation of butylatedhydroxyanisole from the perspective of effects on forestomach and oesophageal squamous epithelium. Food Chem Toxicol 26:717–723

Hansen J (1990) Draft position statement on plastic debris in marine environments. Fisheries 15:16–17

Harris CA, Henttu P, Parker MG, Sumpter JP (1997) The estrogenic activity of phthalate esters in vitro. Environ Health Perspect 105:802–811

Hauser R, Calafat AM (2005) Phthalates and human health. Occup Environ Med 62:806–818

Hinton RH, Mitchell FE, Mann A, Chescoe D, Price SC, Nunn A, Grasso P, Bridges JW (1986) Effects of phthalic acid esters on the liver and thyroid. Environ Health Perspect 70:195–210

Huang PC, Kuo PL, Guo YL, Liao PC, Lee CC (2007) Associations between urinary phthalate monoesters and thyroid hormones in pregnant women. Human Reprod 22:2715–2722

Jia H, Wang H, Chen W (2007) The combination effect of hindered amine light stabilizers with UV absorbers on the radiation resistance of polypropylene. Radiat Phys Chem 76(7):1179–1188

Jiang J, Ma L, Yuan L, Wang X, Zhang W (2007) Study on developmental abnormalities in hypospadiac male rats induced by maternal exposure to di-n-butylphthalate (DBP). Toxicology 232:286–293

Jobling S, Reynolds T, White R, Parker MG, Sumpter JP (1995) A variety of environmentally persistent chemicals, including some phthalate plasticizers, are weakly estrogenic. Environ Health Perspect 103:582–587

Kameda Y, Kimura K, Miyazaki M (2011) Occurrence and profiles of organic sunblocking agents in surface waters and sediments in Japanese rivers and lakes. Environ Pollut 159:1570–1576

Kawamura Y, Ogawa Y, Nishimura T, Kikuchi Y, Nishikawa J, Nishihara T, Tanamoto K (2003) Estrogenic activities of UV stabilizers used in food contact plastics and benzophenone derivatives tested by the Yeast two-hybrid assay. J Health Sci 49:205–212

Kim JW, Chang KH, Isobe T, Tanabe S (2011) Acute toxicity of benzotriazole ultraviolet stabilizers on freshwater crustacean (Daphnia pulex). J Toxicol Sci 36:247–251

Koelmans AA, Besseling E, Foekema EM (2014) Leaching of plastic additives to marine organisms. Environ Pollut 187:49–54

Kolpin DW, Furlong ET, Meyer MT, Thurman EM, Zaugg SD, Barber LB, Buxton HT (2002) Pharmaceuticals, hormones, and other organic wastewater contaminants in U.S. streams, 1999–2000: a national reconnaissance. Environ Sci Technol 36:1202–1211

Koutsodendris A, Papatheodorou G, Kougiourouki O, Georgiadis M (2008) Benthic marine litter in four Gulfs in Greece, Eastern Mediterranean; abundance, composition and source identification. Estuar Coast Shelf Sci 77:501–512

Kubwabo C, Kosarac I, Stewart B, Gauthier BR, Lalonde K, Lalonde PJ (2009) Migration of bisphenol A from plastic baby bottles, baby bottle liners and reusable polycarbonate drinking bottles. Food Addit Contam 26(6):928–937

La Farré M, Pérez S, Kantiani L, Barceló D (2008) Fate and toxicity of emerging pollutants, their metabolites and transformation products in the aquatic environment. Trends Anal Chem 27:991–1007

Laist DW (1997) Impacts of marine debris: entanglement of marine life in marine debris including a comprehensive list of species with entanglement and ingestion records. In: Coe JM, Rogers DB (eds) Marine debris—sources, impacts and solutions. Springer, New York, pp 99–139

Llompart M, Garcia-Jares C, Landin P (2006) In: Nollet LML (ed) Chromatographic analysis of the environment. CRC Press, Taylor and Francis Group, Boca Raton, p 1103

Loyo-Rosales JE, Rosales-Rivera GC, Lynch AM, Rice CP, Torrents A (2004) Migration of nonylphenol from plastic containers to water and a milk surrogate. J Agric Food Chem 52:2016–2020

Mansilha C, Silva P, Rocha S, Gameiro P, Domingues V, Pinho C, Ferreira IM (2013) Bisphenol A migration from plastic materials: direct insight of ecotoxicity in Daphnia magna. Environ Sci Pollut Res Int 20(9):6007–6018

Maria A, de Duffard E, Duffard R (1996) Behavioral toxicology, risk assessment, and chlorinated hydrocarbons. Environ Health Perspect 104(2):353–360

Mascia L (1974) The role of additives in plastics. Edward Arnold, London

Mato Y, Isobe T, Takada H, Kanehiro H, Ohtake C, Kaminuma T (2001) Plastic resin pellets as a transport medium for toxicchemicals in the marine environment. Environ Sci Technol 35(2):318–324

McNeill IC, Bounekhel M (1991) Thermal degradation studies of terephthalate polyesters: 1. Poly(alkylene terephthalates). Polym Degrad Stab 34(1–3):187–204

Montaudo G, Puglisi C, Samperi F (1993) Primary thermal degradation mechanisms of PET and PBT. Polym Degrad Stab 42(1):13–28

Mori S (1979) Contamination of water and organic solvents stored in plastic bottles with phthalate ester plasticizers. Ana Chim Acta 108(1):325–332

Morohoshi K, Yamamoto H, Kamata R, Shiraishi F, Koda T, Morita M (2005) Estrogenic activity of 37 components of commercial sunscreen lotions evaluated by in vitro assays. Toxicol In Vitro 19:457–469

Nakata H, Murata S, Filatreau J (2009) Occurrence and concentrations of benzotriazole UV stabilizers in marine organisms and sediments from the Ariake Sea. Jpn Environ Sci Technol 43:6920–6926

Nakata H, Shinohara R, Murata S, Watanabe M (2010) Detection of benzotriazole UV stabilizers in the blubber of marine mammals by gas chromatography-high resolution mass spectrometry (GC–HRMS). J Environ Monit 12:2088–2092

Nakata H, Shinohara R, Nakazawa Y et al (2012) Asia–Pacific mussel watch for emerging pollutants: distribution of synthetic musks and benzotriazole UV stabilizers in Asian and US coastal waters. Mar Pollut Bull 64:2211–2218

NITE (National Institute of Technology and Evaluation) (2009) Japan Chemical Collaboration Knowledge database (J-CHECK). http://www.safe.nite.go.jp/jcheck/Top.do;jsessionid=E9FD388CF12981F80CEC776C7C897DA1

NRC (National Research Council) (1999) Hormonally active agents in the environment. National Academies Press, Washington, DC

Oros DR, David N (2002) Identification and Evaluation of Unidentified Organic Contaminants in the San Francisco Estuary. SFEI Contribution 45, San Francisco Estuary Institute, August

Paci M, La Mantia FP (1998) Competition between degradation and chain extension during processing of reclaimed poly(ethylene terephthalate). Polym Degrad Stab 61(3):417–420

Peijnenburg WJGM, Struijs J (2006) Occurrence of phthalate esters in the environment of the Netherlands. Ecotoxicol Environ Saf 63:204–215

Pflieger-Bruss S, Schuppe HC, Schill WB (2004) The male reproductive system and its susceptibility to endocrine disrupting chemicals. Andrologia 36:337–345

Plastic Europe (2013) Plastics: the Facts 2013: an analysis of European latest plastics production, demand and waste data. http://www.plasticseurope.org/documents/document/20131014095824final_plastics_the_facts_2013_published_october2013.pdf

prEN 71-9 Safety of toys – part 9: Organic chemical compounds – requirements

Rani M, Shim WJ, Han GM, Jang M, Song YK, Hong SH (2014) Hexabromocyclododecane in polystyrene based consumer products: an evidence of unregulated use. Chemosphere 110:111–119

Rashid MM, Sarker M (2013) Waste polyethylene terephthalate (PETE) and polystyrene (PS) into fuel. IJSTR 2(7):176–189

Rios LM, Moore C, Jones PR (2007) Persistent organic pollutants carried by synthetic polymers in the ocean environment. Mar Pollut Bull 54(8):1230–1237

Rogan WJ, Gladen BC (1992) Neurotoxicology of PCBs and related compounds. Neurotoxicology 13:27–36

Sanchez-Avila J, Bonet J, Velasco G, Lacorte S (2009) Determination and occurrence of phthalates, alkylphenols, bisphenol A, PBDEs, PCBs and PAHs in an industrial sewage grid discharging to a municipal wastewater treatment plant. Sci Total Environ 407:4157–4167

Sarker M, Rashid MM (2013) Mixture of waste plastics to fuel production process using catalyst percentage ratio effect study. Int J Environ Eng Sci Technol Res 1(1):1–19

Schneider S, Deckardt K, Hellwig J, Küttler K, Mellert W, Schulte S, van Ravenzwaay B (2005) Octylmethoxycinnamate: two generation reproduction toxicity in Wistar rats by dietary administration. Food Chem Toxicol 43:1083–1092

SI Group (2012) Phenol, 2,4-bis-(1,1-dimethylethyl) - SI Group Inc. http://www.siigroup.com/EHSPdf/24-DTBPGPS.pdf

Soares A, Guieysse B, Jefferson B, Cartmell E, Lester JN (2008) Nonylphenol in the environment: a critical review on occurrence, fate, toxicity and treatment in wastewaters. Environ Int 34(7):1033–1049

Stanley MK, Robillard KA, Staples CA (2003) In: Staples CA (ed) The handbook of environmental chemistry. Part Q. Phthalate esters, vol 3. Springer, Berlin, p 1

Stefatos A, Charalampakis M, Papatheodorou G, Ferentinos G (1999) Marine debris on the seafloor of the Mediterranean Sea: examples from two enclosed gulfs in Western Greece. Mar Pollut Bull 36:389–393

STEPI (1998) Trends of chemicals. Samsung Fine Chemicals Co., Ltd., South Korea (in Korean)

Teuten EL, Saquing JM, Knappe DRU, Barlaz MA, Jonsson S, Bjorn A, Rowland SJ, Thompson RC, Galloway TS, Yamashita R, Ochi D, Watanuki Y, Moore C, Pham HV, Tana TS, Prudente M, Boonyatumanond R, Zakaria MP, Akkhavong K, Ogata Y, Hirai H, Iwasa S, Mizukawa K, Hagino Y, Imamura A, Saha M, Takada H (2009) Transport and release of chemicals from plastics to the environment and to wildlife. Phil Trans R Soc B 364:2027–2045

Toft G, Hagmar L, Giwercman A, Bonde JP (2004) Epidemiological evidence on reproductive effects of persistent organochlorines in humans. Reprod Toxicol 19:25–26

United Nations (UN) (2009) Stockholm Convention for Persistent Organic Pollutants (POPs) as amended in 2009. file:///C:/Users/xyz/Downloads/UNEP-POPS-COP-CONVTEXT.En.pdf

United Nations (UN) (2013) Stockholm convention on persistent organic pollutants. Depositary notifications: C.N.934.2013.TREATIES-XXVII.15 (Amendment to Annex A). https://treaties.un.org/doc/Publication/CN/2013/CN.934.2013-Eng.pdf

Wang H, Wang C, Wu W, Mo Z, Wang Z (2003) Persistent organic pollutants in water and surface sediments of Taihu Lake, China and risk assessment. Chemosphere 50(4):557–562

Wormuth M, Scheringer M, Vollenweider M, Hungerbühler K (2006) What are the sources of exposure to eight frequently used phthalic acid esters in Europeans? Risk Anal 26:803–824

Xie Z, Ebinghaus R, Temme C, Lohmann R, Caba A, Ruck W (2007) Occurrence and air–sea exchange of phthalates in the Arctic. Environ Sci Technol 41:4555–4560

Zacharewski TR, Meek MD, Clemons JH, Wu ZF, Fielden MR, Matthews FB (1998) Examination of the in vitro and in vivo estrogenic activities of eight commercial phthalate esters. Toxicol Sci 46:282–293

Zhang H, Ward IM (1995) Kinetics of hydrolytic degradation of poly(ethylene naphtalene-2,6-dicarboxylate). Macromolecules 28(23):7622–7629

Zhang Z, Ren N, Kunisue T, Gao D, Kannan K (2011) Determination of benzotriazole and benzophenone UV filters in sediment and sewage sludge. Environ Sci Technol 45:3909–3916

Zimmerman H (1977) Degradation and stabilisation of polyesters. Applied Science Publishers, London, pp 79–119
Acknowledgments
This study was supported by a research project titled "Environmental Risk Assessment of Microplastics in the Marine Environment" from the Ministry of Oceans and Fisheries, Korea.
Ethics declarations
Conflict of interest
The authors declare that they have no conflict of interest. This study was funded by research project titled "Environmental Risk Assessment of Microplastics in the Marine Environment" from the Ministry of Oceans and Fisheries, Korea.
Electronic supplementary material
Below is the link to the electronic supplementary material.
About this article
Cite this article
Rani, M., Shim, W.J., Han, G.M. et al. Qualitative Analysis of Additives in Plastic Marine Debris and Its New Products. Arch Environ Contam Toxicol 69, 352–366 (2015). https://doi.org/10.1007/s00244-015-0224-x
Received:

Accepted:

Published:

Issue Date:
Keywords
Phthalate

DEHP

NIST Library

DEHA

Irganox 1076