Abstract
This study was undertaken to determine the level of 16 polycyclic aromatic hydrocarbon (PAH), listed as priority pollutants by the United States Environmental Protection Agency (USEPA), in surface soils around a coal-transporting facility in the western part of South Kalimantan, Indonesia. Three composite soil samples were collected from a coal stockpile, coal-hauling road, and coal port. Identification and quantification of PAH was performed by gas chromatography–mass spectrometry. The total content of 16 USEPA-PAH ranged from 11.79 to 55.30 mg/kg with arithmetic mean value of 33.14 mg/kg and median of 32.33 mg/kg. The 16 USEPA-PAH measured levels were found to be greater compared with most of the literature values. The levels of high molecular-weight PAH (5- and 6-ring) were dominant and formed 67.77–80.69 % of the total 16 USEPA-PAH The most abundant of individual PAH are indeno[1,2,3-cd] pyrene and benzo[a]pyrene with concentration ranges of 2.11–20.56 and 1.59–17.84 mg/kg, respectively. The degree of PAH contamination and subsequent toxicity assessment suggest that the soils of the study area are highly contaminated and pose a potential health risk to humans.
Access options
Buy single article
Instant access to the full article PDF.
USD 39.95
Price includes VAT (USA)
Tax calculation will be finalised during checkout.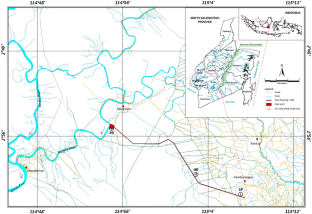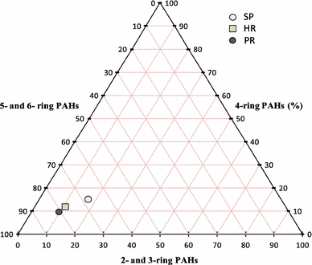 References
Achten C, Hofmann T (2009) Native polycyclic aromatic hydrocarbons (PAH) in coals—a hardly recognized source of environmental contamination. Sci Total Environ 407:2461–2473

Ahrens MJ, Morrisey DJ (2005) Biological effects of unburnt coal in the marine environment. Oceanography and marine biology—an annual review. CRC Press, Boca Raton, pp 69–122

Antizar-Ladislao B, Lopez-Real J, Beck AJ (2005) Laboratory studies of the remediation of polycyclic aromatic hydrocarbon contaminated soil by in-vessel composting. Waste Manag 25:281–289

Bojakowska I (2005) PAHs spectrum in the soils of the industrial areas. Paper presented at the Valorisation of the Environment in the Areas Exposed to Long Term Industrial and Mining Activities. Warszawa, Poland

BPS-Tapin (2013) Tapin in figures 2013. Agency of Statistics, Rantau

Cajthaml T, Bhatt M, Šašek V, Matějů V (2002) Bioremediation of PAH-contaminated soil by composting: a case study. Folia Microbiol 47:696–700

Canet R, Birnstingl JG, Malcolm DG, Lopez-Real JM, Beck AJ (2001) Biodegradation of polycyclic aromatic hydrocarbons (PAHs) by native microflora and combinations of white-rot fungi in a coal-tar contaminated soil. Bioresour Technol 76:113–117

Chen Y, Bi X, Mai B, Sheng G, Fu J (2004) Emission characterization of particulate/gaseous phases and size association for polycyclic aromatic hydrocarbons from residential coal combustion. Fuel 83:781–790

Edwards NT (1983) Polycyclic aromatic hydrocarbons (PAH's) in the terrestrial environment—A review. J Environ Qual 12:427–441

Emsbo-Mattingly SD, Stout SA (2011) Semivolatile hydrocarbon residues of coal and coal tar. In: Stracher GB, Prakash A, Sokol EV (eds) Coal and peat fires: a global perspective, vol 1. Elsevier, Amsterdam, pp 173–208

Ene A, Bogdevich O, Sion A, Spanos T (2012) Determination of polycyclic aromatic hydrocarbons by gas chromatography–mass spectrometry in soils from Southeastern Romania. Microchem Jl 100:36–41

ESDM (2012) Indonesia mineral and coal mining statistics 2012. Dirjen Minerba, Kementerian Energi dan Sumber Daya Mineral, Jakarta

Gan S, Lau EV, Ng HK (2009) Remediation of soils contaminated with polycyclic aromatic hydrocarbons (PAHs). J Hazard Mater 172:532–549

Guo G, Wu F, He H, Zhang R, Li H, Feng C (2012) Distribution characteristics and ecological risk assessment of PAHs in surface waters of China. Sci China Earth Sci 55:914–925

Haritash AK, Kaushik CP (2009) Biodegradation aspects of polycyclic aromatic hydrocarbons (PAHs): a review. J Hazard Mater 169:1–15

Hofmann T, Pies C, Yang Y (2007) Elevated polycyclic aromatic hydrocarbons in a river floodplain soil due to coal mining activities. Water Sci Technol 7:69–74

Laumann S, Micic V, Kruge MA, Achten C, Sachsenhofer RF, Schwarzbauer J et al (2011) Variations in concentrations and compositions of polycyclic aromatic hydrocarbons (PAHs) in coals related to the coal rank and origin. Environ Pollut 159:2690–2697

Liu J, Liu G, Zhang J, Yin H, Wang R (2012) Occurrence and risk assessment of polycyclic aromatic hydrocarbons in soil from the Tiefa coal mine district, Liaoning, China. J Environ Monit 14:2634–2642

Nas C, Hidartan (2010) Quality of Kalimantan coking coals, Indonesia. Paper presented at The 37th Symposium of the Geology of the Sydney Basin, Hunter Valley

Pies C, Yang Y, Hofmann T (2007) Distribution of polycyclic aromatic hydrocarbons (PAHs) in floodplain soils of the Mosel and Saar river. J Soil Sed 7:216–222

Puettmann W, Schaefer RG (1990) Assessment of carbonization properties of coals by analysis of trapped hydrocarbons. Energy Fuels 4:339–346

Ray S, Khillare PS, Agarwal T, Shridhar V (2008) Assessment of PAHs in soil around the International Airport in Delhi, India. J Hazard Mater 156:9–16

Readman JW, Fillmann G, Tolosa I, Bartocci J, Villeneuve JP, Catinni C et al (2002) Petroleum and PAH contamination of the Black Sea. Mar Pollut Bull 44:48–62

Ribeiro J, Silva T, Mendonca Filho JG, Flores D (2012) Polycyclic aromatic hydrocarbons (PAHs) in burning and non-burning coal waste piles. J Hazard Mater 199–200:105–110

Riswandi H (2008) Pengaruh lingkungan pengendapan terhadap kualitas batubara daerah tapin kalimantan selatan. Jurnal Ilmiah MTG 2:24–31

Ruwei W, Jiamei Z, Jingjing L, Liu G (2013) Levels and patterns of polycyclic aromatic hydrocarbons in coal-fired power plant bottom ash and fly ash from Huainan, China. Arch Environ Contam Toxicol 65:193–202

Skrbic B, Cvejanov J, Durisic-Mladenovic N (2005) Polycyclic aromatic hydrocarbons in surface soils of Novi Sad and bank sediment of the Danube River. J Environ Sci Health A 40:29–42

Soclo HH, Garrigues P, Ewald M (2000) Origin of polycyclic aromatic hydrocarbons (PAHs) in coastal marine sediments: case studies in Cotonou (Benin) and Aquitaine (France) areas. Mar Pollut Bull 40:387–396

Stout SA, Emsbo-Mattingly SD (2008) Concentration and character of PAHs and other hydrocarbons in coals of varying rank—Implications for environmental studies of soils and sediments containing particulate coal. Organic Geochem 39:801–819

Tsai P-J, Shih T-S, Chen H-L, Lee W-J, Lai C-H, Liou S-H (2004) Assessing and predicting the exposures of polycyclic aromatic hydrocarbons (PAHs) and their carcinogenic potencies from vehicle engine exhausts to highway toll station workers. Atmos Environ 38:333–343

Wang R, Liu G, Chou C-L, Liu J, Zhang J (2010a) Environmental assessment of PAHs in soils around the Anhui Coal District, China. Arch Environ Contam Toxicol 59:62–70

Wang R, Liu G, Zhang J, Chou C-L, Liu J (2010b) Abundances of polycyclic aromatic hydrocarbons (PAHs) in 14 Chinese and American coals and their relation to coal rank and weathering. Energy Fuels 24:6061–6066

World Health Organization/International Programme on Chemical Safety (1998) Environmental health criteria 20. Selected non-heterocyclic PAHs. WHO, Geneva

Xue J, Liu G, Niu Z, Chou CL, Qi C, Zheng L (2007) Factors that influence the extraction of polycyclic aromatic hydrocarbons from coal. Energy Fuels 21:881–890

Yang Y, Ligouis B, Pies C, Grathwohl P, Hofmann T (2008) Occurrence of coal and coal-derived particle-bound polycyclic aromatic hydrocarbons (PAHs) in a river floodplain soil. Environ Pollut 151:121–129

Yunker MB, Macdonald RW, Vingarzan R, Mitchell RH, Goyette D, Sylvestre S (2002) PAHs in the Fraser River basin: a critical appraisal of PAH ratios as indicators of PAH source and composition. Organic Geochem 33:489–515

Zhang Y, Zhu YG, Houot S, Qiao M, Nunan N, Garnier P (2011) Remediation of polycyclic aromatic hydrocarbon (PAH) contaminated soil through composting with fresh organic wastes. Environ Sci Pollut Res Int 18:1574–1584
About this article
Cite this article
Mizwar, A., Trihadiningrum, Y. PAH Contamination in Soils Adjacent to a Coal-Transporting Facility in Tapin District, South Kalimantan, Indonesia. Arch Environ Contam Toxicol 69, 62–68 (2015). https://doi.org/10.1007/s00244-015-0141-z
Received:

Accepted:

Published:

Issue Date:
Keywords
Polycyclic Aromatic Hydrocarbon

Polycyclic Aromatic Hydrocarbon Concentration

Pyrogenic Source

Toxic Equivalent Quantity

Individual Polycyclic Aromatic Hydrocarbon