Abstract
In this study, male fathead minnows (FHM) (Pimephales promelas) and juvenile rainbow trout (RT; Oncorhynchus mykiss) were exposed to two different surfactant mixtures of analytical-grade nonlyphenol, 4-tert octyphenol, octylphenol ethoxylates, nonylphenol ethoxylates, and the herbicide 2,4-dichlorophenoxyacetic acid (2,4-D). After a 7-days exposure to environmentally relevant concentrations of these compounds, there was no difference in the relative mRNA expression of vitellogenin (VTG) in male juvenile RT exposed to individual compounds or the 2,4-D-surfactant mixture compared with the control. In male FHM, there was a significant increase in VTG mRNA expression in the high individual treatments of 2,4-D and the surfactants but not the 2,4-D-surfactant mixtures compared with the control. These results were compared with another study exposing male FHM to individual and a mixture of alkylphenols and alkylphenol ethoxylates in two different combinations with the herbicide diuron and the insecticide bifenthrin. There were no differences in the relative expression of VTG mRNA amongst individual exposures and the control. Interestingly, when the ethoxylate mixture was combined with diuron, there was a significant decrease in the relative mRNA expression of VTG compared with the control. However, when the ethoxylate mixture was combined with both diuron and bifenthrin, there was a significant increase in the relative mRNA expression of VTG in male compared with all other groups in the multichemical mixture. The results of this study highlight differences between species and measurements of VTG in assessing the risk of mixtures to aquatic organisms.
This is a preview of subscription content, log in to check access.
Access options
Buy single article
Instant access to the full article PDF.
US$ 39.95
Tax calculation will be finalised during checkout.
Subscribe to journal
Immediate online access to all issues from 2019. Subscription will auto renew annually.
US$ 199
Tax calculation will be finalised during checkout.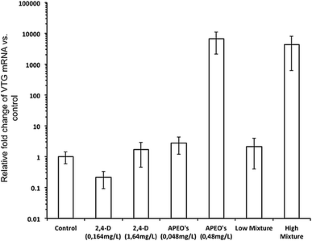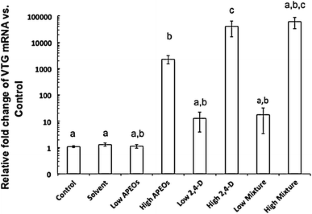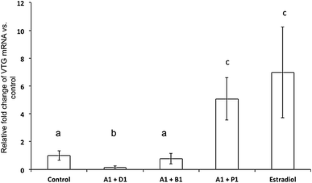 References
Beggel S, Connon R, Werner I, Geist J (2011) Changes in gene transcription and whole organism responses in larval fathead minnow (Pimephales promelas) following short-term exposure to the synthetic pyrethroid bifenthrin. Aquat Toxicol 105:180–188

Biales AD, Bencic DC, Flick RW, Lazorchak J, Lattier DL (2007) Quantification and associated variability of induced vitellogenin gene transcripts in fathead minnow (Pimephales promelas) by quantitative real-time polymerase chain reaction assay. Environ Toxicol Chem 26:287–296

Brander SM, He G, Smalling KL, Denison MS, Cherr GN (2012) The in vivo estrogenic and in vitro anti-estrogenic activity of permethrin and bifenthrin. Environ Toxicol Chem 31:2848–2855

Brander SM, Connon RE, He G, Hobbs JA, Smalling KL, Teh SJ et al (2013) From 'omics to otoliths: responses of an estuarine fish to endocrine disrupting compounds across biological scales. PLoS ONE 8:e74251

Brian JV, Harris CA, Scholze M, Backhaus T, Booy P, Lamoree M et al (2005) Accurate prediction of the response of freshwater fish to a mixture of estrogenic chemicals. Environ Health Perspect 113:721–728

Carlson DB, Williams DE (1999) Sex-specific vitellogenin production in immature rainbow trout. Environ Toxicol Chem 18:2361–2363

Coady K, Marino T, Thomas J, Sosinski L, Neal B, Hammond L (2013) An evaluation of 2;4-dichlorophenoxyacetic acid in the amphibian metamorphosis assay and the fish short-term reproduction assay. Ecotoxicol Environ Saf 90:143–150

Correia AD, Freitas S, Scholze M, Goncalves JF, Booij P, Lamoree MH et al (2007) Mixtures of estrogenic chemicals enhance vitellogenic response in sea bass. Environ Health Perspect 115:S115–S121

Crago J, Klaper R (2012) A mixture of an environmentally realistic concentration of a phthalate and herbicide reduces testosterone in male fathead minnow (Pimephales promelas) through a novel mechanism of action. Aquatic Toxicol 110–111:74–83

Davis JA, Hetzel F, Oram JJ, McKee LJ (2007) Polychlorinated biphenyls (PCBs) in San Francisco Bay. Environ Res 105:67–86

de Vlaming V, Biales A, Riordan D, Markiewicz D, Holmes R, Otis P et al (2007) Screening California surface waters for estrogenic endocrine disrupting chemicals (EEDC) with a juvenile rainbow trout liver vitellogenin mRNA procedure. Sci Total Environ 385:66–79

Denny JS, Tapper MA, Schmieder PK, Hornung MW, Jensen KM, Ankley GT et al (2005) Comparison of relative binding affinities of endocrine active compounds to fathead minnow and rainbow trout estrogen receptors. Environ Toxicol Chem 24:2948–2953

Diehl J, Johnson SE, Xia K, West A, Tomanek L (2012) The distribution of 4-nonylphenol in marine organisms of North American Pacific Coast estuaries. Chemosphere 87:490–497

Fairchild JF, Feltz KP, Allert AL, Sappington LC, Nelson KJ, Valle JA (2009) An ecological risk assessment of the exposure and effects of 2;4-D acid to rainbow trout (Onchorhyncus mykiss). Arch Environ Contam Toxicol 56:754–760

Ferguson PL, Bopp RF, Chillrud SN, Aller RC, Brownawell BJ (2003) Biogeochemistry of nonylphenol ethoxylates in urban estuarine sediments. Environ Sci Technol 37:3499–3506

Filby AL, Thorpe KL, Maack G, Tyler CR (2007) Gene expression profiles revealing the mechanisms of anti-androgen- and estrogen-induced feminization in fish. Aquat Toxicol 81:219–231

Finne EF, Cooper GA, Koop BF, Hylland K, Tollefsen KE (2007) Toxicogenomic responses in rainbow trout (Oncorhynchus mykiss) hepatocytes exposed to model chemicals and a synthetic mixture. Aquat Toxicol 81:293–303

Folmar LC, Hemmer M, Hemmer R, Bowman C, Kroll K, Denslow ND (2000) Comparative estrogenicity of estradiol; ethynyl estradiol and diethylstilbestrol in an in vivo; male sheepshead minnow (Cyprinodon variegatus); vitellogenin bioassay. Aquat Toxicol 49:77–88

Forsgren KL, Riar N, Schlenk D (2013) The effects of the pyrethroid insecticide; bifenthrin; on steroid hormone levels and gonadal development of steelhead (Oncorhynchus mykiss) under hypersaline conditions. Gen Comp Endocrinol 186:101–107

Harris CA, Santos EM, Janbakhsh A, Pottinger TG, Tyler CR, Sumpter JP (2001) Nonylphenol affects gonadotropin levels in the pituitary gland and plasma of female rainbow trout. Environ Sci Technol 35:2909–2916

Hemmer MJ, Hemmer BL, Bowman CJ, Kroll KJ, Folmar LC, Marcovich D et al (2001) Effects of p-nonylphenol, methoxychlor, and endosulfan on vitellogenin induction and expression in sheepshead minnow (Cyprinodon variegatus). Environ Toxicol Chem 20:336–343

Ishibashi H, Hirano M, Matsumura N, Watanabe N, Takao Y, Arizono K (2006) Reproductive effects and bioconcentration of 4-nonylphenol in medaka fish (Oryzias latipes). Chemosphere 65:1019–1026

Jobling S, Sumpter JP (1993) Detergent components in sewage effluent are weakly oestrogenic to fish: an in vitro study using rainbow trout (Oncorhynchus mykiss) hepatocytes. Aquat Toxicol 27:361–372

Kolpin DW, Furlong ET, Meyer MT, Thurman EM, Zaugg SD, Barber LB et al (2002) Pharmaceuticals; hormones; and other organic wastewater contaminants in US streams; 1999–2000: a national reconnaissance. Environ Sci Technol 36:1202–1211

Lange A, Katsu Y, Miyagawa S, Ogino Y, Urushitani H, Kobayashi T et al (2012) Comparative responsiveness to natural and synthetic estrogens of fish species commonly used in the laboratory and field monitoring. Aquat Toxicol 109:50–258

Lavado R, Loyo-Rosales JE, Floyd E, Kolodziej EP, Snyder SA, Sedlak DL et al (2009) Site-specific profiles of estrogenic activity in agricultural areas of California's inland waters. Environ Sci Technol 43:9110–9116

Laws SC, Carey SA, Ferrell JM, Bodman GJ, Cooper RL (2000) Estrogenic activity of octylphenol; nonylphenol; bisphenol A and methoxychlor in rats. Toxicol Sci 54:154–167

Li Z, Zhang H, Gibson M, Liu P (2012) An evaluation of the combined effects of phenolic endocrine disruptors on vitellogenin induction in goldfish Carassius auratus. Ecotoxicology 21:1919–1927

Miles-Richardson SR, Pierens SL, Nichols KM, Kramer VJ, Snyder EM, Snyder SA et al (1999) Effects of waterborne exposure to 4-nonylphenol and nonylphenol ethoxylate on secondary sex characteristics and gonads of fathead minnows (Pimephales promelas). Environ Res 80:S122–S137

Mubarak Hossain M, Suzuki T, Sato N, Sato I, Takewaki T, Suzuki K et al (2006) Differential effects of pyrethroid insecticides on extracellular dopamine in the striatum of freely moving rats. Toxicol Appl Pharmacol 217:25–34

Nichols KM, Snyder EM, Snyder SA, Pierens SL, Miles-Richardson SR, Giesy JP (2001) Effects of nonylphenol ethoxylate exposure on reproductive output and bioindicators of environmental estrogen exposure in fathead minnows Pimephales promelas. Environ Toxicol Chem 20:510–522

Nimrod AC, Benson WH (1996) Environmental estrogenic effects of alkylphenol ethoxylates. Crit Rev Toxicol 26:335–364

Rempel MA, Schlenk D (2008) Effects of environmental estrogens and antiandrogens on endocrine function; gene regulation; and health in fish. In Jeon K (ed) International review of cell and molecular biology. Elsevier, Amsterdam, Netherlands, 267, pp 251–296

Routledge EJ, Sumpter JP (1997) Structural features of alkylphenolic chemicals associated with estrogenic activity. J Biol Chem 272:3280–3328

Schlenk D, Lavado R, Loyo-Rosales JE, Jones W, Maryoung L, Riar N et al (2012) Reconstitution studies of pesticides and surfactants exploring the cause of estrogenic activity observed in surface waters of the San Francisco Bay Delta. Environ Sci Technol 46:9106–9111

Schoenfuss HL, Bartell SE, Bistodeau TB, Cediel RA, Grove KJ, Zintek L et al (2008) Impairment of the reproductive potential of male fathead minnows by environmentally relevant exposures to 4-nonylphenol. Aquat Toxicol 86:91–98

Schwaiger J, Mallow U, Ferling H, Knoerr S, Braunbeck TH, Kalbfus W et al (2002) How estrogenic is nonylphenol? A transgenerational study using rainbow trout (Oncorhyncus mykiss) as a test organism. Aquat Toxicol 59:177–189

Spehar RL, Brooke LT, Markee TP, Kahl MD (2010) Comparative toxicity and bioconcentration of nonylphenol in freshwater organisms. Environ Toxicol Chem 29:2104–2111

Tayebati SK, Di Tullio MA, Ricci A, Amenta F (2009) Influence of dermal exposure to the pyrethroid insecticide deltamethrin on rat brain microanatomy and cholinergic/dopaminergic neurochemistry. Brain Res 1301:180–188

Thibaut R, Porte C (2004) Effects of endocrine disrupters on sex steroid synthesis and metabolism pathways in fish. J Steroid Biochem Mol Biol 92:485–494

United States Environmental Protection Agency (2003) Diuron analysis of risks to endangered and threatened salmon and steelhead. Office of Pesticide Programs, Washington, DC

Van den Belt K, Verheyen R, Witters H (2003) Comparison of vitellogenin responses in zebrafish and rainbow trout following exposure to environmental estrogens. Ecotoxicol Environ Saf 56:271–281

Wang L, Liu W, Yang C, Pan Z, Gan J, Xu C et al (2007) Enantioselectivity in estrogenic potential and uptake of bifenthrin. Environ Sci Technol 41:6124–6128

Ward TJ, Boeri RL (1991) Early life stage toxicity of nonylphenol to the fathead minnow; Pimephales promelas. Study Number 8979-CMA. EnviroSystems, Hampton, NH

Weston DP, Lydy MJ (2012) Stormwater input of pyrethroid insecticides to an urban river. Environ Toxicol Chem 31:1579–1586

Weston DP, Ramil HL, Lydy MJ (2013) Pyrethroid insecticides in municipal wastewater. Environ Toxicol Chem 32:2460–2468

Xie L, Thrippleton K, Irwin MA, Siemering GS, Mekebri A, Crane D et al (2005) Evaluation of estrogenic activities of aquatic herbicides and surfactants using an rainbow trout vitellogenin assay. Toxicol Sci 87:391–398

Yadetie F, Arukwe A, Goksøyr A, Male R (1999) Induction of hepatic estrogen receptor in juvenile Atlantic salmon in vivo by the environmental estrogen; 4-nonylphenol. Sci Total Environ 233:201–210

Zhang H, Kong FX, Yu Y, Shi XL, Zhang M, Tian HE (2010) Assessing the combination effects of environmental estrogens in fish. Ecotoxicology 19:1476–1486

Zhao S, Fernald RD (2005) Comprehensive algorithm for quantitative real-time polymerase chain reaction. J Comput Biol 12:1045–1062
Acknowledgments
This material was based on work supported by the Delta Science Program under Grant No. 2046 and the University of California Agricultural Extension Service. The resource-allocation program of the Agricultural Experiment Station of UCR also provided support for this project. Any opinions, findings, conclusions, or recommendations expressed in this material are those of the author(s) and do not necessarily reflect the views of the Delta Science Program.
About this article
Cite this article
Crago, J., Tran, K., Budicin, A. et al. Exploring the Impacts of Two Separate Mixtures of Pesticide and Surfactants on Estrogenic Activity in Male Fathead Minnows and Rainbow Trout. Arch Environ Contam Toxicol 68, 362–370 (2015). https://doi.org/10.1007/s00244-014-0098-3
Received:

Accepted:

Published:

Issue Date:
Keywords
United States Environmental Protection Agency

Diuron

Relative mRNA Expression

Surfactant Mixture

Bifenthrin