Abstract
The present study assessed the uptake and toxicity of ZnO nanoparticles (NPs), ZnO bulk, and ZnCl2 salt in earthworms in spiked agricultural soils. In addition, the toxicity of aqueous extracts to Daphnia magna and Chlorella vulgaris was analyzed to determine the risk of these soils to the aquatic compartment. We then investigated the distribution of Zn in soil fractions to interpret the nature of toxicity. Neither mortality nor differences in earthworm body weight were observed compared with the control. The most sensitive end point was reproduction. ZnCl2 was notably toxic in eliminating the production of cocoons. The effects induced by ZnO-NPs and bulk ZnO on fecundity were similar and lower than those of the salt. In contrast to ZnO bulk, ZnO-NPs adversely affected fertility. The internal concentrations of Zn in earthworms in the NP group were greater than those in the salt and bulk groups, although bioconcentration factors were consistently <1. No relationship was found between toxicity and internal Zn amounts in earthworms. The results from the sequential extraction of soil showed that ZnCl2 displayed the highest availability compared with both ZnO. Zn distribution was consistent with the greatest toxicity showed by the salt but not with Zn body concentrations. The soil extracts from both ZnO-NPs and bulk ZnO did not show effects on aquatic organisms (Daphnia and algae) after short-term exposure. However, ZnCl2 extracts (total and 0.45-μm filtered) were toxic to Daphnia.
Access options
Buy single article
Instant access to the full article PDF.
US$ 39.95
Tax calculation will be finalised during checkout.
Subscribe to journal
Immediate online access to all issues from 2019. Subscription will auto renew annually.
US$ 119
Tax calculation will be finalised during checkout.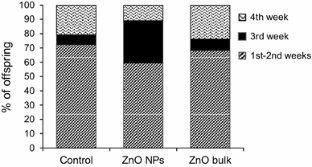 References
Baalousha M, Mancuilea A, Cumberland S, Kendall K, Lead JR (2008) Aggregations and surface properties of ions oxide NPs: influence of pH and natural organic matter. Environ Toxicol Chem 9:1875–2008

Bian S, Mudunkotuwa IA, Rupasinghe T, Grassain VH (2011) Aggregation and dissolution of 4 nm ZnO NPs in aqueous environments: influence of pH, ionic strength, size, and adsorption of humic acid. Langmuir 27:6059–6068

Bigorgne E, Foucaud L, Lapied E, Labille J, Botta CL, Sirguey C et al (2011) Ecotoxicological assessment of TiO2 byproducts on the earthworm Eisenia fetida. Environ Pollut 159:2698–2705

Blinova I, Ivask A, Mortimer M, Kahru A (2010) Ecotoxicity of nanoparticles of CuO and ZnO in natural water. Environ Pollut 158:41–47

Bystrzejewska-Piotrowska G, Asztemborska M, Giska I, Mikoszewski A (2012) Influence of earthworms on extractability of metals from soils contaminated with Al2O3, TiO2, Zn and ZnO nanoparticles and microparticles of Al2O3. Pol J Environ Stud 21:313–319

Chang YN, Zhang M, Xia L, Zhang J, Xing G (2012) The toxic effects and mechanisms of CuO and ZnO nanoparticles. Materials 5:2850–2871

Chaudhuri PS, Pal TK, Sabysaachi N, Dey SK (2012) Effects of five earthworm species on some physic-chemical properties of soil. J Environ Biol 33:713–716

Coutris C, Joner EJ, Oughton DH (2012) Aging and soil organic matter content affect the fate of silver nanoparticles in soil. Sci Total Environ 420:327–333

De Schamphelaere KAC, Lofts S, Janssen CR (2005) Bioavailabilty models for predicting acute and chronic toxicity of zinc to algae, daphnids, and fish in natural surface waters. Environ Toxicol Chem 24:1190–1197

DIN 38414-S4 (1984) Teil 4: Deutsche einheitsverfaheren zur Wasser-Abwasser und Schalammuntersuchung; Schalamm und Sediment (Gruppe S). Bestimmung der Eluierbarkeit mit Wasser (S4)

Fernandez D, García-Gomez C, Babin M (2013) In vitro evaluation of cellular responses induced by ZnO nanoparticles, zinc ions and bulk ZnO in fish cells. Sci Total Environ 452–453:262–274

Franklin NM, Rogers NJ, Apte SC, Gadd GE, Casey PS (2007) Comparative ecotoxicology of nanoparticulate ZnO, bulk ZnO and ZnCl2 to a freshwater microalga (Pseudokirchneriella subcapitata): the importance of particle solubility. Environ Sci Technol 41:8484–8490

Heckmann LH, Hovgaard MB, Sutherland DS, Autrup H, Besenbacher F, Scott-Fordsmand JJ (2011) Limit-test toxicity screening of selected inorganic nanoparticles to the earthworm Eisenia fetida. Ecotoxicology 20:226–233

Heggelund LR, Diez-Ortiz M, Lofts S, Lahive E, Jurkschat K, Wojnarowicz J et al (2014) Soil pH effects on the comparative toxicity of dissolved zinc, non-nano and nano ZnO to the earthworm Eisenia fetida. Nanotoxicology 8(5):559–572. doi:10.3109/17435390.2013.809808

Heinlaan M, Ivask A, Blinova I, Dubourguier H-C, Kahru A (2008) Toxicity of nanosized and bulk ZnO, CuO and TiO2 to bacteria Vibrio fischeri and crustaceans Daphnia magna and Thamnocephalus platyurus. Chemosphere 71:1308–1316

Hooper HL, Kerstin J, Morgan AJ, Bailey J, Lawlor AJ (2011) Comparative chronic toxicity of nanoparticulate and ionic zinc to the earthworm Eisenia veneta in a soil matrix. Environ Int 37:1111–1117

Hu CW, Li M, Cui YB, Chen J, Yang LY (2010) Toxicological effects of TiO2 and ZnO nanoparticles in soil on earthworm Eisenia fetida. Soil Biol Biochem 42:586–591

Jensen J, Diao X, Scott-fordsmand JJ (2007) Sub-lethal toxicity of the antiparasitic abamectin on earthworms and the application of neutral red retention time as a biomarker. Chemosphere 68:744–750

Kahru A, Dubourguier HC (2010) From ecotoxicology to nanoecotoxicology. Toxicology 269:105–119

Kool PL, Diez-Ortiz M, van Gestel CAM (2011) Chronic toxicity of ZnO nanoparticles, non-nano ZnO and ZnCl2 to Folsomia candida (collembola) in relation to bioavailability in soil. Environ Pollut 159:2713–2719

Li LZ, Zhou DM, Peijnenburg WJGM, Van Gestel CAM, Jin SY, Wang YJ (2011) Toxicity of zinc oxide nanoparticles in the earthworm, Eisenia fetida and subcellular fractionation of Zn. Environ Int 37:1098–1104

Lock K, Janssen CR (2001) Zinc and cadmium burdens in terrestrial oligochaetes: use and significance in environmental risk assessment. Environ Toxicol Chem 20:2067–2072

Lock K, Janssen CR (2003) Comparative toxicity of a zinc salt, zinc powder and zinc oxide to Eisenia fetida, Enchytraeus albidus and Folsomia candida. Chemosphere 53:851–856

Ma H, Kabengi NJ, Bertsch PM, Unrine JM, Glenn TC, Williams PL (2011) Comparative phototoxicity of nanoparticle and bulk ZnO to a free-living nematode Caenorhabditis elegans: the importance of illumination mode and primary particle size. Environ Pollut 159:1473–1480

Ma H, Williams PL, Diamond SA (2013) Ecotoxicity of manufactured ZnO nanoparticles: a review. Environ Pollut 172:76–85

Manzo S, Rocco A, Carotenuto R, Picione FL, Miglietta ML, Rametta GF (2011) Investigation of ZnO nanoparticles' ecotoxicological effects towards different soil organisms. Environ Sci Pollut Res 18:756–763

Maurer-Jones MA, Gunsolus IL, Murphy CJ, Haynes CL (2013) Toxicity of engineered nanoparticles in the environment. Anal Chem 85:3036–3049

Ministerio de Agricultura, Pesca y Alimentación (1994) Métodos oficiales de análisis: Tomo III. Secretaría General Técnica, Madrid, Spain

Muyssen BTA, Janssen CR (2001) Zinc acclimation and its effect on the zinc tolerance of Raphidocelis subcapitata and Chlorella vulgaris in laboratory experiments. Chemosphere 45:507–514

Organization for Economic Cooperation and Development (1984) Earthworm acute toxicity tests. OECD guidelines for the testing of chemicals. OECD, Paris

Organization for Economic Cooperation and Development (2004) Daphnia sp. acute immobilization test. OECD guideline for testing of chemicals. OECD, Paris

Organization for Economic Cooperation and Development (2006) Freshwater alga and cyanobacteria growth inhibition test. OECD guideline for testing of chemicals. Method 201. OECD, Paris

Pan B, Xing BS (2012) Applications and implications of manufactured nanoparticles in soils: a review. Eur J Soil Sci 63:437–456

Peralta-Videa JR, Zhao L, Lopez-Moreno ML, de la Rosa G, Hong J, Gardea-Torresdey JL (2011) Nanomaterials and the environment: a review for the biennium 2008–2010. J Hazard Mater 186:1–15

Pietrzak U, McPhail DC (2004) Copper accumulation distribution and fractionation in vineyard soils of Victoria Australia. Geoderma 122:151–166

Römkens PF, Guo H, Chu C, Liu T, Chiang C, Koopmans GF (2009) Characterization of soil heavy metal pools in paddy fields in Taiwan: chemical extraction and solid-solution partitioning. J Soil Sediment 9:216–228

Sbihi K, Cherifi O, El Gharmali A, Oudra B, Aziz F (2012) Accumulation and toxicological effects of cadmium, copper and zinc on the growth and photosynthesis of the freshwater diatom Planothidium lanceolatum (Brébisson) Lange-Bertalot: a laboratory study. J Mater Environ Sci 3:497–506

Sizmur T, Palumbo-Roe B, Watts MJ, Hodson ME (2011) Impact of the earthworm Lumbricus terrestris (L.) on As, Cu, Pb and Zn mobility and speciation in contaminated soils. Environ Pollut 159:742–748

Smith BA, Egeler P, Gilgerg D, Hendershot W, Stephenson GL (2010) Uptake and elimination of cadmium and zinc by eisenia Andrei during exposure to low concentrations in artificial soil. Arch Environ Contam Toxicol 59:264–273

Tourinho PS, van-Gestel CAM, Lofts S, Svendsen C (2012) Metal based nanoparticles in soil: fate, behavior and effects on soil invertebrates. Environ Toxicol Chem 31:1679–1692

Trelo-ges V, Ruaysoongnern S, Chuasavathi (2002) Effect of earthworm activities (Pheretema sp.) on the changes in soil chemical properties at different soil depths of Nampong soil series (Ustoxic quartzipsamment) in Northeast Thailand. Pak J Biol Sci 5:32–35

Van-Straalen NM, Donker MH, Vijver MG, van-Gestel CA (2005) Bioavailability of contaminants estimated from uptake rates into soil invertebrates. Environ Pollut 136:409–417

Waalewijn-kool PL, Diez-Ortiz M, van-Gestel CAM (2012) Effect of different spiking procedures on the distribution and toxicity of ZnO nanoparticles in soil. Ecotoxicology 21:1797–1804

Wiench K, Wohlleben W, Hisgen V, Radke K, Salinas E, Zok S et al (2009) Acute and chronic effects of nano- and non-nano-scale TiO2 and ZnO particles on mobility and reproduction of the freshwater invertebrate Daphnia magna. Chemosphere 76:1356–1365

Zhao LJ, Peralta-Videa JR, Hernandez-Viezcas JA, Hong J, Gardea-Torresdey JL (2012) Transport and retention behavior of ZnO nanoparticles in two natural soils: effect of surface coating and soil composition. J Nano Red 17:229–242

Zhao L, Hernandez-Viezcas JA, Peralta-Videa JR, Bandyopadhyay S, Peng B, Munoz B et al (2013) ZnO nanoparticle fate in soil and zinc bioaccumulation in corn plants (Zea mays) influenced by alginate. Environ Sci Process Impacts 15:260
Acknowledgments
The authors are grateful to Carmen del Rio and Jose Pareja for technical assistance. This research was funded by Spanish Projects RTA2010-00018-00-00 and EIADES S-2009/AMB/1478.
About this article
Cite this article
García-Gómez, C., Babin, M., Obrador, A. et al. Toxicity of ZnO Nanoparticles, ZnO Bulk, and ZnCl2 on Earthworms in a Spiked Natural Soil and Toxicological Effects of Leachates on Aquatic Organisms. Arch Environ Contam Toxicol 67, 465–473 (2014). https://doi.org/10.1007/s00244-014-0025-7
Received:

Accepted:

Published:

Issue Date:
Keywords
ZnCl2

Sequential Extraction

Ethylene Diamine Tetraacetic Acid

Ethylene Diamine Tetraacetic Acid

ZnCl2 Salt