Abstract
Exposure to mercury, a risk factor for neurodevelopmental toxicity, was assessed in Spanish children (preschool children and newborns, n = 218) in a four-locations survey by performing mercury determination in hair. To assess the prenatal and children's exposure and its potential risk, total mercury (THg) and methylmercury (MeHg) were analyzed and examined for associations with maternal sociodemographic characteristics and dietary intake through interviews and food frequency questionnaires. The mean THg in hair was 0.94 μg/g, ranging from 0.19 to 5.63 μg/g in preschool children and 1.68 μg/g (0.13–8.43 μg/g) in newborns. Associations between mercury levels in hair and fish consumption frequency were found regardless of the group evaluated. Neither other food item nor maternal covariates were associated with mercury levels in the newborn group. In children, the mean THg values among frequent fish consumers (more than four times per week) were almost threefold higher compared with non-consumers (1.40 vs. 0.49 μg/g). Newborns from mothers who had intake of fish two or more times per week exhibited nearly threefold higher hair levels than those who rarely or never consumed fish (2.26 vs. 0.78 μg/g). Finally, mercury levels in hair exceeded the EPA reference dose (RfD) of 0.1 μg Hg/kg body weight per day (equivalent to 1 μg Hg/g hair) in 42% of the population studied. Overall, we conclude that levels of mercury in Spain are among the highest in the non-exposed populations probably because of the relatively high fish consumption.
Access options
Buy single article
Instant access to the full article PDF.
US$ 39.95
Tax calculation will be finalised during checkout.
Subscribe to journal
Immediate online access to all issues from 2019. Subscription will auto renew annually.
US$ 119
Tax calculation will be finalised during checkout.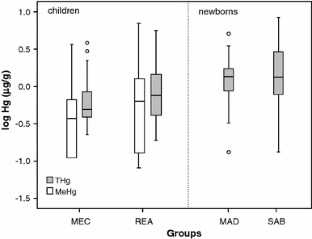 References
Adimado AA, Baah DA (2002) Mercury in human blood, urine, hair, nail, and fish from the Ankobra and Tano river basins in Southwestern Ghana. Bull Environ Contam Toxicol 68:339–346

Aragonés N, Pérez- Gómez B, Astray J et al (2008) Biomonitoring of exposure to environmental pollutants in newborns and their parents in Madrid, Spain (BioMadrid): study design and field work. Gac Sanit (accepted)

Babi D, Vasjari M, Celo V, Koroveshi M (2000) Some results on Hg content in hair in different populations in Albania. Sci Total Environ 259:55–60

Barbosa AC, Silva SRL, Dorea JG (1998) Concentration of mercury in hair of indigenous mothers and infants from the Amazon basin. Arch Environ Contam Toxicol 34:100–105

Barbosa AC, Jardim W, Dorea JG, Fosberg B, Souza J (2001) Hair mercury speciation as a function of gender, age, and body mass index in inhabitants of the Negro river basin, Amazon, Brazil. Arch Environ Contam Toxicol 40:439–444

Batista J, Schuhmacher M, Domingo JL, Corbella J (1996) Mercury in hair for a child population from Tarragona Province, Spain. Sci Total Environ 193:143–148

Canuel R, de Grosbois SB, Atikesse L et al (2006) New evidence on variations of human body burden of methylmercury from fish consumption. Environ Health Perspect 114:302–306

Carrington CD, Bolger MP (2002) An exposure assessment for methylmercury from seafood for consumers in the United States. Risk Anal 2:689–699

Cernichiari E, Brewer R, Myers GJ et al (1995) Monitoring methylmercury during pregnancy: maternal hair predicts fetal brain exposure. Neurotoxicol 16:705–709

Clarkson TW, Vyas JB, Ballatorl N (2007) Mechanisms of mercury disposition in the body. Am J Ind Med 50:757–764

Cordier S, Garel M, Mandereau L et al (2002) Neurodevelopmental investigations among methylmercury-exposed children in French Guiana. Environ Res 89:1–11

Currie LA (1999) Nomenclature in evaluation of analytical methods including detection and quantification capabilities (IUPAC Recommendations 1995). Anal Chim Acta 391:105–126

Díez S, Bayona JM (2002) Determination of methylmercury in human hair by ethylation followed by headspace solid-phase microextraction-gas chromatography-cold-vapour atomic fluorescence spectrometry. J Chromatogr A 963:345–351

Díez S, Montuori P, Querol X, Bayona JM (2007) Total mercury in the hair of children by combustion atomic absorption spectrometry (Comb-AAS). J Anal Toxicol 31:144–149

Díez S, Montuori P, Pagano A et al (2008) Hair mercury levels in an urban population from southern Italy: fish consumption as a determinant of exposure. Environ Int 4:162–167

Díez S (2008) Human health effects of methylmercury exposure. Rev Environ Contam Toxicol 198, in press. doi:10.1007/978-0-387-09646-9

Dolbec J, Mergler D, Larribe F et al (2001) Sequential analysis of hair mercury levels in relation to fish diet of an Amazonian population, Brazil. Sci Total Environ 271:87–97

Dorea JG, Barbosa AC, Ferrari I, de Souza JR (2005) Fish consumption (hair mercury) and nutritional status of Amazonian Amer-Indian Children. Am J Hum Biol 17:507–514

Drasch G, Bose-O'Reilly S, Beinhoff C, Roider G, Maydl S (2001) The Mt. Diwata study on the Philippines 1999: assessing mercury intoxication of the population by small scale gold mining. Sci Total Environ 267:151–168

Evans EC (2002) The FDA recommendations on fish intake during pregnancy. J Obstet Gynecol Neonatal Nurs 31:715–720

Fernandez MF, Sunyer J, Grimalt J et al (2007) The Spanish Environment and Childhood Research Network (INMA study). Int J Hyg Environ Health 210:491–493

Fok TF, Lam HS, Ng PC et al (2007) Fetal methylmercury exposure as measured by cord blood mercury concentrations in a mother-infant cohort in Hong Kong. Environ Int 33:84–92

Fujita M, Takabatake E (1977) Mercury levels in human maternal and neonatal blood, hair and milk. Bull Environ Contam Toxicol 18:205–209

Goldman LR, Shannon MW (2001) Mercury in the environment: implications for pediatricians. Pediatrics 108:197–205

Grandjean P, Weihe P, White RF et al (1997) Cognitive deficit in 7-year-old children with prenatal exposure to methylmercury. Neurotoxicol Teratol 19:417–428

IPCS (1990) Environmental Health Criteria 101. Methylmercury. World Health Organization, Geneva. Available from http://www.inchem.org/documents/ehc/ehc/ehc101.htm

Johnsson C, Schutz A, Sallsten G (2005) Impact of consumption of freshwater fish on mercury levels in hair, blood, urine, and alveolar air. J Toxicol Environ Health A 68:129–140

Lee WC, Lee MJ, Lee SM et al (2000) An observation on the mercury contents of scalp hair in the urban residents of South Korea. Environ Toxicol Pharmacol 8:275–278

Legrand M, Arp P, Ritchie C, Chana HM (2005) Mercury exposure in two coastal communities of the Bay of Fundy, Canada. Environ Res 98:14–21

Lindow SW, Knight R, Batty J, Haswell SJ (2003) Maternal and neonatal hair mercury concentrations: the effect of dental amalgam. BJOG 110:287–291

MacIntosh DL, Williams PL, Hunter DJ et al (1997) Evaluation of a food frequency questionnaire food composition approach for estimating dietary intake of inorganic arsenic and methylmercury. Cancer Epidem Biomar 6:1043–1050

McDowell MA, Dillon CF, Osterloh J et al (2004) Hair mercury levels in US children and women of childbearing age: reference range data from NHANES 1999–2000. Environ Health Perspect 112:1165–1171

Mohan S, Tiller M, van der Voet G, Kanhai H (2005) Mercury exposure of mothers and newborns in Surinam: a pilot study. Clin Toxicol 43:101–104

Montuori P, Jover E, Alzaga R, Díez S, Bayona JM (2004) Improvements in the methylmercury extraction from human hair by headspace solid-phase microextraction followed by gas-chromatography cold-vapour atomic fluorescence spectrometry. J Chromatogr A 1025:71–75

Montuori P, Jover E, Díez S et al (2006) Mercury speciation in the hair of pre-school children living near a chlor-alkali plant. Sci Total Environ 369:51–58

Morrissette J, Takser L, St-Amour G et al (2004) Temporal variation of blood and hair mercury levels in pregnancy in relation to fish consumption history in a population living along the St. Lawrence River. Environ Res 95:363–374

Murata K, Budtz-Jorgensen E, Grandjean P (2002) Benchmark dose calculations for methylmercury-associated delays on evoked potential latencies in two cohorts of children. Risk Anal 22:465–474

Murata K, Sakamoto M, Nakai K et al (2004) Effects of methylmercury on neurodevelopment in Japanese children in relation to the Madeiran study. Int Arch Occup Environ Health 77:571–579

Myers GJ, Davidson PW, Cox C et al (2000a) Twenty-seven years studying the human neurotoxicity of methylmercury exposure. Environ Res 83:275–285

Myers GJ, Davidson PW, Palumbo D et al (2000b) Secondary analysis from the Seychelles child development study: the child behavior checklist. Environ Res 84:12–19

NRC (2000) Toxicological effects of methylmercury. National Research Council. National Academy Press, Washington, DC

Oken E, Wright RO, Kleinman KP et al (2005) Maternal fish consumption, hair mercury, and infant cognition in a US cohort. Environ Health Perspect 113:1376–1380

Pesch A, Wilhelm M, Rostek U et al (2002) Mercury concentrations in urine, scalp hair, and saliva in children from Germany. J Expo Anal Environ Epidemiol 12:252–258

Phelps RW, Clarkson TW, Kershaw TG, Wheatley B (1980) Interrelationships of blood and hair mercury concentrations in a North-American population exposed to methylmercury. Arch Environ Health 35:161–168

Ramon R, Murcia M, Ballester F et al (2008) Prenatal exposure to mercury in a prospective mother-infant cohort study in a Mediterranean area, Valencia, Spain. Sci Total Environ 392:69–78

Razagui IBA, Haswell SJ (2001) Mercury and selenium concentrations in maternal and neonatal scalp hair: relationship to amalgam-based dental treatment received during pregnancy. Biol Trace Elem Res 81:1–19

Ribas-Fito N, Ramon R, Ballester F et al (2006) Child health and the environment: the INMA spanish study. Paediat Perinatal Epidemiol 20:403–410

Sakamoto M, Kubota M, Liu XH et al (2004) Maternal and fetal mercury and n–3 polyunsaturated fatty acids as a risk and benefit of fish consumption to fetus. Environ Sci Technol 38:3860–3863

Sakamoto M, Kubota M, Murata K et al (2008) Changes in mercury concentrations of segmental maternal hair during gestation and their correlations with other biomarkers of fetal exposure to methylmercury in the Japanese population. Environ Res 106:270–276

Smith JC, Farris FF (1996) Methyl mercury pharmacokinetics in man: a reevaluation. Toxicol Appl Pharmacol 137:245–252

Tran NL, Barraj L, Smith K, Javier A, Burke TA (2004) Combining food frequency and survey data to quantify long-term dietary exposure: a methyl mercury case study. Risk Anal 24:19–30

USEPA (2005) (US Environmental Protection Agency, Office of Science and Technology, Office of Water). Water quality criterion for the protection of human health. methylmercury 2005. Available from http://www.epa.gov/waterscience/criteria/methylmercury/document.html. Accessed April 2008

Vioque J, Gonzalez L (1991) Validity of a food frequency questionnaire (preliminary results). Eur J Cancer Prev 1:19–20

Welch AA, Lund E, Amiano P et al (2002) Variability of fish consumption within the 10 European countries participating in the European Investigation into Cancer and Nutrition (EPIC) study. Public Health Nutr 5:1273–1285

Willett WC, Sampson L, Stampfer MJ et al (1985) Reproducibility and validity of a semiquantitative food frequency questionnaire. Am J Epidemiol 122:51–65
Acknowledgments
Funding was obtained from the Ministry of Health (Instituto de Salud Carlos III) through the INMA Spanish network (Red INMA G03/176) and FIS-PI041436. We thank all the mothers, babies, and children who participated in the study for their generous collaboration. We also thank the gynecologists and birth attendants who collaborated in the sample collection. Sergi Díez acknowledges the Spanish Ministry of Education and Science for his Ramón y Cajal contract. Technical assistance in the GC-CVAFS setup given by Ms. Rosa Mas is kindly acknowledged. The members of the Bio-Madrid Research Group are N. Aragonés, B. Pérez-Gómez, M. Pollán, G. López-Abente (CNE-ISCIII; CIBERESP); M. Martínez, J. Astray, A. M. Pérez-Meixeira, E. Gil, C. de Paz, A. Iriso, M. Cisneros, A. de Santos, J. F. García, J. C. Sanz, A. Asensio, J. M. García-Sagredo, A. de León A (Consejeria de Sanidad, Madrid), M. Fernández, M. J. González (CSIC).
Additional information
J. Astray and B. Pérez-Gómez: On behalf of the Bio-Madrid Research Group.
About this article
Cite this article
Díez, S., Delgado, S., Aguilera, I. et al. Prenatal and Early Childhood Exposure to Mercury and Methylmercury in Spain, a High-Fish-Consumer Country. Arch Environ Contam Toxicol 56, 615–622 (2009). https://doi.org/10.1007/s00244-008-9213-7
Received:

Accepted:

Published:

Issue Date:
Keywords
Food Frequency Questionnaire

Mercury Concentration

Fish Consumption

Fish Meal

Mercury Level