Abstract
The toxicity of imidacloprid, a nicotinic mimic insecticide, to the aquatic invertebrates Chironomus tentans and Hyalella azteca, was first evaluated in static 96-hour tests using both technical material (99.2% pure) and Admire®, a commercially available formulated product (240 g a.i. L-1). The 96-h lethal concentration (LC)50 values for technical imidacloprid and Admire® were 65.43 and 17.44 μg/L, respectively, for H. azteca, and 5.75 and 5.40 μg/L, respectively, for C. tentans. Admire® was subsequently used in 28-day chronic tests with both species. Exposure scenarios consisted of a constant- and a pulse-exposure regime. The pulse exposure lasted for four days, after which time the animals were transferred to clean water for the remaining 24 days of the study. Assessments were made on both day 10 and day 28. In the C. tentans under constant exposure, larval growth on day 10 was significantly reduced at 3.57 μg/L imidacloprid, the lowest-observed-effect concentration (LOEC). The no-observed-effect concentration (NOEC) and LOEC for the 28-day exposure duration (adult survival and emergence) were 1.14 and greater than 1.14 μg/L, respectively; the associated LC50 and LC25 were 0.91 and 0.59 μg/L, respectively. The LOEC for the pulse treatment was greater than 3.47 μg/L, but the day 10 LC25 was 3.03 μg/L. In the H. azteca tests, the day 10 and 28 constant exposure, as well as the day 28 pulse exposure, LOEC (survival) values were similar at 11.95, 11.46, and 11.93 μg/L, respectively. The day 10 and 28 constant exposure effective concentration (EC)25s (dry weight) were also similar, at 6.22 and 8.72 μg/L, respectively, but were higher than the pulse-exposure day 10 LOEC and EC25 (dry weight) values of 3.53 and 2.22 μg/L, respectively. Overall, C. tentans was more sensitive to acute and chronic imidacloprid exposure, but less sensitive to a single pulse, than H. azteca. Chronic, low-level exposure to imidacloprid may therefore reduce invertebrate survival and growth, but organisms are able to recover from short-term pulse exposure to similar imidacloprid concentrations if the stressor is removed after four days.
This is a preview of subscription content, log in to check access.
Access options
Buy single article
Instant access to the full article PDF.
US$ 39.95
Price includes VAT for USA
Subscribe to journal
Immediate online access to all issues from 2019. Subscription will auto renew annually.
US$ 199
This is the net price. Taxes to be calculated in checkout.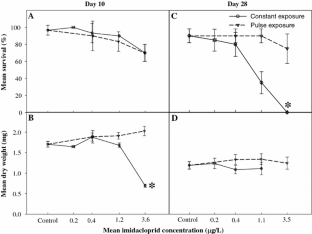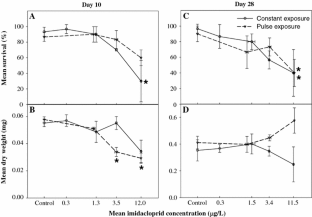 References
Alexander A (2006) Sublethal effects of imidacloprid on mayflies and oligochaetes. Master's Thesis. University of New Brunswick, Fredericton, NB, Canada

Ankley GT, Collyard SA, Monson PD, Kosian PA (1994) Influence of ultraviolet light on the phototoxicity of sediments contaminated with polycyclic aromatic hydrocarbons. Environ Toxicol Chem 13:1791–1796

Armbrust KL, Peeler HB (2002) Effects of formulation on the run-off of imidacloprid from turf. Pest Manag Sci 58:702–706

ASTM (American Society for Testing and Materials) (1995) Standard test methods for measuring the toxicity of sediment-associated contaminants with freshwater invertebrates. E1706–95. In: 1995 Annual book of ASTM standards-pesticides, resource recovery, hazardous substances and oil spill responses, waste disposal, biological effects, vol. 11.05. ASTM, Philadelphia, PA, USA, pp1204–1285

Becker SD, Rose CD, Bigham GN (1995) Comparison of the 10-day freshwater sediment toxicity tests using Hyalella azteca and Chironomus tentans. Environ Toxicol Chem 14: 2089–2094

Borgmann U (1996) Systematic analysis of aqueous ion requirements of Hyalella azteca: A standard artificial medium including the essential bromide ion. Arch Environ Contam Toxicol 30:356–363

Buhl KJ, Faerber NL (1989) Acute toxicity of selected herbicides and surfactants to larvae of the midge Chironomus riparius. Arch Environ Contam Toxicol 18:530–536

Cold A, Forbes VE (2004) Consequences of a short pulse of pesticide exposure for survival and reproduction of Gammarus pulex. Aquat Toxicol 67:287–299

Cox C (2001) Insecticide factsheet: Imidaclorpid. Northwest Coalition for Alternatives to Pesticides. J Pest Reform 21:15–21

Cox L, Koskinen WC, Yen PY (1997) Sorption-desorption of imidacloprid and its metabolites in soils. JAgric Food Chem 45:1468–1472

Culp J, Liber K, Cessna A, Doe K, Luiker E, Alexander A, Heard K, Stoughton S (2005) Improved ecological risk assessment of imidacloprid in aquatic ecosystems. Presentation for the Pesticide Science Fund, Ottawa, ON, Canada

England D, Bucksath JD (1991) Acute toxicity of NTN-33893 to Hyalella azteca. ABC Laboratories, Inc., Columbia, MO, USA (performing laboratory). Report no. 101960. Mobay Corporation, Kansas City, MO, USA (submitting company)

Environment Canada (1997a) Biological test method: Test for survival and growth in sediment using the larvae of freshwater midges (Chironomus tentans or Chironomus riparius). EPS 1/RM/32. Environment Protection Series, Conservation and Protection, Environment Canada, Ottawa, ON, Canada

Environment Canada (1997b) Biological test method: Test for survival and growth in sediment using the freshwater amphipod Hyalella azteca. EPS 1/RM/33. Environment Protection Series, Conservation and Protection, Environment Canada, Ottawa, ON, Canada

Felsot A, Ruppert JR (2002) Imidacloprid residues in Willapa Bay (Washington State) water and sediment following application for control of burrowing shrimp. J Agric Food Chem 50:4417–4423

Folmar LC, Sanders HO, Julin AM (1979) Toxicity of the herbicide glyphosate and several of its formulations to fish and aquatic invertebrates. Arch Environ Contam Toxicol 8:269–278

Gagliano GG (1991) Growth and survival of the midge (Chironomus tentans) exposed to NTN 33893 technical under static renewal condition. Mobay Corporation, Stilwell, KS, USA (performing laboratory). Report No. 101985. Mobay Corporation, Kansas City, MO, USA (submitting company)

Geisler FS (1944) Studies on the postembryonic development of Hyalella azteca. Biol Bull 86:6–22

Gupta S, Gajbhiye VT, Kalpana, Agnihotri NP (2002) Leaching behavior of imidacloprid formulations on soil. Bull Environ Contam Toxicol 68:502–508

Hamilton MA, Russo RC, Thurston RV (1977) Trimmed Spearman-Karber for estimating median lethal concentrations in toxicity bioassays. Environ Sci Technol 11:714–719. Correction 12:417

Hewitt LM, Batchelor S, Reese H, Chow L, Macrae A, Edwards L, Brasfield S, Munkittrick K, Jardine C, Teather K (2005) Assessing pesticide runoff impacts on aquatic ecosystems in Atlantic Canada. Poster presentation at 26th Annual Society of Environmental Toxicology and Contamination (SETAC) North America, Baltimore, MD, USA, November 13–17, 2005

Kidd H, James DR (1991) The Agrochemicals Handbook, 3rd ed. The Royal Society of Chemistry, Unwin Brothers Limited, Old Woking, Surrey, UK

Kreuger J (1998) Pesticides in stream water within an agricultural catchment in southern Sweden, 1990–1996. Sci Total Environ 216:227–251

Liber K, Call DJ, Dawson TD, Whiteman FW, Dillon TM (1996) Effects of Chironomus tentans larval growth retardation on adult emergence and ovipositing success: implications for interpreting freshwater sediment bioassays. Hydrobiologia 323:155–167

Liess M, Schulz R, Liess MD, Kreuzig R (1999) Determination of insecticide contamination in agricultural headwater streams. Water Res 33:239–247

Liu M, Casida JE (1993) High affinity binding of (3H) imidacloprid in the insect acetylcholine receptor. Pestic Biochem Physiol 46:40–46

Liu W, Zheng W, Gan J (2002) Competitive sorption between imidacloprid and imidacloprid-urea on soil clay minerals and humic acids. J Agric Food Chem 50:6823–6827

Matthiessen P, Sheahan D, Harrison R, Kirby M, Rycroft R, Turnbull A, Volkner C, Williams R (1995) Use of Gammarus pulex bioassay to measure the effects of transient carbofuran from farmland. Ecotoxicol Environ Saf 30:111–119

Maund SJ, Travis KZ, Hendley P, Giddings JM, Solomon KR (2001) Probabilistic risk assessment of cotton pyrethroids: V. Combining landscape-level exposures and ecotoxicological effects data to characterize risks. Environ Toxicol Chem 20:687–692

McCahon CP, Pascoe D (1988) Cadmium toxicity to the freshwater amphipod Gammarus pulex (L.) during the molt cycle. Freshw Biol 19:197–203

Naddy RB, Johnson KA, Klaine SJ (2000) Response of Daphnia magna to pulsed exposures of chlorpyrifos. Environ Toxicol Chem 19:423–431

Overmyer JP, Mason BN, Armbrust KL (2005) Acute toxicity of imidacloprid and fipronil to a nontarget aquatic insect, Simulium vittatum Zetterstedt cytospecies IS-7. Bull Environ Contam Toxicol 74:872–879

Pesticide Action Network North America (2005) PAN pesticide database. Chemical toxicity studies on aquatic organisms: Imidacloprid information. Accessed: December 2005. Available at http://www.pesticideinfo.org/List_AquireAll.jsp?Rec_Id=PC35730

Phillips JP, Bode RW (2004) Pesticides in surface water runoff in south-eastern New York Sate, USA: seasonal and stormflow effects on concentrations. Pest Manage Sci 60:531–543

Phipps GL, Mattson VR, Ankley GT (1995) Relative sensitivity of three freshwater benthic macroinvertebrates to ten contaminants. Arch Environ Contam Toxicol 28:281–286

Rand GM, Wells PG, McCarty LS (1995) Introduction to aquatic toxicology. In: Rand GM (ed). Fundamentals of aquatic toxicology: Effects, environmental fate, and risk assessment, 2nd ed. Taylor and Francis, Washington, DC, USA, pp 3–66

Reynaldi S, Liess M (2005) Influence of duration of exposure to the pyrethroid fenvalerate on sublethal responses and recovery of Daphnia magna Straus. Environ Toxicol Chem 24:1160–1164

Roberts TR, Hutson DH (Ed.) (1999) Chlorpyrifos. In: Metabolic Pathways of Agrochemicals, Part 2. The Royal Society of Chemistry, Cambridge, UK, pp234–242

Sarkar MA, Biswas PK, Roy S, Kole RK, Chowdhury A (1999) Effect of pH and type of formulation on the persistence of imidacloprid in water. Bull Environ Contam Toxicol 63:604–609

Sibley PK, Benoit DA, Ankley GT (1997) The significance of growth in Chironomus tentans sediment toxicity tests: relationship to reproduction and demographic endpoints. Environ Toxicol Chem 16:336–345

Song MY, Stark JD, Brown JJ (1997) Comparative toxicity of four insecticides, including imidacloprid and tebufenozide, to four aquatic arthropods. Environ Toxicol Chem 16:2494–2500

Suchail S, Guez D, Belzunces LP (2000) Characteristics of imidacloprid toxicity in two Apis mellifera subspecies. Environ Toxicol Chem 19:1901–1905

Suedel BC, Rodgers Jr. JH, Clifford PA (1993) Bioavailability of fluoranthene in freshwater sediment toxicity tests. Environ Toxicol Chem 12:155–165

Tomlin CDS (1997) The pesticide manual: Incorporating the agrochemicals handbook, 10th ed. British Crop Protection Council, Farnham, Surrey, UK

US Environmental Protection Agency (US EPA) (1990) Trimmed Spearman-Karber (TSK) Program. Version 1.5 Ecological Monitoring Research Division. Environmental Research Laboratory, Cincinnati, OH, USA

US Environmental Protection Agency (US EPA) (1993) Linear Interpolation Method for sublethal toxicity: The Inhibition Concentration (Icp) Approach. Version 2.0 Environmental Research Laboratory, Duluth, MN, USA

US Environmental Protection Agency (US EPA) (1994) Methods for measuring the toxicity and bioaccumulation of sediment-associated contaminants with freshwater invertebrates. Report EPA 600/R-94/024, US EPA, Duluth, MN, USA

West CW, Mattson VR, Leonard EW, Phipps GL, Ankley GT (1993) Comparison of the relative sensitivity of three benthic invertebrates to copper-contaminated sediments from the Keenaw Waterway. Hydrobiologia 262:57–63

Whiteman FW, Ankley GT, Kahl MD, Rau DM, Balcer MD (1996) Evaluation of interstitial water as a route of exposure for ammonia in sediment tests with benthic macroinvertebrates. Environ Toxicol Chem 15:794–801
Acknowledgments
This study was funded by the Pesticide Science Fund (Environment Canada) and a University of Saskatchewan Toxicology Graduate Student Scholarship to S. Stoughton.
About this article
Cite this article
Stoughton, S.J., Liber, K., Culp, J. et al. Acute and Chronic Toxicity of Imidacloprid to the Aquatic Invertebrates Chironomus tentans and Hyalella azteca under Constant- and Pulse-Exposure Conditions. Arch Environ Contam Toxicol 54, 662–673 (2008). https://doi.org/10.1007/s00244-007-9073-6
Received:

Accepted:

Published:

Issue Date:
Keywords
Imidacloprid

Aquatic Invertebrate

Culture Water

Pulse Treatment

Constant Exposure