Abstract
Acetamiprid and thiamethoxam are insecticides introduced for pest control, but they can also affect non-target insects such as honeybees. In insects, these neonicotinoid insecticides are known to act on acetylcholine nicotinic receptors but the behavioral effects of low doses are not yet fully understood. The effects of acetamiprid and thiamethoxam were studied after acute sublethal treatment on the behavior of the honeybee (Apis mellifera) under controlled laboratory conditions. The drugs were either administered orally or applied topically on the thorax. After oral consumption acetamiprid increased sensitivity to antennal stimulation by sucrose solutions at doses of 1 μg/bee and impaired long-term retention of olfactory learning at the dose of 0.1 μg/bee. Acetamiprid thoracic application induced no effect in these behavioral assays but increased locomotor activity (0.1 and 0.5 μg/bee) and water-induced proboscis extension reflex (0.1, 0.5, and 1 μg/bee). Unlike acetamiprid, thiamethoxam had no effect on bees' behavior under the conditions used. Our results suggest a particular vulnerability of honeybee behavior to sublethal doses of acetamiprid.
This is a preview of subscription content, log in to check access.
Access options
Buy single article
Instant access to the full article PDF.
US$ 39.95
Tax calculation will be finalised during checkout.
Subscribe to journal
Immediate online access to all issues from 2019. Subscription will auto renew annually.
US$ 199
Tax calculation will be finalised during checkout.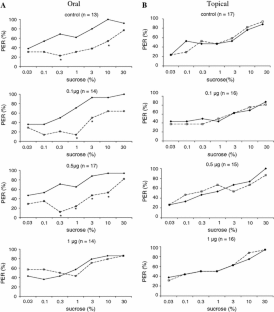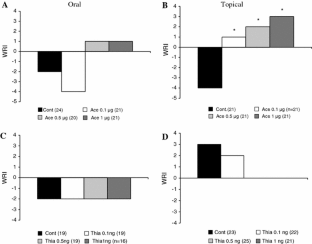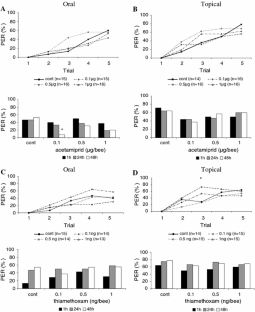 References
Armengaud C, Lambin M, Gauthier M (2002) Effects of imidacloprid on the neural processes of memory in honeybee. In: Devillers J, Pham-Délègue MH (eds) Honey bees: estimating the environmental impact of chemicals. CRC Press, Boca Raton, FL, pp 85–100

Bicker G (1999) Histochemistry of classical neurotransmitters in antennal lobes and mushroom bodies of the honeybee. Microsc Res Tech 45:174–183

Braun G, Bicker G (1992) Habituation of an appetitive reflex in the honeybee. J Neurophysiol 67:588–598

Breer H (1987) Neurochemical aspects of cholinergic synapses in the insect brain. In: Gupta AP (ed) Arthropod brain: its evolution, development, structure and functions. Wiley, New York, pp 415–437

Brunet JL, Badiou A, Belzunces LP (2005) In vivo metabolic fate of [14C]-acetamiprid in six biological compartments of the honeybee, Apis mellifera L. Pest Manage Sci 61:742–748

Cano Lozano V, Bonnard E, Gauthier M, Richard D (1996) Mecamylamine-induced impairment of acquisition and retrieval of olfactory conditioning in the honeybee. Behav Brain Res 81:215–222

Cano Lozano V, Armengaud C, Gauthier M (2001) Memory impairment induced by cholinergic antagonists injected into the mushroom bodies of the honeybee. J Comp Physiol A 187:249–254

Claudianos C, Ranson H, Johnson RM, Biswas S, Schuler MA, Berenbaum MR, Feyereisen R, Oakeshott JG (2006) A deficit of detoxification enzymes: pesticide sensitivity and environmental response in the honeybee. Insect Mol Biol 15:615–636

Dacher M, Lagarrigue A, Gauthier M (2005) Antennal tactile learning in the honeybee: effect of nicotinic antagonists on memory dynamics. Neuroscience 130:37–50

Decourtye A, Armengaud C, Renou M, Devillers J, Cluzeau S, Gauthier M, Pham-Délègue MH (2004) Imidacloprid impairs memory and brain metabolism in the honeybee (Apis mellifera L.) Pest Biochem Physiol 78:83–92

Déglise P, Grünewald B, Gauthier M (2002) The insecticide imidacloprid is a partial agonist of the nicotinic receptor of honeybee Kenyon cells. Neurosci Lett 321:13–16

El Hassani AK, Dacher M, Gauthier M, Armengaud C (2005) Effects of sublethal doses of fipronil on the behavior of the honeybee (Apis mellifera). Pharmacol Biochem Behav 82:30–39

Erber J (1975a) The dynamics of learning in the honeybee (Apis mellifica carnica). I. The time dependence of the choice reaction. J Comp Physiol A 99:231–242

Erber J (1975b) The dynamics of learning in the honeybee (Apis mellifica carnica). II. Principles of information processing. J Comp Physiol A 99:243–255

European Commission (2004) European Commission Acetamiprid SANCO/1392/2001—Final. Available at: http://www.ec.europa.eu/food/plant/protection/evaluation/newactive/acetamiprid.pdf

Gauthier M, Dacher M, Thany SH, Niggebrugge C, Déglise P, Kljucevic P, Armengaud C, Grünewald B (2006) Involvement of alpha-bungarotoxin-sensitive nicotinic receptors in long-term memory formation in the honeybee (Apis mellifera). Neurobiol Learn Mem 86:164–174

Gerber B, Wustenberg D, Schutz A, Menzel R (1998) Temporal determinants of olfactory long-term retention in honeybee classical conditioning: nonmonotonous effects of the training trial interval. Neurobiol Learn Mem 69:71–78

Guez D, Belzunces LP, Maleszka R (2003) Effects of imidacloprid metabolites on habituation in honeybees suggest the existence of two subtypes of nicotinic receptors differentially expressed during adult development. Pharmacol Biochem Behav 75:217–222

Iwasa T, Motoyama N, Ambrose JT, Roe MR (2004) Mechanism for the differential toxicity of neonicotinoid insecticides in the honey bee, Apis mellifera. Crop Protect 23:371–378

Jones AK, Raymond-Delpech V, Thany SH, Gauthier M, Sattelle DB (2006) The nicotinic acetylcholine receptor gene family of the honey bee, Apis mellifera. Genome Res 16:1422–1430

Kayser H, Lee C, Decock A, Baur M, Haettenschwiler J, Maienfisch P (2004) Comparative analysis of neonicotinoid binding to insect membranes: I. A structure-activity study of the mode of [3H] imidacloprid displacement in Myzus persicae and Aphis craccivora. Pest Manage Sci 60:945–958

Kreissl S, Bicker G (1989) Histochemistry of acetylcholinesterase and immunocytochemistry of an acetylcholine receptor-like antigen in the brain of the honeybee. J Comp Neurol 286:71–84

Lambin M, Armengaud C, Raymond S, Gauthier M (2001) Imidacloprid-induced facilitation of the proboscis extension reflex habituation in the honeybee. Arch Insect Biochem Physiol 4:129–134

Mamood AN, Waller GD (1990) Recovery of learning responses by honeybees following a sublethal exposure to permethrin. Physiol Enthomol 15:55–60

Michelsen DB, Braun GH (1987) Circling behavior in honey bees. Brain Res 421:14–20

Nauen R, Ebbinghaus-Kintscher U, Schmuck R (2001) Toxicity and nicotinic acetylcholine receptor interaction of imidacloprid and its metabolites in Apis mellifera (Hymenoptera: Apidae). Pest Manage Sci 57:577–586

Nauen R, Ebbinghaus-Kintscher U, Salgado VL, Kaussmann M (2003) Thiamethoxam is a neonicotinoid precursor converted to clothianidin in insects and plants. Pest Biochem Physiol 76:55–69

Pankiw T, Page RE (1999) The effect of genotype, age, sex, and caste on response thresholds to sucrose and foraging behavior of honey bees (Apis mellifera L.). J Comp Physiol A 185:207–213

Pankiw T, Waddington KD, Page RE (2001) Modulation of sucrose response thresholds in honeybees (Apis mellifera): influence of genotype, feeding and foraging experience. J Comp Physiol A 187:293–301

Pham-Délègue MH, Decourtye A, Kaiser L, Devillers J (2002) Behavioural methods to assess the effects of pesticides on honey bees. Apidology 33:425–432

Scheidler A, Kaulen P, Brüning G, Erber J (1990) Quantitative autoradiographic localization of 125I α-bungarotoxin binding sites in the honeybee brain. Brain Res 534:332–335

Tan J, Galligan JJ, Hollingworth RM (2007) Agonist actions of neonicotinoids on nicotinic acetylcholine receptors expressed by cockroach neurons. Neurotoxicology 28:829–842

Thany SH, Gauthier M (2005) Nicotine injected into the antennal lobes induces a rapid modulation of sucrose threshold and improves short-term memory in the honeybee Apis mellifera. Brain Res 1039:216–219

Tomizawa M, Casida JE (2003) Selective toxicity of neonicotinoids attributable to specificity of insect and mammalian nicotinic receptors. Annu Rev Entomol 48:339–364
Acknowledgment
This work was supported by a French Agriculture Ministry grant to M. Dacher, A. K. El Hassani, and V. Garry (Grant 407 ONIFLHOR).
About this article
Cite this article
El Hassani, A.K., Dacher, M., Gary, V. et al. Effects of Sublethal Doses of Acetamiprid and Thiamethoxam on the Behavior of the Honeybee (Apis mellifera). Arch Environ Contam Toxicol 54, 653–661 (2008). https://doi.org/10.1007/s00244-007-9071-8
Received:

Accepted:

Published:

Issue Date:
Keywords
Conditioned Stimulus

Locomotor Activity

Unconditioned Stimulus

Imidacloprid

Thiamethoxam