Abstract
In the current study, we examined whether subchronic exposure via drinking water to low doses of a mixture of metals (arsenic, cadmium, lead, mercury, chromium, manganese, iron, and nickel), found as contaminants in various water sources of India, and to concentrations equivalent to WHO maximum permissible limits (MPL) in drinking water for individual metals, can alter systemic physiology of male rats. Data on water contamination with metals in India were collected from the literature and metals were selected on the basis of their frequency of occurrence and contamination level above MPL. Male Wistar rats were exposed to the mixture at 0, 1, 10, and 100 times the mode concentrations (the most frequently occurring concentration) of the individual metals via drinking water for 90 days. One more group of rats was exposed to the mixture at a concentration equivalent to the MPL (WHO) in drinking water for individual metals. Toxic potential of the mixture was evaluated by assessing general toxicological end points, serum chemistry and histopathology of vital organs. The mixture decreased body weight and water consumption and increased weights of brain, liver, and kidneys with 10× and 100× doses. After 30 days of exposure, no appreciable changes were found in any blood clinical markers. After 60 days, only the 100× dose, while after 90 days both 10× and 100× doses increased activities of aspartate aminotransferase and alkaline phosphatase and levels of urea nitrogen and creatinine and decreased total protein and albumin levels, but alanine aminotransferase activity and glucose level were not affected. At 10× and 100× exposure levels, qualitatively similar, but dose-dependent vascular, degenerative, and necrotic changes were observed in brain, liver, and kidney. The results indicate that subchronic exposure to the metal mixture affected general health of male rats by altering the functional and structural integrity of kidney, liver, and brain at 10 and 100 times the mode concentrations of the individual metals in Indian water sources, but exposure at mode concentrations of contemporary water contamination levels or at concentrations equivalent to the MPL for individual metals in drinking water may not cause any health hazards in male rats.
Access options
Buy single article
Instant access to the full article PDF.
USD 39.95
Price excludes VAT (USA)
Tax calculation will be finalised during checkout.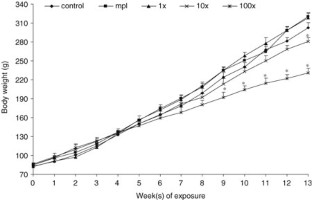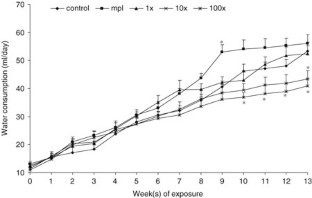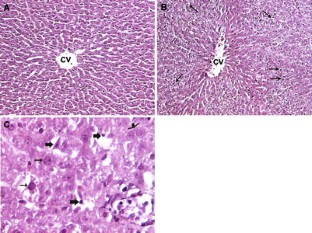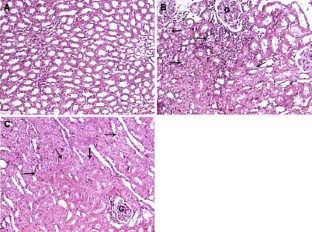 References
ATSDR (2005) 2005 CERCLA priority list of hazardous substances. Agency for Toxic Substances and Disease Registry, Department of Health and Human Services, Atlanta, GA [http://www.atsdr.cdc.gov/cercla/05list.html]

Ayensu WK, Tchounwou PB (2006) Microarray analysis of mercury-induced changes in gene expression in human liver carcinoma (HepG2) cells: importance in immune responses. Int J Environ Res Public Health 3:141–173

Barbier O, Jacquillet G, Tauc M, Cougnon M, Poujeol P (2005) Effect of heavy metals on, and handling by, the kidney. Nephron Physiol 99:105–110

Bashir S, Sharma Y, Irshad M, Nag TC, Tiwari M, Kabra M, Dogra TD (2006) Arsenic induced apoptosis in rat liver following repeated 60 days exposure. Toxicology 217:63–70

Bell RR, Early JL, Nonavinakere VK, Mallory Z (1990) Effect of cadmium on blood glucose level in the rat. Toxicol Lett 54:199–205

Bersenyi A, Fekete SG, Szocs Z, Berta E (2003) Effect of ingested heavy metals (Cd, Pb and Hg) on haematology and serum biochemistry in rabbits. Acta Vet Hung 51:297–304

Cui X, Li S, Shraim A, Kobayashi Y, Hayakawa T, Kanno S, Yamamoto M, Hirano S (2004) Subchronic exposure to arsenic through drinking water alters expression of cancer-related genes in rat liver. Toxicol Pathol 32:64–72

Dolara P, Torricelli F, Antonelli A (1994) Cytogenetic effects on human lymphocytes of a mixture of fifteen pesticides commonly used in Italy. Mutat Res 325:47–51

El-Demerdash FM (2001) Effects of selenium and mercury on the enzymatic activities and lipid peroxidation in brain, liver, and blood of rats. J Environ Sci Health B 36:489–499

El-Demerdash FM, Yousef MI, Kedwany FS, Baghdadi HH (2004) Cadmium-induced changes in lipid peroxidation, blood hematology, biochemical parameters and semen quality of male rats: protective role of vitamin E and beta-carotene. Food Chem Toxicol 42:1563–1571

Fernandez-Real JM, Lopez-Bermejo A, Ricart W (2002) Cross-talk between iron metabolism and diabetes. Diabetes 51:2348–2354

Finco DR (1989) Kidney function. In: Kancko JJ (ed) Clinical biochemistry of domestic animals. Academic Press, San Diego, CA, pp 496–542

Fowler BA, Whittaker MH, Lipsky M, Wang G, Chen XQ (2004) Oxidative stress induced by lead, cadmium and arsenic mixtures: 30-day, 90-day, and 180-day drinking water studies in rats: an overview. Biometals 17:567–568

Goswami K, Gachhui R, Bandopadhyay A (2005) Hepatorenal dysfunctions in lead pollution. J Environ Sci Eng 47:75–80

Goyer RA, Clarkson TW (2001) Toxic effects of metals In: Klaassen CD (ed) Casarett and Doull's toxicology: the basic science of poisons, 6th ed. McGraw-Hill, New York, pp 811–867

Gupta S, Ahmad N, Husain MM, Srivastava RC (2000) Involvement of nitric oxide in nickel-induced hyperglycemia in rats. Nitric Oxide 4:129–138

Heindel JJ, Chapin RE, George J, Gulati DK, Fail PA, Barnes LH, Yang RS (1995) Assessment of the reproductive toxicity of a complex mixture of 25 groundwater contaminants in mice and rats. Fundam Appl Toxicol 25:9–19

Hengstler JG, Bolm-Audorff U, Faldum A, Janssen K, Reifenrath M, Gotte W, Jung D, Mayer-Popken O, Fuchs J, Gebhard S, Bienfait HG, Schlink K, Dietrich C, Faust D, Epe B, Oesch F (2003) Occupational exposure to heavy metals: DNA damage induction and DNA repair inhibition prove co-exposures to cadmium, cobalt and lead as more dangerous than hitherto expected. Carcinogenesis 24:63–73

Itoh M, Takaoka M, Shibata A, Ohkita M and Matsumura Y (2001) Preventive effect of lactacystin, a selective proteasome inhibitor, on ischemic acute renal failure in rats. J Pharmacol Exp Ther 298:501–507

Jadhav SH, Sarkar SN, Tripathi HC (2006) Cytogenetic effects of a mixture of selected metals following subchronic exposure through drinking water in male rats. Indian J Exp Biol 44:997–1005

Jadhav SH, Sarkar SN, Aggarwal M, Tripathi HC (2007a) Induction of oxidative stress in erythrocytes of male rats subchronically exposed to a mixture of eight metals found as groundwater contaminants in different parts of India. Arch Environ Contam Toxicol 52:145–151

Jadhav SH, Sarkar SN, Kataria M, Tripathi HC (2007b) Subchronic exposure to a mixture of groundwater-contaminanting metals through drinking water induces oxidative stress in male rats. Environ Toxicol Pharmacol 23:205–211

Jarup L (2003) Hazards of heavy metal contamination. Br Med Bull 68:167–182

Keer MG (2002) The nitrogenous substances. In: Veterinary laboratory medicine: clinical biochemistry and haematology, 2nd ed. Blackwell Scientific, Oxford, London, pp 101–110

Kim E, Na KJ (1990) Acute toxic effect of sodium dichromate on metabolism. Arch Toxicol 64:644–649

Kluwe WM (1981) Renal function tests as indicators of kidney injury in subacute toxicity studies. Toxicol Appl Pharmacol 57:414–424

Korsrud GO, Grice HG, Goodman TK, Knipfel JE, McLaughlan JM (1973) Sensitivity of several serum enzymes for the detection of thioacetamide-, dimethylnitrosamine- and diethanolamine-induced liver damage in rats. Toxicol Appl Pharmacol 26:299–313

Krishnan K, Brodeur J (1992) Toxicological consequences of combined exposure to environmental pollutants. Arch Complex Environ Studies 3:1–104

Kumari R, Rao YN, Talukdar B, Agarwal S, Puri RK (1993) Serum enzymes abnormalities in protein energy malnutrition. Indian Pediatr 30:469–473

Liu J, Liu Y, Habeebu SM, Waalkes MP, Klaassen CD (2000) Chronic combined exposure to cadmium and arsenic exacerbates nephrotoxicity, particularly in metallothionein-I/II null mice. Toxicology 147:157–166

Madden EF, Fowler BA (2000) Mechanisms of nephrotoxicity from metal combinations: a review. Drug Chem Toxicol 23:1–12

Mousa SA (2004) Expression of adhesion molecules during cadmium hepatotoxicity. Life Sci 75:93–105

Nagarathna KK (2001) Groundwater pollution. Centre for Environment Education-News and Feature Service (CEE-NFS), Vol. 2, pp 1–2 (http://www.education.vsnl.com/cee/index.html)

Navas-Acien A, Silbergeld EK, Streeter RA, Clark JM, Burke TA, Guallar E (2006) Arsenic exposure and type 2 diabetes: a systematic review of the experimental and epidemiologic evidence. Environ Health Perspect 114:641–648

Nielsen FH (1991) Nutritional requirements for boron, silicon, vanadium, nickel, and arsenic: current knowledge and speculation. FASEB 5:2661–2667

Peraza MA, Ayala Fierro F, Barber DS, Casarez E, Rael LT (1998) Effects of micronutrients on metal toxicity. Environ Health Perspect 106 (Suppl 1):203–216

Piñeiro-Carrero VM, Piñeiro EO (2004) Liver. Pediatrics 113:1097–1106

Pond WC, Ellis KJ, Schoknecht P (1992) Response of blood serum constituents to production of and recovery from a kwashiorkor-like syndrome in the young pig. Proc Soc Exp Biol Med 200:555–561

Ragan HA (1989) Markers of renal function and injury. In: Loeb WF, Quimby FW (eds) The clinical chemistry of laboratory animals. Pergamon Press, New York, pp 321–343

Ramm GA, Ruddell RG (2005) Hepatotoxicity of iron overload: mechanisms of iron-induced hepatic fibrogenesis. Semin Liver Dis 25:433–449

Reed DJ (1998) Evaluation of chemical-induced oxidative stress as a mechanism of hepatocyte death. In: Plaa GL, Hewitt WR (eds) Toxicology of the liver. 2nd ed. Taylor and Francis, Washington, DC, pp 187–220

Shaikh ZA, Vu TT, Zaman K (1999) Oxidative stress as a mechanism of chronic cadmium-induced hepatotoxicity and renal toxicity and protection by antioxidants. Toxicol Appl Pharmacol 154:256–263

Sidhu P, Garg ML, Dhawan DK (2004) Protective role of zinc in nickel induced hepatotoxicity in rats. Chem Biol Interact 150:199–209

Sidhu P, Garg ML, Morgenstern P, Vogt J, Butz T, Dhawan DK (2005) Ineffectiveness of nickel in augmenting the hepatotoxicity in protein deficient rats. Nutr Hosp 20:378–385

Simmons JE, Yang RSH, Berman E (1995) Evaluation of the nephrotoxicity of complex mixtures containing organics and metals: advantages and disadvantages of the use of real-world complex mixtures. Environ Health Perspect 103 (Suppl 1):67–71

Tandon SK, Khandelwal S, Mathur AK, Ashquin M (1984) Preventive effects of nickel on cadmium hepatotoxicity and nephrotoxicity. Ann Clin Lab Sci 14:390–396

Travlos GS, Morris RW, Elwell MR, Duke A, Rosenblum S, Thompson MB (1996) Frequency and relationships of clinical chemistry and liver and kidney histopathology findings in 13-week toxicity studies in rats. Toxicology 107:17–29

Uyanik F, Eren M, Atasever A, Tunçoku G, Kolsuz A. H (2001) Changes in some biochemical parameters and organs of broilers exposed to cadmium and effect of zinc on cadmium induced alterations. Israel J Vet Med 56 [http://www.isrvma.org/article/56_4_2.htm]

Valko M, Morris H, Cronin MTD (2005) Metals, toxicity and oxidative stress. Curr Med Chem 12:1161–1208

Valko M, Rhodes CJ, Moncol J, Izakovic M, Mazur M (2006) Free radicals, metals and antioxidants in oxidative stress-induced cancer. Chem Biol Interact 160:1–40

Wade MG, Foster WG, Younglai EV, McMahon A, Leingartner K, Yagminas A, Blakey D, Fournier M, Desaulniers D, Hughes CL (2002) Effects of subchronic exposure to a complex mixture of persistent contaminants in male rats: systemic, immune and reproductive effects. Toxicol Sci 67:131–143

Yang RSH, Rauckman EJ (1987) Toxicological studies of chemical mixtures of environmental concern at the National Toxicology Program: health effects of ground water contaminants. Toxicology 47:15–34
Acknowledgments
The Senior Research Fellowship awarded to the first author by the Institute is gratefully acknowledged. The authors are thankful to the Director of the Institute for providing all necessary facilities for carrying out the present work.
About this article
Cite this article
Jadhav, S.H., Sarkar, S.N., Patil, R.D. et al. Effects of Subchronic Exposure via Drinking Water to a Mixture of Eight Water-Contaminating Metals: A Biochemical and Histopathological Study in Male Rats. Arch Environ Contam Toxicol 53, 667–677 (2007). https://doi.org/10.1007/s00244-007-0031-0
Received:

Accepted:

Published:

Issue Date:

DOI: https://doi.org/10.1007/s00244-007-0031-0
Keywords
Arsenic

Drinking Water

Vital Organ

Nephrotoxicity

Mode Concentration