Abstract
Contamination of wetlands by lead shot and lead fishing weights has generated a tremendous amount of research into the impact of lead poisoning on wildlife. Less well known are the potential threats to wildlife posed by lead contaminants still prevalent in urban environments. Despite a U.S. federal ban on lead-based paint and gasoline in 1978 and 1986, respectively, lead residue is still prevalent at hazardous levels in urban and suburban environments and may present a health concern for people and wildlife, particularly birds. We quantified soil lead content in residential properties across a rural-to-urban land-use gradient in the metropolitan Washington, D.C. area and then assessed the impact of lead contamination on body condition in adult and nestling passerine birds at the same sites. Soil lead concentration was significantly higher in urban sites compared to rural sites. Accordingly, adult and nestling birds captured in urban sites had significantly higher blood lead concentrations than their rural counterparts. However, only gray catbird nestlings exhibited lower body condition as a result of lead contamination. Birds continue to breed in urban habitats despite numerous negative attributes to these environments including light, noise, pedestrian and toxic contaminants, such as lead. These sites often contain habitat that appears suitable for roosting, nesting, and foraging and thus may act as an ecological trap for breeding birds because breeding success is often negatively associated with increasing urbanization. Lead contamination is one more feature of urbanization that birds and other wildlife must face in an increasingly developed world.
Access options
Buy single article
Instant access to the full article PDF.
US$ 39.95
Tax calculation will be finalised during checkout.
Subscribe to journal
Immediate online access to all issues from 2019. Subscription will auto renew annually.
US$ 119
Tax calculation will be finalised during checkout.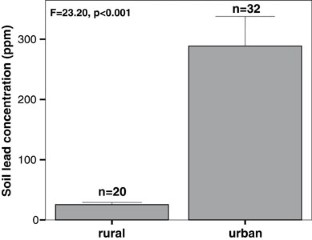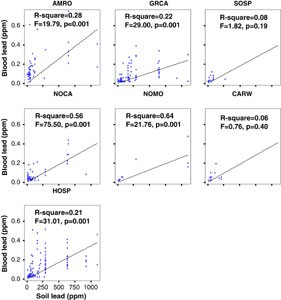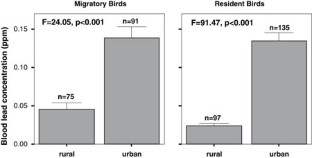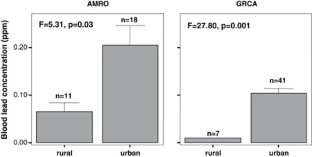 References
Battin J (2004) When good animals love bad habitats: ecological traps and the conservation of animal populations. Conserv Biol 18:1482–1491

Berg LR, Nordstrom JO, Ousterhout LE (1980) The prevention of chick growth depression due to dietary lead by increased dietary calcium and phosphorus levels. Poultry Sci 59:1860–1863

Beyer WN, Connor EE, Gerould S (1994) Estimates of soil ingestion by wildlife. J Wildl Manage 58:375–382

Beyer WN, Spann JW, Sileo L, Franson JC (1988) Lead poisoning in six captive avian species. Arch Environ Contam Toxicol 17:121–130

Blus LJ, Henny CJ, Hoffman DJ, Grove RA (1991) Lead toxicosis in tundra swans near a mining and smelting complex in northern Idaho. Arch Environ Contam Toxicol 21:549–555

Buerger TT, Mirarchi RE, Lisano ME (1986) Effects of lead shot ingestion on captive mourning dove survivability and reproduction. J Wildl Manage 50:1–8

Burger J, Gochfeld M (2004) Effects of lead and exercise on endurance and learning in young herring gulls. Ecotoxicol Environ Safety 57:136–144

Cam E, Nichols JD, Sauer JR, Hines JE, Flather CH (2000) Relative species richness and community completeness: birds and urbanization in the mid-Atlantic states. Ecol Applic 10:1196–1210

Chandler RB, Strong AM, Kaufman CC (2004) Elevated lead levels in urban house sparrows: a threat to sharp-shinned hawks and merlins? J Rapt Res 38:62–68

Connor EE, Scanlon PF, Kirkpatrick RL (1994) Bioavailability of lead from contaminated sediment in northern bobwhites, Colinus virginianus. Arch Environ Contam Toxicol 27:60–63

Daury RW, Schwab FE, Bateman MC (1993) Blood lead concentrations of waterfowl from unhunted and heavily hunted marshes of Nova Scotia and Prince Edward Island, Canada. J Wildl Dis 29:577–581

De Francisco N, Ruiz Troya JD, Aguera EI (2003) Lead and lead toxicity in domestic and free living birds. Avian Pathol 32:3–13

DeMent SH, Chisholm JJ Jr, Barber JC, Strandberg JD (1986) Lead exposure in an "urban" peregrine falcon and its avian prey. J Wildl Dis 22:238–244

Derrickson KC, Breitwisch R (1992) Northern mockingbird (Mimus polyglottos). In: Poole A, Gill F (eds) The birds of North America, No. 7. The Academy of Natural Sciences, Philadelphia, and The American Ornithologists Union, Washington, DC

Dieter MP, Finley MT (1979) Delta-aminolevulinic acid dehydratase enzyme activity in blood, brain and liver of lead-dosed ducks. Environ Res 19:127–135

Dmowski K, Karolewski MA (1979) Cumulation of zinc, cadmium and lead in invertebrates and in some vertebrates according to the degree of an area contamination. Ekol Polska 27:333–349

Donovan TM, Thompson FR (2001) Modeling the ecological trap hypothesis: a habitat and demographic analysis for migrant songbirds. Ecol App 11:871–882

Douglas-Stroebel E, Hoffman DJ, Brewer GL, Sileo L (2004) Effects of lead contaminated sediment and nutrition on mallard duckling brain growth and biochemistry. Environ Poll 131:215–222

Federal Register (1995) Refuge-specific hunting and fishing regulations: final rule. 60(232). 60 FR 62035. Department of the Interior

Federal Register (1999) Refuge-specific hunting and sport fishing regulations: proposed rule. 64(154). 64 FR 17992. Department of the Interior

Fernandez-Juricic E, Telleria JL (2000) Effects of human disturbance on spatial and temporal feeding patterns of Blackbirds Turdus merula in urban parks in Madrid, Spain. Bird Study 47:13–21

Fernandez-Juricic E (2001) Avian spatial segregations at edges and interiors of urban parks in Madrid, Spain. Biodiversity Conserv 10:1303–1316

Franson JC (1996) Interpretation of tissue lead residues in birds other than waterfowl. In: Beyer N, Heinz GH, Redmon-Norwood AW (eds) Contaminants in wildlife: interpreting tissue concentrations. Lewis Publishers, Boca Raton, Florida, pp 265–278

Germaine SS, Rosenstock SS, Schweinsburg RE, Richardson WS (1998) Relationships among breeding birds, habitat, and residential development in greater Tucson, Arizona. Ecol Applic 8:680–691

Getz LL, Best LB, Prather M (1977) Lead in urban and rural song birds. Environ Poll 12:235–238

Gorenzel WP, Salmon TP (1995) Characteristics of American crow urban roosts in California. J Wildl Manage 59:638–645

Grue CE, Hoffman DJ, Beyer WN, Franson LP (1986) Lead concentrations and reproductive success in European starlings, Sturnus vulgaris, nesting within highway roadside verges. Environ Poll Series A: Ecol Biol 42:157–182

Grue CE, O'Shea TJ, Hoffman DJ (1984) Lead concentrations and reproduction in highway-nesting barn swallows. Condor 86:383–389

Haley VB, Talbot TO (2004) Geographic analysis of blood lead levels in New York State children born 1994–1997. Environ Health Perspect 112:1577–1582

Halkin SL, Linville SU (1999) Northern Cardinal (Cardinal cardinalis). In: Poole A, Gill F (eds) The birds of North America, No. 440. The Academy of Natural Sciences, Philadelphia, and The American Ornithologists Union, Washington, DC

Henny CJ, Blus LJ, Hoffman DJ, Sileo L, Audet DJ, Snyder MR (2000) Field evaluation of lead effects on Canada geese and mallards in the Coeur d'Alene River Basin, Idaho. Arch Environ Contam Toxicol 39: 97–112

Hui CA (2002) Lead distribution throughout soil, flaura and an invertebrate at a wetland skeet range. J Toxicol Environ Health Part A 65:1093–1107

Janssens E, Dauwe T, Van Duyse E, Beernaert J, Pinxten R, Eens M (2003) Effects of heavy metal exposure on aggressive behavior in a small territorial songbird. Arch Environ Contam Toxicol 45:121–127

Johnson MS, Pluck H, Hutton M, Moore G (1982) Accumulation and renal effects of lead in urban populations of feral pigeons, Columba livia. Arch Environ Contam Toxicol 11:761–767

Kaminski P (1995) The concentrations of calcium and heavy metals in soils, plants, invertebrates and in food and organs of Tree sparrow (Passer montanus) nestlings in urban environments. In: Pinowski J, Kavanagh BP, Pinowska B (eds) Nestling mortality of granivorous birds due to microorganisms and toxic substances: synthesis. PWN–Polish Scientific Publishers

Kaminski P, Matus A (1998) The impact of urban environments on the growth and histopathological changes of tree sparrow (Passer montanus) nestlings. Pol J Environ Studies 7:131–150

Kennette D, Hendershot W, Tomlin A, Sauve S (2002) Uptake of trace metals by the earthworm Lumbricus terrestris L. in urban contaminated soils. App Soil Ecol 19:191–198

Kokko H, Sutherland WJ (2001) Ecological traps in changing environments: ecological and evolutionary consequences of a behaviourally mediated Allee effect. Evol Ecol Res 3:537–551

Koller K, Brown T, Spurgeon A, Levy L (2004) Recent developments in low-level lead exposure and intellectual impairment in children. Environ Health Perspect 112:987–994

Kostelecka-Myrcha A, Zukowski J, Oksiejczuk E (1997) Changes in the red blood indices during nestling development of the Tree sparrow (Passer montanus) in an urban environment. Ibis 139:92–96

Labare MP, Butkus MA, Riegner D, Schommer N, Atkinson J (2004) Evaluation of lead movement from the abiotic to biotic at a small-arms firing range. Environ Geol 46:750–754

Lepczyk CA, Mertig AG, Liu J (2004) Landowners and cat predation across rural-to-urban landscapes. Biol Cons 115:191–201

Lewis LA, Poppenga RJ, Davidson WR, Fischer JR, Morgan KA (2001) Lead toxicosis and trace element levels in wild birds and mammals at a firearms training facility. Arch Environ Contam Toxicol 41:208–214

Marzluff JM, Bowman R, Donnelly R (2001) A historical perspective on urban bird research: trends, terms, and approaches. In: Marzluff JM, Bowman R, Donnelly R (eds) Avian ecology and conservation in an urbanizing world. Kluwer Academic Publishers

Mathee A, von Schinding Y, Montgomery M, Rollin H (2004) Lead poisoning in South African children: the hazard is at home. Rev Environ Health 19:347–361

McRae SB, Weatherhead PJ, Montgomerie R (1993) American Robin nestlings compete by jockeying for position. Behav Ecol Sociobiol 33:101–106

Meharg AA, Pain DJ, Ellam RM, Baos R, Olivew V, Joyson A, Powell N, Green AJ, Hiraldo F (2002) Isotopic identification of the sources of lead contamination for white storks (cicona cicona) in a marshland ecosystem (Donana, S.W. Spain). Sci Total Environ 300:81–86

Mielke HW (1999) Lead in the inner cities: policies to reduce children's exposure to lead may be overlooking a major source of lead in the environment. Am Scientist 87:5

Miller MJR, Restani M, Harmata AR, Bortolotti GR, Wayland ME (1998) A comparison of blood lead levels in bald eagles from two regions on the great plains of North America. J Wildl Dis 34:704–714

Niskar AS, Buchanan S, Meyer PA (2005) A federal agency's role in fulfilling the public health core functions: the childhood lead poisoning prevention program model. J Public Health Manag Pract 11:50–58

Nyholm NEI (1998) Influence of heavy metal exposure during different phases of the ontogeny on the development of Pied flycatchers, Ficedula hypoleuca, in natural populations. Arch Environ Contam Toxicol 35:632–637

O'Halloran J, Duggan PF, Myers AA (1988) Biochemical and haematological values for mute swans (Cygnus olor): effects of acute lead poisoning. Avian Pathol 17:667–678

Olivares E (2003) The effect of lead on the phytochemistry of Tithonia diversifolia exposed to roadside automotive pollution or grown in pots of Pb-supplemented soil. Brazil J Plant Phys 15:149–158

Pain DJ (1996) Lead in waterfowl. In: Beyer WN, Heinz GH, Redmon-Norwood AW (eds) Environmental contaminants in wildlife: interpreting tissue concentrations. Lewis Publishers, Boca Raton, Florida

Pain DJ (1989) Haematological parameters as predictors of blood lead and indicators of lead poisoning in the black duck (Anas rubripes). Environ Poll 60:67–81

Pinowski J, Romanowski J, Barkowska M, Sawicka-Kapusta K, Kaminski P, Kruszewicz AG (1993) Lead and cadmium in relation to body weight and mortality of the House sparrow (Passer domesticus) and Tree sparrow (Passer montanus) nestlings. Acta Ornith 28:63–67

Price PW, Rathcke BJ, Gentry DA (1974) Lead in terrestrial arthropods: evidence for biological concentration. Environ Ent 3:370–372

Sallabanks R, James RC (1999) American robin (Turdus migratorius). In: Poole A, Gill F (eds) The birds of North America, no 462. The Academy of Natural Sciences, Philadelphia, and The American Ornithologists Union, Washington, DC

Sanderson GC, Bellrose FC (1986) A review of the problem of lead poisoning in waterfowl. Illinois Natural History Survey, Champaign, Illinois. Special publication 4. 34 pp. Jamestown ND: Northern Prairie Wildlife Research Center Online. http://www.npwrc.usgs.gov/resource/birds/pbpoison/pbpoison.htm (version 17OCT97)

Scheuhammer AM, Norris SL (1996) The ecotoxicology of lead shot and lead fishing weights. Ecotoxicology 5:279–295

Schlaepfer MA, Runge MC, Sherman PW (2002) Ecological and evolutionary traps. Trend Ecol Evol 17:474–480

Spahn SA, Sherry TW (1999) Cadmium and lead exposure associated with reduced growth rates, poorer fledging success of little blue heron chicks (Egretta caerulea) in south Louisiana wetlands. Arch Environ Contam Toxicol 37:377–384

Teissedre PL, Cabanis MT, Champagnol F, Cabanis JC (1994) Lead distribution in grape berries. Am J Enol Vit 45:220–228

Thorington KK, Bowman R (2003) Predation rate on artificial nests increases with human housing density in suburban habitats. Ecography 26:188–196

Tsuji LJS, Young J, Kozlovic (1998) Lead shot ingestion in several species of birds in the western James Bay region of Northern Ontario. Can Field-Nat 112:86–89

United States Census Bureau. http://www.factfinder.census.gov/. Accessed July 14, 2004

Vyas NB, Spann JW, Heinz GH, Beyer WN, Jaquette JA, Mengelkoch JM (2000) Lead poisoning of passerines at a trap and skeet range. Environ Poll 107:159–166

Weyers B, Gluck E, Stoeppler M (1985) Environmental monitoring of heavy metals with birds as pollution integrating biomonitors III. Fate and content of trace metals in blackbirds food, organs and feathers for a highly polluted and a control area. Int. Conf. "Heavy metals in the environment," Athens, V.1:718–720
Acknowledgments
This research was only possible thanks to the dedicated interest and help from the Neighborhood Nestwatch participants, some of whom provided vast amounts of information. Indispensable field assistants included Sara Campbell, Aviva Glaser, Joanna Hubbard, Michael Newhouse, and Sarah Rohrbach. Funding was provided by a Smithsonian Institution Graduate Fellowship, Mark Johnson of the U.S. Army Center of Health and Preventive Medicine, Toxicology Department and The Maryland Ornithological Society.
About this article
Cite this article
Roux, K.E., Marra, P.P. The Presence and Impact of Environmental Lead in Passerine Birds Along an Urban to Rural Land Use Gradient. Arch Environ Contam Toxicol 53, 261–268 (2007). https://doi.org/10.1007/s00244-006-0174-4
Received:

Accepted:

Published:

Issue Date:
Keywords
Body Condition

Lead Concentration

Ethylene Diamine Tetraacetic Acid

Ethylene Diamine Tetraacetic Acid

Blood Lead Level