Abstract
Health risk assessment of genetically modified organisms (GMOs) cultivated for food or feed is under debate throughout the world, and very little data have been published on mid- or long-term toxicological studies with mammals. One of these studies performed under the responsibility of Monsanto Company with a transgenic corn MON863 has been subjected to questions from regulatory reviewers in Europe, where it was finally approved in 2005. This necessitated a new assessment of kidney pathological findings, and the results remained controversial. An Appeal Court action in Germany (Münster) allowed public access in June 2005 to all the crude data from this 90-day rat-feeding study. We independently re-analyzed these data. Appropriate statistics were added, such as a multivariate analysis of the growth curves, and for biochemical parameters comparisons between GMO-treated rats and the controls fed with an equivalent normal diet, and separately with six reference diets with different compositions. We observed that after the consumption of MON863, rats showed slight but dose-related significant variations in growth for both sexes, resulting in 3.3% decrease in weight for males and 3.7% increase for females. Chemistry measurements reveal signs of hepatorenal toxicity, marked also by differential sensitivities in males and females. Triglycerides increased by 24–40% in females (either at week 14, dose 11% or at week 5, dose 33%, respectively); urine phosphorus and sodium excretions diminished in males by 31–35% (week 14, dose 33%) for the most important results significantly linked to the treatment in comparison to seven diets tested. Longer experiments are essential in order to indicate the real nature and extent of the possible pathology; with the present data it cannot be concluded that GM corn MON863 is a safe product.
Access options
Buy single article
Instant access to the full article PDF.
USD 39.95
Price excludes VAT (USA)
Tax calculation will be finalised during checkout.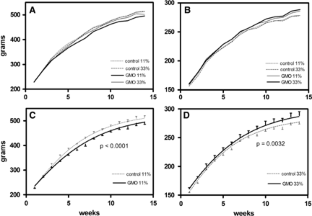 References
Akaike H (1974) A new look at the statistical model identification. IEEE Trans Automat Control 19:716–723

Castelli D, Seralini GE, Lafaurie M, Stora C (1986) Ovarian function during aflatoxin B1-induced hepatocarcinogenesis in the rat. Res Commun Chem Pathol Pharmacol 53:183–194

Clive J (2006) Global status of biotech/GM crops. ISAAA Briefs 35:1

Crawley MJ (2005) Statistics: an introduction using R. Wiley, London

Domingo JL (2000) Health risks of GM foods: many opinions but few data. Science 288:1748–1749

Hammond B, Lemen J, Dudek R, Ward D, Jiang C, Nemeth M, Burns J (2006) Results of a 90-day safety assurance study with rats fed grain from corn rootworm-protected corn. Food Chem Toxicol 44:147–160

Hard GC, Khan KN (2004) A contemporary overview of chronic progressive nephropathy in the laboratory rat, and its significance for human risk assessment. Toxicol Pathol 32:171–180

Huet S, Bouvier A, Poursat MA, Jolivet E (2004) Statistical tools for nonlinear regression. Springer-Verlag, New York

Ito A, Sasaguri Y, Kitada S, Kusaka Y, Kuwano K, Masutomi K, Mizuki E, Akao T, Ohba M (2004) Bacillus thuringiensis crystal protein with selective cytocidal action to human cells. J Biol Chem 279:21282–21286

Malatesta M, Biggiogera M, Manuali F, Rocchi MB, Baldelli B, Gazzanelli G (2003) Fine structural analyses of pancreatic acinar cell nuclei from mice fed on genetically modified soybean. Eur J Histochem 47:385–388

Malatesta M, Caporaloni C, Gavaudan S, Rocchi MB, Serafini S, Tiberi C, Gazzanelli G (2002) Ultrastructural morphometrical and immunocytochemical analyses of hepatocyte nuclei from mice fed on genetically modified soybean. Cell Struct Function 27:173–180

Meningaud JP, Moutel G, Herve C (2001) Ethical acceptability, health policy and foods biotechnology based foods: is there a third way between the precaution principle and on overly enthusiastic dissemination of GMO? Med Law 20:133–141

Miller N, Estoup A, Toepfer S, Bourguet D, Lapchin L, Derridj S, Kim KS, Reynaud P, Furlan L, Guillemaud T (2005) Multiple transatlantic introductions of the western corn rootworm. Science 310:992

Pitot HC, Campbell HA, Maronpot R, Bawa N, Rizvi TA, Xu YH, Sargent L, Dragan Y, Pyron M (1989) Critical parameters in the quantitation of the stages of initiation, promotion, and progression in one model of hepatocarcinogenesis in the rat. Toxicol Pathol 17:594–612

Rani SS, Balaraman K (1996) Effect of insecticidal crystal proteins of Bacillus thuringiensis on human erythrocytes in vitro. Indian J Exp Biol 34:1241–1244

Ratkowsky DA, (1990) Handbook of non linear regression models. Dekker, New York

Richard S, Moslemi S, Sipahutar H, Benachour N, Seralini GE (2005) Differential effects of glyphosate and Roundup on human placental cells and aromatase. Environ Health Perspect 113:716–720

Sarich TC, Youssefi M, Zhou T, Adams SP, Wall RA, Wright JM (1996) Role of hydrazine in the mechanism of isoniazid hepatotoxicity in rabbits. Arch Toxicol 70:835–840

Shaban NZ, Helmy MH, El-Kersh MA, Mahmoud BF (2003) Effects of Bacillus thuringiensis toxin on hepatic lipid peroxidation and free-radical scavengers in rats given alpha-tocopherol or acetylsalicylate. Comp Biochem Physiol C Toxicol Pharmacol 135:405–414

Vecchio L, Cisterna B, Malatesta M, Martin TE, Biggiogera M (2004) Ultrastructural analysis of testes from mice fed on genetically modified soybean. Eur J Histochem 48:449–454
Acknowledgments
We thank Anne-Laure Afchain for her help in statistical analyses, and the CRIIGEN scientific and administrative councils for expertise, and initiating judiciary actions by the former French minister of environment, Corinne Lepage, to obtain the data. We also thank Frederique Baudoin for secretarial assistance, and Dr. Brian John and Ian Panton for advising on the English revision of the manuscript. This work was supported by Greenpeace Germany who, in June 2005, won the Appeal Court action against Monsanto, who wanted to keep the data confidential. We acknowledge the French Ministry of Research and the member of Parliament François Grosdidier for a contract to study health assessments of GMOs, as well as the support of Carrefour Group, Quality, Responsibility and Risk Management.
About this article
Cite this article
Séralini, GE., Cellier, D. & de Vendomois, J.S. New Analysis of a Rat Feeding Study with a Genetically Modified Maize Reveals Signs of Hepatorenal Toxicity. Arch Environ Contam Toxicol 52, 596–602 (2007). https://doi.org/10.1007/s00244-006-0149-5
Received:

Accepted:

Published:

Issue Date:

DOI: https://doi.org/10.1007/s00244-006-0149-5
Keywords
Genetically Modify Maize

Monsanto Company

Shapiro Test

Urine Phosphorus

Kidney Parameter