Abstract
Na, K, Ca, Mg, Fe, Cu, Zn, Mn, Se, Ni, and Cd concentrations were determined in 126 mollusc samples belonging to five different species (Mytilus chilensis, n = 47; Nacella deaurata, n = 65; Aulacomya ater, n = 4; Fissurella picta, n = 4; Acanthina monodon, n = 6) collected from the coasts of the Strait of Magellan. The metals analysed presented significant differences between the mean concentrations for the mollusc species considered. Factor and discriminant analyses made possible the differentiation of the mollusc species. In addition, when discriminant analysis was used, good classifications were obtained according to sampling zone and weight-to-length ratio of the organisms.
Access options
Buy single article
Instant access to the full article PDF.
USD 39.95
Price excludes VAT (USA)
Tax calculation will be finalised during checkout.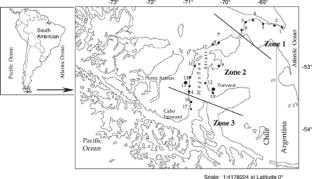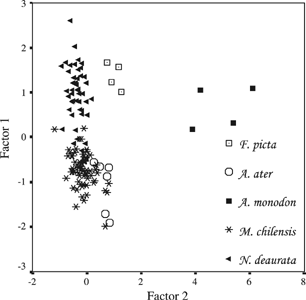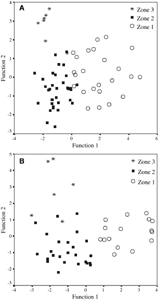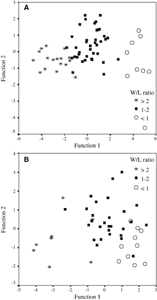 References
Astorga MS, Peña EM, Lecaros O, García F (1998) Heavy metals in Mytilus chilensis from the Strait of Magallenes (Chile). Mar Pollut Bull 7:542–546

Astorga-España MA, Peña-Méndez E, García-Montelongo FJ (1999) Application of principal component analysis to the study of major cations and trace metals in fish from Tenerife (Canary Islands). Chemometr Intell Lab 49:173–178

Astorga España MS, Rodríguez EM, Díaz Romero C (2004) Manganese, nickel, selenium and cadmium in mollusc from the Magellan Strait, Chile. Food Addit Contam 21:768–773

Astorga España MS, Rodríguez EM, Díaz Romero C (2005) Sodium, K, Ca, Mg, Fe, Cu and Zn concentrations in molluscs from the Magellan Strait (Chile): Their contribution to dietary intake. Int J Food Sci Nutr 56:337–347

DelValls TA, Blasco J, Sarasquete MC, Forja JM, Gomez-Parra A (1998) Evaluation of heavy metal sediment toxicity in litoral ecosystems using juveniles of the fish Sparus aurata. Ecotox Environ Safe 41:157–167

Food and Agricultural Organization (2005). Statistics Division Agricultural data of FAOSTAT. Available from: http://www.faostatfao.org. Accessed: October 10, 2005

Favretto L, Campisi B, Reisenhofer E, Adami G (1997) Terrigenous debris and mussel pollution—A differentiation based on trace element concentration by means of multivariate analysis. Anal Chim Acta 344:251–259

Goldberg ED, Bowen VY, Farrington JW, Harvey G, Martin JH, Paker PL, et al. (1978) The mussel watch. Environ Conserv 5:101–125

Machado Mesa L, Peña Méndez E, Sánchez M, García Montelongo F (1999) Interpretation of heavy metal data from mussel by use of multivariate classification techniques. Chemosphere 38:1103–1111

Pérez C (2004) Técnicas de análisis multivariante de datos. Aplicaciones con SPSS. Pearson Educación, Madrid, Spain

United National Environment Program (1993) United National Environment Program: environmental data report, 1993–1994. Blackwell, Oxford, UK

United Nations University (1994) Report of the UNU-IOC Workshop on Asia/Pacific Mussel Watch: Monitoring, research and training. Bali/Indonesia, November 18 to 21, 1994

Zhuang ZX, Wang XO, Yang CL, Zhu E, Yang PY (1995) Chemometric analysis of coastal water pollution by examination of marine organisms using atomic spectrometry. Microchem J 51:138–144
Acknowledgments
This work was financed in part by the Education Minister of Chile, Projects Mineduc-Acuicultura, and MECESUP MAG002. We also gratefully acknowledge the help of P. Dennis for improving the English in the manuscript.
About this article
Cite this article
España, M.S.A., Rodríguez, E.M.R. & Romero, C.D. Application of Chemometric Studies to Metal Concentrations in Molluscs from the Strait of Magellan (Chile). Arch Environ Contam Toxicol 52, 519–524 (2007). https://doi.org/10.1007/s00244-006-0104-5
Received:

Accepted:

Published:

Issue Date:

DOI: https://doi.org/10.1007/s00244-006-0104-5
Keywords
Metal Concentration

Discriminant Analysis

Linear Discriminant Analysis

Discriminant Function

Sampling Zone