Abstract
Copper and zinc toxicity to the freshwater alga Chlorella sp. was determined at a range of pH values (5.5–8.0) in a synthetic softwater (hardness 40–48 mg CaCO3/L). The effects of the metals on algal growth (cell division) rate were determined after 48-h exposure at pH 5.5, 6.0, 6.5, 7.0, 7.5, and 8.0. The toxicity of both metals was pH dependent. As pH decreased from 8.0 to 5.5, the copper concentration required to inhibit the algal growth rate by 50% (IC50) increased from 1.0 to 19 μg/L. For zinc, the IC50 increased from 52 to 2700 μg/L over the same pH range. Changes in solution speciation alone did not explain the increased toxicity observed as the pH increased. Modelled Cu2+ and Zn2+ concentrations decreased with increasing pH, whereas toxicity was observed to increase. Measurements of extracellular (cell-bound) metal concentrations support the biotic ligand model (BLM) theory of competition between protons (H+) and metals for binding sites at the algal cell surface. Higher extracellular metal concentrations were observed at high pH, indicating reduced competition. Independent of pH, both extracellular and intracellular copper were directly related to growth inhibition in Chlorella sp., whereas zinc toxicity was related to cell-bound zinc only. These findings suggest that the algal cell surface may be considered as the biotic ligand in further development of a chronic BLM with microalgae. Conditional binding constants (log K) were determined experimentally (using measured intracellular metal concentrations) and theoretically (using concentration-response curves) for copper and zinc for Chlorella sp. at selected pH values. Excellent agreement was found indicating the possibility of using concentration-response data to estimate conditional metal-cell binding constants.
This is a preview of subscription content,
to check access.
Access this article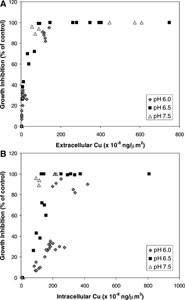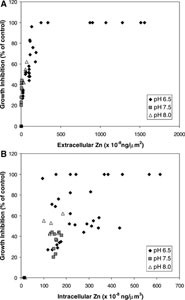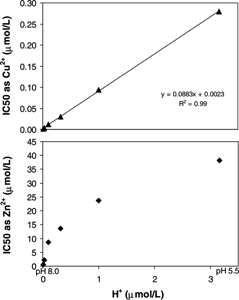 Similar content being viewed by others
References
Ahsanullah M, Williams AR (1991) Sublethal effects and bioaccumulation of cadmium, chromium, copper and zinc in the marine amphipod Allorchestes compressa. Mar Biol 108:59–65

Alsop DH, Wood CM (1999) Influence of waterborne cations on zinc uptake and toxicity in rainbow trout, Oncorhynchus mykiss. Can J Fish Aquat Sci 56:2112–2119

APHA, AWWA, WPCF (1995) Standard methods for examination of water and wastewater. 19 American Public Health Association, American Water and Wastewater Association, Water Pollution Control Federation, Washington, D.C

Brown PL, Markich SJ (2000) Evaluation of the free ion activity model of metal-organism interaction: Extension of the conceptual model. Aquat Toxicol 51:195–200

Brown PL, Haworth A, Sharland SM, Tweed CJ (1991) HARPHRQ: an extended version of the geochemical code PHREEQE. NSS/R188, UK Atomic Energy Authority, Oxford

Campbell PGC, Errecalde O, Fortin C, Hiriart-Baer VP, Vigneault B (2002) Metal bioavailability to phytoplankton: applicability of the biotic ligand model. Comp Biochem Physiol C 133:189–206

Cid A, Fidalogo P, Herrero C, Abalde J (1996) Toxic action of copper on the membrane system of a marine diatom measured by flow cytometry. Cytometry 25:32–36

Crist RH, Oberholser K, Schwartz D, Marzoff J, Ryder D, Crist DR (1988) Interactions of metals and protons with algae. Environ Sci Technol 22:755–760

Crist RH, Martin JR, Guptill PW, Eslinger JM, Crist DR (1990) Interactions of metals and protons with algae. Environ Sci Technol 24:337–342

Cusimano RF, Brakke DF, Chapman GA (1986) Effect of pH on the toxicities of cadmium, copper, and zinc to steelhead trout (Salmo gairdneri). Can J Fish Aquat Sci 43:1497–1503

De Schamphelaere KAC, Janssen CR (2002) A biotic ligand model predicting acute copper toxicity for Daphnia magna: the effects of calcium, magnesium, sodium, potassium and pH. Environ Sci Technol 36:48–54

De Schamphelaere KAC, Vasconncelos FM, Heijerick DG, Tack FMG, Delbeke K, Allen HE, Janssen CR (2003) Development and field validation of a predictive copper toxicity model for the green alga Pseudokirchneriella subcapitata. Environ Toxicol Chem 22:2454–2465

De Schamphelaere KAC, Stauber JL, Wilde KL, Markich SJ, Brown PL, Franklin NM, Creighton NM, Janssen CR (2005) Towards a biotic ligand model for algae: surface-bound and internal copper explain the effect of pH on copper toxicity to Chlorella sp. and Pseudokirchneriella subcapitata. Environ Sci Technol 39:2067–2072

Erickson RJ, Benoit DA, Mattson VR, Nelson HP, Leonard EN (1996) The effects of water chemistry on the toxicity of copper to fathead minnows. Environ Toxicol Chem 15:181–193

Florence TM, Lumsden BJ, Fardy JJ (1983) Evaluation of some physicochemical techniques for the determination of the fraction of dissolved copper toxic to the marine diatom Nitzschia closterium. Anal Chim Acta 151:281–295

Franklin NM, Stauber JL, Markich SJ, Lim RP (2000) pH-dependent toxicity of copper and uranium to a tropical freshwater alga (Chlorella sp.). Aquat Toxicol 48:275–289

Franklin NM, Adams MS, Stauber JL, Lim RP (2001a) Development of a rapid enzyme inhibition bioassay with marine and freshwater microalgae using flow cytometry. Arch Environ Contam Toxicol 40:469–480

Franklin NM, Stauber JL, Lim RP (2001b) Development of flow cytometry-based algal bioassays for assessing toxicity of copper in natural waters. Environ Toxicol Chem 20:160–170

Franklin NM, Stauber JL, Apte SC, Lim RP (2002a) Effect of initial cell density on the bioavailability and toxicity of copper in microalgal bioassays. Environ Toxicol Chem 21:742–751

Franklin NM, Stauber JL, Lim RP, Petocz P (2002b) Toxicity of metal mixtures to a tropical freshwater alga (Chlorella sp.): The effect of interactions between copper, cadmium, and zinc on metal cell binding and uptake. Environ Toxicol Chem 21:2412–2422

Galvez F, Webb N, Hogstrand C, Wood CM (1998) Zinc binding to the gills of rainbow trout: the effect of long-term exposure to sublethal zinc. J Fish Biol 52:1089–1104

Gavis J (1983) Toxic binding of cupric ion by marine phytoplankton. J Mar Res 41:53–63

Gonzalez-Davila M, Santana-Casiano J M, Perez-Pena J, Sillero FJ (1995) Binding of Cu(II) to the surface and exudates of the alga Dunaliella tertiolecta in seawater. Environ Sci Technol 29:289–301

Hassler CS, Wilkinson KJ (2003) Failure of the biotic ligand and free-ion activity models to explain zinc bioaccumulation by Chlorella kesslerii. Environ Toxicol Chem 22:620–626

Heijerick DG, De Schamphelaere KAC, Janssen CR (2002) Biotic ligand model development predicting Zn toxicity to the algae Raphidocelis subcapitata: possibilities and limitations. Comp Biochem Physiol C 133:207–218

Keifer E, Sigg L, Schosseler P (1997) Chemical and spectroscopic characterisation of algae surfaces. Environ Sci Technol 31:759–764

Knauer K, Behr R, Sigg L (1997) Adsorption and uptake of copper by the green alga Scenedesmus subspicatus (Chlorophyta). J Phycol 33:596–601

Ma M, Zhu W, Wang Z, Witkaamp GJ (2003) Accumulation, assimilation and growth inhibition of copper on freshwater alga (Scenedesmus subspicatus 86.81 SAG) in the presence of EDTA and fulvic acid. Aquat Toxicol 63:221–228

Macfie SM, Tarmohamed Y, Welbourn PM (1994) Effects of cadmium, cobalt, copper, and nickel on growth of the green alga Chlamydomonas reinhardtii: The influences of the cell wall and pH. Arch Environ Contam Toxicol 27:454–458

MacRae RK, Smith DE, Swoboda-colberg N, Meyer JS, Bergman HL (1999) Copper binding affinity of rainbow trout (Oncorhynchus mykiss) and brook trout (Salvenlinus fontinalis) gills: implications for assessing bioavailable metal. Environ Toxicol Chem 18:1180–1189

Markich SJ, Brown PL (1999) Thermochemical data (log K) for environmentally-relevant elements. 1. H, Na, K, Ca, Mg, Fe, Mn, U, Al, Pb, Cu and Cd with model fulvic acid (aspartate, citrate, malonate, salicylate and tricarballyate). ANSTO/E735, Australian Nuclear Science and Technology Organisation, Sydney, Australia

Meador JP (1991) The interaction of pH, dissolved organic carbon and total copper in the determination of ionic copper and toxicity. Aquat Toxicol 19:13–32

Parent L, Campbell PGC (1994) Aluminium bioavailability to the green alga Chlorella pyrenoidosa in acidified synthetic soft water. Environ Toxicol Chem 13:587–598

Peterson HG, Healey FP, Wagemann R (1984) Metal toxicity to algae: A highly pH dependent phenomenon. Can J Fish Aquat Sci 41:974–979

Peterson SM, Stauber JL (1996) A new algal enzyme bioassay for the rapid assessment of aquatic toxicity. Bull Environ Contam Toxicol 56:750–757

Playle RC, Dixon DG, Burnison K (1993) Copper and cadmium binding to fish gills: estimates of metal-gill stability constants and modelling of metal accumulation. Can J Fish Aquat Sci 50:2678–2687

Rai PK, Mallick N, Rai LC (1993) Physiological and biochemical studies on an acid-tolerant Chlorella vulgaris under copper stress. J Gen Appl Microbiol 39:529–540

Santore RC, Di Toro DM, Paquin PR, Allen HE, Meyer JS (2001) Biotic ligand model of the acute toxicity of metals. 2. Application to acute copper toxicity in freshwater fish and Daphnia. Environ Toxicol Chem 20:2397–2402

Seefeldt SS, Jensen JE, Fuerst EP (1995) Log-logistic analysis of herbicide dose-response relationships. Weed Technol 9:218–227

Sprague JB, Fogels A (1977) Watch the Y in bioassay. In: Proceedings 3rd Aquatic Toxicity Workshop, 2–3 November 1976, Halifax, NS, Canada, 107–114

Starodub ME, Wong PTS, Mayfield CI, Chau YK (1987) Influence of complexation and pH on individual and combined heavy metal toxicity to a freshwater green alga. Can J Fish Aquat Sci 44:1173–1180

Stauber JL, Davies CM (2000) Use and limitations of microbial bioassays for assessing copper bioavailability in the aquatic environment. Environ Rev 8:255–301

Stauber JL, Florence TM (1987) The mechanism of toxicity of ionic copper and copper complexes to algae. Mar Biol 94:511–519

Stauber JL, Florence TM (1990) Mechanism of toxicity of zinc to the marine diatom Nitzschia closterium. Mar Biol 105:519–524

Taylor LN, McGeer JC, Wood CM, McDonald DG (2000) Physiological effects of chronic copper exposure to rainbow trout (Oncorhynchus mykiss) in hard and soft water: evaluation of chronic indicators. Environ Toxicol Chem 19:2298–2308

Thompson AS, Rhodes JC, Pettman I (1988) Culture collection of algae and protozoa: catalogue of strains. Natural Environmental Research Council, Swindon, UK

USEPA 1994. Short-term methods for estimating the chronic toxicity of effluents and receiving waters to freshwater organisms, 3rd ed. EPA-600-4-91-002 U.S. Environmental Protection Agency, Cincinnati, OH.

Wong SL, Nakamoto L, Wainwright JF (1994) Identification of toxic metals in affected algal cells in assays of wastewaters. J Appl Phycol 6:405–414
Acknowledgments
This research was partly funded by the Co-operative Research Centre for Waste Management and Pollution Control, under the Australian Co-operative Research Centre Program. The authors would like to thank Henri Wong and Robert Chisari (ANSTO) for chemical analyses and Leigh Hales (CSIRO) for valued assistance with GFAAS analyses. The technical assistance of Nicola Creighton, Merrin Adams and Monique Binet is gratefully acknowledged.
About this article
Cite this article
Wilde, K.L., Stauber, J.L., Markich, S.J. et al. The Effect of pH on the Uptake and Toxicity of Copper and Zinc in a Tropical Freshwater Alga (Chlorella sp.). Arch Environ Contam Toxicol 51, 174–185 (2006). https://doi.org/10.1007/s00244-004-0256-0
Received:

Accepted:

Published:

Issue Date:

DOI: https://doi.org/10.1007/s00244-004-0256-0
Keywords