Abstract
Cigarette butts are the most numerically frequent form of litter in the world. In Australia alone, 24–32 billion cigarette butts are littered annually. Despite this littering, few studies have been undertaken to explore the toxicity of cigarette butts in aquatic ecosystems. The acute toxicity of 19 filtered cigarette types to Ceriodaphnia cf. dubia (48-hr EC50 (immobilization)) and Vibrio fischeri (30-min EC50 (bioluminescence)) was determined using leachates from artificially smoked cigarette butts. There was a 2.9- and 8-fold difference in toxicity between the least and most toxic cigarette butts to C. cf. dubia and V. fischeri, respectively. Overall, C. cf. dubia was more inherently sensitive than V. fischeri by a factor of approximately 15.4, and the interspecies relationship between C. cf. dubia and V. fischeri was poor (R2 = 0.07). This poor relationship indicates that toxicity data for cigarette butts for one species could not predict or model the toxicity of cigarette butts to the other species. However, the order of the toxicity of leachates can be predicted. It was determined that organic compounds caused the majority of toxicity in the cigarette butt leachates. Of the 14 organic compounds identified, nicotine and ethylphenol were suspected to be the main causative toxicants. There was a strong relationship between toxicity and tar content and between toxicity and nicotine content for two of the three brands of cigarettes (R2 > 0.70) for C. cf. dubia and one brand for V. fischeri. However, when the cigarettes were pooled, the relationship was weak (R2 < 0.40) for both test species. Brand affected the toxicity to both species but more so for V. fischeri.
This is a preview of subscription content, log in to check access.
Access options
Buy single article
Instant access to the full article PDF.
US$ 39.95
Price includes VAT for USA
Subscribe to journal
Immediate online access to all issues from 2019. Subscription will auto renew annually.
US$ 199
This is the net price. Taxes to be calculated in checkout.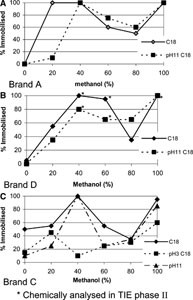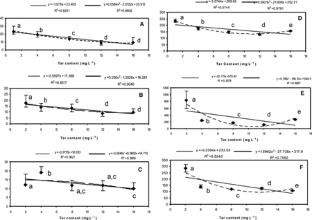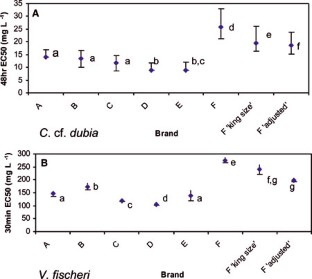 References
ASTM (1992) Standard guide for conducting toxicity tests on aqueous effluents with fishes, macro-invertebrates, and amphibians. Designation, E1192–88, Vol 11. American Society for Testing and Materials, Philadelphia, Pennsylvania, 04:812–828

Cigarette Litter Organisation (2001) The awful truth about cigarette litter. http://www.cigarettelitter.org/ (Date Accessed: 15/04/03)

Cleanup Australia (2002) Rubbish report: A snapshot. Cleanup Australia, Sydney, Australia. http://www.cleanup.com.au/ (Accessed on 15/04/03)

Glantz SA, Slade J, Bero LA, Hanauer P, Barnes DE (1996) The cigarette papers. University of California Press, Berkeley. http://www.ark.cdlib.org/ark:/13030/ft848925j/ (Accessed on 15/04/03)

Gulley DD(1996) TOXSTAT® 3.5, Western Ecosystems Technology Inc., Cheyenne, Wyoming

Hamilton MA, Russo RC, Thurston RV (1977) Trimmed Spearman Karber method for estimating median lethal concentrations in toxicity bioassays. Environ Sci Tech 11: 714–719. Correction (1978) 12:417

Hoffman D, Hoffman I (1997) The changing cigarette. J Toxic Environ Health 15: 307–364

Julli M, Chapman J, Thompson GT (1990) Use of Australian cladocerans to generate life-cycle toxicity data. Environ Monitor Assess 14: 353–362

Konar SK (1970) Nicotine as fish poison. Prog Fish Cult 32:103–104

Konar SK (1977) Toxicity of nicotine to aquatic life. Ind J Fish 24:124–128

Le Blanc GA (1984) Interspecies relationships in acute toxicity of chemicals to aquatic organisms. Environ Toxic Contam 3:47–60

Li S, Banyasz JL, Parrish ME, Lyons-Hart J, Shafer KH (2002) Formaldehyde in the gas phase of mainstream smoke. J Analyt Appl Pyrol 65:137–145

Lucas C (2002) The butt stops here. In The Melbourne Times, Issue 39, October 16, pp 8–9

Microbics Corporation (1998) Microbics Corporation Microtox manual: detailed protocols. 2nd edition. Microbics, California

NSW EPA (2001) Laboratory procedures manual. NSW EPA. Ecotoxicology section. Issue number 11. Sydney, Australia

Novotney TE, Zhao F. 1999. Consumption and production waste: another externality of tobacco use. Tobac Contr 8:75–80

Register K (2000) Cigarette butts as litter—toxic as well as ugly? Bull Am Litt Soc 25:23–29

Rose RM, Warne MStJ, Lim RP (1997) Inter-species conversion equations for predicting the toxicity of non-polar narcotic chemicals to Ceriodaphnia cf. dubia. Austral J Ecotox 3:75–83

Sprague JB, Fogels A (1978) Watch the Y in bioassay. Environment Protection Service, Halifax, Canada, pp 107–118

US EPA (1991) Methods for aquatic toxicity identification and evaluations: Phase 1 toxicity characterisation procedures. US EPA, Duluth, Minnesota

US EPA (1993a) Methods for measuring the acute toxicity of effluents and receiving waters to freshwater and marine organisms. EPA/600/4- 90/027F, 4th ed. US EPA, Duluth, Minnesota

US EPA (1993b) Methods for aquatic toxicity identification and evaluation: Phase 2 toxicity identification procedures for samples exhibiting acute and chronic toxicity. US EPA, Duluth, Minnesota

US EPA (1993c) Methods for aquatic toxicity identification evaluations: Phase 3 toxicity confirmation procedures for samples exhibiting acute and chronic toxicity. US EPA, Duluth, Minnesota

Victorian Litter Action Alliance (2002) Fact sheet—cigarette butt litter. http://www.litter.vic.gov.au/ (Accessed on 15/04/03) Warne MStJ (1991) Mechanisms and prediction of non-specific toxicity of individual compounds and mixtures. Ph.D. thesis, Griffith University, Brisbane, Australia.

Warne MStJ, Patra R, Cole B, Lanau B (in preparation) Toxicity of cigarette butts and their constituents on a freshwater cladoceran and a marine bacterium

Westbury AM, Warne MStJ, Lim R (2004) Toxicity of and development of predictive models for substituted phenols to Ceriodaphnia cf. dubia and Vibrio fischeri. Austral J Ecotox 10:33–42
About this article
Cite this article
Micevska, T., Warne, M.S.J., Pablo, F. et al. Variation in, and Causes of, Toxicity of Cigarette Butts to a Cladoceran and Microtox. Arch Environ Contam Toxicol 50, 205–212 (2006). https://doi.org/10.1007/s00244-004-0132-y
Received:

Accepted:

Published:

Issue Date:
Keywords
Nicotine

Nicotine Content

Cigarette Tobacco

Ethylphenol

Cigarette Butt