Abstract
Numerous environmental contaminants have been identified as endocrine disruptors (EDs) — substances that alter endocrine homeostasis by interfering with the biological action, production, or pharmacokinetics of endogenous hormones. Xenoestrogens are those EDs whose biological activity is similar to endogenous estrogen. This report presents data that identified Surflan, a proprietary herbicide emulsion, and its active ingredient oryzalin as xenoestrogens. In vitro, Surflan and oryzalin activated an estrogen-inducible reporter gene, and oryzalin competitively displaced 17β-estradiol from the estrogen receptor. In vivo, Surflan and oryzalin induced expression of estrogen-regulated high-molecular-weight choriogenin genes in medaka (Oryzias latipes). These results are consistent with the characteristics of previously identified xenoestrogens and indicate that Surflan and oryzalin have the potential to adversely affect numerous estrogen-regulated biological processes.
Access options
Buy single article
Instant access to the full article PDF.
USD 39.95
Price excludes VAT (USA)
Tax calculation will be finalised during checkout.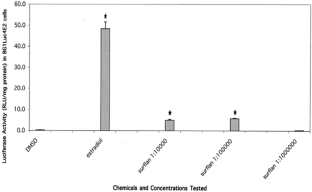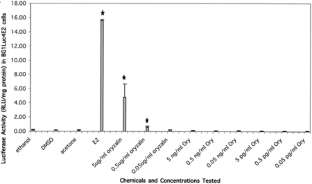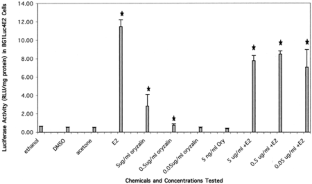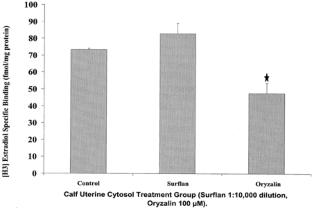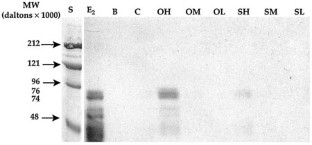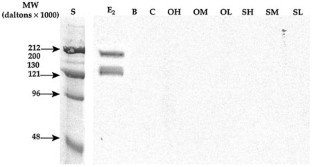 References
H Andersen A-M Anderson S Arnold H Autrup M Barfoed N Beresford et al. (1999) ArticleTitleComparison of short-term estrogenicity tests for identification of hormone-disrupting chemicals Environ Health Perspect 107 IssueIDSuppl 1 89–108

A Arukwe FR Knudsen A Goksoy (1997) ArticleTitleFish zona radiata (eggshell) protein: A sensitive biomarker for environmental estrogens Environ Health Perspect 105 IssueID4 418–422

R Bjerselius K Lundstedt-Enkel H Olse I Mayer K Dimberg (2001) ArticleTitleMale goldfish reproductive behavior and physiology are severely affected by exogenous exposure to 17β-estradiol Aquat Toxicol 53 139–152

J Bouma JJ Nagler (2001) ArticleTitleEstrogen receptor-α protein localization in the testis of the rainbow trout (Oncorhynchus mykiss) during different stages of the reproductive cycle Biol Repro 65 60–65

CJ Bowman KJ Kroll MJ Hemmer LC Folmar ND Denslow (2000) ArticleTitleEstrogen-induced vitellogenin mRNA and protein in sheepshead minnow (Cyprinodon variegatus) Gen Comp Endocrinol 120 300–313

AM Brzozowski AC Pike Z Dauter RE Hubbard T Bonn O Engstrom et al. (1997) ArticleTitleMolecular basis of agonism and antagonism in the oestrogen receptor Nature 389 753–758 Occurrence Handle10.1038/39645 Occurrence Handle1:CAS:528:DyaK2sXmvVSnt74%3D Occurrence Handle9338790

California Department of Pesticide Regulation (1998) Summary of Pesticide Use Report Data 1998 Indexed by Chemical. California Department of Pesticide Regulation, Sacramento, CA. Available at:http://www.cdpr.ca.gov/index.htm

California Department of Pesticide Reguation (2000) Summary of pesticide Use Report Data 2000 Indexed by Chemical. California Department of Pesticide Regulation, Sacramento, CA. Available at http://www.cdpr.ca.gov/index.htm

Cayman Chemical Company (2002) Product number Vtg-04. Product description Mouse anti-striped bass vitellogenin, monoclonal antibody, ND-1C8. Available at: http://www.caymanchem.com

T Celius BT Walther (1998a) ArticleTitleDifferential sensitivity of zonagenesis and vitellogenesis in Atlantic salmon (Salmo salar L.) to DDT pesticides J Exp Zool 281 346–353

T Celius BT Walther (1998b) ArticleTitleOogenesis in Atlantic salmon (Salmo salar L.) occurs by zonagenesis preceding vitellogenesis in vivo and in vitro J Endocrinol 158 259–266

T Celius J Matthew J Giesy T Zacharewski (2000) ArticleTitleQuantification of rainbow trout (Oncorhynchus mykiss) zona radiata and vitellogenin mRNA levels using real-time PCR after in vivo treatment with estradiol-17β or α-zearalenol J Steroid Biochem Mol Biol 75 109–119

A Cheek T Brouwer S Carroll S Manning J McLachlan M Brouwer (200l) ArticleTitleExperimental evaluation of vitellogenin as a predictive biomarker for reproductive disruption Environ Health Perspect 109 681–690

I Chester-Jones P Ingleton J Phillips (Eds) (1987) Fundamentals of comparative vertebrate endocrinology Plenum Press New York

EP Gelman (2002) ArticleTitleMolecular biology of the androgen receptor J Clin Oncol 20 3001–3015

MA Gray KL Teather CD Metcalfe (1999) ArticleTitleReproductive success and behavior of Japanese medaka (Oryzias latipes) exposed to 4-tert-octylphenol Environ Toxicol Chem 18 2587–2594

S Gronen N Denslow S Manning S Barnew D Barnes M Brouwer (1999) ArticleTitleSerum vitellogenin levels and reproductive impairment of male Japanese medaka (Oryzias latipes) exposed to 4-tert-octylphenol Environ Health Perspect 107 385–390

TS Hamazaki I Iuchi K Yamagami (1987a) ArticleTitleProduction of a "spawning female-specific substance" in hepatic cells and its accumulation in the ascites of the estrogen-treated adult fish, Oryzias latipes J Exp Zool 242 325–332

Hamazaki TS, Iuchi I, Yamagami K (1987b) Isolation and partial characterization of a "spawning female-specific substance" in the teleost, Oryzias latipes. J Exp Zool 343–349

M Hawkins J Thornton D Crews J Skipper A Dotte P Thomas (2000) ArticleTitleIdentification of a third distinct estrogen receptor and reclassification of estrogen receptors in teleosts Proc Natl Acad Sci 97 10751–10756 Occurrence Handle10.1073/pnas.97.20.10751 Occurrence Handle1:CAS:528:DC%2BD3cXnt1aiu7o%3D Occurrence Handle11005855

SA Heppel ND Denslow LC Folmar CV Sullivan (1995) ArticleTitleUniversal assay of vitellogenin as a biomarker for environmental estrogens Environ Health Perspect 103 IssueIDSupp1 7 9–15

Horning W, Weber C (1985) Short-term methods for estimating chronic toxicity of effluents and receiving waters to freshwater organisms. EPA/600/4-85/014, pp. 58–75

Huang XT, Pederson T, Given S, Fischer M, Young T (2001) Field monitoring and treatment of herbicide runoff from highway roadsides. Division of Environmental Chemistry Preprints of Extended Abstracts, Vol, 41. No. 1. American Chemical Society National Meeting, Chicago, IL

SJ Hyllner C Silversand C Haux (1994) ArticleTitleFormation of the vitelline envelope precedes the active uptake of vitellogenin during oocyte development in the rainbow trout, Oncorhynchus mykiss Mol Reprod Dev 39 166–175

BS Katzenellenbogen MM Monano TR Ediger J Sun K Ekena G Lazennec et al. (2000) ArticleTitleEstrogen receptor: selective ligands, partners and distinctive pharmacology Rec Prog Horm Res 55 163–193

H Kidd DR James (Eds) (1991) The agrochemicals handbook EditionNumber3 Royal Society of Chemistry Information Services Cambridge, UK

SA Kleiwer JM Lehmann MV Milburn TM Willson (1999) ArticleTitleThe PPARs and PXRs: Nuclear xenobiotic receptors that define novel hormone signaling pathways Rec Prog Horm Res 54 345–368

JJ Korte KM Kahl KM Jensen MS Pasha LG Parks GA LeBlanc et al. (2000) ArticleTitleFathead minnow vitellogenin: Complementary DNA sequence and messenger RNA and protein expression after 17β-estradiol treatment Environ Toxicol Chem 19 972–981

CG Kuiper B Carlsson K Grandien E Enmark J Haggblad S Nilsson et al. (1997) ArticleTitleComparison of the ligand binding specificity and transcript tissue distribution of estrogen receptors α and β Endocrinology 138 863–870 Occurrence Handle10.1210/en.138.3.863 Occurrence Handle1:CAS:528:DyaK2sXht1OksrY%3D Occurrence Handle9048584

JJ Lech SK Lewis L Ren (1996) ArticleTitleIn vivo activity of nonylphenol in rainbow trout Fundam Appl Toxicol 30 229–232

K Le Guellec K Lawless Y Valotaire M Kress M Tenniswood (1988) ArticleTitleVitellogenin gene expression in male rainbow trout (Salmo gairdneri) Gen Comp Endocrinol 71 359–371

EH Lim JL Ding TJ Lam (1991) ArticleTitleEstradiol-induced vitellogenin gene expression in a teleost fish, Oreochromis aureus Gen Comp Endocrinol 82 206–214

OH Lowry NJ Rosebrough AL Farr RJ Randall (1951) ArticleTitleProtein measurement with the folin phenol reagent J Biol Chem 193 265–275 Occurrence Handle1:CAS:528:DyaG38XhsVyrsw%3D%3D Occurrence Handle14907713

K Murata TS Hamazaki I Iuchi K Yamagami (1991) ArticleTitleSpawning female specific egg envelope glycoprotein-like substances in Oryzias latipes Dev Growth Differ 33 553–562

K Murata I Iuchi K Yamagami (1993) ArticleTitleIsolation of H-SF substances, the high-molecular-weight precursors of egg envelope proteins, from the ascites accumulated in the oestrogen-treated fish, Oryzias latipes Zygote 1 315–324

K Murata I Iuchi K Yamagami (1994) ArticleTitleSynchronous production of the low- and high-molecular weight precursors of the egg envelope subunits, in response to estrogen administration in the teleost fish Oryzias latipes Gen Comp Endocrinol 95 232–239

K Murata T Sasaki S Yasamasu I Iuchi J Enami I Yasamasu et al. (1995) ArticleTitleCloning ot cDNAs for the precursor protein of a low-molecular-weight subunit of the inner layer of the egg envelope (chorion) of the fish Oryzias latipes Dev Biol 167 9–17

K Murata K Yamamoto I Iuchi I Yasamasu K Yamagami (1997a) ArticleTitleIntrahepatic expression of genes encoding choriogenins: Precursor proteins of the egg envelope of fish, the medaka, Oryzias latipes Fish Physiol Biochem 17 135–142

K Murata H Sugiyama S Yasamasu I Iuchi I Yasamasu K Yamagami (1997b) ArticleTitleCloning of cDNA and estrogen-induced hepatic gene expression for choriogenin-H, a precursor protein of the fish egg envelope (chorion) Proc Natl Acad Sci USA 94 2050–2055

A Nimrod W Benson (1996) ArticleTitleEnvironmental estrogenic effects of alkylphenol polyethoxylates Crit Rev Toxicol 26 235–364

DO Oppen-Berntsen E Gram-Jensen BT Walther (1992) ArticleTitleZona radiata proteins are synthesized by rainbow trout (Oncorhynchus mykiss) hepatocytes in response to oestradiol-17β J Endocrinol 135 293–302

F Pakdel S Feon F Le Gac F Le Menn Y Valotaire (1991) ArticleTitleIn vivo induction of the hepatic estrogen receptor mRNA and correlation with vitellogenin mRNA in rainbow trout Mol Cell Endocrinol 75 205–212

JM Rogers MS Denison (2000) ArticleTitleRecombinant cell bioassays for endocrine disruptors: Development of a stably transfected human ovarian cell line for the detection of estrogenic and antiestrogenic chemicals In Vitro Mol Toxicol 13 67–82

M Schapira BM Raaka S DaS L Fan M Totrov Z Zhou et al. (2003) ArticleTitleDiscovery of diverse thyroid hormone receptor antagonists by high-throughput docking Proc Natl Acad Sci USA 100 7354–7359

DJ Shapiro HJ Barker DT Stitt (1976) ArticleTitleIn vitro translation and estradiol-17beta induction of Xenopus laevis vitellogenin messenger RNA J Biol Chem 251 3105–3111

J Sherry A Gamble M Fielden P Hodson B Burnison K Solomon (1999) ArticleTitleAn ELISA for brown trout (Salmo trutta) vitel1ogenin and its use in bioassays for environmental estrogens Sci Total Environ 225 13–31

JR Tata DF Smith (1979) ArticleTitleVitellogenesis: A versatile model for hormonal regulation of gene expression Rec Prog Horm Res 35 47–90

S Thompson F Tilton D Schlenk WH Benson (2000) ArticleTitleComparative vitellogenic resposes in three teleost species: extrapolation to in situ field studies Mar Environ Res 51 185–189

InstitutionalAuthorNameUnited States Environmental Protection Agency (1990) ArticleTitlePesticide tolerance for oryzalin Fed Reg 55 25140–25141

R White S Jobling SA Hoare JP Sumpter MG Parker (1994) ArticleTitleEnvironmentally persistent alkylphenolic compounds are estrogenic Endocrinology 135 175–182 Occurrence Handle10.1210/en.135.1.175 Occurrence Handle1:CAS:528:DyaK2cXkslGlsL8%3D Occurrence Handle8013351

T Zacharewski (1998) ArticleTitleIdentification and assessment of endocrine disruptors: Limitations of in vivo and in vitro assays Environ Health Perspect 106 IssueIDsuppl 2 577–582

MH Ziccardi IA Gardner MS Denison (2000) ArticleTitleDevelopment and modification of a recombinant cell bioassay to directly detect halogenated and polycyclic aromatic hydrocarbons in serum Toxicol Sci 54 183–193
About this article
Cite this article
Hall, L.C., Rogers, J.M., Denison, M.S. et al. Identification of the Herbicide Surflan and Its Active Ingredient Oryzalin, a Dinitrosulfonamide, as Xenoestrogens. Arch Environ Contam Toxicol 48, 201–208 (2005). https://doi.org/10.1007/s00244-003-0164-8
Received:

Accepted:

Published:

Issue Date:

DOI: https://doi.org/10.1007/s00244-003-0164-8
Keywords
Estrogenic Activity

Striped Bass

Mouse Mammalian Tumor Virus

Oryzalin

Competitive Displacement