Abstract
Better endoscopic vision is mandatory for successful ureteroscopic stone operations to achieve shorter operating time. However, an important impairing factor for a good endoscopic view is the cloudiness of vision which was formed during laser fragmentation. Holmium laser fragmentation of calcium oxalate stones produces calcium carbonate solubility of which is dependent on pH, citrate, and phosphate. In this ex vivo research, the solubility of calcium carbonate has been investigated in solutions composed of various concentrations of citrate and phosphate buffered at different pH levels after laser fragmentation of calcium oxalate stones. Calcium oxalate stones were placed into the laboratory tubes filled with various concentrations of citrate–phosphate buffers with different pH values. Laser energy in dusting mode was applied to the stones and spectrophotometric measurement for optical density (OD) was calculated for each buffered solution for clarity comparison. In the first phase, solutions composed of four different molar concentrations of citrate–phosphate buffer (0.2, 0.3, 0.4 and 0.5 molars) at various pH levels were used. Then, the next phase of the study was designed to compare solutions demonstrating the lowest OD values with an isotonic saline solution. The results were most convenient at 0.5 molarity (pH = 6) followed by 0.4 molarity (pH = 7) in the first phase (OD values of 0.054 and 0.065, respectively). In the next phase, OD values of both buffered solutions were significantly lower than those of isotonic saline solution (p = 0). Two specific buffers have provided better optic visibility values after laser fragmentation supporting their use as an irrigation solution for the favor of less cloudiness.
Access options
Buy single article
Instant access to the full article PDF.
USD 39.95
Price includes VAT (USA)
Tax calculation will be finalised during checkout.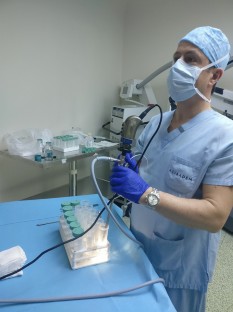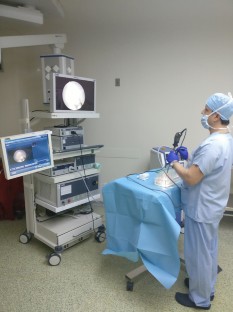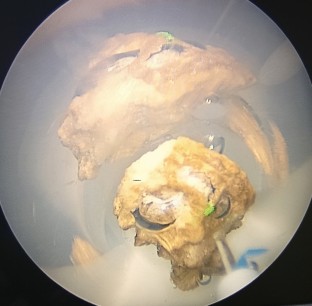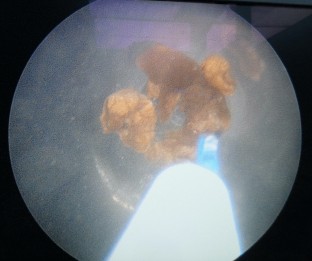 Availability of data and materials
All data and materials as well as software applications comply with field standards. The authors accept to share their data in case of acceptance of their study to be published in this journal.
References
1.

Wright AE, Rukin NJ, Somani BK (2014) Ureteroscopy and stones: current status and future expectations. World J Nephrol 3(4):243–248. https://doi.org/10.5527/wjn.v3.i4.243 (PMID: 25374818; PMCID: PMC4220357)

2.

Smith AD, Preminger G, Badlani G, Kavoussi L (2012) Smith's textbook of endourology, 3rd edn. Wiley, USA, pp 365–387

3.

Somani BK, Al-Qahtani SM, de Medina SD, Traxer O (2013) Outcomes of flexible ureterorenoscopy and laser fragmentation for renal stones: comparison between digital and conventional ureteroscopes. Urology 82(5):1017–1019. https://doi.org/10.1016/j.urology.2013.07.017 (Epub 2013 Aug 31 PMID: 24001703)

4.

Vassar GJ, Chan KF, Teichman JM, Glickman RD, Weintraub ST, Pfefer TJ, Welch AJ (1999) Holmium: YAG lithotripsy: photothermal mechanism. J Endourol 13(3):181–190. https://doi.org/10.1089/end.1999.13.181 (PMID: 10360498)

5.

Greenwald I (1945) The effect of phosphate on the solubility of calcium carbonate and of bicarbonate on the solubility of calcium and magnesium phosphates. J Biol Chem 161:697–704 (PMID: 21006952)

6.

Singh I (2008) Renal geology (quantitative renal stone analysis) by "Fourier transform infrared spectroscopy." Int Urol Nephrol 40(3):595–602. https://doi.org/10.1007/s11255-007-9327-2 (Epub 2008 Jan 26 PMID: 18228157)

7.

Wilson WT, Preminger GM (1990) Intrarenal pressures generated during flexible deflectable ureterorenoscopy. J Endourol 4:135–141. https://doi.org/10.1089/end.1990.4.135

8.

Asplin JR (2008) Nephrolithiasis: introduction. Semin Nephrol 28(2):97–98. https://doi.org/10.1016/j.semnephrol.2008.02.001 (PMID: 18359390)

9.

Chaudhary A, Singla SK, Tandon C (2010) In vitro evaluation of terminalia arjuna on calcium phosphate and calcium oxalate crystallization. Indian J Pharm Sci 72(3):340–345. https://doi.org/10.4103/0250-474X.70480 (PMID:21188043;PMCID:PMC3003167)

10.

Pak CY, Poindexter JR, Adams-Huet B, Pearle MS (2003) Predictive value of kidney stone composition in the detection of metabolic abnormalities. Am J Med 115(1):26–32. https://doi.org/10.1016/s0002-9343(03)00201-8 (PMID: 12867231)

11.

Kawahara T, Miyamoto H, Ito H et al (2016) Predicting the mineral composition of ureteral stone using non-contrast computed tomography. Urolithiasis 44(3):231–239. https://doi.org/10.1007/s00240-015-0823-z (Epub 2015 Oct 1 PMID: 26427864)

12

Jung H, Osther PJ (2015) Intraluminal pressure profiles during flexible ureterorenoscopy. Springerplus 4:373. https://doi.org/10.1186/s40064-015-1114-4 (PMID: 26217550; PMCID: PMC4513000)

13.

Rehman J, Monga M, Landman J et al (2003) Characterization of intrapelvic pressure during ureteropyeloscopy with ureteral access sheaths. Urology 61(4):713–718. https://doi.org/10.1016/s0090-4295(02)02440-8 (PMID: 12670551)

14.

Kramer GC, Walsh JC, Perron PR, Gunther RA, Holcroft JW (1989) Comparison of hypertonic saline/dextran versus hypertonic saline/hetastarch for resuscitation of hypovolemia. Braz J Med Biol Res 22(2):279–282 (PMID: 2477094)

15.

Boom CE, Herdono P, Koto CG, Hadi S, Permana IM (2013) Effect of hyperosmolar sodium lactate infusion on haemodynamic status and fluid balance compared with hydroxyethyl starch 6% during cardiac surgery. Indian J Anaesth 57(6):576–582. https://doi.org/10.4103/0019-5049.123330 (PMID:24403617;PMCID:PMC3883392)

16.

Rocha Silva M, Velasco IT, Nogueira da Silva RI, Oliveira MA, Negraes GA, Oliveira MA (1987) Hyperosmotic sodium salts reverse severe hemorrhagic shock: other solutes do not. Am J Physiol 253(4Pt2):H751–H762. https://doi.org/10.1152/ajpheart.253.4.H751 (PMID: 2821831)

17.

Capito NM, Cook JL, Yahuaca B, Capito MD, Sherman SL, Smith MJ (2017) Safety and efficacy of hyperosmolar irrigation solution in shoulder arthroscopy. J Shoulder Elbow Surg 26(5):745–751. https://doi.org/10.1016/j.jse.2017.02.021 (Epub 2017 Mar 18 PMID: 28318850)

18.

Eltawil NM, Howie SE, Simpson AH, Amin AK, Hall AC (2015) The use of hyperosmotic saline for chondroprotection: implications for orthopaedic surgery and cartilage repair. Osteoarthr Cartil 23(3):469–477. https://doi.org/10.1016/j.joca.2014.12.004 (Epub 2014 Dec 11 PMID: 25497864)

19.

Burg MB, Ferraris JD, Dmitrieva NI (2007) Cellular response to hyperosmotic stresses. Physiol Rev 87(4):1441–1474. https://doi.org/10.1152/physrev.00056.2006 (PMID: 17928589)

20.

Fostvedt GA, Barnes RW (1963) Complications during lavage therapy for renal calculi. J Urol 89:329–331. https://doi.org/10.1016/s0022-5347(17)64553-1 (PMID: 13958911)

21.

Collins S, Ortiz J, Maruffo F et al (2007) Expedited struvite-stone dissolution using a high-flow low-pressure irrigation system. J Endourol 21(10):1153–1158. https://doi.org/10.1089/end.2007.9916 (PMID: 17949316)

22.

Grasso M, Conlin M, Bagley D (1998) Retrograde ureteropyeloscopic treatment of 2 cm. or greater upper urinary tract and minor Staghorn calculi. J Urol 160(2):346–351 (PMID: 9679874)

23.

Sutton RA, Wong NL, Dirks JH (1979) Effects of metabolic acidosis and alkalosis on sodium and calcium transport in the dog kidney. Kidney Int 15(5):520–533. https://doi.org/10.1038/ki.1979.67 (PMID: 480784)

24

Yorgin PD, Rhee KH (1999) Gas exchange and acid-base physiology. In: Taussig LM, Landau LI, Le Souëf PN, Martinez FD, Morgan WJ, Sly PD (eds) Pediatric respiratory medicine. Mosby, St Louis, pp 212–243

25.

Perkins JG, Cap AP, Weiss BM, Reid TJ, Bolan CD (2008) Massive transfusion and nonsurgical hemostatic agents. Crit Care Med 36(7 Suppl):S325–S339. https://doi.org/10.1097/CCM.0b013e31817e2ec5 (Erratum in: Crit Care Med 2008 Sep; 36(9):2718. Bolan, Charles E [corrected to Bolan, Charles D] PMID: 18594260)

26.

Grosskopf I, Graff E, Charach G, Binyamin G, Spinrad S, Blum I (1991) Hyperphosphatemia and hypocalcemia induced by hypertonic phosphate enema–an experimental study and review of the literature. Hum Exp Toxicol 10(5):351–355. https://doi.org/10.1177/096032719101000509 (PMID: 1683549)

27.

Razzaque MS (2011) Phosphate toxicity: new insights into an old problem. Clin Sci (Lond) 120(3):91–97. https://doi.org/10.1042/CS20100377 (PMID:20958267;PMCID:PMC3120105)

28

Reddi BA (2013) Why is saline so acidic (and does it really matter?). Int J Med Sci 10(6):747–750. https://doi.org/10.7150/ijms.5868 (PMID: 23630439; PMCID: PMC3638298)

29

Chen L (2015) The myth of 0.9% saline: neither normal nor physiological. Crit Care Nurs Q 38(4):385–389. https://doi.org/10.1097/CNQ.0000000000000084 (PMID: 26335217)
Funding
This study received no specific grant from any funding agency in the public, commercial or not‐for‐profit sectors.
Ethics declarations
Conflict of interest
The authors declare they have no potential conflict of interest regarding the investigation, authorship, and/or publication of this article.
Ethical approval
This study was approved by the Acibadem Mehmet Ali Aydınlar University, Medical School, Board of Ethics Committee with the Approval No. 2107/9.
Consent to participate
The consent form is available to the Editor if requested, and will be treated confidentially.
Consent for publication
A written informed consent for the publication of any associated data and accompanying images of the human materials (kidney stones) was obtained from all patients.
Additional information
Publisher's Note
Springer Nature remains neutral with regard to jurisdictional claims in published maps and institutional affiliations.
About this article
Cite this article
Eren, M.T., Özveri, H., Kolay, M. et al. Ex vivo study: is it possible to overcome the blurriness caused by holmium laser fragmentation of kidney stones?. Urolithiasis (2021). https://doi.org/10.1007/s00240-021-01285-z
Received:

Accepted:

Published:
Keywords
Calcium oxalate stone

Retrograde intrarenal surgery

Holmium laser

Chemolysis