Abstract
To evaluate the efficacy of a unique imaging software "OptiVision" on the confidence of stone identification using X-ray imaging during shockwave lithotripsy. A total of 57 patients with solitary radio-opaque kidney stones sized < 15 mm were included and evaluated with appropriate radiological imaging and laboratory studies before undergoing shockwave lithotripsy (SWL). The size of the stones was measured on KUB and CT images using maximal stone diameters. All patients were evaluated with radiography on the Dornier Delta III immediately before SWL and at the end of the SWL session with fluoroscopy, a snapshot image, and the OptiVision modality (applied over the acquired snapshot image without additional radiation exposure) for precise identification of the stone. All images obtained with these three different imaging modalities (fluoroscopy, snapshot, and OptiVision) were comparatively evaluated for confidence levels in stone identification using a five-point Likert scale (1 = poor diagnostic confidence, 5 = excellent diagnostic confidence). These confidence levels were also used to differentiate between stones and bony structures using these same imaging modalities. Results were evaluated for statistical significance regarding their impact on the precise identification of renal stones. A total of 57 patients with solitary stones were evaluated using flouroscopy, snapshot, and OptiVision images before and after SWL to ascertain the efficacy of these 3 imaging modalities on the precise identification of the calculi. Stone sizes ranged from 4 to 15 mm, with a mean of 8.30 mm in the longest dimension. Evaluation of the findings demonstrated that while the pre- and post-SWL confidence of fluoroscopic stone identification was from 29.51 to 31.15%, the values using snapshot ranged from 31.15 to 39.34%. Pre- and post-SWL confidence of stone identification with OptiVision post-processing imaging was approximately 89%. In the majority of cases (n = 43), the use of OptiVision image processing enabled urologists to identify the stone with a higher level of confidence rating than the use of both fluoroscopy (n = 0) and snapshot (n = 0) image processing tools. While a rating level of 4 or higher was given in 89% of images obtained by OptiVision during the pre- and post-SWL phase, this value was only 37% (4 or more points) using fluoroscopy and Snapshot image processing techniques. For all the radiography image processing tools, the distribution of the Likert score differed significantly among the OptiVision, fluoroscopy, and snapshot imaging modalities (p < 0.001). Precise and reliable identification of stone(s) located in the kidney is essential in delivering shock waves to the desired focal point and achieving higher stone-free rates. Our findings demonstrated that using the specially designed imaging modality OptiVision was significantly helpful in identifying and localizing stones with high-quality images before SWL for effective stone disintegration during this procedure.
Access options
Buy single article
Instant access to the full article PDF.
US$ 39.95
Tax calculation will be finalised during checkout.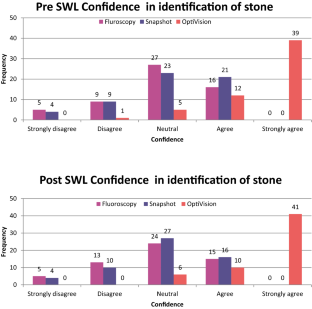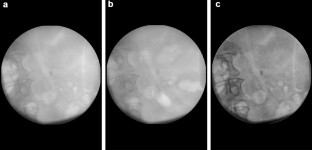 References
1.

Semins MJ, Matlaga BR (2015) Strategies to optimize shock wave lithotripsy outcome: patient selection and treatment parameters. World J Nephrol 4(2):230–234. https://doi.org/10.5527/wjn.v4.i2.230

2.

Petrides N, Ismail S, Anjum F, Sriprasad S (2020) How to maximize the efficacy of shockwave lithotripsy. Turk J Urol 46(Supp. 1):S19–S26. https://doi.org/10.5152/tud.2020.20441 (Epub 2020 Oct 30)

3.

Torricelli FCM, Monga M, Yamauchi FI, Marchini GS, Danilovic A, Vicentini FC, Batagello CA, Srougi M, Nahas WC, Mazzucchi E (2020) Renal stone features are more important than renal anatomy to predict shock wave lithotripsy outcomes: results from a prospective study with CT follow-up. J Endourol 34(1):63–67. https://doi.org/10.1089/end.2019.0545

4.

Brisbane W, Bailey MR, Sorensen MD (2016) An overview of kidney stone imaging techniques. Nat Rev Urol 13(11):654–662. https://doi.org/10.1038/nrurol.2016.154 (Epub 2016 Aug 31)

5.

Tailly GG (2013) Extracorporeal shock wave lithotripsy today. Indian J Urol 29(3):200–207. https://doi.org/10.4103/0970-1591.117283

6.

Rassweiler JJ, Knoll T, Köhrmann KU, McAteer JA, Lingeman JE, Cleveland RO, Bailey MR, Chaussy C (2011) Shock wave technology and application: an update. Eur Urol 59(5):784–796. https://doi.org/10.1016/j.eururo.2011.02.033

7.

Ullah S, Muhammad SR, Farooque R, Farooque U, Farukhuddin F, Bin Zafar MD, Khadke C, Usman A, Perez J, Shehata MA (2021) The outcomes of extracorporeal shock wave lithotripsy for high-density renal stone on non-contrast computed tomography. Cureus 13(2):e13271. https://doi.org/10.7759/cureus.13271

8.

Mannil M, von Spiczak J, Hermanns T, Alkadhi H, Fankhauser CD (2018) Prediction of successful shock wave lithotripsy with CT: a phantom study using texture analysis. Abdom Radiol (NY) 43(6):1432–1438. https://doi.org/10.1007/s00261-017-1309-y

9.

Langenauer J, Betschart P, Hechelhammer L, Güsewell S, Schmid HP, Engeler DS, Abt D, Zumstein V (2018) Advanced non-contrasted computed tomography post-processing by CT-Calculometry (CT-CM) outperforms established predictors for the outcome of shock wave lithotripsy. World J Urol 36(12):2073–2080. https://doi.org/10.1007/s00345-018-2348-x

10.

Glybochko PV, Alyaev YG, Rudenko VI, Rapoport LM, Grigoryan VA, Butnaru DV, Perekalina AN, Kraev IG, Korolev DO (2019) The clinical role of X-ray computed tomography to predict the clinical efficiency of extracorporeal shock wave lithotripsy. Urologia 86(2):63–68. https://doi.org/10.1177/0391560317749422

11.

Abid N, Ravier E, Promeyrat X, Codas R, Fehri HF, Crouzet S, Martin X (2015) Decreased radiation exposure and increased efficacy in extracorporeal lithotripsy using a new ultrasound stone locking system. J Endourol 29(11):1263–1269. https://doi.org/10.1089/end.2015.0175

12.

Lingeman J, Mcateer J, Assimos D, Baxley J, Kahn R, Krambeck A, Matlaga B, Penson D, Zhong P, Hubbard H, Budd EM, Folmer M, Moore K, Aquino K, Goldfarb J, Evan A, Glickman D (2009) Current perspective on adverse effects in shock wave lithotripsy. Current perspective on adverse effects in shock wave lithotripsy. American Urological Association Education and Research Inc, Linthicum

13.

Jagtap J, Mishra S, Bhattu A, Ganpule A, Sabnis R, Desai M (2014) Evolution of shockwave lithotripsy (SWL) technique: a 25 year single centre experience of > 5000 patients. BJU Int 114(5):748–753. https://doi.org/10.1111/bju.12808

14.

Rassweiler J, Rassweiler MC, Frede T, Alken P (2014) Extracorporeal shock wave lithotripsy: an opinion on its future. Indian J Urol 30(1):73–79. https://doi.org/10.4103/0970-1591.124211

15.

Neisius A, Lipkin ME, Rassweiler JJ, Zhong P, Preminger GM, Knoll T (2015) Shock wave lithotripsy: the new phoenix? World J Urol 33(2):213–221. https://doi.org/10.1007/s00345-014-1369-3

16.

Chang TH, Lin WR, Tsai WK, Chiang PK, Chen M, Tseng JS, Chiu AW (2020) Comparison of ultrasound-assisted and pure fluoroscopy-guided extracorporeal shockwave lithotripsy for renal stones. BMC Urol 20(1):183. https://doi.org/10.1186/s12894-020-00756-6

17.

Kroczak T, Scotland KB, Chew B, Pace KT (2017) Shockwave lithotripsy: techniques for improving outcomes. World J Urol 35(9):1341–1346. https://doi.org/10.1007/s00345-017-2056-y
Ethics declarations
Conflict of interest
None of the authors involved in this study has any kind of conflicting interest.
Additional information
Publisher's Note
Springer Nature remains neutral with regard to jurisdictional claims in published maps and institutional affiliations.
About this article
Cite this article
Sarica, K., Ferhat, M., Ohara, R. et al. Importance of precise imaging for stone identification during shockwave lithotripsy: a critical evaluation of "OptiVision" as a post-processing radiography imaging modality. Urolithiasis (2021). https://doi.org/10.1007/s00240-021-01284-0
Received:

Accepted:

Published:
Keywords
Urolithiasis

Kidney stone

Imaging

ESWL