Abstract
Hydroxycitrate (HCA) is a derivative of citric acid, and previous studies of HCA have revealed its ability to inhibit the formation of calcium oxalate crystals in vitro. To date, there has been little evidence proving that HCA has the same effectiveness in vivo. The present study was designed to investigate the ameliorating effect of HCA on calcium oxalate deposition and renal impairment in a male rat model. Male Sprague–Dawley rats were randomly divided into four groups: a control group, a model group (glyoxalic acid), a CA group (glyoxalic acid + CA), and an HCA group (glyoxalic acid + HCA). Kidney stone formation was induced by injection of glyoxalic acid (60 mg/kg). The results showed that serum and urinary parameters were significantly improved by HCA treatment. In addition, differences in the formation of calcium oxalate crystals between groups were observed, and HCA was superior to CA in inhibiting crystal accumulation. The ultrastructure of renal tubules and glomeruli occurred in the model group, and the above lesions were significantly reduced in the HCA group. Both OPN and SOD expression levels were promoted by HCA, while CA only promoted OPN. In this article, we provided data on whether HCA affected kidney stones and the expression levels of OPN and SOD in a male rat model.
Access options
Buy single article
Instant access to the full article PDF.
US$ 39.95
Tax calculation will be finalised during checkout.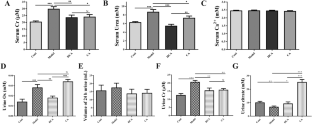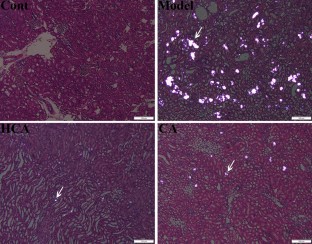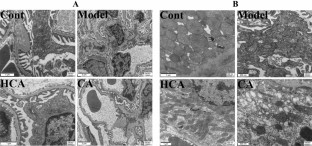 References
1.

López M, Hoppe B (2010) History, epidemiology and regional diversities of urolithiasis. Pediatr Nephrol (Berlin, Germany) 25(1):49–59. https://doi.org/10.1007/s00467-008-0960-5

2.

Sorokin I, Mamoulakis C, Miyazawa K, Rodgers A, Talati J, Lotan Y (2017) Epidemiology of stone disease across the world. World J Urol 35(9):1301–1320. https://doi.org/10.1007/s00345-017-2008-6

3.

Scales CD Jr, Tasian GE, Schwaderer AL, Goldfarb DS, Star RA, Kirkali Z (2016) Urinary stone disease: advancing knowledge, patient care, and population health. Clin J Am Soc Nephrol CJASN 11(7):1305–1312. https://doi.org/10.2215/CJN.13251215

4.

Geraghty R, Wood K, Sayer J (2020) Calcium oxalate crystal deposition in the kidney: identification, causes and consequences. Urolithiasis. https://doi.org/10.1007/s00240-020-01202-w

5.

Amimanan P, Tavichakorntrakool R, Fong-Ngern K, Sribenjalux P, Lulitanond A, Prasongwatana V, Wongkham C, Boonsiri P, Umka Welbat J, Thongboonkerd V (2017) Elongation factor Tu on Escherichia coli isolated from urine of kidney stone patients promotes calcium oxalate crystal growth and aggregation. Sci Rep 7(1):2953–2953. https://doi.org/10.1038/s41598-017-03213-x

6.

Tsaturyan A, Bokova E, Bosshard P, Bonny O, Fuster D, Roth B (2020) Oral chemolysis is an effective, non-invasive therapy for urinary stones suspected of uric acid content. Urolithiasis. https://doi.org/10.1007/s00240-020-01204-8

7.

Sas DJ, Harris PC, Milliner DS (2019) Recent advances in the identification and management of inherited hyperoxalurias. Urolithiasis 47(1):79–89. https://doi.org/10.1007/s00240-018-1093-3

8.

Fink H, Wilt T, Eidman K, Garimella P, MacDonald R, Rutks I, Brasure M, Kane R, Ouellette J, Monga M (2013) Medical management to prevent recurrent nephrolithiasis in adults: a systematic review for an American College of Physicians clinical guideline. Ann Intern Med 158(7):535–543. https://doi.org/10.7326/0003-4819-158-7-201304020-00005

9.

Zisman AL (2017) Effectiveness of treatment modalities on kidney stone recurrence. Clin J Am Soc Nephrol CJASN 12(10):1699–1708. https://doi.org/10.2215/CJN.11201016

10.

Kim D, Rimer J, Asplin J (2019) Hydroxycitrate: a potential new therapy for calcium urolithiasis. Urolithiasis 47(4):311–320. https://doi.org/10.1007/s00240-019-01125-1

11.

Han SF, Zhao CM, Pokhrel G, Sun XF, Chen ZQ, Xu H (2019) Hydroxycitric acid tripotassium inhibits calcium oxalate crystal formation in the drosophila melanogaster model of hyperoxaluria. Med Sci Monitor Int Med J Exp Clin Res 25:3662–3667. https://doi.org/10.12659/msm.913637

12.

Kaleta B (2019) The role of osteopontin in kidney diseases. Inflamm Res 68(2):93–102. https://doi.org/10.1007/s00011-018-1200-5

13.

van Loon L, van Rooijen J, Niesen B, Verhagen H, Saris W, Wagenmakers A (2000) Effects of acute (-)-hydroxycitrate supplementation on substrate metabolism at rest and during exercise in humans. Am J Clin Nutr 72(6):1445–1450. https://doi.org/10.1093/ajcn/72.6.1445

14.

Sohgaura AK, Bigoniya P, Shrivastava B (2018) In vitro antilithiatic potential of Kalanchoe pinnata, Emblica officinalis, Bambusa nutans, and Cynodon dactylon. J Pharm Bioallied Sci 10(2):83–89. https://doi.org/10.4103/JPBS.JPBS_18_18

15.

Mosquera DMG, Ortega YH, Quero PC, Martinez RS, Pieters L (2020) Antiurolithiatic activity of Boldoa purpurascens aqueous extract: an in vitro and in vivo study. J Ethnopharmacol 253:112691. https://doi.org/10.1016/j.jep.2020.112691

16.

Chung J, Granja I, Taylor M, Mpourmpakis G, Asplin J, Rimer J (2016) Molecular modifiers reveal a mechanism of pathological crystal growth inhibition. Nature 536(7617):446–450. https://doi.org/10.1038/nature19062

17.

Wang ZH, Bai YJ, Wang JH, Wang J (2020) The preventive and therapeutic effects of α-lipoic acid on ethylene glycol-induced calcium oxalate deposition in rats. Int Urol Nephrol 52(7):1227–1234

18.

Chen YL, Ye LH, Li WJ, Li DZ, Li F (2018) Hyperoside protects human kidney-2 cells against oxidative damage induced by oxalic acid. Mol Med Rep 18(1):486–494

19.

Ermer T, Eckardt K-U, Aronson PS, Knauf F (2016) Oxalate, inflammasome, and progression of kidney disease. Curr Opin Nephrol Hypertens 25(4):363–371. https://doi.org/10.1097/MNH.0000000000000229

20.

Sripradha R, Sridhar M, Maithilikarpagaselvi N (2016) Hydroxycitric acid ameliorates high-fructose-induced redox imbalance and activation of stress sensitive kinases in male Wistar rats. J Basic Clin Physiol Pharmacol 27(4):349–356. https://doi.org/10.1515/jbcpp-2014-0132

21.

Goudarzvand M, Afraei S, Yaslianifard S, Ghiasy S, Sadri G, Kalvandi M, Alinia T, Mohebbi A, Yazdani R, Azarian SK, Mirshafiey A, Azizi G (2016) Hydroxycitric acid ameliorates inflammation and oxidative stress in mouse models of multiple sclerosis. Neural Regen Res 11(10):1610–1616. https://doi.org/10.4103/1673-5374.193240

22.

Hirose M, Tozawa K, Okada A, Hamamoto S, Higashibata Y, Gao B, Hayashi Y, Shimizu H, Kubota Y, Yasui T, Kohri K (2012) Role of osteopontin in early phase of renal crystal formation: immunohistochemical and microstructural comparisons with osteopontin knock-out mice. Urol Res 40(2):121–129. https://doi.org/10.1007/s00240-011-0400-z

23.

Wesson JA, Johnson RJ, Mazzali M, Beshensky AM, Stietz S, Giachelli C, Liaw L, Alpers CE, Couser WG, Kleinman JG, Hughes J (2003) Osteopontin is a critical inhibitor of calcium oxalate crystal formation and retention in renal tubules. J Am Soc Nephrol 14(1):139–147. https://doi.org/10.1097/01.asn.0000040593.93815.9d

24.

Alex M, Sauganth Paul MV, Abhilash M, Mathews VV, Anilkumar TV, Nair RH (2014) Astaxanthin modulates osteopontin and transforming growth factor beta1 expression levels in a rat model of nephrolithiasis: a comparison with citrate administration. BJU Int 114(3):458–466. https://doi.org/10.1111/bju.12537

25.

Kizivat T, Smolic M, Maric I, Tolusic Levak M, Smolic R, Bilic Curcic I, Kuna L, Mihaljevic I, Vcev A, Tucak-Zoric S (2017) Antioxidant pre-treatment reduces the toxic effects of oxalate on renal epithelial cells in a cell culture model of urolithiasis. Int J Environ Res Public Health 14(1):107. https://doi.org/10.3390/ijerph14010109

26.

Liu X, Yuan P, Sun X, Chen ZQ (2020) Hydroxycitric acid inhibits renal calcium oxalate deposition by reducing oxidative stress and inflammation. Curr Mol Med 20(7):527–535. https://doi.org/10.2174/1566524020666200103141116

27.

Semwal RB, Semwal DK, Vermaak I, Viljoen A (2015) A comprehensive scientific overview of Garcinia cambogia. Fitoterapia 102:134–148. https://doi.org/10.1016/j.fitote.2015.02.012
Funding
The Second Affiliated Hospital of Kunming Medical University Science and Technology Plan, grant no. 2018yk010.
Ethics declarations
Conflict of interest
The authors declare that they have no confict of interest.
Additional information
Publisher's Note
Springer Nature remains neutral with regard to jurisdictional claims in published maps and institutional affiliations.
About this article
Cite this article
Yang, B., Li, J., Wang, B. et al. Hydroxycitrate prevents calcium oxalate crystallization and kidney injury in a nephrolithiasis rat model. Urolithiasis (2021). https://doi.org/10.1007/s00240-021-01283-1
Received:

Accepted:

Published:
Keywords
Hydroxycitrate

Calcium oxalate stone

Animal experiment

Oxidative stress