Abstract
Studies which examine the factors affecting success rate in kidney stones located in the lower pole as well as the effects of infundibulopelvic angle (IPA) and infundibular length (IL) have been conducted with a small number of patients. We aimed to evaluate the cut-off points of IPA and IL parameters that effect the success of retrograde intrarenal surgery (RIRS) for isolated lower pole kidney stones. This retrospective study includes 168 patients who underwent primary RIRS due to isolated lower pole kidney stones in our clinic between January 2013 and May 2020. Pre-operative demographic data, medical history, physical examination, surgery duration as well as the post-operative hospitalization time of patients specifics were obtained. According to pre-operative computed tomography (CT), stone size, stone burden, stone density, number of stones (single and multiple), stone laterality, congenital kidney abnormality, the presence of solitary kidney, parameters of IPA and IL were measured and both included in the study. All patients were divided into two groups as the successful group and the unsuccessful group according to their post-operative success. These two groups were compared in terms of pre and post-operative data. Stone burden, IPA < 42.65°, and IL > 27.5 mm were specified as the independent risk factors for success of RIRS procedure. The patients for whom RIRS procedure is planned for lower pole kidney stones, stone burden, IPA, and IL should be taken into consideration to be able to predict success and it should be kept in mind that additional treatment may be required.
Access options
Buy single article
Instant access to the full article PDF.
US$ 39.95
Tax calculation will be finalised during checkout.
Subscribe to journal
Immediate online access to all issues from 2019. Subscription will auto renew annually.
US$ 119
Tax calculation will be finalised during checkout.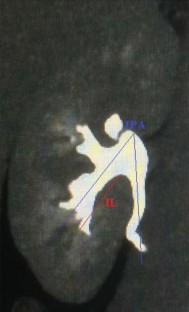 References
1.

Menon M, Resnick MI (2002) Urinary lithiasis: etiology, diagnosis, and medical management. In: Walsh PC (ed) Campbell's urology. Saunders, Philadelphia

2.

Resorlu B, Unsal A, Tepeler A, Atis G, Tokatli Z, Oztuna D, Armagan A, Gurbuz C, Caskurlu T, Saglam R (2012) Comparison of retrograde intrarenal surgery and mini-percutaneous nephrolithotomy in children with moderate-size kidney stones: results of multi-institutional analysis. Urology 80:519–523

3.

Lim SH, Jeong BC, Seo SI, Jeon SS, Han DH (2010) Treatment outcomes of retrograde intrarenal surgery for renal stones and predictive factors of stone-free. Korean J Urol 51(11):777–782

4.

Türk (Chair) C (2020) EAU guidelines on urolithiasis. EAU guidelines, Amsterdam

5.

Sari S, Ozok HU, Topaloglu H, Cakici MC, Ozdemir H, Karakoyunlu AN, Senturk AB, Ersoy H (2017) The association of a number of anatomical factors with the success of retrograde intrarenal surgery in lower calyceal stones. Urol J 14(4):4008–4014

6.

Sanguedolce F, Bozzini G, Chew B, Kallidonis P, de la Rosette J (2017) The evolving role of retrograde intrarenal surgery in the treatment of urolithiasis. Eur Urol Focus 3:46–55

7.

Resorlu B, Unsal A, Gulec H, Oztuna D (2012) A new scoring system for predicting stone-free rateafter retrograde intrarenal surgery: the "resorlu-unsal stone score." Urology 80(3):512–518

8.

Jung JW, Lee BK, Park YH, Lee S, Jeong SJ, Lee SE, Jeong CW (2014) Modified Seoul National University renal stone complexity score for retrograde intrarenal surgery. Urolithiasis 42(4):335–340

9.

Xiao Y, Li D, Chen L, Xu Y, Zhang D, Shao Y, Jun Lu (2017) The R.I.R.S. scoring system: an innovative scoring system for predicting stone-free rate following retrograde intrarenal surgery. BMC Urol 17(1):105

10.

Kilicarslan H, Kaynak Y, Kordan Y, Kaygisiz O, Coskun B, Gunseren KO, Kanat FM (2015) Unfavorable anatomical factors influencing the success of retrograde intrarenal surgery for lower pole renal calculi. Urol J 12(2):2065–2068

11.

Karim SS, Hanna L, Geraghty R, Somani BK (2020) Role of pelvicalyceal anatomy in the outcomes of retrograde intrarenal surgery (RIRS) for lower pole stones: outcomes with a systematic review of literature. Urolithiasis 48(3):263–270

12.

Bozkurt OF, Resorlu B, Yildiz Y, Can CE, Unsal A (2011) Retrograde intrarenal surgery versus percutaneous nephrolithotomy in the management of lower-pole renal stones with a diameter of 15 to 20 mm. J Endourol 25(7):1131–1135

13.

Ozturk U, Sener NC, Goktug HN, Nalbant I, Gucuk A, Imamoglu MA (2013) Comparison of percutaneous nephrolithotomy, shock wave lithotripsy, and retrograde intrarenal surgery for lower pole renal calculi 10–20 mm. Urol Int 91(3):345–349

14.

Inoue T, Murota T, Okada S, Hamamoto S, Muguruma K, Kinoshita H, Matsuda T (2015) Influence of pelvicaliceal anatomy on stone clearance after flexible ureteroscopy and holmium laser lithotripsy for large renal stones. J Endourol 29(9):998–1005

15.

Ito H, Kawahara T, Terao H, Ogawa T, Yao M, Kubota Y, Matsuzaki J (2012) The most reliable preoperative assessment of renal stone burden as a predictor of stone-free status after flexible ureteroscopy with holmium laser lithotripsy: a single-center experience. Urology 80:524–528

16.

Hyams ES, Bruhn A, Lipkin M, Shah O (2010) Heterogeneity in the reporting of disease characteristics and treatment outcomes in studies evaluating treatments for nephrolithiasis. J Endourol 24:1411–1414

17.

Ito H, Kawahara T, Terao H, Ogawa T, Yao M, Matsuzaki KY, J, (2012) Predictive value of attenuation coefficients measured as Hounsfield units on noncontrast computed tomography during flexible ureteroscopy with holmium laser lithotripsy: a single-center experience. J Endourol 26:1125–1130

18.

Gucuk A, Yilmaz B, Gucuk S, Uyeturk U (2019) Are stone density and location useful parameters that can determine the endourological surgical technique for kidney stones that are smaller than 2 cm? a prospective randomized controlled trial. Urol J 16:236–241

19.

Eken A, Soyupak B (2011) Retrospective analysis of retrograd intrarenal surgery results and factors affecting success rate. Pam Med J 11(1):49–55

20.

Cannon GM, Smaldone MC, Wu HY, Bassett JC, Bellinger MF, Docimo SG, Schneck FX (2007) Ureteroscopic management of lower-pole Stones in a pediatric population. J Endourol 21:1179–1182
Funding
The author(s) received no financial support for the research, authorship.
Ethics declarations
Conflict of interest
The authors report no conflicts of interest.
Ethics approval
The present study protocol was reviewed and approved by the Institutional Review Board of ### Hospital (approval number: E2-21-110).
Consent to participate
Not applicable.
Consent for publication
Not applicable.
Additional information
Publisher's Note
Springer Nature remains neutral with regard to jurisdictional claims in published maps and institutional affiliations.
About this article
Cite this article
Tastemur, S., Senel, S., Kizilkan, Y. et al. Evaluation of the anatomical factors affecting the success of retrograde intrarenal surgery for isolated lower pole kidney stones. Urolithiasis (2021). https://doi.org/10.1007/s00240-021-01279-x
Received:

Accepted:

Published:
Keywords
Anatomical factors

Lower pole

Nephrolithiasis

RIRS