Abstract
Colon injury is a distressing complication during percutaneous nephrolithotomy (PCNL). Posterolateral colon (PLC) and retrorenal colon (RRC) are known to be the risk factors of colonic injury during PCNL. We evaluated the incidence of PLC and RRC in both supine and prone position of patients who underwent PCNL in our institution, and determined the risk factors of PLC and RRC through a review of computed tomography (CT) scan. To define PLC and RRC, we divided kidney into anterior, anterolateral, posterolateral and retrorenal zone by drawing three parallel lines in the CT scan. Among a total of 102 patients, PLC and RRC were identified in 16 (15.7%) cases in supine, and 25 (24.5%) cases in the prone position. PLC and RRC were most frequently present in the upper and lower pole of the left kidney in prone position compared to supine (p value less than 0.001). Risk factors of PLC and RRC in the prone position were old age (over 68), lower body mass index (BMI), and thinner perirenal fat layer. Therefore, an initial percutaneous puncture in PCNL needs to be carefully accessed to those patients with such high risks of colon injury.
Access options
Buy single article
Instant access to the full article PDF.
US$ 39.95
Tax calculation will be finalised during checkout.
Subscribe to journal
Immediate online access to all issues from 2019. Subscription will auto renew annually.
US$ 119
Tax calculation will be finalised during checkout.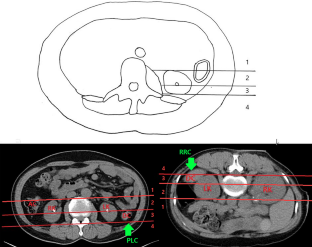 Availability of data and materials
The data and material are available on appropriate request in the authority of the corresponding author.
References
1.

Öztürk H (2015) Treatment of colonic injury during percutaneous nephrolithotomy. Rev Urol 17:194–201

2.

Clavien PA, Barkun J, de Oliveira ML, Vauthey JN, Dindo D, Schulick RD, de Santibañes E, Pekolj J, Slankamenac K, Bassi C, Graf R, Vonlanthen R, Padbury R, Cameron JL, Makuuchi M (2009) The Clavien-Dindo classification of surgical complications: five-year experience. Ann Surg 250:187–196. https://doi.org/10.1097/SLA.0b013e3181b13ca2

3.

El-Nahas AR, Shokeir AA, El-Assmy AM, Shoma AM, Eraky I, El-Kenawy MR, El-Kappany HA (2006) Colonic perforation during percutaneous nephrolithotomy: study of risk factors. Urology 67:937–941. https://doi.org/10.1016/j.urology.2005.11.025

4.

Smith AD, Preminger G, Badlani GH, Kavoussi LR (2011) Smith's textbook of endourology, 3rd edn. Wiley-Blackwell, Chichester

5.

Skoog SJ, Reed MD, Gaudier FA Jr, Dunn NP (1985) The posterolateral and the retrorenal colon: implication in percutaneous stone extraction. J Urol 134:110–112. https://doi.org/10.1016/s0022-5347(17)47010-8

6.

Hopper KD, Sherman JL, Luethke JM, Ghaed N (1987) The retrorenal colon in the supine and prone patient. Radiology 162:443–446. https://doi.org/10.1148/radiology.162.2.3797658

7.

Balasar M, Kandemir A, Poyraz N, Unal Y, Ozturk A (2015) Incidence of retrorenal colon during percutaneous nephrolithotomy. Int Braz J Urol 41:274–278. https://doi.org/10.1590/S1677-5538.IBJU.2015.02.13

8.

Atar M, Hatipoglu NK, Soylemez H, Penbegul N, Bozkurt Y, Gumus H, Sancaktutar AA, Kuday S, Bodakci MN (2013) Relationship between colon and kidney: a critical point for percutaneous procedures. Scand J Urol 47:122–125. https://doi.org/10.3109/00365599.2012.707685

9.

Prassopoulos P, Gourtsoyiannis N, Cavouras D, Pantelidis N (1990) A study of the variation of colonic positioning in the pararenal space as shown by computed tomography. Eur J Radiol 10:44–47. https://doi.org/10.1016/0720-048x(90)90086-q

10.

Hikmet T, Nihat K, Fuat A, Ugur O, Levent S, Hamit E (2016) Necessity of preoperative computed tomography in percutaneous renal surgery. Int J Res Urol 2016:413365. https://doi.org/10.5171/2016.413365

11.

Krishna Reddy SV, Shaik AB (2015) Percutaneous nephrolithotomy and retro-renal colon: its incidence and complications. J Evol Med Dental Sci 4(82):14329–14334. https://doi.org/10.14260/jemds/2015/2038

12.

Opondo D, Tefekli A, Esen T, Labate G, Sangam K, De Lisa A, Shah H, de la Rosette J, CROES PCNL study group (2012) Impact of case volumes on the outcomes of percutaneous nephrolithotomy. Eur Urol 62:1181–1187. https://doi.org/10.1016/j.eururo.2012.03.010

13.

Valdivia JG, Scarpa RM, Duvdevani M, Gross AJ, Nadler RB, Nutahara K, de la Rosette JJ, CROES PCNL study group (2011) Supine versus prone position during percutaneous nephrolithotomy: a report from the clinical research office of the endourological society percutaneous nephrolithotomy global study. J Endourol 25:1619–1625. https://doi.org/10.1089/end.2011.0110

14.

Sharma G, Jangid DK, Yadav SS, Mathur R, Tomar V (2015) Retro-renal colon: role in percutaneous access. Urolithiasis 43:171–175. https://doi.org/10.1007/s00240-014-0733-5

15.

Marchini GS, Berto FCG, Vicentini FC, Shan CJ, Srougi M, Mazzucchi E (2015) Preoperative planning with noncontrast computed tomography in the prone and supine position for percutaneous nephrolithotomy: a practical overview. J Endourol 29:6–12. https://doi.org/10.1089/end.2014.0299

16.

Faure JP, Richer JP, Chansigaud JP, Scepi M, Irani J, Ferrie JC, Kamina P (2001) A prospective radiological anatomical study of the variations of the position of the colon in the left pararenal space. Surg Radiol Anat 23:335–339. https://doi.org/10.1007/s00276-001-0335-0

17.

Lusch A, Fujimoto S, Findeiss LK, Okhunov Z, McDougall EM, Landman J (2016) Anthropometric renal anatomic alterations between supine and prone positions in percutaneous renal ablation for renal cortical neoplasms. J Endourol 30:165–169. https://doi.org/10.1089/end.2015.0373

18.

Tuttle DN, Yeh BM, Meng MV, Breiman RS, Stoller ML, Coakley FV (2005) Risk of injury to adjacent organs with lower-pole fluoroscopically guided percutaneous nephrostomy: evaluation with prone, supine, and multiplanar reformatted CT. J Vasc Interv Radiol 16:1489–1492. https://doi.org/10.1097/01.RVI.0000175331.93499.44

19.

Boon JM, Shinners B, Meiring JH (2001) Variations of the position of the colon as applied to percutaneous nephrostomy. Surg Radiol Anat 23:421–425. https://doi.org/10.1007/s00276-001-0421-3

20.

Hadar H, Gadoth N (1984) Positional relations of colon and kidney determined by perirenal fat. AJR Am J Roentgenol 143:773–776. https://doi.org/10.2214/ajr.143.4.773

21.

Raptopoulos V, Kleinman PK, Marks S Jr, Snyder M, Silverman PM (1986) Renal fascial pathway: posterior extension of pancreatic effusions within the anterior pararenal space. Radiology 158:367–374. https://doi.org/10.1148/radiology.158.2.2417275
Acknowledgements
We thank Seoul St.Mary's hospital Research center for the support in performing the project.
Funding
This study was supported by Research fund of Seoul St.Mary's hospital, The Catholic university of Korea.
Ethics declarations
Conflict of interest
The authors declare that they have no conflict of interest.
Ethical approval
This study was approved by the Catholic University of Korea Institutional Review Board (IRB) (approval number: KC18RESI0759).
Informed consent
Not applicable, due to its retrospective study design.
Additional information
Publisher's Note
Springer Nature remains neutral with regard to jurisdictional claims in published maps and institutional affiliations.
About this article
Cite this article
Hur, K.J., Moon, H.W., Kang, S.M. et al. Incidence of posterolateral and retrorenal colon in supine and prone position in percutaneous nephrolithotomy. Urolithiasis (2021). https://doi.org/10.1007/s00240-021-01272-4
Received:

Accepted:

Published:
Keywords
Posterolateral colon

Prone

Percutaneous nephrolithotomy

Retrorenal colon

Supine