Abstract
Smart technology (ST) can enhance chronic disease management, yet little is known about the benefits of ST on kidney stone prevention. Our aim was to prospectively evaluate the impact of ST on follow-up adherence rates and urine output (UOP) in patients with nephrolithiasis. Kidney stone patients with low UOP (< 2.5 L/24 h) were randomized into three intervention groups: (1) standard dietary/medical counseling alone (control), (2) control + smartphone fluid management application (app), and (3) control + smart water bottle (bottle). Demographics, adherence rates, kidney stone events, and 24 h urine data were collected and analyzed at baseline, 3–6, and 12 months. We randomized 111 patients (37 per group), of which 20 (55%), 8 (26%), and 10 (33%) patients completed the 12 month follow-up in the control, app, and bottle groups respectively. Control group patients were the most likely to adhere to follow-up (p = 0.004). Overall mean UOP increased by 0.4 L in each group (p < 0.05), with no difference in mean baseline 24 h UOP (1.6 L) and 12 month 24 h UOP (2.0 L) between groups (p > 0.05). Twenty-nine percent of patients achieved a daily UOP goal of > 2.5 L across the treatment groups (p < 0.001). In this prospective study, the 24 h UOP improved across all groups compared to baseline, although adherence to follow-up remained low. Furthermore, the use of ST did not further augment UOP, underscoring the importance of dietary/medical counseling for kidney stone prevention.
Access options
Buy single article
Instant access to the full article PDF.
US$ 39.95
Tax calculation will be finalised during checkout.
Subscribe to journal
Immediate online access to all issues from 2019. Subscription will auto renew annually.
US$ 119
Tax calculation will be finalised during checkout.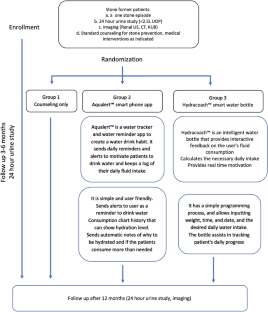 References
1.

Prevalence of kidney stones in the United States. PubMed–NCBI [cited 2020 Apr 8]. Available from: https://www.ncbi.nlm.nih.gov/pubmed/22498635

2.

Stamatelou KK, Francis ME, Jones CA, Nyberg LM, Curhan GC (2003) Time trends in reported prevalence of kidney stones in the United States: 1976-1994. Kidney Int 63(5):1817–1823

3.

Uribarri J, Oh MS, Carroll HJ (1989) The first kidney stone. Ann Intern Med 111(12):1006–1009

4.

Ziemba JB, Matlaga BR (2017) Epidemiology and economics of nephrolithiasis. Investig Clin Urol 58(5):299–306

5.

Goldfarb DS (2003) Increasing prevalence of kidney stones in the United States. Kidney Int 63(5):1951–1952

6.

Saigal CS, Joyce G, Timilsina AR (2005) Urologic diseases in America project direct and indirect costs of nephrolithiasis in an employed population: opportunity for disease management? Kidney Int 68(4):1808–1814

7.

Skolarikos A, Straub M, Knoll T, Sarica K, Seitz C, Petřík A, Türk C (2015) Metabolic evaluation and recurrence prevention for urinary stone patients: EAU guidelines. Eur Urol 67(4):750–763

8.

Xu C, Zhang C, Wang X-L, Liu T-Z, Zeng X-T, Li S, Duan X-W (2015) Self-fluid management in prevention of kidney stones: a PRISMA-compliant systematic review and dose-response meta-analysis of observational studies. Medicine 94(27):e1042

9.

Pearle MS, Goldfarb DS, Assimos DG, Curhan G, Denu-Ciocca CJ, Matlaga BR, Monga M, Penniston KL, Preminger GM, Turk TMT, White JR (2014) American Urological Association. Medical management of kidney stones: AUA guideline. J Urol. 192(2):316–324

10.

Qaseem A, Dallas P, Forciea MA, Starkey M, Denberg TD (2014) Clinical Guidelines Committee of the American College of Physicians. Dietary and pharmacologic management to prevent recurrent nephrolithiasis in adults: a clinical practice guideline from the American College of Physicians. Ann Intern Med. 161(9):659–667

11.

Streeper NM, Dubnansky A, Sanders AB, Lehman K, Thomaz E, Conroy DE (2019) Improving fluid intake behavior among patients with kidney stones: understanding patients' experiences and acceptability of digital health technology. Urology 133:57–66

12.

Tarplin S, Monga M, Stern KL, McCauley LR, Sarkissian C, Nguyen MM (2016) Predictors of reporting success with increased fluid intake among kidney stone patients. Urology 88:49–56

13.

Bassi N, Karagodin I, Wang S, Vassallo P, Priyanath A, Massaro E, Stone NJ (2014) Lifestyle modification for metabolic syndrome: a systematic review. Am J Med 127(12):1242.e1–10

14.

Streeper NM, Lehman K, Conroy DE (2018) Acceptability of mobile health technology for promoting fluid consumption in patients with nephrolithiasis. Urology 122:64–69

15.

Geller NL, Kim D-Y, Tian X (2016) Smart technology in lung disease clinical trials. Chest 149(1):22–26

16.

Ciemins EL, Arora A, Coombs NC, Holloway B, Mullette EJ, Garland R, Walsh Bishop-Green S, Penso J, Coon PJ (2018) Improving blood pressure control using smart technology. Telemed J E-Health 24(3):222–228

17.

Treskes RW, Van der Velde ET, Schoones JW, Schalij MJ (2018) Implementation of smart technology to improve medication adherence in patients with cardiovascular disease: is it effective? Expert Rev Med Devices 15(2):119–126

18.

Davies N (2016) Wearables, implants and apps, oh my! smart technology for diabetes self care. Diabetes Self Manag. 33(2):28–31

19.

Borofsky MS, Dauw CA, York N, Terry C, Lingeman JE (2018) Accuracy of daily fluid intake measurements using a "smart" water bottle. Urolithiasis 46(4):343–348

20.

Lange JN, Easter L, Amoroso R, Benfield D, Mufarri PW, Knight J, Holmes RP, Assimos DG (2013) Internet program for facilitating dietary modifications limiting kidney stone risk. Can J Urol 20(5):6922–6926

21.

Conroy DE, West AB, Brunke-Reese D, Thomaz E, Streeper NM (2020) Just-in-time adaptive intervention to promote fluid consumption in patients with kidney stones. Health Psychol 39(12):1062–1069

22.

Tay K, Navaratnam A, McAdams S, Keddis M, Neville M, Humphreys MR (2019) Predictive factors for achieving the recommended AUA daily urine production in patients with nephrolithiasis. Mayo Clin Proc Innov Qual Outcomes 3(2):141–148

23.

Stern KL, Gao T, Antonelli JA, Viprakasit DP, Averch TD, Chi T, Chew BH, Bird VG, Pais VM, Streeper NM, Sur RL, Nakada SY, Penniston KL, Sivalingam S (2019) Association of patient age and gender with kidney stone related quality of life. J Urol 202(2):309–313
Acknowledgements
John Asplin M.D., Cleveland Clinic Research Program Committee Grant.
Ethics declarations
Conflict of interest
The author declared that they have no conflict of interest.
Additional information
Publisher's Note
Springer Nature remains neutral with regard to jurisdictional claims in published maps and institutional affiliations.
About this article
Cite this article
Wright, H.C., Alshara, L., DiGennaro, H. et al. The impact of smart technology on adherence rates and fluid management in the prevention of kidney stones. Urolithiasis (2021). https://doi.org/10.1007/s00240-021-01270-6
Received:

Accepted:

Published: