Abstract
Alkali supplements are used to treat calcium kidney stones owing to their ability to increase urine citrate excretion which lowers stone risk by inhibiting crystallization and complexing calcium. However, alkali increases urine pH, which may reduce effectiveness for patients with calcium phosphate stones and alkaline urine. Hydroxycitrate is a structural analog of citrate, widely available as an over-the-counter supplement for weight reduction. In vitro studies show hydroxycitrate has the capacity to complex calcium equivalent to that of citrate and that it is an effective inhibitor of calcium oxalate monohydrate crystallization. In fact, hydroxycitrate was shown to dissolve calcium oxalate crystals in supersaturated solution in vitro. Hydroxycitrate is not known to be metabolized by humans, so it would not be expected to alter urine pH, as opposed to citrate therapy. Preliminary studies have shown orally ingested hydroxycitrate is excreted in urine, making it an excellent candidate as a stone therapeutic. In this article, we detail the crystal inhibition activity of hydroxycitrate, review the current knowledge of hydroxycitrate use in humans, and identify gaps in knowledge that require appropriate research studies before hydroxycitrate can be recommended as a therapy for kidney stones.
This is a preview of subscription content, log in to check access.
Access options
Buy single article
Instant access to the full article PDF.
US$ 39.95
Price includes VAT for USA
Subscribe to journal
Immediate online access to all issues from 2019. Subscription will auto renew annually.
US$ 199
This is the net price. Taxes to be calculated in checkout.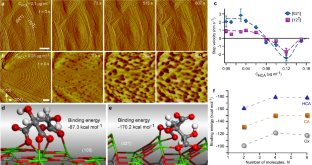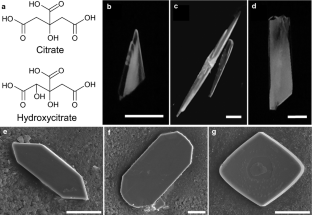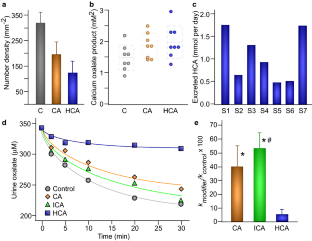 Abbreviations
ACO:

Amorphous calcium oxalate

AFM:

Atomic force microscopy

CA:

Citrate

CaP:

Calcium phosphate

CaOx:

Calcium oxalate

COD:

Calcium oxalate dihydrate

COM:

Calcium oxalate monohydrate

COT:

Calcium oxalate trihydrate

FDA:

Food and drug administration

GC:

Garcinia Cambogia

GHS:

Genetic hypercalciuric stone forming

HCA:

Hydroxycitrate

OTC:

Over the counter

Ox:

Oxalate

S:

Supersaturation ratio

ULM:

Upper limit of metastability
References
1.

Scales CD Jr, Smith AC, Hanley JM, Saigal CS, Project UDiA (2012) Prevalence of kidney stones in the United States. Eur Urol 62(1):160–165

2.

Sas DJ (2011) An update on the changing epidemiology and metabolic risk factors in pediatric kidney stone disease. Clin J Am Soc Nephrol 6:2062–2068

3.

Taylor EN, Stampfer MJ, Curhan GC (2005) Obesity, weight gain, and the risk of kidney stones. JAMA 293(4):455–462

4.

Brikowski TH, Lotan Y, Pearle MS (2008) Climate-related increase in the prevalence of urolithiasis in the United States. Proc Natl Acad Sci USA 105:9841–9846

5.

Tasian GE, Jemielita T, Goldfarb DS, Copelovitch L, Gerber JS, Wu Q, Denburg MR (2018) Oral antibiotic exposure and kidney stone disease. J Am Soc Nephrol 29(6):1731–1740

6.

Nicar MJ, Hill K, Pak CY (1987) Inhibition by citrate of spontaneous precipitation of calcium oxalate in vitro. J Bone Miner Res 2(3):215–220

7.

Tiselius H, Berg C, Fornander A, Nilsson M (1993) Effects of citrate on the different phases of calcium oxalate crystallization. Scanning Microsc 7(1):381–389; (discussion 389–390)

8.

Tiselius H-G, Fornander A-M, Nilsson M-A (1993) The effects of citrate and urine on calcium oxalate crystal aggregation. Urol Res 21(5):363–366

9.

Hamm LL (1990) Renal handling of citrate. Kidney Int 38(4):728–735

10.

Simpson DP (1983) Citrate excretion: a window on renal metabolism. Am J Physiol Renal 244(3):F223–F234

11.

Brennan S, Hering-Smith K, Hamm L (1988) Effect of pH on citrate reabsorption in the proximal convoluted tubule. Am J Physiol-Renal 255(2):F301–F306

12.

Rimer JD, Sakhaee K, Maalouf NM (2019) Citrate therapy for calcium phosphate stones. Curr Opin Nephrol Hypertens 28(2):130–139

13.

Chung J, Granja I, Taylor MG, Mpourmpakis G, Asplin JR, Rimer JD (2016) Molecular modifiers reveal a mechanism of pathological crystal growth inhibition. Nature 536(7617):446

14.

Lewis Y, Neelakantan S (1965) (–)-Hydroxycitric acid—the principal acid in the fruits of Garcinia cambogia desr. Phytochemistry 4(4):619–625

15.

Watson JA, Fang M, Lowenstein JM (1969) Tricarballylate and hydroxycitrate: Substrate and inhibitor of ATP: citrate oxaloacetate lyase. Arch Biochem Biophys 135:209–217

16.

Lowenstein JM, Brunengraber H (1981) Hydroxycitrate. Methods Enzymol 72:486–497

17.

Louter-van de Haar J, Wielinga PY, Scheurink AJ, Nieuwenhuizen AG (2005) Comparison of the effects of three different (-)-hydroxycitric acid preparations on food intake in rats. Nutr Metab 2(1):23

18.

Chuah LO, Ho WY, Beh BK, Yeap SK (2013) Updates on antiobesity effect of garcinia origin (–)-HCA. Evid Based Complement Alternat Med 2013:751658

19.

Fassina P, Scherer Adami F, Terezinha Zani V, Kasper Machado IC, Garavaglia J, Quevedo Grave MT, Ramos R, Morelo Dal Bosco S (2015) The effect of garcinia cambogia as coadjuvant in the weight loss process. Nutr Hosp 32(6):2400–2408

20.

Sripradha R, Magadi SG (2015) Efficacy of garcinia cambogia on body weight, inflammation and glucose tolerance in high fat fed male wistar rats. J Clin Diag Res JCDR 9(2):BF01

21.

Heymsfield SB, Allison DB, Vasselli JR, Pietrobelli A, Greenfield D, Nunez C (1998) Garcinia cambogia (hydroxycitric acid) as a potential antiobesity agent: a randomized controlled trial. JAMA 280(18):1596–1600

22.

van Loon LJ, van Rooijen JJ, Niesen B, Verhagen H, Saris WH, Wagenmakers AJ (2000) Effects of acute (–)-hydroxycitrate supplementation on substrate metabolism at rest and during exercise in humans. Am J Clin Nutr 72(6):1445–1450

23.

Melnick JZ, Srere PA, Elshourbagy NA, Moe OW, Preisig PA, Alpern RJ (1996) Adenosine triphosphate citrate lyase mediates hypocitraturia in rats. J Clin Invest 98(10):2381–2387

24.

Loe YC, Bergeron N, Rodriguez N, Schwarz J-M (2001) Gas chromatography/mass spectrometry method to quantify blood hydroxycitrate concentration. Anal Biochem 292(1):148–154

25.

Soni M, Burdock G, Preuss H, Stohs S, Ohia S, Bagchi D (2004) Safety assessment of (–)-hydroxycitric acid and Super CitriMax®, a novel calcium/potassium salt. Food Chem Toxicol 42(9):1513–1529

26.

Dara L, Hewett J, Lim JK (2008) Hydroxycut hepatotoxicity: a case series and review of liver toxicity from herbal weight loss supplements. World J Gastroenterol WJG 14(45):6999

27.

Mozersky D, Klonz K, Katz L (2009) The Problem: Liver toxicity following consumption of dietary supplement, Hydroxycut. Health Hazard Review Board Food and Drug Administration. https://www.fda.gov/downloads/NewsEvents/PublicHealthFocus/UCM160672.pdf. Accessed 13 Feb 2019

28.

Chuah LO, Yeap SK, Ho WY, Beh BK, Alitheen NB (2012) In vitro and in vivo toxicity of garcinia or hydroxycitric Acid: a review. Evid Based Complement Alternat Med 2012:197920

29.

Clouatre DL, Preuss HG (2013) Hydroxycitric acid does not promote inflammation or liver toxicity. World J Gastroenterol WJG 19(44):8160

30.

Lunsford KE, Bodzin AS, Reino DC, Wang HL, Busuttil RW (2016) Dangerous dietary supplements: Garcinia Cambogia-associated hepatic failure requiring transplantation. World J Gastroenterol 22(45):10071

31.

Kothadia JP, Kaminski M, Samant H, Olivera-Martinez M (2018) Hepatotoxicity associated with use of the weight loss supplement Garcinia Cambogia: a case report and review of the literature. Case Reports Hepatol 2018:6483605

32.

Olafson KN, Li R, Alamani BG, Rimer JD (2016) Engineering crystal modifiers: Bridging classical and nonclassical crystallization. Chem Mater 28(23):8453–8465

33.

Li M, Zhang J, Wang L, Wang B, Putnis CV (2018) Mechanisms of modulation of calcium phosphate pathological mineralization by mobile and immobile small-molecule inhibitors. J Phys Chem B 122(5):1580–1587

34.

Qiu S, Wierzbicki A, Orme C, Cody A, Hoyer J, Nancollas G, Zepeda S, De Yoreo J (2004) Molecular modulation of calcium oxalate crystallization by osteopontin and citrate. Proc Natl Acad Sci USA 101(7):1811–1815

35.

Farmanesh S, Ramamoorthy S, Chung J, Asplin JR, Karande P, Rimer JD (2013) Specificity of growth inhibitors and their cooperative effects in calcium oxalate monohydrate crystallization. J Am Chem Soc 136(1):367–376

36.

Guo S, Ward MD, Wesson JA (2002) Direct visualization of calcium oxalate monohydrate crystallization and dissolution with atomic force microscopy and the role of polymeric additives. Langmuir 18(11):4284–4291

37.

Cody A, Cody R (1994) Calcium oxalate trihydrate phase control by structurally-specific carboxylic acids. J Cryst Growth 135(1–2):235–245

38.

Chung J, Taylor MG, Granja I, Asplin JR, Mpourmpakis G, Rimer JD (2018) Factors differentiating the effectiveness of polyprotic acids as inhibitors of calcium oxalate crystallization in kidney stone disease. Cryst Growth Des 18(9):5617–5627

39.

Qin L, Wang L, Wang B (2017) Role of alcoholic hydroxyls of dicarboxylic acids in regulating nanoscale dissolution kinetics of dicalcium phosphate dihydrate. ACS Sustain Chem Eng 5(5):3920–3928

40.

Chen C-L, Qi J, Tao J, Zuckermann RN, DeYoreo JJ (2014) Tuning calcite morphology and growth acceleration by a rational design of highly stable protein-mimetics. Sci Rep 4:6266

41.

Politi Y, Arad T, Klein E, Weiner S, Addadi L (2004) Sea urchin spine calcite forms via a transient amorphous calcium carbonate phase. Science 306(5699):1161–1164

42.

Gong YU, Killian CE, Olson IC, Appathurai NP, Amasino AL, Martin MC, Holt LJ, Wilt FH, Gilbert P (2012) Phase transitions in biogenic amorphous calcium carbonate. Proc Natl Acad Sci USA 109:6088–6093

43.

De Yoreo JJ, Gilbert PU, Sommerdijk NA, Penn RL, Whitelam S, Joester D, Zhang H, Rimer JD, Navrotsky A, Banfield JF (2015) Crystallization by particle attachment in synthetic, biogenic, and geologic environments. Science 349(6247):aaa6760

44.

Ihli J, Wang Y-W, Cantaert B, Kim Y-Y, Green DC, Bomans PH, Sommerdijk NA, Meldrum FC (2015) Precipitation of amorphous calcium oxalate in aqueous solution. Chem Mater 27(11):3999–4007

45.

Ruiz-Agudo E, Burgos-Cara A, Ruiz-Agudo C, Ibañez-Velasco A, Cölfen H, Rodriguez-Navarro C (2017) A non-classical view on calcium oxalate precipitation and the role of citrate. Nat Commun 8(1):768

46.

Kellermeier M, Gebauer D, Melero-García E, Drechsler M, Talmon Y, Kienle L, Cölfen H, García-Ruiz JM, Kunz W (2012) Colloidal stabilization of calcium carbonate prenucleation clusters with silica. Adv Funct Mater 22(20):4301–4311

47.

Finney AR, Rodger PM (2012) Probing the structure and stability of calcium carbonate pre-nucleation clusters. Faraday Discuss 159(1):47–60

48.

Sun S, Gebauer D, Cölfen H (2016) A solvothermal method for synthesizing monolayer protected amorphous calcium carbonate clusters. Chem Commun 52(43):7036–7038

49.

Wiener SV, Ho SP, Stoller ML (2018) Beginnings of nephrolithiasis: insights into the past, present and future of Randall's plaque formation research. Curr Opin Nephrol Hypertens 27(4):236–242

50.

Evan AP, Lingeman JE, Coe FL, Parks JH, Bledsoe SB, Shao Y, Sommer AJ, Paterson RF, Kuo RL, Grynpas M (2003) Randall's plaque of patients with nephrolithiasis begins in basement membranes of thin loops of Henle. J Clin Invest 111(5):607–616

51.

Hsi RS, Ramaswamy K, Ho SP, Stoller ML (2017) The origins of urinary stone disease: upstream mineral formations initiate downstream Randall's plaque. BJU Int 119(1):177–184

52.

Marimuthu A, O'Meally RN, Chaerkady R, Subbannayya Y, Nanjappa V, Kumar P, Kelkar DS, Pinto SM, Sharma R, Renuse S (2011) A comprehensive map of the human urinary proteome. J Proteome Res 10(6):2734–2743

53.

Bouatra S, Aziat F, Mandal R, Guo AC, Wilson MR, Knox C, Bjorndahl TC, Krishnamurthy R, Saleem F, Liu P (2013) The human urine metabolome. PLoS ONE 8(9):e73076

54.

Teng HH, Dove PM, Orme CA, De Yoreo JJ (1998) Thermodynamics of calcite growth: baseline for understanding biomineral formation. Science 282(5389):724–727

55.

Olafson KN, Rimer JD, Vekilov PG (2017) Early onset of kinetic roughening due to a finite step width in hematin crystallization. Phys Rev Lett 119(19):198101

56.

Jena B, Jayaprakasha G, Singh R, Sakariah K (2002) Chemistry and biochemistry of (–)-hydroxycitric acid from Garcinia. J Agric Food Chem 50(1):10–22

57.

Bushinsky DA, Grynpas MD, Nilsson EL, Nakagawa Y, Coe FL (1995) Stone formation in genetic hypercalciuric rats. Kidney Int 48(6):1705–1713

58.

Bushinsky DA, Asplin JR, Grynpas MD, Evan AP, Parker WR, Alexander KM, Coe FL (2002) Calcium oxalate stone formation in genetic hypercalciuric stone-forming rats. Kidney Int 61(3):975–987
Funding
J.D.R. acknowledges support from the Welch Foundation (grant E-1794).
Ethics declarations
Conflict of interest
J.R.A. and J.D.R. have filed patent applications on the use of hydroxycitrate and other modifiers as growth inhibitors of pathological calcification.
Additional information
Publisher's Note
Springer Nature remains neutral with regard to jurisdictional claims in published maps and institutional affiliations.
About this article
Cite this article
Kim, D., Rimer, J.D. & Asplin, J.R. Hydroxycitrate: a potential new therapy for calcium urolithiasis. Urolithiasis 47, 311–320 (2019). https://doi.org/10.1007/s00240-019-01125-1
Received:

Accepted:

Published:

Issue Date:
Keywords
Crystal

Inhibitor

Calcium oxalate

Calcium phosphate

Supplement