Abstract
Non-contrast enhanced computed tomography (NCCT) is widely used measuring stone size in patients with urolithiasis. We performed an evaluation of the accuracy of stone size measuring via NCCT. In an in-vitro study, we analyzed a total of 38 uric acid and 38 phantom stones. Within NCCT, we used different slice thicknesses (1.5 mm, 2.0 mm, and 3.0 mm) and kernel settings (bone and soft-tissue window). Maximal height, maximal length, and maximal width of each stone were measured on a picture archiving and communication system workstation. Blinded to these results, a second physician measured stone size in the same way using a caliper (real stone size). We used the Bland–Altman method for the analysis of agreement between the two measuring methods. The limit of agreement that was deemed clinical insignificant was ± 1.0 mm. All measurements via NCCT correlated significantly with the real stone size (p < 0.001). This was more pronounced for bone window and smaller slice thickness. Bland–Altman plots showed limits of agreement that exceeded the a priori defined level for all types of measurement with bone window and small slice thickness (1.5 mm) being better than soft-tissue window and large slice thickness (3.0 mm). We conclude that stone size measurement by NCCT with established settings is not exact. Stone size can easily be over- or underestimated by several millimeters. Using bone window and small slice thickness leads to more accurate results.
This is a preview of subscription content, log in to check access.
Access options
Buy single article
Instant access to the full article PDF.
US$ 39.95
Price includes VAT for USA
Subscribe to journal
Immediate online access to all issues from 2019. Subscription will auto renew annually.
US$ 199
This is the net price. Taxes to be calculated in checkout.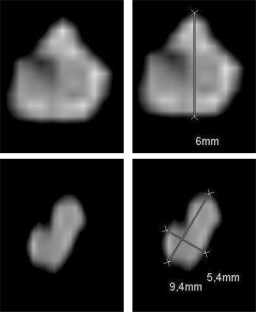 References
1.

Romero V, Akpinar H, Assimos DG (2010) Kidney stones: a global picture of prevalence, incidence, and associated risk factors. Rev Urol 12(2–3):e86–e96

2.

Türk C, Neisius A, Petrik A, Seitz C, Skolarikos A, Thomas K (2018) EAU Guidelines on Urolithiasis. EAU Guidelines Office, Arnhem, The Netherlands. https://uroweb.org/guideline/urolithiasis/

3.

Niemann T, Kollmann T, Bongartz G (2008) Diagnostic performance of low-dose CT for the detection of urolithiasis: a meta-analysis. AJR Am J Roentgenol 191(2):396–401

4.

Xiang H, Chan M, Brown V, Huo YR, Chan L, Ridley L (2017) Systematic review and meta-analysis of the diagnostic accuracy of low-dose computed tomography of the kidneys, ureters and bladder for urolithiasis. J Med Imaging Radiat Oncol. https://doi.org/10.1111/1754-9485.12587

5.

Preminger GM, Tiselius HG, Assimos DG, Alken P, Buck AC, Gallucci M, Knoll T, Lingeman JE, Nakada SY, Pearle MS, Sarica K, Türk C, Wolf JS Jr (2007) 2007 Guideline for the management of ureteral calculi. Eur Urol 52(6):1610–1631

6.

Patel SR, Nakada SY (2011) Quantification of preoperative stone burden for ureteroscopy and shock wave lithotripsy: current state and future recommendations. Urology 78(2):282–285

7.

Coll DM, Varanelli MJ, Smith RC (2002) Relationship of spontaneous passage of ureteral calculi to stone size and location as revealed by unenhanced helical CT. AJR Am J Roentgenol 178(1):101–103

8.

Kadihasanoglu M, Marien T, Miller NL (2017) Ureteral stone diameter on computerized tomography coronal reconstructions is clinically important and underreported. Urology. https://doi.org/10.1016/j.urology.2016.11.046

9.

Nadler RB, Stern JA, Kimm S, Hoff F, Rademaker AW (2004) Coronal imaging to assess urinary tract stone size. J Urol 172(3):962–964

10.

Demehri S, Steigner ML, Sodickson AD, Houseman EA, Rybicki FJ, Silverman SG (2012) CT-based determination of maximum ureteral stone area: a predictor of spontaneous passage. AJR Am J Roentgenol 198(3):603–608

11.

Demehri S, Kalra MK, Rybicki FJ, Steigner ML, Lang MJ, Houseman EA, Curhan GC, Silverman SG (2011) Quantification of urinary stone volume: attenuation threshold-based CT method–a technical note. Radiology 258(3):915–922

12.

Zorba OU, Ogullar S, Yazar S, Akca G (2016) CT-based determination of ureteral stone volume: a predictor of spontaneous passage. J Endourol 30(1):32–36

13.

Grouven U, Bender R, Ziegler A, Lange S (2007) Comparing methods of measurement. Dtsch Med Wochenschr 132(Suppl 1):e69–e73

14.

Worster A, Preyra I, Weaver B, Haines T (2002) The accuracy of noncontrast helical computed tomography versus intravenous pyelography in the diagnosis of suspected acute urolithiasis: a meta-analysis. Ann Emerg Med 40(3):280–286

15.

Takahashi N, Kawashima A, Ernst RD, Boridy IC, Goldman SM, Benson GS, Sandler CM (1998) Ureterolithiasis: can clinical outcome be predicted with unenhanced helical CT? Radiology 208(1):97–102

16.

Fielding JR, Silverman SG, Samuel S, Zou KH, Loughlin KR (1998) Unenhanced helical CT of ureteral stones: a replacement for excretory urography in planning treatment. AJR Am J Roentgenol 171(4):1051–1053

17.

Kishore TA, Pedro RN, Hinck B, Monga M (2008) Estimation of size of distal ureteral stones: noncontrast CT scan versus actual size. Urology 72(4):761–764

18.

Eisner BH, Kambadakone A, Monga M, Anderson JK, Thoreson AA, Lee H, Dretler SP, Sahani DV (2009) Computerized tomography magnified bone windows are superior to standard soft tissue windows for accurate measurement of stone size: an in vitro and clinical study. J Urol 181(4):1710–1715

19.

Arguelles Salido E, Aguilar Garcia J, Lozano-Blasco JM, Subira Rios J, Beardo Villar P, Campoy-Martinez P, Medina-Lopez RA (2013) Lithiasis size estimation variability depending on image technical methodology. Urolithiasis 41(6):517–522

20.

Poletti PA, Platon A, Rutschmann OT, Schmidlin FR, Iselin CE, Becker CD (2007) Low-dose versus standard-dose CT protocol in patients with clinically suspected renal colic. AJR Am J Roentgenol 188(4):927–933
Ethics declarations
Conflict of interest
The authors declare that they have no conflicts of interest.
Human and animal rights
Our research did not involve human participants or animals.
About this article
Cite this article
Umbach, R., Müller, J., Wendt-Nordahl, G. et al. In-vitro comparison of different slice thicknesses and kernel settings for measurement of urinary stone size by computed tomography. Urolithiasis 47, 583–586 (2019). https://doi.org/10.1007/s00240-019-01109-1
Received:

Accepted:

Published:

Issue Date:
Keywords
Urolithiasis

Stone size

Computed tomography (CT)

Bone window

Soft-tissue window