Abstract
To assess the safety and efficacy of minimally invasive percutaneous nephrolithotomy (mPCNL) as compared to standard PCNL (sPCNL) for management of 2–3-cm renal stones in the flank-free modified supine position. Between September 2010 and December 2013, 150 patients (168 renal units) with 2–3-cm renal stones were prospectively randomized into two treatment groups; Group A (75 patients/87 renal units) treated by mPCNL and Group B (75 patients/81 renal units) treated by sPCNL. In both groups, the patients were placed in the flank-free modified supine position. In mPCNL group, the tract was dilated up to 16.5 F whereas in sPCNL group the tract was dilated up to 30 F. Both groups were compared regarding several perioperative parameters. No significant difference was recorded among both groups regarding fluoroscopy time (4.3 ± 1.3 vs 4.8 ± 2.1 min, p = 0.06), operative time (83.2 ± 17.3 vs 78.6 ± 24.4 min, p = 0.16), hospital stay (4.3 vs 4.5 days, p = 0.76), VAS score (3.2 ± 0.6 vs 3.3 ± 0.8, p = 0.36) and need for analgesia. The mean drop in hemoglobin level and the incidence of bleeding that necessitated blood transfusion were significantly lower in the mPCNL group (0.6 ± 0.1 vs 1.9 ± 1.1 g/dl, p < 0.0001 and 1.2 vs 9.8%, p = 0.03, respectively). Although the stone-free rate was higher in the sPCNL group, but this was statistically insignificant (97.1 vs 95.4%, p = 0.86). Mini-PCNL is effective for managing renal calculi with comparable operative time and stone-free rate to standard PCNL with the merit of higher safety due to lower incidence of bleeding that necessitates blood transfusion.
Access options
Buy single article
Instant access to the full article PDF.
USD 39.95
Price excludes VAT (USA)
Tax calculation will be finalised during checkout.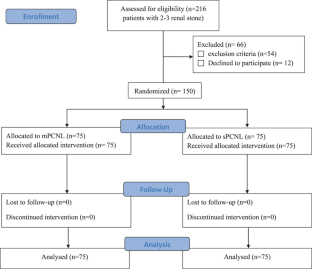 References
Ferakis N, Stavropoulos M (2015) Mini percutaneous nephrolithotomy in the treatment of renal and upper ureteral stones: Lessons learned from a review of the literature. Urol Ann 7(2):141–148. doi:10.4103/0974-7796.152927

Türk C, Knoll T, Petrik A, Sarica K, Skolarikos A, Straub M, Seitz C (2013) Guidelines on urolithiasis. European Association of Urology, Arnhem

Jackman SV, Hedican SP, Peters CA, Docimo SG (1998) Percutaneous nephrolithotomy in infants and preschool age children: experience with a new technique. Urology 52:697–701

Helal M, Black T, Lockhart J, Figueroa TE (1997) The Hickman peel-away sheath: alternative for pediatric percutaneous nephrolithotomy. J Endourol 11:171–172. doi:10.1089/end.1997.11.171

Desoky EA, Allam MN, Ammar MK, Abdelwahab KM, Elsaid DA, Fawzi AM, Alayman AA, Shahin AM, Kamel HM (2012) Flank free modified supine position: a new modification for supine percutaneous nephrolithotomy. Arab J Urol 10:143–148. doi:10.1016/j.aju.2011.12.008

Jackman SV, Docimo SG, Cadeddu JA, Bishoff JT, Kavoussi LR, Jarrett TW (1998) The 'mini-perc' technique: a less invasive alternative to percutaneous nephrolithotomy. World J Urol 16:371–374

Feng MI, Tamaddon K, Mikhail A, Kaptein JS, Bellmann GC (2001) Prospective randomized study of various techniques of percutaneous nephrolithotomy. Urology 58:345–350

Giusti G1, Piccinelli A, Taverna G, Benetti A, Pasini L, Corinti M, Teppa A, Zandegiacomo de Zorzi S, Graziotti P (2007) Miniperc? No, thank you! Eur Urol 51:810–815. doi:10.1016/j.eururo.2006.07.047

Knoll T, Wezel F, Michel MS, Honeck P, Wendt-Nordahl G (2010) Do patients benefit from miniaturized tubeless percutaneous nephrolithotomy? A comparative prospective study. J Endourol 24(7):1075–1079. doi:10.1089/end.2010.0111

Mishra S, Sharma R, Garg C, Kurien A, Sabnis R, Desai M (2011) Prospective comparative study of Miniperc and standard PNL for treatment of 1 to 2 cm size renal stone. BJU Int 108(6):896–899. doi:10.1111/j.1464-410X.2010.09936.x

Li LY, Gao X, Yang M, Li JF, Zhang HB, Xu WF, Lin Z (2010) Does a smaller tract in percutaneous nephrolithotomy contribute to less invasiveness? A prospective comparative study. Urology 75:56–61. doi:10.1016/j.urology.2009.06.006

Zhu W, Liu Y, Liu L, Lei M, Yuan J, Wan SP, Zeng G (2015) Minimally invasive versus standard percutaneous nephrolithotomy: a meta-analysis. Urolithiasis 43(6):563–570. doi:10.1007/s00240-015-0808-y

Cheng F, Yu W, Zhang X, Yang S, Xia Y, Ruan Y (2010) Minimally invasive tract in percutaneous nephrolithotomy for renal stones. J Endourol 24(10):1579–1582. doi:10.1089/end.2009.0581
Ethics declarations
Conflict of interest
All authors declare that they have no conflict of interest to declare. Ahmed Sakr has no conflict of interest to declare. Emad Salem has no conflict of interest to declare. Mostafa Kamel has no conflict of interest to declare. Esam Desoky has no conflict of interest to declare. Ahmed Ragab has no conflict of interest to declare. Mohamed Omran has no conflict of interest to declare. Amr Fawzi has no conflict of interest to declare. Ashraf Shahin has no conflict of interest to declare.
Ethical approval
All procedures performed in human participants in our study were in accordance with the ethical standards of our institutional research and ethics committee and with the 1964 Helsinki declaration and its later amendments.
Informed consent
Informed consent was obtained from all individual participants included in the study.
No funding resources.
About this article
Cite this article
Sakr, A., Salem, E., Kamel, M. et al. Minimally invasive percutaneous nephrolithotomy vs standard PCNL for management of renal stones in the flank-free modified supine position: single-center experience. Urolithiasis 45, 585–589 (2017). https://doi.org/10.1007/s00240-017-0966-1
Received:

Accepted:

Published:

Issue Date:

DOI: https://doi.org/10.1007/s00240-017-0966-1
Keywords
Minimally invasive percutaneous nephrolithotomy

Standard percutaneous nephrolithotomy

Flank-free modified supine position

Stones