Abstract
The purpose of this study was to review the safety and efficacy of the minimally invasive percutaneous nephrolithotomy in the treatment of medullary sponge kidney patients with complex renal calculi. Sixteen medullary sponge kidney patients with complex renal calculi underwent minimally invasive percutaneous nephrolithotomy procedures in our center were entered into this retrospective study. The data analyzed included patients' demographics, stone burden, operative time, operative blood loss, length of hospital stay, complications according to the modified Clavien system, and stone-free rate. All the patients in this study had complex renal stones that included 14 multiple stones and 3 partial staghorn calculi. The mean stone surface area was 779.5 ± 421.1 mm2. Preoperative urinary tract infection was noted in 5 (31.2 %) patients. Minimally invasive percutaneous nephrolithotomy was successfully completed in 15 renal units in 14 patients. Two patients failed the procedure. The mean operative time was 87.3 ± 32.3 min. Mean hemoglobin drop was 25.3 ± 16.5 g/L. An initial stone-free rate of 60 % was achieved after the procedure, and the final stone-free rate was 86.6 % after auxiliary second look and/or shock-wave lithotripsy. Clavien grade I and II complications occurred in 3 (21.4 %) patients including the one (7.1 %) patient who required transfusion. All the complications were managed conservatively. No major complications occurred. This retrospective analysis confirmed that minimally invasive percutaneous nephrolithotomy was a safe alternative treatment for the medullary sponge kidney patients with complex renal calculi. This procedure provided an acceptable stone-free rate and low incidence of high-grade complications. Stone-free rate further could be further improved with auxiliary procedures.
Access options
Buy single article
Instant access to the full article PDF.
USD 39.95
Price excludes VAT (USA)
Tax calculation will be finalised during checkout.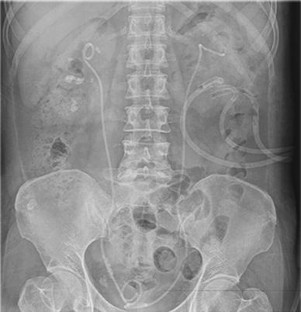 References
Gambaro G, Feltrin GP, Lupo A, Bonfante L, D'Angelo A, Antonello A (2006) Medullary sponge kidney (Lenarduzzi–Cacchi–Ricci disease): a Padua Medical School discovery in the 1930s. Kidney Int 69(4):663–670

Deliveliotis C, Sofras F, Karagiotis E, Christofis J, Kouroupakis D, Dimopoulos C (1996) Management of lithiasis in medullary sponge kidneys. Urol Int 57(3):185–187

McPhail EF, Gettman MT, Patterson DE, Rangel LJ, Krambeck AE (2012) Nephrolithiasis in medullary sponge kidney: evaluation of clinical and metabolic features. Urology 79(2):277–281

Gupta NP, Mishra S, Seth A, Anand A (2009) Percutaneous nephrolithotomy in abnormal kidneys: single-center experience. Urology 73(4):710–714

Abdelhafez MF, Bedke J, Amend B, ElGanainy E, Aboulella H, Elakkad M, Nagele U, Stenzl A, Schilling D (2012) Minimally invasive percutaneous nephrolitholapaxy (PCNL) as an effective and safe procedure for large renal stones. BJU Int 110(11 Pt C):E1022–E1026

Zeng G, Zhao Z, Wan S, Mai Z, Wu W, Zhong W, Yuan J (2013) Minimally invasive percutaneous nephrolithotomy for simple and complex renal caliceal stones: a comparative analysis of more than 10,000 cases. J Endourol 27(10):1203–1208

Jackman SV, Docimo SG, Cadeddu JA, Bishoff JT, Kavoussi LR, Jarrett TW (1998) The "mini-perc" technique: a less invasive alternative to percutaneous nephrolithotomy. World J Urol 16(6):371–374

Yendt ER (1982) Medullary Sponge kidney and nephrolithiasis. N Engl J Med 306(18):1106–1107

Maw AM, Megibow AJ, Grasso M, Goldfarb DS (2007) Diagnosis of medullary sponge kidney by computed tomographic urography. Am J Kidney Dis 50(1):146–150

Zeng G, Mai Z, Zhao Z, Li X, Zhong W, Yuan J, Wu K, Wu W (2013) Treatment of upper urinary calculi with Chinese minimally invasive percutaneous nephrolithotomy: a single-center experience with 12,482 consecutive patients over 20 years. Urolithiasis 41(3):225–229

Zhong W, Zeng G, Wu W, Chen W, Wu K (2011) Minimally invasive percutaneous nephrolithotomy with multiple mini tracts in a single session in treating staghorn calculi. Urol Res 39(2):117–122

Nakada SY, Erturk E, Monaghan J, Cockett AT (1993) Role of extracorporeal shock-wave lithotripsy in treatment of urolithiasis in patients with medullary sponge kidney. Urology 41(4):331–333

Eisenberger F, Schmidt A (1993) ESWL and the future of stone management. World J Urol 11(1):2–6

Geavlete P, Nita G, Alexandrescu E, Geavlete B (2013) The impact of modern endourological techniques in the treatment of a century old disease—medullary sponge kidney with associated nephrolithiasis. J Med Life 6(4):482–485

Akman T, Binbay M, Sari E, Yuruk E, Tepeler A, Akcay M, Muslumanoglu AY, Tefekli A (2011) Factors affecting bleeding during percutaneous nephrolithotomy: single surgeon experience. J Endourol 25(2):327–333

Preminger G, Assimos D, Lingeman J, Nakada S, Pearle M, Wolfjr J (2005) Chapter 1: AUA guideline on management of staghorn calculi: diagnosis and treatment recommendations. J Urol 173(6):1991–2000

Kamphuis GM, Baard J, Westendarp M, de la Rosette JJ (2015) Lessons learned from the CROES percutaneous nephrolithotomy global study. World J Urol 33(2):223–233

Desai M, De Lisa A, Turna B, Rioja J, Walfridsson H, D'Addessi A, Wong C, Rosette On Behalf Of The Croes Pcnl Study Group J (2011) The clinical research office of the endourological society percutaneous nephrolithotomy global study: staghorn versus nonstaghorn stones. J Endourol 25(8):1263–1268

Hegarty NJ, Desai MM (2006) Percutaneous nephrolithotomy requiring multiple tracts: comparison of morbidity with single-tract procedures. J Endourol 20(10):753–760
Ethics declarations
Conflict of interest
The authors declare that they have no conflicts of interest.
Ethical approval
For this type of study, formal consent is not required.
About this article
Cite this article
Sun, H., Zhang, Z., Yuan, J. et al. Safety and efficacy of minimally invasive percutaneous nephrolithotomy in the treatment of patients with medullary sponge kidney. Urolithiasis 44, 421–426 (2016). https://doi.org/10.1007/s00240-015-0853-6
Received:

Accepted:

Published:

Issue Date:

DOI: https://doi.org/10.1007/s00240-015-0853-6
Keywords
Urolithiasis

Medullary sponge kidney

Minimally invasive percutaneous nephrolithotomy

Urinary tract infection