Abstract
Bacterial biofilms are serious concern in patients infected with urinary tract infections, complicated urinary tract infections and other device-associated infections. Microbes within the biofilms are effectively shielded from antibiotics and host immune cells, hence can be treated only with agents which has the potential to disassemble the biofilms. The study is focused on the root extracts of Arctium lappa Linn. as a source for complementary medicine against three major biofilm forming clinical isolates of Escherichia coli, Proteus mirabilis, and Serratia marcescens. Methanol extracts of burdock roots (BR) showed no bactericidal activity (p > 0.05) against the uropathogens, whereas restrained the biofilms (p < 0.05) on polystyrene and glass surfaces at a biofilm inhibitory concentration of 100 µg/mL. The 3D confocal laser scanning microscopy was used to analyze the biofilm architecture which showed significant reduction in the surface area. Z-stack analysis has also revealed substantial reduction in the biofilm thickness (E. coli–50.79 %, P. mirabilis–69.49 %, and S. marcescens–75.84 %). Further, BR extracts also inhibited quorum-sensing (QS)-controlled cellular phenotypes such as violacein, prodigiosin, swarming motility, and cell surface hydrophobicity. LC–MS/MS analysis of BR extracts identified the presence of two major quercetin derivatives (miquelianin and peltatoside) along with few other constituent components. Exploring such phytocompounds will provide potential agents to treat infections caused by biofilm forming uropathogens. The antibiofilm and anti-QS agents will ultimately serve as armor, facilitating the host immune system to fight infections.
This is a preview of subscription content, log in to check access.
Access options
Buy single article
Instant access to the full article PDF.
US$ 39.95
Price includes VAT for USA
Subscribe to journal
Immediate online access to all issues from 2019. Subscription will auto renew annually.
US$ 199
This is the net price. Taxes to be calculated in checkout.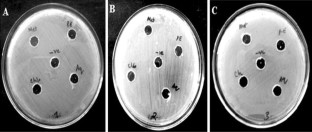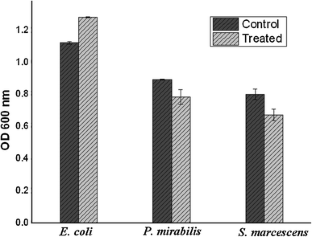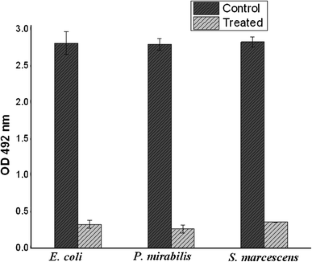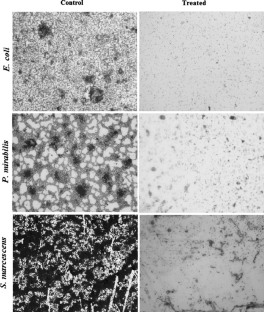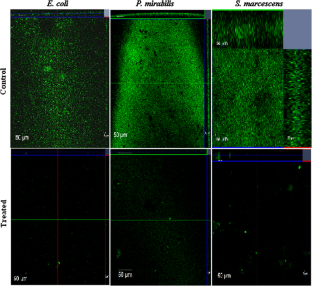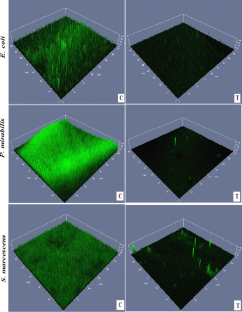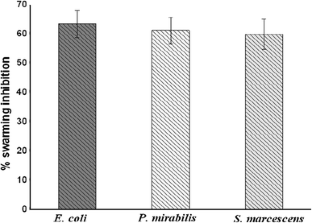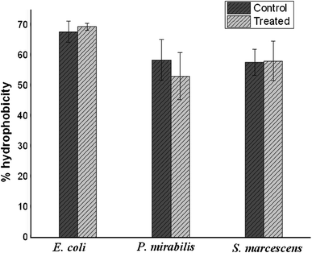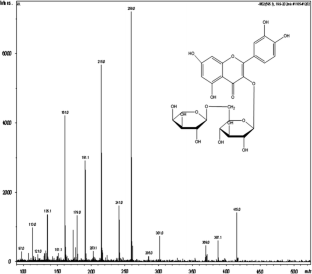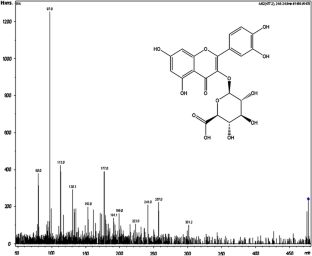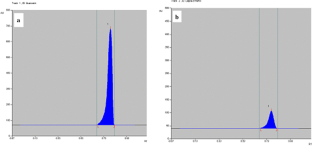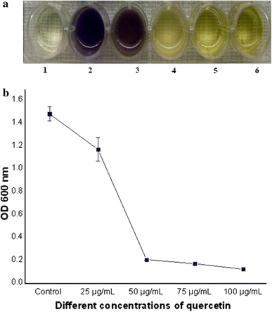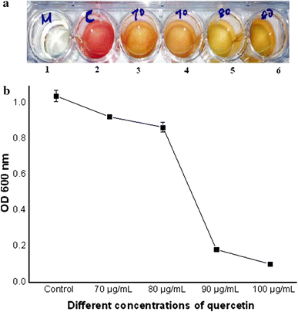 References
1.

Stickler DJ (1996) Bacterial biofilms and the encrustation of urethral catheters. Biofouling 94:293–305

2.

Jacobsen SM, Shirtliff ME (2011) Proteus mirabilis biofilms and catheter-associated urinary tract infections. Virulence 2(5):460–465

3.

Gottenbos B, van der Mei HC, Busscher HJ (1999) Models for studying initial adhesion and surface growth in biofilm formation on surfaces. Methods Enzymol 310:523–534

4.

Mobley HL, Hausinger RP (1989) Microbial ureases: significance, regulation, and molecular characterization. Microbiol Rev 53:85–108

5.

Senior BW (1997) The ability of Proteus mirabilis strain to invade the blood stream is independent of its proticin production/proticine sensitivity type. Micribiol 46:407–412

6.

Stickler D, Ganderton L, King J (1993) Proteus mirabilis biofilms and the encrustation of urethral catheters. Urol Res 21:407–441

7.

Brian VJ, Mahenthiralingam NAS, Stickler DJ (2005) Role of swarming in the formation of crystalline Proteus mirabilis biofilms on urinary catheters. J Med Microbiol 54:807–813

8.

George AJ (2009) AmpC β-Lactamases. Clin Microbiol 22:161

9.

Shah AA, Hasan F, Ahmed S et al (2004) Extended-spectrum beta-lactamases (ESbLs): characterization, epidemiology and detection. Crit Rev Microbiol 30:25–32

10.

Bakkiyaraj D, Pandian SK (2010) In vitro and in vivo antibiofilm activity of a coral associated actinomycete against drug resistant Staphylococcus aureus biofilms. Biofouling 26:711–717

11.

Rajasekharan SK, Ramesh S (2013) Cellulase Inhibits Burkholderia cepacia Biofilms on Diverse Prosthetic Materials. Pol J Microbiol 62(3):327–330

12.

Slater H, Crow M, Everson L, Salmond GP (2003) Phosphate availability regulates biosynthesis of two antibiotics, prodigiosin and carbapenem in Serratia via both quorum-sensing-dependent and -independent pathways. Mol Microbiol 47:303–320

13.

Matsuyama T, Kaneda K, Nakagawa Y et al (1992) A novel extracellular cyclic lipopeptide which promotes flagellum-dependent and -independent spreading growth of Serratia marcescens. J Bacteriol 174:1769–1776

14.

Park KM, Ypu JS, Lee HY et al (2003) An antibacterial agent from the root barks of Morus alba against oral pathogens. J Etahnopharmocol 84:181–185

15.

Khodavandi A, Harmal NS, Alizadeh F et al (2001) Riddle of biofilm resistance. Antimicrob Agents Chemother 45:999–1007

16.

Vikram A, Jayaprakasha GK, Jesudhasan PR et al (2010) Suppression of bacterial cell-cell signalling, biofilm formation and type III secretion system by citrus flavonoids. J Appl Microbiol 109(2):515–527

17.

Lee KM, Lim J, Nam S et al (2011) Inhibitory effects of broccoli extract on Escherichia coli O157:H7 quorum sensing and in vivo virulence. FEMS Microbiol Lett 321(1):67–74

18.

Lee JH, Park JH, Cho HS et al (2013) Anti-biofilm activities of quercetin and tannic acid against Staphylococcus aureus. Biofouling 29(5):491–499
Acknowledgments
The authors acknowledge Mrs. Ann Susan Edison and Dr. Enok Sylvius Sundaram for providing the burdock root materials. Authors also acknowledge Mr. Venkateswarlu Dasari, Sanghamitra Hospital, Ongole for providing the clinical isolates. Financial support rendered to SKR by DRDO, GoI (ERIP/ER/1103948/M/01/1377) in the form of Junior Research Fellowship has been thankfully acknowledged.
Conflict of interest
The authors declare that they have no conflict of interest.
About this article
Cite this article
Rajasekharan, S.K., Ramesh, S., Bakkiyaraj, D. et al. Burdock root extracts limit quorum-sensing-controlled phenotypes and biofilm architecture in major urinary tract pathogens . Urolithiasis 43, 29–40 (2015). https://doi.org/10.1007/s00240-014-0720-x
Received:

Accepted:

Published:

Issue Date:
Keywords
Antibiofilm

Uropathogens

Quorum quenching

Z-stack analysis

LC–MS/MS