Abstract
Previous studies have linked oxidative stress and nephrolithiasis. Animal studies have demonstrated that pomegranate juice may play a role in preventing stone formation. We examined differences between recurrent stone formers (RSFs) and non-stone formers (NSFs) regarding oxidative stress and the effect of pomegranate administration on risk factors for nephrolithiasis. RSFs were recruited prospectively and matched to a group of NSFs. Subjects submitted urine and blood samples prior to and after receiving pomegranate polyphenol extract (1,000 mg) for 90 days. Serum and urine samples were analyzed for stone risk and oxidative stress. Thirty subjects completed the study. RSFs had significantly higher levels of oxidative stress at baseline as measured by urinary 8-hydroxy-deoxyguanosine (p < 0.0001), 2.2′-azobis (2-amidinopropane) hydrochloride-induced serum lipid peroxidation [increased levels of lipid peroxides (p = 0.0002), and thiobarbituric acid reactive substances (p = 0.002)], but not by serum paraoxonase1 (PON1) arylesterase activity (p > 0.99), or by highly sensitive C-reactive protein (p > 0.99). Following pomegranate supplementation, there was a 10 % increase in PON1 activity in RSFs (p = 0.007), which correlated with a trend toward decreasing values of supersaturation of calcium oxalate (SSCaOx; p = 0.05). RSFs have markedly higher levels of oxidative stress than NSFs. While the ability to prevent stone formation through supplementation cannot be determined in this pilot study, supplementation with pomegranate extract does not increase the risk of stones and may confer some benefit in lowering SSCaOX in those patients with increased PON-1 levels following supplementation, confirming findings of previous animal models.
This is a preview of subscription content,
to check access.
Access this article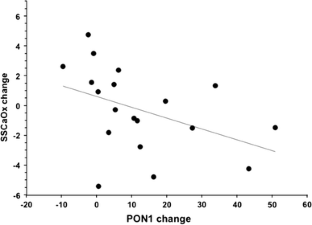 References
Scales CD Jr, Smith AC, Hanley JM et al (2012) Urologic diseases in America P. Prevalence of kidney stones in the United States. Eur Urol 62:160

Lotan Y, Buendia Jimenez I, Lenoir-Wijnkoop I et al (2012) Primary prevention of nephrolithiasis is cost-effective for a national healthcare system. BJU Int 110:E1060

Tracy CR, Pearle MS (2009) Update on the medical management of stone disease. Curr Opin Urol 19:200

Khan SR (2013) Reactive oxygen species as the molecular modulators of calcium oxalate kidney stone formation: evidence from clinical and experimental investigations. J Urol 189:803

Holoch PA, Tracy CR (2011) Antioxidants and self-reported history of kidney stones: the National Health and Nutrition Examination Survey. J Endourol 25:1903

Boonla C, Wunsuwan R, Tungsanga K et al (2007) Urinary 8-hydroxydeoxyguanosine is elevated in patients with nephrolithiasis. Urol Res 35:185

Gaspar S, Niculite C, Cucu D et al (2010) Effect of calcium oxalate on renal cells as revealed by real-time measurement of extracellular oxidative burst. Biosens Bioelectron 25:1729

Tugcu V, Kemahli E, Ozbek E et al (2008) Protective effect of a potent antioxidant, pomegranate juice, in the kidney of rats with nephrolithiasis induced by ethylene glycol. J Endourol 22:2723

Ilbey YO, Ozbek E, Simsek A et al (2009) Effects of pomegranate juice on hyperoxaluria-induced oxidative stress in the rat kidneys. Ren Fail 31:522

Taylor EN, Fung TT, Curhan GC (2009) DASH-style diet associates with reduced risk for kidney stones. J Am Soc Nephrol 20:2253

Gil MI, Tomas-Barberan FA, Hess-Pierce B et al (2000) Antioxidant activity of pomegranate juice and its relationship with phenolic composition and processing. J Agric Food Chem 10:4581

Ilbey YO, Ozbek E, Simsek A et al (2009) Effects of pomegranate juice on hyperoxaluria-induced oxidative stress in the rat kidneys. Ren Fail 31:522

Rathoda NR, Biswas D, Chitme HR et al (2012) Anti-urolithiatic effects of Punica granatum in male rats. J Ethnopharmacol 140:234

El-Saadani M, Esterbauer H, el-Sayed M et al (1989) A spectrophotometric assay for lipid peroxides in serum lipoproteins using a commercially available reagent. J Lipid Res 30:627–630

Frei B, Stocker R, Ames BN (1988) Antioxidant defenses and lipid peroxidation in human blood plasma. Proc Natl Acad Sci USA 85:9748

Buege JA, Aust SD (1978) Microsomal lipid peroxidation. Meth Enzymol 52:302

Getz GS, Reardon CA (2004) Paraoxonase, a cardioprotective enzyme: continuing issues. Current Opin Lipidol 15:261

Ruiz J, Blanche H, James RW et al (1995) Gln-Arg192 polymorphism of paraoxonase and coronary heart disease in type 2 diabetes. Lancet 346:869

Odawara M, Tachi Y, Yamashita K (1997) Paraoxonase polymorphism (Gln192-Arg) is associated with coronary heart disease in Japanese noninsulin-dependent diabetes mellitus. J Clin Endocrinol Metab 82:2257

Serrato M, Marian AJ (1995) A variant of human paraoxonase/arylesterase (HUMPONA) gene is a risk factor for coronary artery disease. J Clin Invest 96:3005

Gaidukov L, Tawfik DS (2007) The development of human sera tests for HDL-bound serum PON1 and its lipolactonase activity. J Lipid Res 48:1637

Obligado SH, Goldfarb DS (2008) The association of nephrolithiasis with hypertension and obesity: a review. Am J Hypertens 21:257

Lieske JC, de la Vega LS, Gettman MT et al (2006) Diabetes mellitus and the risk of urinary tract stones: a population-based case-control study. Am J Kidney Dis 48:897

Jeong IG, Kang T, Bang JK et al (2011) Association between metabolic syndrome and the presence of kidney stones in a screened population. Am J Kidney Dis 58:383

Saucier NA, Sinha MK, Liang KV et al (2010) Risk factors for CKD in persons with kidney stones: a case-control study in Olmsted County Minnesota. Am J Kidney Dis 55:61

Khan SR (2012) Is oxidative stress, a link between nephrolithiasis and obesity, hypertension, diabetes, chronic kidney disease, metabolic syndrome? Urol Res 40:95

Baggio B, Gambaro G, Ossi E et al (1983) Increased urinary excretion of renal enzymes in idiopathic calcium oxalate nephrolithiasis. J Urol 129:1161

Escobar C, Byer KJ, Khan SR (2007) Naturally produced crystals obtained from kidney stones are less injurious to renal tubular epithelial cells than synthetic crystals. BJU Int 100:891

Khan SR (2004) Crystal-induced inflammation of the kidneys: results from human studies, animal models, and tissue culture studies. Clin Exp Nephrol 8:75

Siener R, Petzold J, Bitterlich N et al (2013) Determinants of urolithiasis in patients with intestinal fat malabsorption. Urology 81:17

Thamilselvan S, Hackett RL, Khan SR (1997) Lipid peroxidation in ethylene glycol induced hyperoxaluria and calcium oxalate nephrolithiasis. J Urol 157:1059

Tugcu V, Ozbek E, Kemahli E et al (2007) Rapid communication: protective effect of a nuclear factor kappaB inhibitor, pyrolidium dithiocarbamate, in the kidney of rats with nephrolithiasis induced by ethylene glycol. J Endourol 21:1097

Aviram M, Rosenblat M, Gaitini D et al (2004) Pomegranate juice consumption for 3 years by patients with carotid artery stenosis reduced common carotid intima-media thickness, blood pressure and LDL oxidation. Clin Nutr 23:423

Eisner BH, Eisenberg ML, Stoller ML (2009) Impact of urine sodium on urine risk factors for calcium oxalate nephrolithiasis. J Urol 182:2330
Acknowledgments
PomWonderful, LLC, Los Angeles, CA.
Conflict of interest
The authors involved in the work within this manuscript certify that they have NO affiliations with or involvement in any organization or entity with any financial interest in the subject matter or materials discussed in this manuscript.
About this article
Cite this article
Tracy, C.R., Henning, J.R., Newton, M.R. et al. Oxidative stress and nephrolithiasis: a comparative pilot study evaluating the effect of pomegranate extract on stone risk factors and elevated oxidative stress levels of recurrent stone formers and controls. Urolithiasis 42, 401–408 (2014). https://doi.org/10.1007/s00240-014-0686-8
Received:

Accepted:

Published:

Issue Date:

DOI: https://doi.org/10.1007/s00240-014-0686-8
Keywords