Abstract
The objective of this study was to describe and present the initial results of a computer-based system that tracks ureteral stents and automatically sends a reminder through a short message service (SMS) to both the patient's and the urologist's mobile phones Using an integrated stent register program (SRP) and a stent extraction reminder program (SERP) with an electronic patient record program (EPRP) located within our hospital's computer network. In this system, the demographic data of all of the patients are recorded into the password-protected EPRP. After a stent is inserted, the surgeon enters the details of the operation into the EPRP. The SRP automatically asks the user to define the "optimal stent life (OSL)". The SERP checks the recorded patients daily and sends an SMS reminder to staff and patient when the OSL is reached. The SERP continues to send reminders via the SMS until stent is removed. We analyzed the success of the SMS recall system. A total of 186 patients received stents over an 11-month period. The patients in group-2 (n = 108) were recalled by the SERP, and the remainder of the patients (n = 78, group-1) were not included in the project. The mean delay from the designated OSL to the time of stent removal was 307 ± 118.6 (72–1,344) and 14.6 ± 2.06 (5–36) h in groups 1 and 2, respectively (p < 0.0001). Our initial results showed that the SRP and SERP prevent stent removal from being forgotten, thus preventing related medical and legal problems.
Access options
Buy single article
Instant access to the full article PDF.
US$ 39.95
Tax calculation will be finalised during checkout.
Subscribe to journal
Immediate online access to all issues from 2019. Subscription will auto renew annually.
US$ 119
Tax calculation will be finalised during checkout.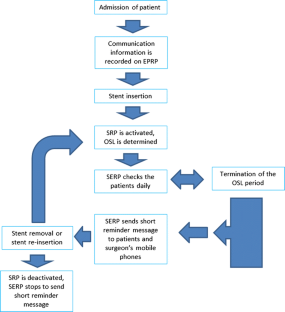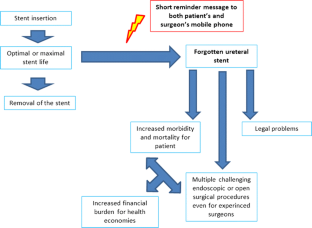 Abbreviations
SMS:

Short message service

D-J:

Double-J

OSL:

Optimal stent life

MSL:

Maximal stent life

EPRP:

Electronic patient record program

SRP:

Stent register program

SERP:

Stent extraction reminder program
References
1.

McCahy PJ, Ramsden PD (1996) A computerized ureteric stent retrieval system. Br J Urol 77(1):147–148

2.

Ather MH, Talati J, Biyabani R (2000) Physician responsibility for removal of implants: the case for a computerized program for tracking overdue double-J stents. Tech Urol 6(3):189–192

3.

Lynch MF, Ghani KR, Frost I, Anson KM (2007) Preventing the forgotten ureteral stent: implementation of a web-based stent registry with automatic recall application. Urology 70(3):423–426

4.

Finney RP (2002) Experience with new double J ureteral catheter stent. 1978. J Urol 167(2 Pt 2):1135–1138 (discussion 1139)

5.

Richter S, Ringel A, Shalev M, Nissenkorn I (2000) The indwelling ureteric stent: a friendly procedure with unfriendly high morbidity. BJU Int 85:408–411

6.

Thomas AZ, Casey RG, Grainger R, McDermott T, Flynn R, Thornhill JA (2007) The forgotten ureteric JJ stent and its prevention: a prospective audit of the value of a ureteric stent logbook. Ir J Med Sci 176(2):117–119

7.

Tang VC, Gillooly J, Lee EW, Charig CR (2008) Ureteric stent card register—a 5-year retrospective analysis. Ann R Coll Surg Engl 90(2):156–159

8.

The results of the investigation about the rate of internet usage in Turkey. http://www.gfk.com/gfkturkiye/research_types/index.tr.html

9.

Hanauer DA, Wentzell K, Laffel N, Laffel LM (2009) Computerized Automated Reminder Diabetes System (CARDS): e-mail and SMS cell phone text messaging reminders to support diabetes management. Diabetes Technol Ther 11(2):99–106

10.

Strandbygaard U, Thomsen SF, Backer V (2010) A daily SMS reminder increases adherence to asthma treatment: a three-month follow-up study. Respir Med 104(2):166–171

11.

Ollivier L, Romand O, Marimoutou C, Michel R, Pognant C, Todesco A, Migliani R, Baudon D, Boutin JP (2009) Use of short message service (SMS) to improve malaria chemoprophylaxis compliance after returning from a malaria endemic area. Malar J 8:236

12.

Kuntsche E, Robert B (2009) Short message service (SMS) technology in alcohol research—a feasibility study. Alcohol Alcohol 44(4):423–428

13.

Fjeldsoe BS, Marshall AL, Miller YD (2009) Behavior change interventions delivered by mobile telephone short-message service. Am J Prev Med 36(2):165–173

14.

Armstrong AW, Watson AJ, Makredes M, Frangos JE, Kimball AB, Kvedar JC (2009) Text-message reminders to improve sunscreen use: a randomized, controlled trial using electronic monitoring. Arch Dermatol 145(11):1230–1236
Additional information
This study has been accepted for presentation at the 2011 AUA and EAU congresses.
About this article
Cite this article
Sancaktutar, A.A., Tepeler, A., Söylemez, H. et al. A solution for medical and legal problems arising from forgotten ureteral stents: initial results from a reminder short message service (SMS). Urol Res 40, 253–258 (2012). https://doi.org/10.1007/s00240-011-0404-8
Received:

Accepted:

Published:

Issue Date:
Keywords
Forgotten ureteral stents

Reminder message

Solution

SMS

Complications