Abstract
Phyllanthus niruri is a plant used for years in Brazil to treat urinary calculi. We prospectively evaluated the effect of P. niruri intake on 24 h urinary biochemical parameters in an attempt to assess its in vivo effect in calcium stone forming (CSF) patients. A total of 69 CSF patients (39 males and 30 females, 38±8 years old) were randomized to take either P. niruri (n=33) (450 mg capsules, td) or placebo (n=36) for 3 months. Blood calcium, uric acid, citrate, magnesium, oxalate, sodium and potassium were determined at baseline and at the end of the study. A subset analysis was made in patients classified according to the presence of metabolic abnormalities (hypercalciuria, hyperuricosuria, hyperoxaluria, hypocitraturia and hypomagnesiuria). Overall, there were no significant differences in the mean values of urinary parameters between the urine samples before and after P. niruri intake, except for a slight reduction in mean urinary magnesium after P. niruri, which was within the normal range. However, in the subset analysis, we observed that P. niruri induced a significant reduction in the mean urinary calcium in hypercalciuric patients (4.8±1.0 vs 3.4±1.1 mg/kg/24 h, P<0.05). In this short-term follow-up, no significant differences in calculi voiding and/or pain relief between the groups taking P. niruri or the placebo were detected. Our data suggest that P. niruri intake reduces urinary calcium based on the analysis of a subset of patients presenting with hypercalciuria. Larger trials including primary hypercalciuric stone formers should be performed in order to confirm these findings and to determine the possible clinical consequences of urinary calcium reduction during P. niruri administration.
Access options
Buy single article
Instant access to the full article PDF.
US$ 39.95
Tax calculation will be finalised during checkout.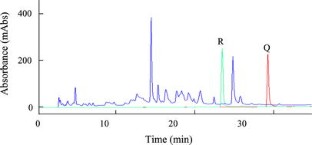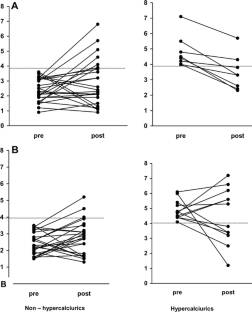 References
1.

Calixto JB, Santos AR, Cechinel Filho V, Yunes RA (1998) A review of the genus Phyllanthus: their chemistry, pharmacology, and therapeutic potencial. Med Res Rev 18: 225

2.

Santos AR (1994) Analgesic effects of callus culture extracts from selected species of Phyllanthus in mice. J Pharm Pharmacol 46: 755

3.

Santos AR (1995) Analysis of the mechanisms underlying the antinoceptive effect of the extracts of plants from the genus Phyllanthus. Gen Pharmacol 26: 1499

4.

Barros ME, Schor N, Boim MA (2003) Effects of an aqueous extract from Phyllanthus niruri on calcium oxalate crystallization in vitro. Urol Res 30: 374

5.

Freitas AM, Schor N, Boim MA (2002) The effect of Phyllanthus niruri on urinary inhibitors of calcium oxalate crystallization and other factors associated with renal stone formation. BJU Int 89: 829

6.

Campos AH, Schor N (1999) Phyllanthus niruri inhibitors calcium oxalate endocytosis by renal tubular cells: its role in urolithiasis. Nephron 81: 393

7.

McFate RP, Cohn C, Eichelberger L, Cooper JA (1954) Symposium on azotemia.Am J Clin Pathol 24: 511

8.

Fossati P, Prencipe L, Berti G (1980) Use of 3,4-dichloro-2-hydroxybenzenesulfonic acid/4-aminophenazone chromogenic system in direct enzyme assay of uric acid in serum and urine. Clin Chem 26: 227

9.

Holt C, Cowley DM, Chalmers AH (1985) Rapid estimation of urinary citrate by use of a centrifugal analyzer. Clin Chem31: 779

10.

Pak CYC, Skurla C, Harvey J (1985) Graphic display of urinary risk factors for renal stone formation. J Urol 134: 867

11.

Srividya N, Periwal S (1995) Diuretic, hypotensive and hypoglycaemic effect of Phyllanthus amarus. Indian J Exp Biol 33: 861
Acknowledgements
This research was supported by CEME (Central de Medicamentos), FOR (Fundação Oswaldo Ramos), CNPq (Conselho Nacional de Desenvolvimento Científico e Tecnológico) and CAPES (Coordenação de Aperfeiçoamento de Pessoal de Nível Superior). We thank Dr. Antonio José Lapa and Mirtes Midori Tanae for providing the aqueous extract of Phyllanthus niruri.
About this article
Cite this article
Nishiura, J.L., Campos, A.H., Boim, M.A. et al. Phyllanthus niruri normalizes elevated urinary calcium levels in calcium stone forming (CSF) patients. Urol Res 32, 362–366 (2004). https://doi.org/10.1007/s00240-004-0432-8
Received:

Accepted:

Published:

Issue Date:
Keywords
Phyllanthus niruri

Natural products

Nephrolithiasis

Hypercalciuria

Calcium stone formers

Urinary calculi