Abstract
The evolutionary history of Class I aminoacyl-tRNA synthetases (aaRS) through the reconstruction of ancestral sequences is presented. From structural molecular modeling, we sought to understand its relationship with the acceptor arms and the tRNA anticodon loop, how this relationship was established, and the possible implications in determining the genetic code and the translation system. The results of the molecular docking showed that in 7 out 9 aaRS, the acceptor arm and the anticodon loop bond practically in the same region. Domain accretion process in aaRS and repositioning of interactions between tRNAs and aaRS are illustrated. Based on these results, we propose that the operational code and the anticodon code coexisted, competing for the aaRS catalytic region, while consequently contributed to the stabilization of these proteins.
Access options
Buy single article
Instant access to the full article PDF.
USD 39.95
Price includes VAT (USA)
Tax calculation will be finalised during checkout.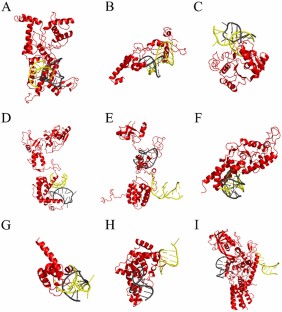 Acknowledgements
MVJ was funded by Dirección General de Asuntos del Personal Académico (DGAPA) and Universidad Nacional Autónoma de México, UNAM (PAPIIT-IN201019).
Funding
MVJ was financially supported by PAPIIT-IN201019; UNAM; México.
Ethics declarations
Conflict of interest
The authors declare that they have no conflict of interest.
Informed Consent
All authors consented.
Additional information
Handling editor: Ulrich Muller.
Supplementary Information
Below is the link to the electronic supplementary material.
About this article
Cite this article
Dantas, P.H.L.F., José, M.V. & de Farias, S.T. Structural Computational Analysis of the Natural History of Class I aminoacyl-tRNA Synthetases Suggests their Role in Establishing the Genetic Code. J Mol Evol 89, 611–617 (2021). https://doi.org/10.1007/s00239-021-10029-x
Received:

Accepted:

Published:

Issue Date:
Keywords
Genetic code

Operational code

Stabilization

Acceptor arm

Anticodon loop